No. 207 Autumn 2005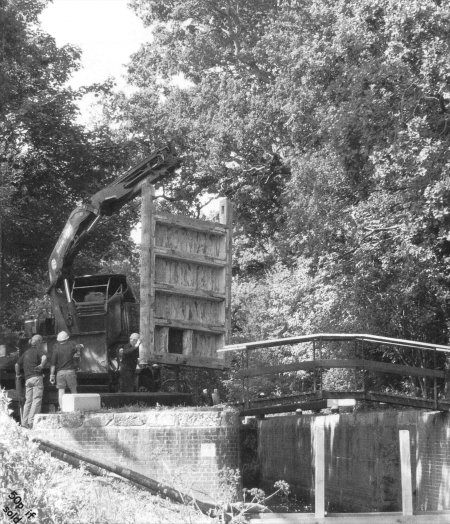 I noted an interesting article in the Sunday Times about happiness, which has apparently become a subject for academic study. Lord Layard, an emeritus professor at the LSE, has written a book in which he looks at the sources of happiness and reckons that while health, income and the quality of work have improved, family relationships, safety of communities and the prevalence of unselfish values have declined. He wants to legislate to improve them, by amongst other things teaching emotional intelligence and philosophy from an ear[y age and putting more controls on avarice - encouraging advertising.

I think he is right about the sources of happiness but, personally, I doubt whether his ideas for legislation would work. I think they would do better to encourage voluntary organisations such as the Canal Society, which do encourage unselfish values and do provide relationships and a sense of belonging to acommunity. People need a purpose in life and something to give them a sense of worth. It doesn't really matter whether the object is to restore a canal or to gain promotion to the next football league, but if the end result is something that provides a concrete benefit to the community at large it's even better.

Of course, the real problems arise when the objective has been achieved. The old saying about it being better to travel hopefully than to arrive is very true, and maybe this is the problem with our country, where most people have arrived ata state of reasonable prosperity. It's also been a problem for the Canal Society once the canal was re-opened, so the current problems reported in this issue may be a blessing in disguise. The future of the canal could be in considerable danger if a blinkered accountancy mentality is allowed to prevail, so we shall have to keep travelling hopefully.

Although the Society has always taken the line that once the canal was restored, its maintenance was the responsibility of the County Council owners, perhaps we should be thinking about promoting the idea of a formal partnership between them and voluntary organisations such as ourselves to safeguard the canal's future and promote some of Lord Layard's ideas at the same time. As my wife will tell you, I have become somewhat adicted to the joys of the on-line auctions run by eBay. A search for Basingstoke Canal usually turns up the odd copy of Paul Vine's "London's lost route to Basingstoke" and a few picture postcards.

I recently bought a copy of the February 1965 issue of the "Hampshire" magazine, containing an interesting article on the canal by someone named D.W.Whitehead. I wonder if anyone knows what his connection with the canal was?

There are a couple of nice "then and now" photos of Broad Water and School Bridge in Old Basing. There is also an interesting story that the owners of the canal in 1897 attemped to improve the navigability of the Western End with the aid of a steam dredger brought up from Bristol. Unfortunately this dumped the spoil on the towpath and also dug through the clay puddle to the underlying chalk, causing serious loss of water. The villagers (presumably of Up Nately) were said to have lived off fresh fish for a week.

Paul Vine's book makes no mention of this episode, but 1897 was when the brickworks at Up Nately was being started, so there could well have been a need to do some dredging and steam would have been the power supply.

I wonder how the dredger was brought from Bristol. It could have made the whole journey by water, but by that time the railway might have been quicker. Legging something like Perseverance through the Greywell Tunnel would have been a bit of a challenge.

You may have noticed a slight difference in the appearance of this issue of the newsletter. This is because we have decided to try a different printer. The previous printers, A3 Design or Commercial Press as they were previously known, have served us well ever since the Potter brothers in Fleet retired. However, technology moves on and the number of copies has dropped as our membership has slowly declined from its restoration peak. A3 Design use traditional lithographic printing methods which are cheap per page but have quite large set-up costs for the plates.

Careprint is a small outfit in Crookham Village, not far from Malthouse Bridge, that uses a digital printing press. This costs more per page but has virtually no set-up costs attached. As a result they should save us over £800 a year. An added advantage is that we could have a colour cover for special occasions for not very much more that the previous black & white cost.

Let me know what you think of it.
FRONT COVER
New gates for Lock 2 (story on page 8)
Photo: Pablo Haworth
[back to top]
I am sure the very effective canal towpath telegraph will have published the fact that Leigh Thornton, the Canal Director is leaving at the end of August. Leigh has accepted a position with Kent County Council as "Head of Countryside " and moves to Maidstone in September.

Congratulations Leigh. We wish you and your family every success in your new job and location.

The word partnership is bandied about a lot these days, it can mean many things, and in my experience it is working with people to achieve an objective or complete a project. Balancing alternatives and options with input from others enhances the final result.

I have worked with Leigh on a number of significant issues, the most important being water supply initiatives. Woodham Pumps are operational, St Johns pumping will be operational for 2006, and four other water supply initiatives have been registered with IWAAC for inclusion in their Restoration Review. The next phase of water enhancement works are at Brookwood and Leigh has included provisional time scales for design and estimates in the Canal Management Plan.

Other improvements include the Woking Town Centre, and the BCA, Society and Woking Officers have all contributed to what should be a transformation of the canal through Woking.

Thankyou Leigh for your support of the canal during the six years you have been director.

Future of the Canal
Canal Stakeholders were invited to attend a workshop at the Canal Centre in early July. This was part of a consultation process to discuss and provide feedback to the County Councils on various options.

The future of the canal management organisation, finance and operational standards are topics which have to be considered, evaluated and practical decisions made. Responses from delegates varied and analysis by the organisers to identify an acceptable way forward is in progress.

A more detailed report appears elsewhere in the newsletter, I am sure that you will pass on your concerns or support when you have had the opportunity to read the details.

The Society Committee is totally opposed to some of the options in the consultation documents; we do however see others as an acceptable way forward. The analysis report is a key document and we will keep members fully informed. We have fought for this canal since the 1960's, achieving restoration after years of hard work by members and waterway organisations. We will continue to fight for a sustainable future for the Basingstoke as a through navigation.

Water Supplies
Surrey County Council on behalf of the BCA have applied to the Environment Agency for an increase in the volume of water permitted to be pumped. The current abstraction licence allows pumping at Woodham for 4 hours per day from April to September. After weeks of inaction, the EA responded that the drought conditions might prevent the BCA pumping even this quantity, as River Wey flow rates are a condition of our abstraction licence.

I can accept restrictions in drought conditions, we are in a 1:30 year situation. I do not accept that an exception year should be used to delay legitimate applications; any decisions should be made on average flow rates and aquifer levels.
Peter Redway
Nigel Parsons
I am writing to let you know that Nigel Parsons died recently on 31 May. I first met Nigel when we were being trained to lay bricks on Lock 26 in the mid 70's. After Lock 26 we gradually moved down the Deepcut flight working on a number of locks and then onto the St John's and Woodham flights finishing in 1988. He was a lovely guy, always amiable and got on with everybody.
Nigel was also the Society's Treasurer for a period I think towards the end of the restoration.
Nigel was one of life's good guys and it was a pleasure to have known and worked with him. I am sure that these sentiments are echoed by the many volunteers who knew him.
Alan Grimster
[back to top]
ST. JOHN'S
As reported at our AGM, the pipeline construction is completed and tested to BW specification. It was very rewarding - our test results were well within the tolerances quoted by BW.

An abstraction licence for St Johns has been obtained by the BCA and the pumping volumes are the same as for Woodham. The Environment Agency require a flow meter to be fitted for recording volumes of water pumped, and this requirement is also retrospective on all pump installations on the Basingstoke, a case of "Big Brother is watching ?".

The pump supplier has quoted for fitting an ultrasonic flow meter, which will require the construction of another chamber on a straight run of pipe, also a connecting duct for the sensor cable. Volunteers will construct the chamber and duct with the flow meter being part of the pump installation.

With revised quote and pump details we can now reactivate the electricity supply negotiations and agree a start date. As the remaining works are subject to a grant application we have to apply before work commences; as soon as all the revised quotes are received we can apply for the grant.

BROOKWOOD
In preparation for the Campaign Rally in 2006 some preliminary infrastructure work has been carried out; this work has been sponsored by Woking Borough Council. Visiting groups and our volunteers have removed some [875 yards] of old chain link fence along the canal boundary, and improved access onto the site has been constructed. The informal path along the off bank has been surfaced, machines scraped the uneven surface level and prepared the new path. Road stone was delivered onto site at the start of the dry period, with 790 tons being levelled and rolled. A small stockpile of stone has been retained for reinstatement after the construction of a jetty.

English Nature have agreed the construction of a jetty on the north bank of the canal, subject to transplanting some marginal reed growth. The statutory 28 day notice has been submitted by the BCA and I anticipate starting work in September.

The provision of slipway facilities for the event will probably be temporary, as a permanent structure has not yet been agreed.

FUTURE WORKS
With low water levels, the BCA are replacing lock gates and carrying out lock maintenance work at Woodham. We have been requested to install a link between the pump outlet chamber and the stop plank arrangement above Lock 6 so that water can be directed into Woking Pound, down the locks or both as circumstances require. Water diverted down to the houseboats is at present controlled by a Ranger opening a paddle and monitoring levels, not really efficient.

We have some piling work to complete at St John's; lack of water will allow tree roots to be removed as piling is completed. Police advice is to commence this work in September when schools have re-opened in an attempt to reduce vandalism; the police have promised to increase patrols when we have plant on site.

I anticipate that the autumn and winter work will be preparing the Brookwood bank and site for the 2006 Rally.

FUTURE WORKING PARTY DATES

| DATE | LEADER | LOCATION |
| --- | --- | --- |
| 10/11 Sept | PR/DJ/DL/R | Brookwood or St. Johns |
| 24/25 Sept | PR/DJ/DL | Brookwood or St. Johns |
| 8/9 Oct | PR/DJ/DL | Brookwood |
| 12/13 Nov | PR/DJ/DL | Brookwood |
| 26/27 Nov | PR/DJ/DL | Brookwood |

Leaders:
PR PETER REDWAY 01483 721710
DL DAVE LUNN 01483 771294
DJ DAVE JUNKISON 0208 941 0685
KR KEVIN REDWAY 01483 722206
Peter Redway Useful donation
Robin Doughty, one of our lengthsmen, was instrumental in us being donated some rolls of wire mesh by the company he works for. They will be used to provide anti-slip surfacing for walkways at the Brookwood event next year, and elsewhere.

So a big thank-you to "Hampton Steel and Wire" and, should you have anyfencing requirements, why not give them acall on 01933 234075, fax 01933 278012, or e-mail robind@hamptonsteel.co.uk.
[back to top]
We have several important items of news this time.

Firstly, as most people will probably be aware, the majority of locks were closed for use on 27th May because of the shortage of water. This must be one of the earliest closures on record and reflects the very dry winter and spring that we had. Of course, now that the summer holidays have begun so has the rain, although not in sufficient quantity to make much difference. Several of the Deepcut pounds are almost completely dry, with notices posted to explain the reason to the public (below).

The second piece of news, which again many people will have heard, is that Leigh Thornton has resigned as Canal Director to take up a post managing Kent's country parks; he actually goes at the end of August. This does not come as a real surprise since the canal job was clearly just going to be a step in his career, but his departure comes at a somewhat troubled time for the canal, with major questions about the adequacy of its funding hanging over it. His job will not be advertised before September at the earliest, so there is going to be a gap at the top for a while.

The Society has done quite a lot of lobbying of local councillors on this subject and the BCA has also been busy. Leigh produced an excellent paper on the canal's

value for money, in which he tried to quantify the benefits it brings to the local communities. We have turned this into a pamphlet and distributed it initially to all the councillors in Hart, whose record of not paying their full share is one of the worst of all the riparian councils.

All this seems to have had some effect, because a workshop was organised at the Canal Centre on 11th July to discuss various options for the future management and


operation of the canal. The meeting was organised by Hampshire County Council on behalf of both Surrey and Hampshire, and a number of user and interest groups were invited, to give a balanced view. These included the IWA, Surrey and Hants Canal Society, Basingstoke Canal Boat Club, Accessible Boating, commercial operators (Galleon Marine and John Cale Canal Cruises), the Wildlife Trusts, English Nature, the Environment Agency, British Waterways, Basingstoke Canal Angling Association, the six District Councils who fund the Canal, the two County Councils who own the Canal, the Ramblers Association and the British Canoe Union.

Continued on page 6
[back to top]
The objectives of the workshop were to

§ To gain the view of a range of stakeholders on the various advantages and disadvantages of the future options for running the canal.
§ To gain ideas and views of stakeholders regarding opportunities for funding and income generation.

The following options were reviewed:-

The meeting seems to have gone sensibly, and there seems now to be general recognition that the current arrangements for funding and operating the canal are not working adequately, and that something has to change. The proposal that the Society put forward some time ago, that management (rather than actual ownership) should be handed over to British Waterways, seems to be finding some favour, but would obviously depend on BW showing sufficient interest to offer reasonable costs.
Option
Description
1 . Unchanged Management (Leave mqt/fundinq/operation of canal as it is currently)
a) Cutting the level of service
Leave the mgt/funding of the canal as it is but reduce the level of activity in order to reduce revenue expenditure
b) funding from other committees
Look to receive funding from other committees within each council, such as environment, recoqnisinq the canal's other uses.
c) removal of riparian funding
Hampshire and Surrey County Councils to provide all funding.
d) formalise funding formula
Current arrangements are by agreement only so partners do not have to pay their calculated share. Could formalise arrangements and commit to 3 or 4 years worth payments.
e) Source new funding via Grants etc
Enhance current funding with increased Grant funding.
2 Management by a third party
a) British Waterways
BW runs the majority of the canal network and could either take control over the canal completely or the day to day mqt.
b) National Trust
Currently own and manaqe the adjacent river Wey.
c) Other existing Trust
Other body to take on the running of the canal under a long lease agreement.
d) Setting up an independent body to run the canal
i) charity
i) Forming a charity to own the canal. To be a charity an organisation must have purposes which are exclusively charitable, and in this case for the benefit of the community
ii) private company
ii) Local government trading powers may allow the canal to be set up as a private company
iii) create a park authority
iii) Lee Valley Park in London is funded with a precept on the rates and protected by London Boroughs under an Act of Parliament.
3. Stop or Limit use
a) substantially close the canal
Pipe and weir sections of canal including minimising use of towpath.
b) retain water but stop through boat movements
Legal minimum: house-boaters could remain, towpath use the same. Hampshire section would become landlocked.
c) as b) but retain Woodham locks
This would allow Woking to remain accessible to waterways network.
Having read the options in Section 3, it is tempting to do a Carry on Cleo and run round screaming "Infamy, infamy, they've all got it in for me!" like Kenneth Williams as Julius Caesar. The prospect of the canal being handed over to a private owner, who would then fill in parts for building land, leaving a series of isolated nature reserves to be managed by a wildlife trust is one that we would fight tooth and nail.

However, given the current state of the canal, it is inevitable that someone somewhere is going to suggest drastic measures such as these. It is therefore only sensible to review them and draw up well reasoned arguments against them. Many of the options in the other sections are potentially acceptable.

The workshop groups "brainstormed" ideas on to flipcharts which are being collated by consultants from within Hampshire County Council. The results will be circulated and a report will go to the Canal Joint Management Committee in October. They will no doubt select some options for further work having had time to assess the stakeholders' views of the pros and cons.

This is clearly only the opening round in what could be a lengthy process, but it is given some urgency by the imminent departure of Leigh Thomton. However, it is hard to see anyone being appointed until some of these fundamental points have been resolved, so it may well be some months before a permanent replacement is in post.
[back to top]
As many of you will have heard, I am departing the Basingstoke Canal to take up a new post with Kent County Council as "Head of Countryside". This is a move into a wider, strategic role and is a career move for me which I am greatly looking forward to. I will be upping sticks and the entire family will be moving to Kent.

My 6 years here (virtually to the day) have gone very quickly. Our third child was born just after I started and the whole family has grown up with the Canal as part of their lives. They will all miss the Canal Centre, boat rallies and many odd forays out and about to look at things, check things and share in something I had discovered a few days before. I'm sure they will remember the Canal as somewhere welcoming and safe, a place to get outside and experience the great outdoors, to see some history, peer up the tunnel for bats, chase round the castle, watch a boat slowly chug by and as the first place they paddled a canoe. That is why the Canal is so brilliant and why I have had so much satisfaction from the job. It is such a fantastic resource, providing accessible opportunities for so many people; that's why we've got to keep it! It will be a tough job for my successor. Funding and structural problems are key issues that will require a lot of attention and need to be addressed to provide a sustainable future for the Canal.

Partnership is the key and the Society have an important role to play. Whilst the Society retains its own voice and members are not afraid to express counter opinions, I feel we are pulling together these days towards a common aim - in fact I often feel it is BCA and the Society against "the rest"!

Moving on from the Canal leaves a lot of mixed feelings. You may recall in the last issue I highlighted a number of "positive" things happening or in preparation and it will be a shame not to see them come to fruition. On the other hand.....there's quite a few issues I will be pleased to see the back of!

Likewise with people. I have met some very inspirational individuals over the last 6 years and have had a lot of support - often by people who may not realise it. It is surprising when you are down about something how one small comment can be so uplifting. On the other hand I have met people who seem determined to thwart you at every turn........!

I think there is a great future for the Canal, which will unfold over the next 5 - 10 years as changes in the Woking and Aldershot areas take place, new money comes in and the essential repairs are carried out; and I have confidence that they will get carried out. The County Councils are determined that the Canal remains as an important local

resource and are currently exploring all the possibilities they can for the best management and improved financing of the Canal. A recent workshop of invited "stakeholders" has provided some very useful material and a full report will be going to the Canal JMC in October, who will hopefully agree a way forward. Whether the future is an improved "status quo" or something more radical remains to be seen. There are many pros and cons to the various perceived options. Those of you who have got more involved over the years will appreciate that canal management - certainly on an SSSI in public ownership - is not as "black and white" as some may like to think.

I would like to wish good luck to all in the Society and hope the organisation can grow and thrive alongside the future of the Canal. I have enjoyed working with many of you - you know who you are! - but I am sure no one would begrudge me giving a special thank you to Peter Redway. A very inspiring individual, who, whilst never happier than when down a large hole discussing flow rates, has been tactful, diplomatic, supportive and yet not afraid to say what he thinks in the wider political arena. He has become someone I have grown to respect greatly over the years; I just hope I have at least half his energy at his age!

And a final word? Well it simply has to be:

So long - and thanks for all the fish!
Leigh Thornton

There's a thought - The Hitchhiker's Guide to the Basingstoke Canal!

We thank Leigh for all his efforts and wish him and his family all the very best in their new life in Kent.

Looking back at the interview that I did with him when he arrived in the autumn of 1999, I note that one of his ambitions then was to make the canal more used and that better water supplies were a key to this as far as boating was concerned. In that respect the partnership between the BCA and the Society during his tenure has been very successful with the installation of the Woodham back-pumping scheme and the imminent completion of the one at St. John's. A good deal of ground work has also been done in getting people to think about other measures, largely thanks to Pete Redway's initiatives.

Sadly Leigh's other ambition, to get the mooring basin in at the Canal Centre, has been thwarted time and time again - maybe this winter?

Who will follow Leigh? Perhaps someone seconded from BW? We wait with interest.
[back to top]
It's hard to realise that some of the lock gates made by the Society are now a quarter of a century old. Not surprisingly, some are in serious need of replacement. The BCA has continued to make gates at the Deepcut workshop, but there are increasing problems with meeting current health and safety regulations there. As a result earlier this year the BCA ordered two new pairs of bottom lock gates from the workshop on the Rochdale Canal.

When the Rochdale was taken over by BW, their lock gate workshop became redundant and has survived since by mostly making things like garden furniture. However, they clearly still have the skills and equipment to make very nice lock gates, and for about the same price that it would cost the BCA to make them themselves, when materials, manpower and the implications of new HSS legislation are costed. Tony Beecher estimates that the last of these has cost him nearly 4 weeks work just to get all the safety plans and various authorisations set up for the job of installing the new gates.

The Rochdale gates are completely made of oak with all the joints reinforced with irons (see right). The planks are overlapped, so that even if shrinkage occurs (unlikely with oak), there should be no gaps, unlike some of the existing gates on the canal (see below) that leak appallingly because they seldom get wet for long enough to swell up.

Above: New and old gates

The first new pair has been installed at Lock 2 (see cover picture). They seemed to fit very nicely without any problems and the BCA gang looked very pleased with themselves. The old gates will be surveyed to see whether they can be sawn down and used to make a pair ot standby top gates for use in emergencies. The second new set will be fitted to Lock 6. The BCA hope to fit two new sets of bottom gates a year if finances allow and will probably continue to make top gates themselves.

Above: Satisfied customers, Andy Loader, Tim Down, Ian Brown, Tony Beecher and Jon Green.
[back to top]
A few years ago, Hampshire County Council decided to install a footpath across Malthouse Bridge, leading round to the small canalside car park. However, this was the wrong side of the road for those wanting to walk up from the footpath in Crookham Village across the bridge. The County Council therefore decided that what was needed was a new footbridge to run along the other side of the road bridge.

As a result, the bridge was closed lo road traffic for some three months whilst abutments were built; canal traffic was unimpeded. The new steel bridge was brought in on a low-loader, which unfortunately arrived on the wrong side of the

closed Malthouse Bridge; the driver was sent off to find his way round Aldershot and reappeared about an hour later on the correct side. But finally the bridge was swung into place by a very large crane and within a week or so everything was complete, including a new set of steps up from the towpath.

The result is a safer passage for pedestrians and also a better view of oncoming traffic for motorists. The bridge itself is painted green and is actually quite decorative. It would be nice now if the old and rather scruffy wooden railings on the other side of the road could be replaced to match the handsome hardwood ones of the new bridge.
[back to top]
MIKRON THEATRE
| | | |
| --- | --- | --- |
| The Mikron paid their annual visit to us on 17th July and were more fortunate with the weather than last year. As a result a very good crowd was able to sit on the grass behind the Fox & Hounds in Fleet and enjoy "Wheel of Fortune", the | | story of the canals linking Edinburgh and Glasgow, includ­ing of course the now famous Falkirk Wheel. As usual.a most entertaining and enjoyable evening and thanks to David Millett for organising it once again. |
[back to top]
Four Seasons Hotel
When Catherine of Aragon first came over to England to be introduced to Prince Arthur and his brother, the future Henry VIII, they met at Dogmersfield House. The original building has long since be replaced and the present one changed hands a couple of years ago and is now a hotel called the Four Seasons.

It can be seen from the canal between Double Bridge and Blacksmiths Bridge in Dogmersfield but the attached land extends towards Odiham and comes down to the canal bank beyond Sandy Hill Bridge, where a landing stage has been built.

The hotel is clearly aimed at the upper end of the market and one of the facilities being offered to their guests is a canal trip, as the following piece of advertising indicates.

"Four Seasons Hotel Hampshire is situated on the ancient Dogmersfield Park estate which was referenced in the Domesday Book in 1086. The 500 acre estate is circumnavigated by the Basingstoke Canal, a haven for wildfowl and wildlife. As Dogmersfield Park pre-dates the English canal system, the route of the canal was determined in 1798, when Sir Henry Mildmay, the influential owner of the house and grounds at the time, forced the canal to be constructed around his land to ensure that his peace was not disturbed. Today, guests can adapt to the unhurried country pace aboard the Hotel's 70 foot custom-designed canal boat as a uniquely English way of seeing the beautiful Hampshire countryside.

Available for private hire, the canal boat takes a maximum of 12 guests for a 3 hour cruise around the Basingstoke Canal. The cruise takes in open countryside, ancient

Above: Louise, the Four Seasons trip boat.

bridges, forests full of bluebells and snowdrops and can be tailored to deliver guests to one of the charming local pubs that have gardens reaching down to the canal. Pubs with a reputation for excellent local cuisine include the Waterwitch and the George and Lobster.

Canal boat cruises are £750 plus VAT for 3 hours. Four Seasons can organise picnics to be enjoyed onboard as well as champagne and canape parties. Food and beverage costs are in addition to the hire charge." The Society originally had some concerns about another trip boat operating on this section of the canal, but the John Pinkerton seems to be catering for a rather diffferent market to Louise!
You never know what you're going to meet on a cycle ride along the canal.

This gentleman and his his savage looking friend were taking a Sunday morning constitutional along the towpath near Tundry Pond.
[back to top]
SOCIETY ACCOUNTS FOR 2004


[NB: These are not on the website]
[back to top]
CHOBHAM SOCIAL MEETINGS
| | | |
| --- | --- | --- |
| The new season of social meetings starts on Wednesday 19th October at our regular venue at the Parish Pavilion, Station Road, Chobham at 8pm. These meetings will continue on the third Wednesday of each month until April 2006. See map for exact location. Coffee/Tea and biscuits will be available during the interval. | | |
Wednesday 19th October 2005
Runnalls Davis - "Idle Women"
This illustrated talk will feature the story of the women who stepped in to operate the working narrow boats during World War 2 when the menfolk went off to fight the war. This story is an amazing tale of hard work under sometimes very difficult conditions.
Wednesday 16th November 2005
Colin Reynolds - "The River Thames"
Colin Reynolds from the River Thames Society will illustrate the history of the River Thames and its historical connections and take us on a journey through the year up to the present day.
Wednesday 21st December 2005
Rick Travis- "Past, Present and Future of the Chichester Canal"
Rick Travis from the Chichester Ship Canal Trust will illustrate the story of this south coast canal plus the Portsmouth and Arundel Canal. Many of [us] will probably have had a trip on the boat operating from the Chichester Canal Basin.
Wednesday 18th January 2006
Dr. Arthur Tanner "History of London Trams"
Changing the mode of transport from water to land Dr. Tanner will illustrate the story of the London Tram system including their social consequences and ending with the fairly new Croydon Trams system.
Please come along and support these social evenings where we like to see new faces. Everyone is welcome so bring along your friends as well.
David Millett (01252 617 364)
Boat rallies
The Fox and Hounds Rally on the August Bank Holiday weekend may well be over by the time this newsletter gets out. However, the weekend of 17th and 18th September will see the Basingstoke Canal Boat Club's Moving Rally taking place between Frimley and Odiham. A parade of steam boats, cruisers, narrow boats, etc along the canal should do much to remind everybody that the canal is a navigable waterway.
[back to top]
HAYBARN BRIDGE SWINGS AGAIN
The Rt. Hon Francis Maude, MP for Horsham, Chairman of the Conservative Party and a Vice-President of The Wey & Arun Canal Trust, re-opened the swing bridge at Haybarn, near Wisborough Green, on Saturday, 16th July. The bridge had travelled over 200 miles from West Yorkshire to its new home on the Wey & Arun Canal. Its installation in Sussex needed a massive volunteer effort.

Before cutting the ribbon at the official re-opening, Francis Maude congratulated the Wey & Arun Canal Trust on the contribution their efforts made to the community. He wished that all his duties as an MP were as pleasurable as this trip into the beautiful Arun Valley. TheTrust's aim was a simple one: to reopen the whole waterway between Surrey and Sussex.

Peter Foulger, the Trust's Chairman, recalled that in 1998 Francis Maude had inaugurated the restored Brewhurst Lock at Loxwood. The Trust has just started a huge project to extend the restored section at Loxwood and he hoped it would be less than another 7 years before he called on Francis for another major reopening ceremony.

Graham Baird, project manager for the swing bridge installation, thanked the many volunteer groups who had given up their time to carry out the difficult and often unpleasant tasks involved.

After the speeches, the restoration group leaders swung the bridge into the "open" position (allowing boats to pass) and Trust member Richard Elmsley paddled his boat through the opening (see picture above). This was probably the first boat to pass the bridge since the end of navigation on this section in 1888.

The bridge originally crossed the Leeds & Liverpool Canal at Bar Lane, Keighley, Yorkshire. It was a gift from British Waterways. The Wey & Arun Canal Trust has to

rebuild or replace a number of bridges because over the years they have been lowered to a height that would no longer allow boats to pass. After being transported by road from Keighley, the bridge was temporarily stored at a farm near Billingshurst.

Two years later, the Trust was looking for a suitable project for a large number of volunteers and decided to relocate the bridge to an unrestored section at Lee Farm in 2004. Firstly, however, the working parties had to dismantle a flat-decked concrete bridge believed to have been built by German P.O.Ws.

The bridge carried a public footpath, so a succession of formal approvals was required, starting with the landowner's consent, then detailed planning permission and finally a temporary footpath diversion order.

The project was not without some difficulty. Some of the lighter sections of the bridge had rusted through and the entire structure was badly corroded. It was therefore necessary to carry out extensive rust removal and three separate teams spent very dirty and tiring weekends carrying this out, using hand-held hammers to chip away at the more difficult areas. After a second session of grit blasting by specialists, the steel was primed and coated with three layers of paint.

Eventually, the bridge was lifted and transported to the Haybarn site where it is found fully restored today. Because a brick built "hump-backed" bridge was originally on the site, an enormous amount of bricklaying and preparation work was needed so that the bridge could swing once more.

Lord Egremont also presented an original drawing of "The Summit Level" of the Wey & Arun Canal (by local artist John Russell-Hayes) to Mr Jim McAllister of Dunsfold Park in recognition of his help and encouragement in the restoration of the canal.

For general information on the work of the Wey and Arun Canal Trust, please telephone the Trust office on 01403 752403. www.weyandarun.co.uk
[back to top]
Dear Peter

I always read the Basingstoke Canal News with interest, and I was pleased to get the latest copy. But I was a little upset to read the paragraph on Page 5 referring to "a local MP" (it must be me). I am not clear who made such a suggestion, why it was felt necessary to appear critical of me for leaving before the start of the AGM, and why there is a reference to an apparent conflict of interests. This paragraph is a combination of rather unkind, and inaccurate. [?]

When I came to the AGM I was not the local MP - I was a mere candidate, and I dropped in for a little while during an evening of many commitments to meet a number of people and to express my pleasure at some of the developments for the Society. I think whoever complained about me, and it would be interesting to know who is was, was referring to the fact that I had had some months before correspondence from a constituent concerning alleged noise. Far from taking sides, and this is the point surely, I merely offered to copy the correspondence to the Society for comment. This is nothing less than my duty as a Member of Parliament and does not imply that I was taking sides or in any way critical of either side in this apparent dispute. Before very long I had left the matter entirely to the good offices of a relevant local councilor to try to sort it out. Why on earth is anyone suggesting that I should be removed from the Society's list of Vice-Presidents given my interest in the affairs of the Society and my ability in the past (and I hope the future) to intervene from time to time to good effect in the Society's interests?

I hope you see the sense in what I have to say and that we can have some correspondence on the point with slightly more appropriate and less unkind reference to me might be made in a future publication. I am very anxious indeed to hear from you on this point.

Yours sincerely
Humfrey Malins CBE MP

I am delighted to print Mr Mallin's assurances on this matter together with his offer of intervention on the Society's behalf. The whole business of noise at the dry dock has caused a great deal of ill-feeling within the Society, because of a perception that the complaints of one person are being allowed to greatly reduce the usefulness of an invaluable and unique facility on the canal. This may have led to some ill-founded rumours and misconceptions, though in fact Mr Malins' name was never actually mentioned.

The original complaint, about a boat that was not even in the dry dock, was probably perfectly reasonable and has been dealt with. Now, however, use of the dock, which previously caused no complaint by anyone, is severely and, in our view, unreasonably constrained. Noise measurements that I took indicate that many of the activities such as use of ordinary DIY power tools, which are now restricted, would be inaudible at the house opposite.

The problem seems to be that there is no defined legal noise level to keep to and if someone decides to be annoyed, the noise is automatically classed as an annoyance that must be abated. There does not appear to be much inclination on the part of the authorities to consider the interests of other parties.

Perhaps Mr Mallins could advise us as whether there is any form of appeal mechanism that we could follow.

Dear Roger,

Lock water usage

Apologies for the delay in responding to your further challenge on this topic in The Summer BCN (I thought this correspondence was supposed to have ended!)

Tony Harrison is, of course, entirely correct in what he says. My calculations simply show that the presence or absence of boats in a lock does not affect the volume of water that goes out of the lock when it is operated. There is much more to the total water usage on a canal than that, some aspects of which relate to the design of the canal and some to the way it is used for traffic (not to mention how it is maintained), but the dominant factor is always likely to be the volume of each lock.

If readers want a bit of innocent merriment (probably best after the second pint), they might like to consider that, for a canal with a given total rise from bottom to summit, less water is likely to be used for boat traffic if the canal is equipped with more locks each of lower rise, than if it has fewer each of higher rise. As nobody is likely to be re-equipping the Basingstoke, we may safely indulge in flights of fancy about this, although if the extension to the K & A came to fruition of course......
Yours sincerely,
Adrian Birtles

Thanks Adrian. I think that honour is now satisfied on both sides, so I am now definitely drawing a line under this topic!
[back to top]
[page 15]
MORE LETTERS
Dear Editor,

Perseverance
I noticed in recent issues of Basingstoke Canal News that Perseverance was lying [!] at the Boat Museum in a dismantled state with various parts of the machinery deteriorating, that the Boat Museum apparently does not have immediate plans for restarting work and that SHCS members' views were being sought on how best to ensure the future of the vessel.

There is no doubt the present situation with Perseverance is not what we anticipated when it went to Ellesmere Port and it is significant that in one of those issues of BC News there is an article which is effectively about the Boat Museum's current campaign to publicise its financial plight. I support the SHCS committee view that the Boat Museum should be pressed to finance and progress a full restoration, but I rather fear the museum's response would be "Yes, we'd be pleased to, just send us the money".

I fear also there is no obvious alternative. There are neither the resources nor the motivation within the Society to do what the Daniel Adamson's supporters did and go and claim it back. Would another canal society who are just starting a restoration like to take it on, and use it for its original purpose? Maybe, but the pace of canal restoration is much greater now than when we started, and more public money is likely to be involved. The guardians of the public purse, not to say the public themselves, will want to see results quicker than a steam-dredger-in-need-of-restoration would be able to provide.

Perhaps in the long term the only realistic course is to join the Boat Museum's (ie the Waterways Trust's) campaign for their financing to be put on a proper footing. In the shorter term, how about a working party to go up to Ellesmere Port and, with the Boat Museum's permission and (I would hope) assistance, stop the deterioration by getting the machinery properly protected and under cover if possible?

Yours sincerely
Colin Ward

I think Colin's opinions and suggestions are very much in line with those of the Committee. Sadly, it is very unlikely that any new canal restoration would make use of a 70year old steam dredger, given current health and safety legislation, although to the best of my knowledge, Perseverance never caused injury to anyone.

We have lent our support to getting

better funding for the waterway museums to put them on the same footing as the National Railway Museum at York, where admission is free.

Dear Roger,

Havejust received the summer edition of the BCN and I must say that "the view from the Canal Centre" article really cheered me up. It's nice to have a good overview of what has and is being done, when sometimes it seems a bit doom and gloom.

Like the News a lot as it keeps us all in touch with what's going on.

On the back cover could you put a strip with membership details and prices and space for address and telephone numbers for new members to get in touch, so that if we pass on the News to other people we can tell them how to join.

Also, how about getting some adverts in the News to help pay for the cost of printing etc. I'm thinking along the lines of the banks in Woking (Barclays, NatWest, etc) who could afford a full page advert.

Keep up the good work.
David Wood

A good idea about membership details, which I have adopted. I have mixed feelings about advertising. Many society magazines do have it, but I'm not sure that the banks would be interested. If you haven't got an account by the time you are the age of most of our members, you probably never will have! Perhaps Saga though? I'll think about it.

Dear Roger

Canal Water supply
As is fairly obvious the Basingstoke Canal suffers from a lack of water. Has anyone ever done a survey of all the roads that cross or run close to the canal, with a view to getting the maximum surface water drainage, running into the canal.

For instance, when I have been at Colt Hill and it is raining heavily I have only noticed a small amount of water coming in from what I assume is a surface drain. It is far less than the amount that I would expect from the London Road draining down from Odiham High Street. At Swan Bridge we do appear to get the road drains coming in, but I cannot tell for sure.

With surface water draining in during the summer we could
(continued on page 16)
[back to top]
[page 16]

possibly augment our levels, if it rains! which it was doing very little early this summer, but is now giving us some water.

I know we are looking at new developments to supply surface water, but have we looked all possibilities from 'old developments'? Perhaps one of our members would have the knowledge and time to conduct a survey.

I appreciate that we would then have to look at funding the means diverting any water into the canal, which could possibly be a Lottery Fund appeal.

Mind if we did get extra water coming in we would have to make sure that in the winter the excess could safely be run off via our current overflows.
Regards
Duncan Paine

While talking to Duncan about these ideas, another thought occurred to me. The Hampshire pound acts as a reservoir to top up the Ash lock to Deepcut pound which includes Mytchett Lake, Greatbottom Flash and Wharfenden Lake, all of which also have to be topped up. What about replacing the fence across Mytchett Lake with a dam? If the banks could also be raised a bit, this would enable it to be used as a reservoir for the canal and would mean that it would not need to be topped up with the canal if levels dropped. It could also serve as an undisturbed nature reserve. Perhaps the same could be done with Greatbottom Flash, which although open to boats tends to be weedy and not very inviting to boaters.

Dear Mr Cansdale,

Last year as I am sure you know, the swans managed nine cygnets. They brought them to show to us and packed them all into our pond - which did not do it any good at all; but that is another story.

After a little while, four of the cygnets disappeared. We thought that these were perhaps the young males, which had been sent off to find a home of their own.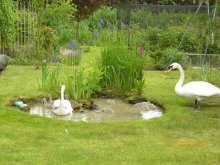 At the end of the season, the rest disappeared. We thought that they had probably come to grief, in hopefully some natural fashion.
This year, the adults managed eight but this number suddenly dropped to one. We feared that they had been "removed" nefariously.
Recently, I met a man on the towpath who cheered me immensely. He thought that the cygnets had been removed by people who had their best interest at heart. They had been removed to be brought up in safety somewhere and then released to carry on their own lives later. It is a great shame that this could not have been explained to the adult swans, who seem recently, to have lost a little of their usual 'sangfroid'.
If this really is the case, I feel sure that many people would be much encouraged to know that an active programme of 'swan management' is in operation; especially if this includes control of other species - such as the Canadian geese.
May I suggest that the programme be featured in the Canal News or perhaps a notice on the local council notice boards [with their permission of course]. Perhaps the local paper would like to run an article on it. - All good publicity for the canal.
Yours sincerely,
George Gilder
I know that there is a swan rescue organisation that comes to the aid of birds that have got tangled in fishing lines etc, but I had not heard of anyone relocating swans. Can anyone enlighten us? I hope the story is true and that the signets have not fallen victim to foxes, mink, pike or the local youth.
For sale
McNulty Huron Canadian canoe. Green. 16 ft long with 3 seats. GRP with mahogany gunwales. Sealed bow and stern compartments for storage and buoyancy. 2 paddles. A lovely boat for £500 ovno.
Phone Dieter Jebens on 01252 715230.
[back to top]
Narrow dog to Carcassonne by Terry Darlington. Published by Bantam Press, price £14.99. ISBN 0593 053117

To those canal enthusiasts brought up on Tom Rolt's Narrow Boat or John Seymour's Voyage into England, this book may come as a bit of a shock, or a refreshing and very entertaining change.

The author does not pretend to be a canal authority, or a boating expert, or anything else really. He and his wife Monica are just pensioners who refused to follow the suggestion of one of their friends and simply drink themselves to death in the local like a normal person, and instead sailed their narrow boat,

complete with whippet Jim, all the way from Stone, across the Channel, and then down through various French waterways to Carcassonne on the Canal du Midi.

The fact that they survived the various hazards without anything too ghastly happening suggests that Terry is not quite the bumbling amateur that he pretends, but they clearly had a few worrying moments before reaching their destination. It is not a journey to be undertaken lightly or without due planning, but it can be done and the rewards are clearly worth the worries.

Terry writes in a slightly strange, almost surreal style, perhaps because he is Welsh. There is certainly something of the poet about him and once you have got into it, the book picks you up and wafts you along through Paris, Burgundy and the Rhone to a quick dip in the Mediterrian [sic]. The description of this particular episode epitomises the book's style -

"We sailed on to Homer's wine-dark sea. There were fishing boats in the mist over towards the edge of the world. I couldn't see any other narrowboats. I turned and went back past the lighthouse and after a couple of days things were fine with Monica again".

The book has a very eclectic collection of quotations and references, ranging from Homer and the Bible to Chuck Berry and the Rolling Stones, which make a change from facts and figures about tonnages and lock falls. All in all I found it very amusing and rather inspirational. Highly recommended.
Roger Cansdale
200 Club Winners

February
23 Mr ALarcombe
£64
95 Mrs S Anderson
£31
56 Mr F Stow
£15
44 MrG Hibberd
£15
April
104 Mr D Back
£64
70 Mr A Hocking
£31
81 Ms E Fairless
£15
88 Mr & Mrs Redway
£15
June
92 Mr D Truman
£64
108 Mr WF Herbert
£31
24 Mrs S Goddard
£15
55 Mr W Vincent
£15

Thank you all for being so generous this year with a total of £1500 meaning £750 for SHCS and also for you lucky winners, the first clutch are shown left. However, some of you seem to be too generous as you have sent me cheques while you still have current standing orders. I am also worried that some people with STO do not fill in the annual 200 Club membership form, as I do not have access to SHCS members database I don't know if you have moved house, and you may lose your winnings. I shall try to write to most of you soon.

Thanks for your support
Jim Johnstone
[back to top]
MILLETT'S MUSINGS - David Millett
# Sorry to hear that the Canal Director, Leigh Thornton will be leaving us towards the end of August. He is taking up an appointment as Head of Countryside for Kent County Council based at Maidstone. Whilst we will be sorry to see him go, congratulations and good luck are due to him for his continued career. The only major waterway in Kent is the River Medway to Tonbridge but that is owned and managed by the Environment Agency.

# The continued lack of rainfall is now very serious both for the Basingstoke Canal and for local residents with hosepipe bans in the offing if not already imposed by the time you read this. To refill the underground aquifers from which the springs are drawn to supply the canal at Greywell a well above average autumn and winter rainfall is needed. While it will not please some people, a real deluge is required.

# As some members will have seen Deepcut cutting looks very different after the tree felling last winter by canal rangers (above). This was very necessary as many trees on the cutting sides were in a very dangerous condition and constituted a danger to walkers and boaters if any crashed down. We understand that some further work is required before the job is finally completed. Recently a large tree came down across the canal by Bob Potter's Lakeside Club.

# Having mentioned the new Canal Watch scheme on the Surrey section of the canal in a previous column we are disappointed to hear that the signs, which have been prepared to install along the canal at well known black spots for vandalism, are still lying at the Canal Centre at Mytchett. With the initial publicity on radio and television about the scheme it is essential that they are put up as soon as possible (Some have been now).

# Good to hear that the Lottery funded scheme of Hampshire County Council for the Odiham castle area is to start this autumn. Blue Boar Contractors will be piling the towpath edge between the Whitewater aqueduct and the castle. The work will include a new permanent jetty to replace the temporary scaffolding jetty installed by Society members some years ago plus bank protection work along the whole section to the North Warnborough Lift-up bridge.

# Excellent weather greeted a number of Hart councillors and officials for a JP canal cruise from Crookham Wharf to Blacksmith's winding hole and back one evening recently. A PowerPoint computer presentation was given to them by Chairman Peter Redway during the cruise to bring them up to date with canal issues both operational and financial.

# Hear that when Tony and Jackie Haynes were taking their narrow boat'Dreamcatcher' down the Basingstoke to tour the country's canals this summer they unfortunately broke down with engine failure near Hermitage Bridge, Woking. A call to John Cale who owns 'Mayfly' brought him to the rescue. Mayfly went down the Deepcut flight and towed Dreamcatcher back up the Deepcut flight all in a single day. Mayfly left at 4.30am and both boats were back up to Lock 28 by 4.30pm. Almost certainly this is the first time this has been undertaken in a single day.

# Good to hear that the Inland Waterways Amenity Advisory Council members had a visit to both the River Wey Navigation (National Trust) and the Basingstoke Canal in April. This Council will, in future, be involved with both British Waterways owned navigations and independent waterways such as the Basingstoke and the River Wey. So their visit was very timely and the members leant much new information about our local waterways. IWAAC's remit is to advise Government about waterways issues around the country.

# Good to hear that the 2006 Inland Waterways Association National Waterways Festival is to return to the excellent location at Beale Park, Pangbourne. The date will be over the August Bank holiday period next year. In 2004 the Society, under Secretary Verna Smith's aegis, won the Best Society stand award at this festival. Beale Park is probably the best location in southern England to hold the event with plenty of space for hundreds of boats plus large areas for campers and caravanners and for exhibition space.
[back to top]
From Society Newsletters No.64 October 1975 and No.65 December 1975
# On 22. July 1975 Surrey County Council formally voted to buy the 17 mile section of the canal between the County boundary on the Ash Embankment to the River Wey junction at New Haw. The cost agreed with the New Basingstoke Company was £40000.

# The formal decision on restoration will be made at a Town and Country Planning Committee meeting on September 22nd.

# The Society can now stop campaigning tor restoration and can now get on with the job. Working parties are to stepped up and the Society will need even more volunteers especially with 28 locks to be restored on the Surrey section of the canal. More volunteers are required tor our steam dredging operation in Hampshire and for the towpath and bank clearance work, the latter being ideal for families.

# 3-year old Sally Kerry, dressed for the part (above), officially re­opened Artillery Weir near Ash Lock after nine months' work by members and other volunteers. Sally is the daughter of Mike Kerry, a local building contractor who organised the work which involved 133 hours of work by the volunteers.

# The barge 'Aldershot', built by Mr. AJ. Harmsworth at Ash Vale Barge Yard in 1932 has been recovered and returned to the Basingstoke Canal by Society volunteers. In its derelict state it was towed by the NB 'Irenic' from the Walsham Lock area on the River Wey to below Lock 1 on the Basingstoke.

# The 'Aldershot' left the canal in 1949, subsequently traded on the River Wey and Thames until 1960, and was then sold to become a houseboat and was later sunk. It is the Society's intention to restore it asa floating museum and to house the Society's growing collection of canal exhibits.

# On Sunday 21st September, two coach loads of members and friends visited the steam driven beam engine pumps at Crofton on the Kennet and Avon Canal.

# The Society's new booklet entitled 'A New Lease of Life for the Basingstoke Canal' has been published. Written by Dieter Jebens and David Robinson, the booklet gives a potted history of the canal and the campaign to save it. Many other interesting facts are included such as why the canal became the subject of litigation at the Court of Appeal and the failure of early plans to link the Basingstoke with the Kennet and Avon Canal at Newbury.

# A letter from E. Southgate Day in the Hampshire Observer of 28 October 1911 asks 'Can the Basingstoke Canal be saved forthe public. It must not be allowed to run dry and converted into building sites and market gardens'. (So even in 1911 doubts about the canal's viability were being expressed, foreshadowing our campaign started in 1966 after the canal became derelict).

# A report to Surrey County Council costed the restoration of the Surrey section of the canal at £172000 including the value of voluntary labour. The Land and Buildings Committee, however, did not vote to take up the Society's proposal of a charitable trust. Instead they suggested a Consultative Group of officers, including a Society representative, should be formed to co-ordinate a restoration programme.

# 220 walkers on the September Sponsored Walk raided a total of £1550 toward the Society's restoration funds. This was in spite of awful weather with a chilling east wind and heavy rain which started in the morning and continued all day. The Society was loaned a private ex-London Transport Green Line bus, driven by Victor McAloon, to ferry walkers back to their starting points.

# About 100 people, representing a wide range of canal user interests, met at the Cotteridge Hotel, Woking on September 24th, at the invitation of the Wey Valley Fisheries Consultative Association. Inevitably the perennial conflict (or is it just a figment of the imagination) between boating and angling interests was debated. Sensibly, the chairman, Mr M. Gibb, concluded that with co-operation and tolerance, away should be found to cater for all interests in using the Basingstoke Canal once it was restored.
[back to top]

page 20
2006 marks the 40th anniversary of the founding of the Canal Society.

We would like to mark this by inviting past members and other volunteers of the restoration to join our celebrations, which are scheduled to take place over the weekend of the Brookwood Rally on 27/28th May 2006.

Do you know of someone who might like to come and who has perhaps lost touch with us? If so, please send their details to me (address below) and we will get an invitation sent to them.
Roger Cansdale

Membership

Anyone interested in joining the Society should contact the Membership Secretary, Mrs Doreen Hornsey, whose contact details are listed below. The annual subscription is Adults £10, Junior £3, CAN OAP £5, Family £12, 2 OAP £7, and Group £15, payable on March 1st each year.
[back to top]

Date for next copy 31st October 2005

Published by the Surrey and Hampshire Canal Society Ltd., a non-profit distributing company limited by guarantee, registered as a Charity. The views expressed are not necessarily those of the Society. Executive members of the Committee are shown in bold type and Directors of the Society have a asterisk (*) after their name.

Editorial Team: Editor: Roger Cansdale* 79 Gally Hill Road, Church Crookham, Hants GU52 6RU 01252-616964 e-mail: roger.cansdale@ntlworld.com

President: The Earl of Onslow
Chairman: Peter Redway* 1 Redway Cottages, St John's Lye, Woking, Surrey GU21 1SL 01483-721710
Vice-Chairman: Dieter Jebens* 60 Middle Bourne Lane, Farnham, Surrey GU10 3NJ 01252-715230
Hon. Secretary: Verna Smith* 63 Avondale, Ash Vale, Aldershot, Hants GU12 5NE 01252-517622
Hon. Treasurer: Jonathan Wade* 30 Hanover Gardens, Cove, Farnborough, Hants GU14 9DT 01252-524690
Membership Secretary: Doreen Hornsey 'Mallards', 94a Aldershot Road, Fleet, Hants GU51 3FT 01252-623591
Working Party Information: Peter Redway* 1 Redway Cottages, St John's Lye, Woking, Surrey GU21 1SL 01483-721710
Trip Boat Manager: Peter Wright Holly Lodge, 39 The Avenue, Crowthorne, Berks RG45 6PB 01344-772461
Trip Boat Bookings: Marion Gough St Catherines, Hurdle Way, Compton Down, Winchester, Hants SO21 2AN 01962-713564
Sales Manager & Mail Order Sales: Verna Smith* 63 Avondale, Ash Vale, Aldershot, Hants GU12 5NE 01252-517622
Exhibitions Manager: Position vacant
Website Manager: Arthur Dungate 39 Sian Close, Church Crookham, Fleet, Hants GU52 6BT 01252-622101
Talks Organiser: Position vacant
Press Officer: Dieter Jebens* 60 Middle Bourne Lane, Farnham, Surrey GU10 3NJ 01252-715230
Gift Aid manager & Lengthman Organiser: Graham Hornsey* 'Mallards', 94a Aldershot Road, Fleet, Hants GU51 3FT 01252-623591
200 Club organiser: Jim Johnstone 20 Hawkins Grove, Fleet, Hants GU51 5TX 01252-626749
Archivist: Jill Haworth Sheerwood, 501 Woodham Lane, Woking, Surrey GU21 5SR 01932-342081
Woking Organiser: Peter Coxhead 17 Abbey Close, Pyrford, Woking, Surrey GU22 8RY 01932-344564
Director: Roger Ilett* 30 Waterend Park, Old Basing, Basingstoke, Hants RG24 7BB 01256-764211
Director: Philip Riley* Wincombe Cottage, Broad Oak, Hook, Hants RG29 1AH 01256-702109
Director: David Lloydlangston* 7 Fernhill Close, Upper Hale, Farnham, Surrey GU9 OJL 01252-723309
Director: Bob Malcolm* Little Willow, College Road, Ash, Aldershot, Hants GU12 5DA 01252-659876
Director: Peter Wright* Holly Lodge, 39 The Avenue, Crowthorne, Berks RG45 6PB 01344-772461

Basingstoke Canal Authority Canal Centre, Mytchett Place Road, Mytchett, Surrey GU16 6DD

Canal Society Internet Website: www.basingstoke-canal.org.uk
[back to top]