.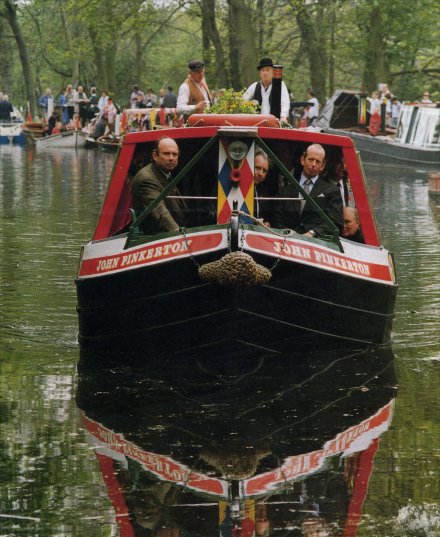 1


MEMORIES ARE MADE OF THIS
ANECDOTES will be told and retold of the day they reopened the Basingstoke Canal. In fact the ceremonies went on for three days from the time the stage was set at Frimley Lodge Park and a voice over the tannoy announced "the Duke of Kent is on his way, his helicopter will be landing shortly", to a ceremony at Basingstoke, 72 hours later, more events unfolded than anybody could have witnessed in total. The grapevine will carry stories for many months to come.

Some have already been told. There was the touching salute by elderly people at a day centre on the banks of the canal in Woking, who welcomed the arrival of the ceremonial cavalcade of boats with an emotional rendering of Land of Hope and Glory — an anthem volunteer navvies might have appropriately adopted though a glorious conclusion never seemed assured. The crew of the John Pinkerton locking down the Deepcut 14 in the early hours of Saturday will no doubt long remember the huge orange sphere of the sun rising, framed by the arch of Cowshot Bridge.

At Sheerwater bankside champagne parties patiently awaited the arrival of the first downstream cruise before the corks were released in time-honoured style, precisely as the first boat drew level.

People lined the canal almost the entire length from St John's to Byfleet with a huge crowd and a carnival atmosphere on Boundary Road common in Woking; at Sheerwater Lock 6 and again at Lock 1. By contrast the John Pinkerton's entry onto the Wey, 10 hours after leaving Frimley, was a relatively private, though no less historic moment.

A personal mental memento will be meeting the person who paved the way to saving the canal 40 years ago. Now in her 80's, Mrs Joan Marshall, who once professed a youthful ambition to own the canal she cared about so much, attended the Royal event. Having achieved her ambition to all intent and purposes as general manager, did she ever contemplate this Royal occasion when she retired in 1964, leaving the canal to fall into decay? Frankly, I forgot to ask as my attention was captivated by her elegant attire and sparkling countenance, clearly demonstrating that whatever her thoughts 27 years ago, for her this was an extraordinary event.

Another octogenarian guest who also made national headlines at the time of the canal auction over 40 years ago, was Teddy Edwards, accompanied by his wife Pat. As secretary of the Inland Waterways Association at the time and a campaigner for navigation causes to this day, Teddy Edwards probably never doubted this day would come.

Along with the Society's President, the Earl of Onslow and Lady Onslow, Vice Presidents were well represented by MP's Cranley Onslow, Michael Grylls and Michael Mates, John Humphries and author Paul Vine who had flown over from Jamaica for the occasion.

The Society's tea party will also make a lasting memory: not just for seeing familiar faces with collar and tie or summer dresses instead of T shirts, jeans and muddy boots, but those who played their part and left the stage. Founder member Robert Harris whose Society logo design is as stylish today as it was when he created it 20 years ago; Paul Dyson another founder member who flew over from Vancouver for the event, and Peter Walker, also from America where he lives with his wife and young family, last seen as a sixth-former selling Society souvenirs. Tempus fugit!

Among the boaters and onlookers were volunteers who undertook the daunting and thankless task of helping to restore the canal. Now the disappointments, setbacks and discomforts suddenly became entirely worthwhile as riparian communities registered their appreciation of the significance of what so many people have worked so hard to achieve.

Commemorative plaques mushroomed, bands played, mayoral chains sparkled, children sang, flags flew, crowds gathered and boats filled the canal for a 3-day celebration, the like of which will never be seen again.

FRONT COVER: HRH The Duke of Kent, the Earl of Onslow, and Society Chairman Robin Higgs taking a trip aboard the John Pinkerton. (Photo: David Robinson)

More re-opening pictures on pages 7 -10, and on back cover.
[back to top]


BREAKTHROUGH!

AT 3.00pm on Wednesday March 23rd, 1991, completion of restoration was marked without ceremony. The Basingstoke Canal Authority's dredger, Unity, passed through lock one and out into the River Wey, having worked its way down the canal over the past few months.

The first boat to enter the canal from the Wey was Gill Heather's 50ft narrowboat Xanth which she brought up the canal to its mooring in Fleet over the Easter weekend.

Another epic voyage was begun over Easter, with the departure of Jan Smith and Pam Wait on Victoria M. Jan and Pam built and fitted out this replica inspection launch over the last three years on the Basingstoke Canal, and their passage down the canal was the beginning of a six month tour of the inland waterways.

The first commercial transaction on the newly restored waterway took place on llth May. Steam dredger Perseverance took delivery of 1/2 ton of coal which had been transported from Tring on the Grand Union Canal, by David Daines in his working narrowboat Lynx.

Although restoration is complete, there is still work to be done and problems to be ironed out. Any craft wishing to use the flights of locks on the canal are advised to contact the Canal Authority in advance for the latest information. Tel: 0252 313810.

STOP PRESS - as we go to press water levels in the Woking area have dropped to a critical level, and the Woodham and St. John's locks have been closed. Boat movements through this section will now only be possible if there is heavy rainfall to raise the levels. It is now ESSENTIAL that boaters contact the Canal Authority before planning a visit, to avoid disappointment.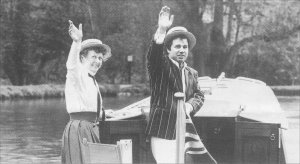 Pam Waite and Jan Smith on Victoria M. (Photo: Dieter Jebens)


[back to top]

'JOHN PINKERTON'
MEMBERS EVENINGS
ALL members are welcome aboard on Tuesday evenings dur­ing the season. This is a regular working party to prepare for the coming week, followed by a trip (water levels permitting) and a chance to have a chat and a drink. Obviously, the more people there arc to help re-stock the galley, check all is in order, and generally clean up, the quicker these tasks will be accomplished. Meet at Barley Mow Wharf, Tuesday even­ings 7 - 7.30 pm.We look forward to welcoming you in 1991.

DIARY OF EVENTS
PLEASE send details of any events you would like included in future lists to: John H. King, 33 Havers Avenue, Hersham, Walton on Thames, Surrey KT12 4NE (phone 0932 220895).

Weekend 13th/14th July
Boat gathering in Guildford organised by the Guildford and Reading Branch of the IWA. Get your entry form from Richard Frost 0932 53548.

Weekend 2lst/22nd September
Fox and Hounds Boat Rally, Fox and Hounds, Fleet, Informal boat gathering organised by the Basingstoke Canal Boating Club. A chance for a drink and a chat with your friends.

Sunday 13th October
A whole day trip on Thames Sailing Barge Cabby. Already there are very few places left, Write to Bill Homewood (4 Larch Close, Camberley GU15 4DB) for details.
[back to top]

MEMBERSHIP MATTERS
I WOULD like to thank all those members who have renewed their subscriptions this year. To all those who have included a donation, your help is much appreciated by the committee. I look forward to receiving any further membership renewals.

If you have any queries about your membership, contact me at the usual address. Please also tell me any changes of address. We do not wish to lose any members!
Edwin Chappell
Membership Secretary

New members
Mr B J Lines, Church Crookham
Mr M Holden, Woking
Mr & Mrs W A Rice, Church Crookham
Mr S A Wilkinson, Thames Ditton
Mr & Mrs F Littleboy, Deepcut
Mr & Mrs J Sears, Farnborough
Mr J W Tapp, Farnborough
Mr & Mrs W G J Chandler, Chandler's Ford
Mr & Mrs T M Dudley, Basingstoke
Mr & Mrs C P Garrett, Pyrford
Mr P Northwood, Fleet
Mr & Mrs M Wilson, Winchester
Mr & Mrs G E H Owen, Eastleigh
Mr & Mrs J E Dohoo, Hartley Wintney
Mr L P Clarke, Hook, Basingstoke
Mr K Freeborn, Henley-on-Thames
Mr & Mrs N Halford, Deepcut
Odiham Society
Mrs I V Hennessy, London SE2
Miss K E Dodington, Brookwood
Mr & Mrs C Whitcroft, Frimley Green
Mr J P Warner, Walton on Thames
Mr P J Fraser, Woking
Mrs J M Kirk, Alton
Mrs M T Calnan, Ash Vale
Mr M R Robinson, Alton
Mr & Mrs N E Flexman, Pulborough
Mr & Mrs C J Hicks, Camberley
Mr & Mrs P J A Strange, Fleet
Mr & Mrs J R Wood, Lancing
Mr & Mrs T G Swain, Hayes
Mr H G Ewing, Camberley
Mr & Mrs D LI Kirkpatrick, Odiham
[back to top]


NO FINAL DECISION YET ON KINGS HEAD BRIDGE
ROBIN HIGGS, the retiring Chairman of the Society, welcomed Cllr Alan Barnett, Mayor of Surrey Heath, at the Annual General Meeting which was held at the Mytchett Community Centre on April 27th. Cllr Barnett spoke of his involvement with the Basingstoke Canal. He wasn't able to confirm that a decision had been taken on the question of the preservation of the Kings Head Bridge in Frimley Green .... talks arc still taking place. After thanking Robin Higgs for 25 years of dedicated service to the canal, he did, however, present him with a number one print in a limited edition of a Terry Harrison painting of the 250 year old bridge. Thanking Cllr Barnett, Robin, in reply, stressed the strength of the co-operation and support between Surrey Heath Borough Council and the Society.

FORMAL BUSINESS
The formal business of the evening was dealt with by Robin Higgs. The minutes of the last AGM were confirmed. The Honorary Auditor was thanked and duly reappointed. The retiring treasurer, Nigel Parsons, presented his report and the accounts were approved. Thanking Nigel for his past work, the Chairman named Jonathan Wade as his successor. As nominations equalled the number of places on the Board of Directors, it was not necessary to hold an election. The one vacancy was filled by Bernie Timms.
| | | |
| --- | --- | --- |
| | | Mayor of Surrey Heath presenting Robin Higgs with a Teny Harrison print of Kings Head Bridge. (Photo: Dieter Jebens) |
[back to top]
VOLUNTEER PROGRESS
Not all plain sailing — Peter Redway, reporting on the volunteers' progress felt that the year ending should have been the triumphant fi­nale for the restoration project. However, the best laid plans can go awry and instead of the final push to completion, members heard that the year had been one of confidence, disappointment, despondency and renewed commitment.
Confidence — enthusiastic volunteers moved on from lock restoration to towpath raising, sometimes laying and rolling 400 tons of scalpings over a weekend, ably assisted by Frank Jones in charge of the full time team and by Surrey County Council.
Disappointment followed when the SCC support changed. Due to economics, experienced plant drivers were replaced and plant was unreliable. During one disastrous weekend, four large dumpers were hired. One had a faulty starter, another had a corroded battery earth strap which broke and couldn't be started, the third had a soft tyre which, when pumped, opened up a split in the tyre wall. The Hymac driver stopped work after eight hours, leaving frustrated volunteers with 40/50 tons of unlaid scalping after a 10 hour day.
Despondency arose when the SCC decided that the special arrangement with the volunteers should end early in the summer. Work parties were to be stopped. After 14 years of unstinting hard work, not surprisingly, volunteers felt bitter and many went off to work on other canals, others simply departed whilst those left, who wanted to work, lacked direction.
Renewed commitment — Summer drought reduced water levels to an all time low. It dried out lock gates and exposed fallen trees, stumps and rubbish. The work parties were back in business. Volunteers returned in sufficient numbers to make an impact on the stretch from Woking to Brookwood. Peter Jackman and his team worked in Hampshire doing a good job on bankside clearance throughout the winter. Future plans are well in hand and work started in March on exploratory clearance at Penney Bridge beyond Greywell Tunnel. During the summer there will be a varied programme. Piling for the John Pinkerton at Barley Mow, piling at Odiham, a footbridge across the Brickwork Arms, modifications to paddle culverts for easier access when the canal is in water. Yet again the volunteers have adapted to change and proved their versatility.
[back to top]
DREDGING IN HAMPSHIRE
Roger Flitter reported that progress over the twelve month period was slower than anticipated due to low water levels when the dredger could not be moved. Tugs were touching bottom and were unable to be more than half loaded. A boiler inspection revealed thin tubes which had to be replaced. These problems were overcome, the crew situation improved and progress was made over 600 yards. Operations continued in December in spite of icing up. A splendid new volunteer on the dragline proved to be invaluable. The tugs now have a new mooring at the Coal Pens.
There is still much work to be done after the Opening Ceremony, decisions and strategy need to be implemented. Many preservation societies are interested in restoration museums, an important symbol of millions of volunteer efforts, perhaps we could also consider this as a future project.
[back to top]
FULL TIME TEAM
Frank Jones gave a good account of the team's activities in the year leading up to their disbandment at the end of January.
The basic problem confronting them was the breakthrough to the River Wey. Having finished off Locks 1 and 2 and started work on Lock 6 their strategy was to work from the top lock at Woodham down the flight finishing at Lock 3. Gates and paddles were made in the workshop and put in place using techniques and skills accumulated over the years.
Maintenance on some of the locks at Deepcut, which had been neglected, was carried out and work was done on the upper towpath gate at Lock 6. As the year progressed, the Basingstoke Canal Authority took over more of the responsibility because of financial pressures. The full time team's traditional role of support for volunteers was gradually phased out.
Frank mentioned a few of the activities that he, Martin, Jim and Dave had been involved in during the restoration. The Ash Embankment, is, he said, a monument to Martin Smith who grappled with the technical problems and produced a very fine structure capable of taking a maximum of 65 cu ft per second. Broad Oak, Cowshot and Woodend bridges had all been tackled. Jim rebuilt Cowshot and Woodend and did a praiseworthy job on the landscaping of Langmans Bridge. The team worked on all the 28 locks in Surrey alongside many a weary volunteer and thanking everyone for their support throughout Frank hoped that they would agree that the restoration of the Basingstoke Canal from field and wood to waterway was tremendous fun.
[back to top]
SUCCESSFUL DISASTERS
Bill Homewood reported on events that he had organised during the year.
One of the Cabby sailing barge trips was cancelled at the last minute and three Severn Bore trips didn't take off for reasons beyond his control. However, on each occasion the would-be-passengers had a fun day out. The next Cabby outing on October 13th is fully booked.
The sponsored walk attended by 33 walkers raised £1,339.07 plus further donations amounting to £89. In addition, £102.50 was given for other charities. Gill Heather raised the largest sum of £235 and was awarded the Challenge Cup which was presented by Robin Higgs. The winners in the walkers' free draw were, 1st prize Jane Pegg, 2nd Adrian Birtles and the 3rd prize went to a dog called Brandy. Another sponsored walk is proposed for 1991.
OPEN FORUM
During members' question time there were queries about water shortage, the Sheerwater pound leak, bats in Greywell Tunnel, the NCC situation, dump sites and security from vandals on paddle controls and weirs. They were well fielded by Robin Higgs ably assisted by David Gerry, the canal manager.
WHAT CAN ONE SAY ...
about Arthur Dungate's highly entertaining presentation to do it justice? It had to be seen to be appreciated. A delightful light hearted look at some serious situations like water shortages. Absolutely first class ... Thank you Arthur!
[back to top]
FINAL COMMENTS
from Robin Higgs. We must build on the future and continue as a positive force. We need to involve more new people. The job isn't finished yet and we could well lose what we have already gained unless we keep up the good work. We are a strong independent voice. During the three years moratorium granted by the NCC monitoring will continue. The opening of the canal is not the end, it is the end of the beginning. Future planning includes enhancing structure and facilities, maintenance, moorings, water supply, dredging, fund raising and promotional activities, and the John Pinkerton. Thanking fellow members and friends for 17 years of loyal support, Robin stressed that as a Society we are guardians of the Basingstoke Canal.
CATERING
arrangements were in the capable hands of Yvonne and Brian Chappell, and Joan Simmons.
THE TOM ROLT AWARD
THIS was won for the second time by Dieter Jebens. The award, for the best canal society newsletter, was presented by Mike McGrath of the Inland Waterways Association. Well done Dieter. The new co-editors agree you are a difficult act to follow. (Photo: Thames User)
[back to top]
THE SURREY & HAMPSHIRE CANAL SOCIETY LIMITED and its subsidiary companies Consolidated Income and Expenditure Account - Year to 31 December 1990
1989
1990
£
£
Income
(net of direct costs)
9,824
Subscriptions
11,193
15,724
Donations
12,710
17,389
Profit from Boat Cruises
19,346
2,796
Profit from Contracting
329
4,377
Fund Raising Activities
3,695
4,598
Interest Received
6,613
54,708
53.886
Expenditure
12,100
Admin and Publicity
14,522
35,843
Plant, Equipment,
Construction and Maintenance
45,723
(11,475)
(less Grants)
0
4,337
Subs. & donations paid
376
40.805
60,621
13,903
Surplus (Deficit) for the year
6,735
Consolidated Balance Sheet at 31st December 1990

General Fund
52,721
Opening Balance
66,624
13,903
Surplus/(Deficit) for the year
(6,735)
66.624
59,889
Represented by:
Current Assets
4.380
Stocks
6,238
932
Debtors & Prepayments
365
67,081
Cash & Investments
58,113
Current Liabilities
(5,769)
Creditors
4,827
66,624
59,889

[back to top]
TRAVELLERS FROM AFAR
AMONG those who gathered to celebrate the Official Re-opening of the 200 year old Basingsloke Canal which was rescued from virtual extinction as a waterway by a team of enthusiastic volunteers was the man who came up with an idea of a restoration project, and two of the original small group of his supporters who had travelled from the United States to see the culmination of a dream.

A letter to the paper
Jim Woolgar, living in Woking in 1965 wrote to local newspapers inviting anyone interested in a project of transforming the derelict Basingstoke Canal into a navigable waterway to contact him. The response resulted in the formation of the Surrey and Hampshire Canal Society now 2,500 strong. Jim's original supporters were 12 in number.

The youngest Sales Manager
must surely have been Paul Dyson. He travelled from Los Angeles for the big event. At the age of 15 he was number four on the membership list and in due course became the Society's Sales Manager. He spoke of the momentous decision to buy small badges (which now, 20 years later, retail at 50p). They were not sure they could afford them and it took three hours to agree to take a risk. When he was 16 he gave a lecture to 350 Women's Institute members. In ihe early days everyone was enthusiastic, the hard bit was getting money. Paul thought the restoration would take four years and cost £50,000!

Here for the weekend
from New Jersey USA, Peter Walker took over the Sales Stand from Paul Dyson in 1969. He wasn't going to miss the grand finale of ihe project he started work on in 1966 at the age of twelve. His parents, who transported Peter and his sales stand merchandise around, remain active members of the Society. Still working for canal societies in the USA, who arc envious of our achievements and have visited the Basingstoke Canal in search of ideas, Peter said the restoration had taken rather longer than he expected.

Paul Vine
the well known author of books on canals flew in from Kingston, Jamaica to join in the celebrations. His book, London's Lost Route to Basingstoke, sold well on Paul Dyson's sales stand at the modest price of fifty shillings. Mr Vine is hoping that a revised edition might be possible.

David Daines with his narrowboat Lynx, delivering coal to the Society's steam dredger Perseverance. (Photo: David Robinson)
SLIPWAY BARRIERS
THE Basingstoke Canal Authority are to erect barriers at their public slipways at the Barley Mow and Farnborough Road Wharf. These will be operable with a British Waterways key, which most boaters will already have. If not, they can be obtained from the Canal Authority, or from Galleon Marine, Odiham. It is hoped that these barriers will prevent unlicensed craft and the 'speed­boat' fraternity from using the canal. Alterations to the car park at The Barley Mow will also provide extra parking spaces, essential to this year's operation of the John Pinkerton from this site.
RE-OPENING SOUVENIRS
THE commemorative souvenirs were so popular on the day that some items completely sold out. We are re-ordering, and souvenirs may be posted, or collected from Sandhurst,Camber ley. All souvenirs show the reopening logo.

Lace Plate £20.00 by post, £17.50 if collected.
Pottery Mug £5.00 by post, £3.50 if collected
T-Shirts (medium, large, XLarge, XXLarge) £5.50 by post, £5.00 if collected.
Glass Tankards £5.00 by post, £2.50 if collected.
Souvenir Programme — 16 pages of colour photos showing the canal coming back to life. Send £1.00 and a self addressed A4 envelope with 38p in stamps to the address below.

Souvenirs are available from: Stan Meller, 101 Branksome Hill Road, College Town, Camberley, Surrey GU15 4QG Tel: 0276 32096. Cheques should be made payable to Mr S Meller.

IMPORTANT - if you ordered souvenirs on re-opening day and haven't received them, please contact Stan as soon as possible.
[back to top]
SALES STAND VENUES 1991
THE Society's sales stand will be at the following major events over the coming season. These are ideal opportunities to have a day out, and visit the stand at the same time. Attractions include books, souvenirs and painted ware, and a chance to try your luck on the Basingstoke Canal Treasure Hunt Game. Please support us if you can:
Weekend 13th/14thJuly - Traditional Boat Show, Henley-on-Thames
Sunday 21st July - Aldershot Military Museum, Aldershot
Weekend 27th & 28th July -Rushmoor Steam Rally, Aldershot
Weekend 24th, 25th and 26th August - IWA National Waterways Festival, Dudley, Birmingham
Thanks to all those who have helped to man the stand. Further offers of help will be appreciated - please contact Bernie Timms on (0252) 26758.
[back to top]
A ROYAL RE-OPENING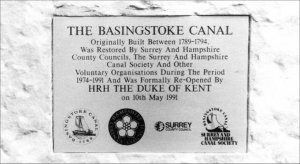 Commemorative plaque unveiled at Frimley Lodge Park. (Photo: David Robinson)
FRIDAY 10th May dawned bright and sunny. The immense efforts of the re-opening committee over the previous 12 weeks became evident as everything fell perfectly into place in anticipation of the arrival of His Royal Highness, the Duke of Kent. The crowds waited patiently while the helicopter landed, and the Royal parly toured the exhibitions before assembling in the arena for the formal ceremonies.
Into the arena came a small group led by a gentleman in a yellow frock coal, who introduced himself to the Duke as Mr John Pinkerton, returned from America to see how the 'volunteer navvies' had restored the canal he was contracted to build 200 years ago. These 'navvies' then introduced themselves as representatives of the bricklayers, fundraisers, towpath clearers, speakers and exhibitions organisers, dredger crew, young people, pen-pushers and all the other volunteers who have worked to restore the Basingstoke Canal.
Councillor Jones, Chairman of the Joint Management Committee then welcomed everyone to the event, "To celebrate the successful completion of an 18 year restoration project carried out in partnership between local government, and the largely local community, and to thank literally thousands of volunteers who have taken part in this outstanding and unique achievement" .... "The canal society has taken the lead, and provided the co-ordination for the immense volunteer effort that has gone into this restoration, and for this they must rightly be accorded a large share of the credit". He also emphasised that "The volunteer effort has been national as well as local, with people coming from all over the country to play their part in the restoration task". He then thanked "The two County Councils and six riparian Borough and District Councils who have contributed to the restoration of the Canal".
His Royal Highness, the Duke of Kent then spoke, "A few minutes ago I was able to fly over the entire length of the Basingstoke Canal, and it does look magnificent now from the air" .... "One of the most encouraging things about this great story has been the fact that it has been mainly local people concerned to restore an amenity in their marvellous countryside that has made all this possible." .... "I would simply like to add my congratulations and my thanks to all the hundreds of people and the many different organisations who have got together and made all this possible. It has been a great triumph, and I congratulate them all". He then unveiled the commemorative re-opening plaque, and handed over the scrolls to be presented on the East and Westward official cruises.
Society chairman, Robin Higgs then spoke, "Today is an exciting and historic day.... it is a day that many of the volunteers have looked forward to now for nearly 25 years" .... "The Basingstoke Canal restoration is widely accepted as one of the most successful projects ever undertaken, so it is very heartening to us that the concept of which we were one of the pioneers will surely provide a path for others to follow.... and today the canal has been opened and restored for recreational uses as a priceless part of this country's heritage".
The Royal party then boarded the Society's trip boat John Pinkerton, to meet more members, and take a short cruise on the canal before departing.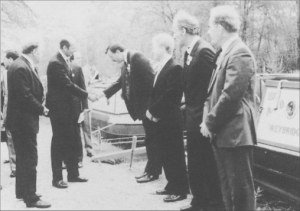 Roger Flitter and the Society's dredger crew being presented to the Duke of Kent. (Photo: Clive Durley)

Cutting the cake (left to right) Jim Woolgar, Teddy Edwards, Paul Vine and Robin Higgs. (Photo: David Robinson)


[back to top]
EASTWARD CRUISE - Alec Gosling
4.00 AM STARTED this special day, kettle on to satisfy our first thoughts, — a cuppa! 5.00 am saw the lock wheelers in full flight, transported by van and bikes to set the locks for the 25 boats. Tony Harmsworth welcomed us to the top lock, set for Betty G, Tristan III, Which Wey and Wingletang to enter. The water with mist and light was a sight to be savoured — but back to the cruise. Peter Bond helped us through his 'own' lock, 25.

We reached Lock 15, then it was fancy dress time, boatman style for the gents and bonnets and aprons for the ladies. Presentations were made to Pirbright Parish Council, then into the lock and away.

Events that followed started with a small wave of a hand, then two, balloons in the garden, streamers, decorated fences, drinks, party hats and flags. Greetings increased until everyone was calling out welcome and the local milkman drank our health with a bottle of his own 'brew'!

The Women's Institute were in force with a display on Brookwood Bridge and a sea of waving hands and smiling faces all so happy to see the canal back in use. By now the souvenir programmes were selling like they were on ration and everybody was cruising (riding?) high.

People appeared everywhere, anywhere with a foothold had a shoe on it. A real tearjerker was the singing of the members of the Westgate Day Centre. At Spantons Wharf, speeches were made, bands played and it was all too quickly time to depart for the official opening of the Woodham flight, dominated by 'Pablo's Folly'. So many people, how no-one had an enforced swim I'll never know.

Onto the last flight, out of Lock 2, and in the distance, no Lock 1, just people everywhere. There to greet us was 'Master of Ceremonies' Tony Davis "Well done, 30 seconds early!" The last two gates opened and at 8.00 pm we moored up for a Byfleet Boat Club barbecue.

We had been cruising for 13 hours.
| | |
| --- | --- |
| | Dawn start — John Pinkerton heading east through Deepcut. (Photo: Roger Cansdale) |
| | |
| --- | --- |
| | Boaters taking a breather before joining in the fun and games in Woking. (Photo: Clive Durley) |
| | |
| --- | --- |
| | Passing through 'Pablo's Folly' on the Woodham Flight. (Photo: Clive Durley) |
page 9

| | |
| --- | --- |
| David Millett presenting a scroll to the Mayor of Rushmoor. (Photo: David Robinson) | |
| | |
| --- | --- |
| Celebrations at Reading Road Wharf. (Photo: David Robinson) | |
| | |
| --- | --- |
| Robin Higgs presenting a scroll to the Mayor of Basingstoke. (Photo: Jack Reddall) | |
[back to top]
WESTWARD CRUISE - David Millett
24 BOATS joined the Westward Cruise led by steam launch Odiamayde, trip boat Mildred Stocks run by the Boats for the Handicapped Association and electric launch Alnwick belonging to cruise director Brian Percy.
They were met at Ash Wharf by the town crier and crowds of children and local people. Here a scroll was presented to the Mayor of Guildford and a plaque to the chairman of Ash Parish Council.
On to Ash Lock, joined by the Mayor and Mayoress of Rushmoor for the second scroll presentation and unveiling of a plaque provided by Rushmoor Borough Council to commemorate the reopening.
Boaters joined a lunchtime barbecue before proceeding to Norris Bridge for a presentation to Hawley Parish Council, and passing the steam dredger Perseverance at work as they cruised through Fleet.
Reading Road Wharf was packed with people welcoming the boats into Fleet. The third scroll was presented to the Chairman of Hart District Council and the boaters were served with refreshments.
The cruise continued upstream for presentations to the chairmen of Crookham, Wmchfield and Dogmersfield Parish Councils.
Broad Oak Bridge was lined with people welcoming the flotilla into Odiham, where the last presentation was made to Odiham Parish Council.
The Colt Hill celebrations were joined by the Society's Bantam tugs and dredger crew, and the boaters were greeted by Mrs Joan Marshall, once General Manager of the New Basingstoke Canal Company.
Last five miles
On Sunday, Bill Homewood and his walkers met the boats at the limit of navigation at North Warnborough. The walkers then 'navigated' the line of the canal as closely as possible into Basingstoke on foot. Presentations were made to Greywell Parish Council and the Mayor of Basingstoke, completing 3 days of opening celebrations.
* Bill would like to thank Basingstoke and Deane Borough Council and others who saved the day when transport plans failed.
[back to top]
| | | |
| --- | --- | --- |
| | | Dressed for the part — George Hedger and Martin Bowers. (Photo: Clive Durley) |
EXHIBITIONS
David Millett
HIS Royal Highness, the Duke of Kent was welcomed to a tour of the exhibitions by David and Rosemary Millett, and was introduced to Society founder, Jim Woolgar, members Frank Jones and Mike Fellows and representatives of other groups as he walked around.
The prime displays were the Society's story of restoration, prepared by David Junkison and Jonathan Wade, The Basingstoke Canal Authority's map and the Inland Waterways Association display stand.
Displays were also put on by the Waterway Recovery Group, Newbury Working Party Group of the Kennet & Avon Canal Trust and The Kent and East Sussex Canal Restoration Group, all of whom have played a large part in restoration of the Basingstoke Canal.
User group displays ranged from canoeists to anglers, boaters to ramblers and the Boats for the Handicapped Association.
The Boaters Life exhibition marquee contained members of the Guild of Waterways Artists; Society members paintings; Avril Lansdell with her spiders web embroidery; bonnet maker Pal Brown; traditional boat builder Mark Edwards of Constables Boat House; rope fender maker Peter Brown; Dick Harper-White wilh his painted ware; farrier John Beakers; Jenny Roberts of Godalming Packet Boat Company wilh her boat horses, Domino and Baccarat; and last but not least, Colin Jones and Robert Jackson with their rope making machine.
ENTERTAINMENTS
AN excellent programme of entertainments throughout the day featured the Red Devils Parachute Display Team and the White Helmets Motorcycle Display Team, both performing in the arena.
Bands included the Gordon's School Band of boys aged 10-17 from West End, Woking; Albuhera Band - The Queens Regiment, who play regularly at Sandhurst; the Hampshire Youth Band of 56 young people from North-East Hampshire; and the Fort Cumberland Guard who performed arm drills and the Sunset Ceremony at dusk.
Local morris dancers and informal entertainers roamed the site bringing delight to visitors of all ages, and the Daystar Theatre Company put on two performances.
An informal tea party was held for Society members past and present in the afternoon. This was very well attended and the opportunity to meet up with old friends was enjoyed by all.
The grand finale was an outstanding firework display put on by Vulcan Fireworks of Carshalton, followed by a dazzling procession of 26 illuminated boats along the canal.
| | | |
| --- | --- | --- |
| | | Charles Stock bowhauling gaff cutter Shoal Waters which has travelled 48,000 miles by this means and under sail. (Photo: David Robinson) |
Smaller marquees housed the Society and IWA sales stands, local artist Terry Harrison and Arthur Dungate's audio-visual theatre, compleling an interesting and varied mixture which proved informative and instructive to young and old alike.
| | | |
| --- | --- | --- |
| Heading west through Ash Lock. (Photo: David Robinson) | | |
BOATS
130 BOATS made their way to the re­opening celebrations, most arriving via the 28 locks in Surrey. Many of the crews had worked on the restoration and were claiming their just reward of being amongst the first to navigate the newly restored waterway. They were ably and cheerfully assisted by the Basingstoke Canal Aulhorily who kept a close watch on water levels.

Harbourmaster duties and warm welcomes were provided by the Basingstoke Canal Boating Club who oversaw the moorings and kept the crews enlerlaincd with competitions, beer tent and barbecue, which were enjoyed by all.

The BCA workboat Deepcut and dredger Unity were on display in commendably sparkling condition after so many hours spent ensuring the canal would be open on time.

Historical craft of interest included two full-length ex-carrying craft, Lynx and Fulbourne in working trim, and Tug No. 1, an ex-BCN tug whose owner Tony Clark raised £20 in donations for the Society by showing the public over his fascinating craft.

A very elegant parade was put on in the afternoon by the steam boats and other small craft including Edwardian canoe Silver Ripple, miniature narrowboat Elizabeth Rose, and immaculate skiff Sylvia.

The Basingstoke Canal Canoe Club invited the public to 'Try-a-Canoe', and the trip boat Lancing from Reading ran public trips while our own John Pinkerton was busy.
[back to top]


WORK PARTY PROGRESS
Peter Redway
WITH Spring just around the corner and the cold days of winter just a memory, trees are coming into leaf — this means an end of bankside clearing until the Autumn and a pause to reflect on progress.

Peter Jackman has been working in Hampshire ably supported by his regulars plus the odd scout group. The main task has been off bank clearance of encroaching growth from the waterway.

Preliminary clearance was required on the western end so that survey work/planning applications could be progressed. Our first working party at Penny Bridge, Up Nately, was arranged for 16th/17th March 1991 and a good attendance marked this occasion.

Work was concentrated on clearing the towpath side of the canal for a width of approximately 6ft; no large trees were cut but dense undergrowth provided everyone with a challenging task. By the Sunday evening, we had progressed halfway from Penny Bridge to Brick Kiln Bridge where taller trees meant less undergrowth. We achieved the objective of providing better access for survey work by BCA and Hampshire County Council. Legal issues and marking of boundary points can be progressed for further work to proceed in the Autumn.

Work programmed for Spring/Summer includes piling works for the John Pinkerton's base at Barley Mow, provision of a footbridge across Brickworks Arms followed by modification of paddle culvert access when design work has been completed.

Work Party Leaders
Second weekend of the month
David Junkison on 081 941 0685 or Dave Lunn

Third weekend of the month
Peter Redway on 0483 721710

Dredging in Hampshire - every weekend
Roger Flitter on 0252 622956.

Western end towpath beyond Greywell Tunnel — before and after Peter Redway's working party earlier this year. (Photos: Dieter Jebens)
[back to top]

WATER SUPPLY ENHANCEMENT
David Millett
NEGOTIATIONS are taking place between the Canal Authority and Woking Borough Council over the possibility of installing a pumping station facility to pump water from the Rive ditch east of Lock 6 at Sheerwater into the canal in Woking pound above Lock 6. If and when this comes about the result would be a bonus for the water supply in the Woking pound and for the eastern end of the canal.

The National Rivers Authority have now given their agreement to enable surplus water from the British Rail main line at Frimley Green to be fed into the canal, and follows on from the successful negotiations undertaken with British Rail. A pumping facility will need to be constructed and the canal director is hopeful that this can be built later this year. The end result will be a good boost for the centre pound of the canal.

Formal applications for abstraction licences have been submitted for both of the above schemes and approval is awaited. Let us hope that both schemes can be undertaken as soon as possible. Enhancing water supplies for the canal is one of our priorities and we have offered cash support plus volunteer assistance if these can help speed the project along.

As far as the possibility of obtaining additional water supplies for the Hampshire pound is concerned the hoped for scheme for the use of the Bourley reservoirs on the MOD land between Church Crookham and Aldershot has not progressed and in fact negotiations between the Canal Authority and the MOD have been deferred for at least two years as the MOD are continuing with the present arrangements which means that no surplus water will be available.
[back to top]

SOUTHERN CANALS ASSOCIATION
THE Southern Canals Association is an organisation which provides a common forum for canal societies and groups in the South of England. Its members include the Surrey and Hants Canal Society, The Wey and Arun Canal Trust, Kennet and Avon Canal Trust and others. The recent winter meeting presented a good selection of interest speakers on subjects such as fund raising and canal restoration into the next century.

Arthur Dungate's new audio visual presentation Inside Greywell Tunnel was given its first showing — a fascinating look at the inside of this 'forbidden' tunnel during an engineering inspection.

Total experience of canal restoration among those present was over 600 years, and so this association is a valuable source of ideas and information for all involved.
[back to top]


ANIMAL RESCUE
Judith Gerry
ON a bleak Sunday evening in January, I received a telephone call from a lady who had been walking the canal towpath in Farnborough, and had found a badly injured heron. She had picked it up and taken it home and shut it in her garage. What should she do with it?

This was the first report of an injured heron I had had, we often get phone calls about swans in distress, and have details of swan rescue, but I did not know who might deal with an injured heron. After a number of phone calls, David and I found that there was a bird and wildlife hospital in Leatherhead, but that they would not come out to collect the bird — we would have to take it to them. We arranged to collect it from the lady who had rescued it, and were surprised to find that she was quite a tiny lady — and it must have been an extraordinary sight to see her walking along the towpath with a large heron tucked under her arm!

When we got to the hospital, the heron was expertly examined, and we could see that his wing was practically severed. He was given an anaesthetic, and a pin used to secure his wing, which would hopefully mend.

Unfortunately, after three and a half weeks of good progress, it was found that his wing had not healed at all and was quite useless. He would not have adapted successfully to captivity, and would not have survived in the wild, and so, sadly he had to be put down.

Although this tale does not have a happy ending, others could. If any member comes across injured birds or animals in need of help, they should contact this wildlife hospital.

The Randalls Rehabilitation Centre do a great deal of very good and thorough work, as is illustrated by our tale, and are always grateful for any donations towards their running expenses. There is also Swan Lifeline, based in Slough, who specialise in helping distressed swans — details below:

Randalls Rehabilitation Centre, Randalls Farmhouse, Randalls Road, Leatherhead, Surrey KT22 OAL. (0372) 377332.

Swan Lifeline — tel Mr Heron (0753) 75894; (0836) 211747 (car phone) or Mr Parfit (0753) 857841.

CANAL CHANNEL RUBBISH
Dear Sir,
THE great day approaches, with visiting boats arriving, perhaps for the first time, to the Basingstoke Canal from other waterways.

One's first impressions can stay in the mind, whilst Lock 1 is impressive, the towpath is drab, and between Locks 2 and 3 it is very bare. I have spent long hours clearing and pruning in these areas, and been told to leave as much as possible to give a rural setting. The wide gravel towpath may be easy to maintain, but is uncomfortable to walk on and the piled edges give an impression of an industrial rather than a rural setting. Although it is difficult to find places to dump dredged silt between Locks 2 and 3, the practice of leaving it on the banksides makes it very bald and depressing. Have we taken too much away in the quest for restoring the canal.

In Hampshire it is the opposite, there is too much vegetation and clearing is a constant task for the dedicated few working in the area.

The NCC may want to restrict boat movements to save disappearing plant species, it may seem obvious that boats must be to blame, but there are more deadly things in this modern world. A dissolving battery contains mercury powder, a TV set many toxic substances. No one seems to know or care what damage they may do when discarding everyday articles into the canal to sink without trace.
Yours faithfully,
K.BLAKE
Lilford Road, London
| | | |
| --- | --- | --- |
| | | Echo from the past — canal celebrations at Frimley Green in 1909. (Photo: Aldershot News) |
DREDGER WIDOW
Dear Sir,
THANK YOU, once again for a very interesting edition — including "The Tribute to the Society's Full Time Team" (BC News 156).

However, 'Steady Progress' was a bit misleading, especially for younger members .... "They (Society volunteers) got to work in earnest in November 1973". All 'oldies' know we were working very hard long before then. The dredger, for instance, a rusty decaying hulk moored at Reading, was overhauled by a small gang of 6 or 8 volunteers. Working every weekend it was retubed by Ian Cripps and Ron Jesse and sufficiently operational to demonstrate its capability to Hampshire County Council's officers by September 1973.

The dredger then had to be dismantled and transported overland to Colt Hill and rebuilt by the same small gang NOT assisted by Pyestock apprentices at all. The apprentices only reconditioned the steam grab, at their workshop. So could the history book be put right, for the sake of we 'oldies'?
Yours faithfully,
(the original dredger widow)
EDNA JESSE
Shaftesbury, Dorset
[back to top]


NEW CANAL BYELAWS
THESE were first discussed way back in 1981, and during the years following the first draft versions, they have shuttled back and forth between the Surrey and Hampshire County Councils, the Department of the Environment and the Home Office. Consultations have also taken place with the Society.

Each byelaw has been considered individually, painstakingly amended and redrafted in response to the Department of the Environment's requirements. Two are still under discussion with slight amendments yet to be made to satisfy the Department. However, it looks as though finalisation is in sight. The Joint Management Committee have recommended to Hampshire and Surrey County Councils that they make byelaws along the lines set out here, subject to the detailed drafting amendments being agreed by the two Councils in the light of the requirements of the DoE.

There are twenty five byelaws which will apply to the Canal and land adjoining which is owned or managed by the County Councils. Plans outlining the area covered will be available for inspection at their offices.

Some of the Byelaws are lengthy, but they cover the following areas:
Vehicles — there are restrictions on vehicles which may be brought on to the land.
Fires and barbecues — concerns safe practice with potential fire hazards.
Animals — strict control on fouling of land.
Hunting, shooting, fishing and trapping — no person shall without lawful excuse or authority disturb any animal or fish.
Firearms, missiles or any other weapons - covers danger or annoyance to any person, living creature, plant or any other property on the land.
Damage to trees, plants and shrubs — no removal of soil, plant or tree.
Bathing and wading — no bathing, wading or skating on the canal.
Pollution — no person may intentionally pollute the land or canal.
Construction of waterways — no interference with land drains or sluices etc.
Camping and overnight parking — not allowed without written authority from the Council.
Noise — levels to be controlled within reasonable limits
Advertisements — no posters, placards or notices without council's consent.
Model aircraft and boats — models with mechanical propulsion not permitted.
Trading - strict controls on selling, letting or hiring a commodity, service or article.
Damage — this covers, among other things, graffiti.
Metal detectors — not allowed.
Annoyance and obstruction — this deals with behaviour likely to cause annoyance or distress to others.
Conduct at movable bridges — this involves safety measures and practices.
Obstruction of towpath — forbids obstruction to the hauling or navigation of vessels.
Interfering with vessels — deals with interference to moored craft.
License - no vessels allowed on the canal without a current licence.
Navigation — this rule covers care and caution at all times.
Speed — speed limit of 4mph, but at no time may a vessel travel at a speed which creates a breaking wash.
Moorings and mooring sites — no permanent mooring without written authority.
Drunkenness — no boaters may navigate while unfit to do so through drink or drugs.
[back to top]

SILT DUMPING
AT THE Basingstoke Canal Joint Management Committee Meeting held on March 8th, the canal director reported on progress made by the Silt Dumping Working Party which was formed in January 1988 in order to identify sites for silt disposal. In view of the necessity for planning permission, these sites are hard to find and the terms of reference for the working party were that they should locate sites for disposal of silt arising from dredging during the final stages of canal restoration in Hampshire, and a long term plan for the whole canal identifying suitable sites for disposal of silt dredged during maintenance following restoration.

Restoration dredging sites
Of the two sites identified, that at Crookham Deeps (south) has been in regular use and a planning application for extension of the deadline for use of this site from 31st December 1990 to 30th September 1991 has been submitted and is in the course of consideration. Planning consent has been given for the use of the site at Crookham Deeps (north), but work on this site cannot be commenced until access agreements have been reached with the neighbouring land owner. Negotiations are taking place and it is hoped that the site will be ready for use before work at the current site has been completed. This should prove adequate to complete restoration dredging.

Maintenance dredging sites
In view of the urgent need for maintenance dredging along the stretch of canal from Greywell to Sprats Hatch Bridge there has been a concentrated effort made to solve this problem. Five sites located on land adjacent to the towing path in this area were shown on maps and plans submitted to the JMC with recommendations for appropriate action to be taken.

East of Barley Mow Bridge in Hampshire, potential silt dump sites have been identified at the West Hart embankment, at Crookham Deeps (as already described) and adjacent to the Gelvert Stream between Pondtail and Norris Bridges east of Fleet. A large number of potential sites have been identified in Surrey and these are currently being considered by the planning and countryside staffs of Surrey County Council. There is no immediate urgency for sites in these areas of the canal and their identification is looked upon as a long term measure, which can be dealt with in detail once the immediate issue of silt dumps at the western end of the canal has been resolved.

The canal director, Paddy Field, recommended that the working party continue their efforts to identify further silt dumping sites both within Hart District and eastwards throughout the rest of the canal.
[back to top]


BOOK REVIEW

Hampshire Waterways by P.A.L. Vine
published by Middleton Press £8.95
THE BASINGSTOKE CANAL is well represented in Paul Vine's latest book in his series of local waterway histories published by Middleton Press. Out of 120 photographs plus maps and poster reproductions, 54 cover the Hampshire length of the Basingslokc Canal.
Similar to the eastern half of the canal covered in Surrey Waterways, Paul Vine's selection of pictures covers a good many that appeared in his book London's Lost Route to Basingstoke. But since that has been out of print for some time, this book is an opportunity for newcomers to canals and the Basingstoke in particular, to add an interesting volume to their bookshelf. And it is good to see the Society, trip boat and restoration work represented, such as Ash lock looking forlorn and empty in the 1964's and again 20 years later filled with boats and foaming water.
Perhaps the most interesting pictures for those who have seen most of the limited number early Basingstoke Canal photographs are a couple of 'new' shots of Basingstoke Wharf at the turn of the century. Surely there must be more photographs in existence showing the Wharf with boats?
Since London's Lost Route to Basingstoke by the same author is out of print, Hampshire Waterways together with Surrey Waterways, make a useful illustrated record of the canal.
The book also covers the Itchen Navigation, once navigable to Alresford; the River Avon which was opened to navigation to Salisbury in 1684 and the 22-mile Andover Canal to Southampton opened in the same year as the Basingstoke Canal. Then there was the Salisbury and Southampton Canal partially opened in 1803; the 2-mile Portsea Ship Canal and even shorter Portsbridge Creek navigation, both forming part of the Portsmouth and Arundel Canal Navigations via Chichester and Portsmouth harbours.
All are documented by an expert historical researcher and writer and well worth buying.
[back to top]
MAP REVIEW

GEOprojects Map of the Basingstoke Canal
published by GEOprojects, £2.50
THIS is a follow up to GEOprojects successful map of the Kennel and Avon Canal, published last year to coincide with their re-opening. It is a single-sided fold-out map in full colour illustrating the line of the canal and surrounding areas in an attractive and easy to use format. The accompanying text is complemented by colour photographs of the canal.

Points of interest are marked including architectural and historical features, museums, nature reserves, picnic sites and public houses. For longer term visitors, tourist information centres, post offices, public telephones and plans of major towns are included along with footpaths, railway and bus stations and car parks.

Boaters cruising on the canal will find this a useful journey planner as locks, winding holes, slipways, water and refuse disposal points and boatyards can be seen at a glance. Navigational hazards such as the exceptionally low bridges and shallow sections are clearly marked and licensing details for the canal and the River Way are included.

The publishers have also highlighted 'canal features of interest' along the waterway and these are accompanied by informative text on the history and current interest of places such as Greywell Tunnel, Eelmoor Flash, Ash Embankment and the Deepcut Flight of Locks.

A useful addition for either bookshelf or wall display, this map is complementary to the Society's Guide to the Basingstoke Canal. Both are available from the Society's sales stand or by mail order from John Greenfield, details opposite.

GEOprojects map of the Basingstoke Canal £2.50 + 50p p&p.
SHCS Guide to the Basingstoke Canal £1.50 + 50pp&p.

ON OFFER!
MEMBER Mr J Stubbs has some back copies of BC News, and would like to find a good home for them. If any member is interested in numbers 54-154 (excluding 81,94,113 and 133) Mr Stubbs may be contacted at 33 Hometide House, High St, Lee on Solent, Hants PO13 9BP. He would like the cost of postage to be refunded.
[back to top]


THANK YOU ALL
MANY thanks are due to everyone who helped with the re-opening celebrations. Those who worked so hard will know who they were, and regrettably no newsletter could ever have enough space to thank everyone individually.

The following is a list of team leaders from the souvenir brochure who put in such unstinting effort and helped to make the event the huge success that it was.

Pat Barton
Kyle Bullus
BillCaldwell
Peter Coxhead
Tony Davis
Dick Elder
Paddy Field
David Gerry
Alec Gosling
Denise Halls
Cliff Hilton
Bill Homewood
Peter Jackman
Dieter Jebens
Alfred Loll
Nigel Matthews
David Millett
Angela Percy
Eddie Pohorely
Peter Redway
David Sanger
Pat Saunders
Andy Simmonds
Vic Trott
Jonathan Wade
Colin Ward
Keith Williamson.

COMMEMORATIVE NEWSLETTER EXTRA copies of this special edition of BC News (No. 157) will be available for sale at 50p. Send a stamped and addressed envelope to Mail Order Sales Manager, John Greenfield, at the address below — but hurry; numbers are limited.


[back to top]

SOCIETY'S 25th ANNIVERSARY
A CELEBRATION is to be held on 5th October to mark 25 years of the Surrey and Hampshire Canal Society — details to follow.
| | | |
| --- | --- | --- |
| | | Robin Higgs enjoying the re-opening celebrations — a triumphant moment — before handing over to a new Chairman. (Photo: Clive Durley) |
[back to top]
THANK YOU, ROBIN
AT A meeting of the Surrey and Hampshire Canal Society directors on 14th June 1991, Robin Higgs announced his intention to resign his post as Chairman. Having spent 17 years in that office, and seen the dream of restoration completed, he felt it was time to hand over.
The directors thanked him wholeheartedly for his outstanding contribution to the Society, and then elected David Millett to the post of Chairman, pledging to support him in his new role.
Peter Redway, Working Party Organiser, was elected to fill David's previous role of Vice Chairman.
Editor's note: We would like to feature some of Robin's achievements in a future issue, and would be pleased to receive any information members might find interesting.
PRINT DESIGN AND PRODUCTION
For your next leaflet; price list, brochure, catalogue, newsletter or any print job, we offer a design, artwork, typesetting and print production service at keen prices.
Phone Chris de Wet, Distinguished Data, 0252 850311.
[back to top]
COPY DATE FOR AUGUST 1991 BC NEWS: 30th JUNE 1991 Published by the Surrey and Hampshire Canal Society Ltd., a non-profit distributing company limited by guarantee, registered as a Charity. The views expressed are not necessarily those of the Society.
Editors: Margaret Insall and Sue Palmer. Production: Jo Evans & Chris de Wet.
Collation & Distribution: Janet and George Hcdger, Edwin Chappell and Helpers.
Editorial Office: 20 Chart House Road, Ash Vale, Aldershot, Hampshire GU12 5LS (0252 26758)
Chairman: David Millett, 14 Dinorben Close, Fleet, Aldershol, Hampshire, GU13 9SW. (0252 617354)
Vice Chairman: Peter Redway, 1 Redway Collages, St. John's Lye, Woking, Surrey GU21 1SL. (0483 721710)
Hon.Treasurer: Jonathan Wade, 43 Sheridan Road, Frimley, Carnberley, Surrey GU16 5DU. (0252 65622)
Hon. Secretary: Philip Riley, Wincombe Cottage, Broad Oak, Odiham, Hampshire, RG25 1AH 0256 702109)
Membership Secretary: Edwin Chappell, The Spinney, Meadow Road, Ashlead, Surrey, KT21 1QR. (0372 272631)
Working Party Organiser: Peter Redway, 1 Redway Cottages, St. John's Lye, Woking, SurreyGU21 1SL. (0483 721710)
Dredger Manager: Roger Flitter, 10 George Road, Fleet, Hampshire, GU13 9PS. (0252 622956)
Special Projects Manager: Stan Meller, 101 Branksome Hill Road, College Town, Camberley, Surrey GUIS 4QG. (0276 32096)
Conservation Consultant: Peter Curtis, Brockhurst Farm, Alford, Surrey, GU6 8JB. (0403 752229)
Trip Boat: Tony Karavis, 12 Loddon Road, Famborough, Hampshire, GU149NT. (0252 549037)
Sales Manager: Bernie Timms, 20 Charthouse Road, Ash Vale, Aldershot, Hampshire, GU125LS. (0252 26758)
Mail Order Sales: John Greenfield, 9 Mistletoe Road, Yatelcy, Camberley, Surrey, GU177DT. (0252 873167)
Talks Organiser: Mrs Janet Greenfield, 9 Mistletoe Road, Yalcley, Camberley, Surrey, GU17 7DT. (0252 873167)
Exhibitions Managers: David Junkison, 4 Thames Meadow, West Molesey, Surrey, KT8 9TQ. (081 941 0865) Phil Pratt, Flat 5, Redwood Court, Madeira Road, West Byfleet, Surrey, KT14 6BE. (09323 40281)
Press Officer: Dieter Jebens, 60 Middle Bourne Lane, Faraham, Surrey, GU10 3NJ. (0252 715230)
Typesetting by Distinguished Data — Telephone: Aldershot (0252) 850311
[back to top]
[back to top]