No. 142 NOVEMBER 1988

1
| | |
| --- | --- |
| | 2,3 |
Comment - A WINNING TEAM
I was delighted to realise a quiet ambition in September when Ken Goodwin, chairman of the Inland Waterways Association, presented me with the 1988 Torn Rolt Award as editor of BC News judged the best magazine or newsletter produced by a canal society, trust or boat club. The award included a cheque for £100 from the IWA to the Society to spend on campaigning for whatever. And our campaigning days are far from over!
The award provides me with an appropriate opportunity to thank the contributors who helped me win. Top of the list is Clive Durley who produces the high quality photographs even if he does not take them all. Without Clive's ever willing support BC News would not contain such a variety of pictures. Then there is Peter Cooper's regular column 'Working Parties and Progress' which he has written for more than ten years. In addition to my appreciation of Peter's punctilious adhesion to copy dates, his reports make a unique record of restoration progress.
The occasional contributions of members such as Dave Gerry with his fascinating historical finds have always been welcomed and it's good to have more letters coming in for publication. Your views on current issues, ideas for fund raising and hopes for the future of the canal are an essential ingredient. So do please write.
Production is another important aspect of the editing process. To that end I am indebted to Jo Evans of St John's for typing much of the material, always insisting the job is a pleasure in spite of having a good many other commitments.
Printers rarely get a mention since they get paid to do the job. But Charterlith of Fleet care more than some as I've come to realise when I discover errors they've picked up and corrected which I should have spotted!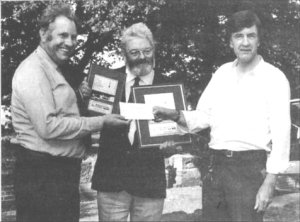 (Left to right) Robin Higgs, Ken Goodwin and Dieter Jebens, editor, BC News. (Photo: Alison Snell/Clive Durley).
Distribution is the final link in the chain for which I am not responsible but it is the lifeline of any publication. The Society is certainly fortunate in having a highly efficient despatch team. Starting with Edwin Chappell who computerised the address labelling system, to Janet and George Hedger and friends who fold, envelope and prepare 1,800 copies for distribution and despatch. And finally a word of thanks to our team of voluntary postmen and women who save the Society a small fortune delivering two thirds of the copies sent out.
[back to top]
WATER: THE CRITICAL FACTOR
25 miles of the canal will soon he designated a Site of Special Scientific Interest by the Nature Conservancy Council which will seek to impose restrictions on particular uses and maintenance operations.
The proposal to limit motor boating to a token number is already a contentious issue. But more than that the NCC will try to control maintenance work too. For instance it will demand that generous margins of water plants are left to soak up millions of gallons of precious water. The Council will try to dictate the width and depth of dredging which may reduce the volume of water the canal is capable of holding, possibly leading to restrictions on the type of boats able to use the canal, affect mooring and even result in water shortages and even periodic closure.
Costly 'natural' bank protection methods are prescribed instead of more efficient steel piling where necessary. Canalside flashes which served as reservoirs have already been left undredged and become overgrown in the interests of nature conservation.
While naturalists extol the virtues of the canal as a wildlife habitat in superlative terms, they seem to ignore the less emotive facts of canal engineering.
The essential fact being that the canal is a man-made navigation that has never enjoyed an abundance of water. About 50 per cent of its 3,000 gallons daily supply is lost in transpiration and evaporation. After other considerations, the optimum volume left for navigational use is no more than one million gallons or about 16 lock fulls.
Wildlife must certainly be conserved and the rich and varied variety is one of the attractions of the Basingstoke.
But standards of maintenance necessary to conserve and store as much of the canal's daily water input are vitally important to the efficient operation of the navigation and cannot be compromised.
[back to top]
FRONT COVER:
Lock One reopening ceremony. (Bottom right) Ken Goodwin. IWA chairman, Brian Percy, local branch chairman and Dick Harper-White.
(Photos: Alison Snell & Dieter Jebens/Clive Durley).
[back to top]
"VIEWS FROM THE TOWPATH"
Exhibition of Landscapes
by
TERRY HARRISON
SUNDAY 20th NOV - SATURDAY 3rd DEC
GODALMING GALLERIES 3 WHARF STREET, GODALMING, SURREY




The Lodge Cottage, Frimley Green
Watercolour 18 x 27 ins
We are pleased to invite you and your friends to an exhibition of oil paintings and watercolours by the well-known Hampshire artist Terry Harrison. Terry's beautiful landscapes are much sought after, not only in Hampshire but also in Surrey and Dorset. Included in this exhibition will be many views of the Basingstoke Canal and the River Wey. In recent years Terry has had a number of successful one-man shows in South East England, with regular purchases by a growing number of collectors of his work. This reflects the increasing popularity of Terry's unique style of traditional landscapes.
Terry. who is one of the youngest artist members of the Fine Art Trade Guild has had several paintings published and the prints will be on sale during the exhibition.
You are invited to meet the artist at the
SPECIAL PREVIEW SUNDAY 20th NOVEMBER 11 a.m. - 4 p.m.
For further information telephone:-
Terry Harrison on 0252 545012
[back to top]
FUND RAISING NEWS
200 Club Winners

| | |
| --- | --- |
| June | July |
| Mr G. Rochfort-Rae £56 | Mr G. Hedger £56 |
| Mr C.M. Spencer £28 | Mr G. Garside £28 |
| Mr P. Redway £14 | Mr G. Adams £14 |
| Mr R. Cobley £14 | Mr J. Michaels £14 |
The 200 Club is 'a nice little earner'. The Society gets a regular income of £700 — £800 a year from it and a similar sum is distributed as prize money. The more who join, the bigger the prizes.
Although 1988 is drawing to a close, the Society still needs a great deal of money to continue paying our full-time team and cover a wide range of expenses not least of which is maintenance of the steam dredger and associated equipment.
The 200 Club is an ideal way in which non-active members can help the Society and maybe win a cash prize too. Just complete the enclosed form and send it with a cheque for £12, or fill in the standing order if you wish to pay monthly. You can take out as many memberships as you like at £12 each. Please send your completed forms to: Derek Truman.Compton Cottage, 11 Connaught Road,Heet, Hants,GLJ13 9RA.
[back to top]
1988 GRAND DRAW WINNERS — Yvonne Chappell
The Grand Draw took place on 10th October and we thank David Sayce, Surrey's Recreation Land Manager, for attending and announcing the winners, as detailed below.
I should like to reiterate the thanks I expressed to Galleon Marine of Odiham who generously donated the first prize and secondly to all the members who bought and sold tickets. Not everyone can work on the canal itself but everyone who contributed to the Draw helped, in their own way, to further the restoration.
Many members sold extra tickets but two were outstanding, so two prizes were awarded: £10 to Jeremy Browne and £5 to Penny Gaskill.
Lastly, the profit to the Society will be over £2,200 — about double last year — so well done everyone!
Mid week cruise on Basingstoke Canal: Miss A.Adams, 30346.
£100: Mr P. Fraser 12108.
£50 each: Mr E.L. Collins 32726. and
Mr J. Nichols 19336. £10 each: Mr C. Free 3305, Mr J. Pocock 24748. Mr U. Palmer 25408, Mrs G. Bennett 7752, Mrs A. Scoffield 24142. Hardback edition of Restoration Book: Mr W.R. Hunter
615, Mr P.A. Collins 5183, Mr B. Dorman 25579,
Mr R.G.D. Butler 6584, Mr A. Davies 3909,
Mr N.H. Lewis 11558, Mr F.A. Holley 7083.
Mr D.G. Boyd 9258, Mis C. Goldberg 17588 and
Mr R.Burfield 10323.
[back to top]
In the News
RAMBLERS RETURN
Rambles organised by John Peart and later by Paul Garrett used to be a popular feature of the Society's social activities. So we are pleased that Bill Homewood has responded to an appeal for an organiser to plan a new programme of winter walks for all the family. Bill is experienced in planning walks to combine interest with an eye to conditions and refreshments facilities on the way for those who don't carry them.
His first ramble will be on Sunday, 27th November, starting from the bridge crossing the River Whitewater (near to Greywell Waterworks) on the Odiham — Greywell Road, at 1130am.
The walk, covering 6 miles (10 km) of superb Hampshire countryside, includes the river to look for trout up to Greywell Mill and on to Mapledurwell. Bill describes the route as 'a pleasant and undemanding walk' but recommends walking boots or Wellingtons because it can get a bit muddy. There will be a lunchtime stop at or close to a pub.
Part of the afternoon's walk back via Up Nately will follow the old barge horse path over Greywell Hill and the tunnel.
If you would like to join the ramble please give Bill a ring or drop him a postcard so that he has an idea of numbers. Anyone wanting a full route plan can obtain it by sending him a stamped self-addressed envelope. Contact: Bill Homewood, 4 Larch Close, Camberley, Surrey, GU15 4DB. Tel: Camberley 61343 (evenings only).
January and February outings
An 8-mile ramble is planned for Sunday 8th January over fields and through woodland taking in the rivers Blackwater and Whitewater. Start at Hatch Gate Restaurant at Bramshill on the Eversley — Heckfield road at 11.00am. There is a suitable lunchtime pub at Swallowfield. The going will be reasonably dry.
Farming country at its best between Rye Common and Well is the area for a 6-1/2 mile ramble on Sunday 12th February. Meet at 11.00am in the car park at Colt Hill, Odiham. A lunchtime stop will be made at the Chequers at Well.
More details from Bill Homewood on request.
[back to top]
LESSONS IN CANAL CONSERVATION
Our exhibitions Manager, Phil Pratt has gained a widespread reputation among local school teachers for his canal displays, film shows, talks and guided towpath tours. He is approached by twelve or more schools a year to teach them something about the canal as part of their environmental studies.
In March he was booked for his most intensive course yet - a 4 day session for New Haw County School. Day 1 was a walk along the towpath with a canalside explanation of how locks work. On Day 2 Phil demonstrated how to build a working model lock. An exhibition about the canal's history and restoration followed on Day 3. And like all good seminars, a film show rounded off Day 4.
[back to top]
LOCK ONE ON THE BASINGSTOKE RESTORED
A dozen or more narrowboats and cruisers brought a rally atmosphere to a ceremony performed by the IWA's national chairman, Ken Goodwin, marking the completion of Lock One on the Basingstoke Canal at Byfleet on September 18th.
The lock was adopted by the Association's Guildford and Reading branch early in 1977 following Surrey County Council's purchase of the 16-mile eastern end of the canal the previous year.
Lock One proved to be one of the most laborious of the canal's 29 locks to restore. The incessant need to pump out the chamber filled by water from surrounding springs, and regular acts of vandalism frustrated the efforts of volunteers led by Dick Harper-White and others to make progress on the 130 monthly working parties organised.
Around £12,000 was raised by the IWA to help restore the lock which involved laying over 40,000 bricks to complete the substantial renovation work. Both chamber walls had to be partially demolished and re-faced, the invert was concreted, top and bottom cills excavated and reconstructed in re-inforced concrete, wing walls restored and a new by-wash culvert constructed.
Two pairs of new lock gates were constructed at the Deepcut workshop run by Frank Jones, the Society's project manager and fitted by our full-time team.
The lock was dedicated in 1981 to the memory of Harley Watkins who was vice-chairman of the Guildford and Reading branch from 1976-77.
[back to top]
FORMER WORLD CHAMPION ANGLER VISITS BASINGSTOKE
England International and former world champion, Ian Heaps visited the canal in mid October for two days of fund raising activities in aid of the Basingstoke Hospital Scanner Appeal. The charity events, organised by the Hampshire Basingstoke Canal Anglers Association, started with an Angling Roadshow on 18th October at Basingstoke's Caribbean Club. At the roadshow Ian demonstrated the fine arts of waggler fishing, stick float fishing and pole fishing. Afterwards he conducted an open forum, giving the members of the audience a chance to seek advice from the angling maestro on their own angling problems and experiences.
The following day, Ian and fellow England International Dickie Carr, were in action whilst fishing the Lewis Harris Memorial Charity Match on the canal at Claycart Bridge, Aldershot.
HBCAA Secretary, Andre Grandjean said "Getting Ian to help us out was a real coup for us. Anglers are generally branded as an apathetic bunch and we thought it was about time we attempted to change that image. The Scanner Appeal was chosen for this years charity on two counts, firstly as this is our first charity match we wanted the proceeds to go towards helping the local community and secondly as a tribute to Basingstoke Hospital for nursing Lewis through his final days last year".
[back to top]
Feature Page
DEEPCUT 'PROTEST' CRUISE
An assortment of boats, including motor cruisers, dinghies, launches and a canoe took part in a cruise down the Deepcut Flight to St John's in August.
Organised by our member Chris de Wet, the object was to make use of the Deepcut 14 locks, and the three at Brookwood, and to highlight the fact that the locks are still not open for licensed boaters despite an undertaking earlier in the year to do so by the end of July.
There is widespread concern that the Deepcut locks completed four years ago, are deteriorating through lack of use. Contrary to practice elsewhere, the Deepcut locks are left empty as a safety measure. As the locks are not in regular use, the gates are not immersed in water and so dry out. As a result the timbers shrink and are no longer water tight, and they are more prone to decay. Lack of use also means the paddle gear is not being maintained.
Although unconnected, many of the balance beams are showing serious signs of rot because they were not treated and already need replacement.
One reason why the County Council has been reticent to open the locks is a fear of vandalism. There have been instances of minor flooding caused by unauthorised operating and, of course, it is very easy to drain pounds and lose precious water this way.
But boat owners point out that the problems must be faced and solutions sought, such as fitting locks which boatmen are authorised to unlock. The Council must also come to terms with the need for a lengthsman to be on duty, if not actually supervising, and for regular maintenance work.
Some of the cruise boats stopped halfway down the flight, but crews who went to St John's enjoyed an informal barbecue, hosted by Committee member, Peter Redway and his wife, Marguerite. Prolific underwater weed growth hampered navigation below Brookwood Bridge, and at St John's the canal was covered in a thick blanket of surface weed from bank to bank.
Editor's note: As this issue closed for press Surrey County Council announced that the flight of locks would be open for public use by licensed craft from 3lst October.

(Top left) One of a number of rotting balance beams. (Top right) The effect of dried out planking. (Bottom left) A dangerous cavity beside Lock 17, now filled in. (Bottom right) Overgrown lockside bollard.
(Photos: Dieter Jebens/CIive Durley).
[back to top]
WORKING PARTIES and Progress by Peter Cooper
This will be the last edition of BC News dated 1988, and should almost coincide with completion of lock chamber restoration on the canal. So it is good to be able to report that, by late September, it still looked as though the target was going to be met. Thanks to the Society's own dedicated team of volunteers, and in quite large measure thanks also to the Kent and East Sussex Canal Restoration Group, the chamber restoration of the last two Woodham locks was moving into its final phases.
The working parties operating in the last months of 1988 are listed below. As always, you are advised to contact your working party leader, a few days before attending, in case there is a last minute change of plan.
Woodham Locks 2 and 3 Most weekends
During September some notable 'lasts' were scored on these locks. On 10th September the last top cill of a Basingstoke Canal lock was cast, at Lock 3, and the next day the last main chamber wall of a lock on the canal was finished, again at Lock 3.
Lock 2, with both main chamber walls complete and coping stones back, and with upper and lower recess walls complete, definitely has the look of a lock nearing completion. The upper wing walls have to be rebuilt but then it will be on to jobs like bollards, quadrants, and installing the ladder.
Nearby at Lock 3 there is a little more to do; the upper recess walls have to be rebuilt, the lower ones have to be completed, and the upper wing walls also remain to be done.
The co-ordinator of the Society's work on these locks is MIKE FELLOWS on Wokingham (0734) 787428, and for further details you should contact him, or one of the working party leaders listed below.
First weekend of the month —
5/6 November, 3/4 December
PETER JONES on Aldershot 313076
Third weekend of the month -
19/20 November, 17/18 December
PETER REDWAY on Woking 21710
Fourth weekend of the month —
26/27 November
JULES WOOD on Farnborough 515737
No working parties are billed here beyond the end of the year, as it is expected that the continuous, regular work will be completed by then.
When working on these locks, volunteers are asked to park their cars in the large car park near West Byfleet station. Please do not use the small car park by Lock 2, and do not bring your car down Faris Lane to Lock 3.
Dredging in Hampshire Every weekend
The annual inspection of the two cranes took place in August, and was successful with only a few minor observations. However, later in the month the annual boiler inspection of the dredger itself was unsuccessful owing to internal erosion. A Lloyds registered welder was called in to carry out repairs, and it was also found that the collar assembly supporting the chimney, on the smokebox at the rear of the boiler, was corroded and crumbling. The complex shape was fabricated locally and extensive welding was carried out at that part of the boiler. Just in time for 'Winchfield 150', the boiler was reinspected and declared acceptable.
Dredging has recommenced east of Malthouse Bridge. The dragline has now been moved, via Crookham Wharf, to a new site near Poulters Bridge, the last part of the journey being done under police escort; the dragline is now 1/2-mile nearer the dredger, thus reducing turn-round times. For further details, contact ROGER FLITTER on Fleet 622956.
Lock gate building
This party are now working on gates for Lock 2. Dates are: —
5/6 November, 3/4 December,7/8 January
Details from FRANK JONES on Deepcut 835711
(workshop) or Camberley 28367 (home).
Hampshire bankside work
1st and 3rd Sundays -6 Nov, 20 Nov, 4 Dec, 18 Dec, 1 Jan, 15 Jan
A working party plan to start work in the area of Chequers Bridge in October. This will be unskilled clearance work suitable for family parties. Starting time will be 10.00am, meeting at Chequers Bridge, and working west towards Double Bridge. For further details, contact PETER JACKMAN on Woking 72132.
Woodham Locks 4-6
Second weekend —
12/13 November, 10/11 December, 7/8 January.
After a very long spell (at least 15 years, and some say as much as 17) Pablo Haworth has retired for a well-earned rest. His working party will continue tidying up in this area, and also doing some clearance work in the vicinity. For details contact DAVID JUNKISON on 01-941-0685 (after 8pm) or DAVE LUNN (temporarily not on phone).
Full time work
Gates have been fitted to Lock 1, which has now been fully completed and ceremonially reopened. Further up, by the St John's Flight, repair work on Langman's Bridge (by Lock 7) is complete, following discussions with English Heritage, and steps are being installed at the bottom end of Lock 7. Further work is now being carried out at the Cowshot Stream,and there will also be a programme of towpath raising in the Woking — Brookwood area.
Weekday volunteers
If you are able to come along and work on the canal during the week, even if only for a few days, you will be very welcome. You should contact FRANK JONES on Deepcut 835711 (workshop) or Camberley 28367 (home) and he will be happy to find you something to do.
[back to top]
Time Off
BOATS GATHER AT CANALSIDE PUB
The law of averages dictated a wet and windy day for the third annual gathering of boats at the Fox and Hounds. Fleet, after the two previous events held on sunny September days.
Nevertheless, 16 boats turned up for the mini-rally and barbecue sponsored by the pub's landlord Ron Kettle and organised by Chris de Wet.
The prize for the best turned out boat and crew deservedly went to Chris and Bee de Wet aboard their Beaver cruiser Windrush with their daughters Sarah and Robyn. This year's judge. Bruce Waller, selected the steam launch Odiamayde for the most unusual or original entry. Both applied to the immaculate replica Edwardian launch which took Peter Kilby and Roy Mullender two years to build.
Another yesteryear entry, yet to be completed but already a pleasure to see cruising, was Jan Smith's elegant 50-ft motor launch Victoria M modelled on a 1900 Leeds and Liverpool Canal Company's directors' launch. Jan is now lilting the boat out at Ash Vale after spending 900 hours constructing the steel hull. Once completed Victoria M will unquestionably become a prize winner.
Two small entries which did not win prizes but can both boast histories, each going back over 60 years, were a simple Canadian canoe and a humble dinghy.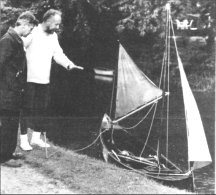 Roy Mullender and Peter Kirby (Clive Durley).
The 14-ft canoe called Mr Wit was bought by John Beaumont when he was a teenager, 54 years ago, from Harmsworth's boathouse at Ash Vale. He paid £5 — the hire rate was a shilling an hour — and kept the canoe at his aunt's home 'Russmore' on the banks of the canal at Fleet.
He added home-made masts and sails in 1938, and learned to handle the craft on Fleet Pond.
After wartime service during which John Beaumont spent two years imprisoned in Colditz, (from which he escaped) and served with the SAS, he left the army in 1948 and entered the Church.
That was the start of a long and fascinating partnership. As an assistant curate of St Mark's Church, North End. Portsmouth, and later as vicar of Hayling Island and then as the Rector of Droxford. John Beaumont and Mr Wit explored the entire Hampshire coast including Southampton water, Chichester. Poole and Portsmouth harbours and round the Isle of Wight and all its creeks.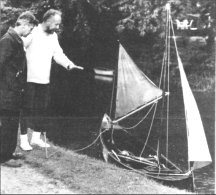 Tony Harmsworth and John Beaumont (Ciive Durley).

Among his adventures was 'to follow the Queen's example and review the fleet at the Coronation Review in 1952'. In an account of the trip, he wrote: "By the time we arrived at Lee on the Solent with Mr Wit strapped to the top of our old Austin Seven it was about 7 o'clock in the evening and the wind was blowing hard. This was the first time I had had to launch Mr Wu through breakers and we nearly came to grief. However, the extra weight of my wife in the front was a great help, keeping the bows from rising up too far, and after one or two anxious moments we were through the last of the breakers and on our way to join the fleet - This was very different from the Basingstoke Canal!". It was during the expedition that Mr Wu half-filled with water, did not respond quickly enough and collided with a submarine!

Editor's note: I thoroughly enjoyed reading the 20,000 word account of the Rev Beaumont's adventures in Mr Wn exploring the Hampshire coastline. If we have any publishers among our readers who might he interested in reading it with a view to producing the unique story in book form, I shall be pleased to put you in touch with the author.
[back to top]

BAT MOVEMENTS LOGGED
Naturalists have admitted that bats do not congregate in significant numbers in Greywell Tunnel during summer months although a number use it for roosting at night time.

Surveys conducted more than two years ago have just been revealed supporting the widely held view that bats use the tunnel mainly for hibernation and breeding during winter months.

The observations of Society members who inspected the tunnel recently confirm the finding which will support those who believe navigation of the tunnel on a time-share basis would not disrupt the bats.

Naturalists claim that over 500 bats have been recorded residing in the tunnel during winter months including Natterers Bat and Dambertons Bat.
[back to top]

DIARY DATES
Woking Talks - Methodist Church Hall, Brewery Road, Woking 7.30 for 7.45 pm (please note start time — this is because we must vacate the hall by 10.00 pm.

Saturday 19th November
MEMBERS FORUM at Mytchett Community Centre, Mytchett Road, Mytchett. 7.30 pm. A chance for members to air their views and ask questions on the future of the Society, re-opening the canal, Grey well Tunnel, the wildlife issue and anything else.

Tuesday 22nd November
Soak up the rural atmosphere with other members in the Lounge Bar of the Barley Mow, Winchfield for an informal meeting.

Sunday 27th November
New programme of rambles organised by Bill Homewood starts with a 6-1/2-mile walk from Greywell to Mapledurwell, and back on the old horse path over the tunnel. 11.30am start from the River Whitewater crossing of the Odiham - Greywell road. For details ring Bill Homewood on 0276 61343.

Monday 12th December
Vintage adventure — Mr. Paul Davies,illustrated talk on how he won the London to Sydney (Australia) Race, last spring. He did 10,000 miles in 84 days, driving a 58 year old car. Truly an adventure!

Friday 16th December*
Christmas Get-Together upstairs at the Blue Anchor, Byfleet (on the old road, south of A245). 7.30 pm onwards.

Tuesday 20th December
Start the Christmas celebrations over a drink with fellow members in the Lounge Bar of the Barley Mow, Winchfield.

Sunday 8th January 1989
8-mile ramble of Bramshill and Swallowfield area. Starting Hatch Gate Restaurant on Eversley - Heckfield road at Bramshill. Leader: Bill Homewood Tel: 0276 61343.

Monday 9th January
A box of Matches, a Bag of Coal and You — Steam Boating Today. Society member and Steam Boat Association member Adrian Birtles will keep us warm by sharing his boating experiences in these delightful craft.

Tuesday 24th January
Canal gossip and social evening in the Lounge Bar, Barley Mow, Winchfield. A chance for new members to meet others.

Sunday 12th February
6-1/2-mile ramble over Hampshire farmland from Rye Common to Well. Meet in Colt Hill car park by the canal at Odiham at 11.00 am. Leader: Bill Homewood. Tel: 027661343.

Monday 13th February
Restoration Madness — an illustrated talk by Ken Parish about the people and their antics, when working with the Kent and East Sussex Canal Restoration Group (KESCRG).

Tuesday 28th February
Meet fellow members over a drink in the Lounge Bar of the Barley Mow, Winchfield for an informal evening out.

Let's Be Sociable
A reminder that Ginny Millard will co-ordinate your ideas and offers to organise and host just ONE event of your choice. The social side of the Society will flourish if YOU make it happen! Please phone her on 01 684 4209 (work) Ansaphone.

*Meetings of the Guildford and Reading branch of the Inland Waterways Association to which Society members are welcome.
[back to top]

WATERSIDE WATCH
BREWERY ROAD BUBBLES UP AGAIN
Yet another proposal has been put forward for development of the Brewery Road car park site in Woking. Since 1982 this prime site on the north side of the canal, opposite the town centre, has been the subject of numerous plans mainly involving hotels of varying capacities.

Now Select County Hotels, who have made a bid for a 125-bedroom hotel at Woodham to serve Woking, want to build 15 2-bedroom and 21 one-bedroom homes on the Brewery Road site. The plan includes small shops, a restaurant and public house with a paved courtyard as a central feature and a pedestrian link with the town centre. For the canal the developer plans 'an enhanced towpath area' and 'turning and mooring facilities'. In addition space for parking 335 cars would be retained.

The Society's planning officer, Peter Coxhead, said that he will be looking at the proposal and hoped that it has made the most of the opportunity to feature the canal and create an interesting water space area.

Despite public opinion favouring the area as a canal-related open space with recreational activities, boat mooring basin and a museum/exhibition gallery,the local council continues to seek more commercially orientated schemes.
[back to top]

HART LOSES HEART
Despite refusal to give developers of Velmead and Freelands farms, bordering the canal at Crookham to the west of Fleet, planning permission, which was upheld by the Department of the Environment, Hart District Council has now done a U-turn by earmarking the land for 450 new houses.

Pressurised by the Government to specify sites for 800 new homes to be built, Hart has included the canal-side land for development. Commenting on the decision the Society's vice-chairman, David Millett,said, "We're very sorry indeed that the Council has changed its mind over development of this open, rural land we have been fighting to save for years. Quite apart from the impact of a great many more people along this quiet length of the canal, building on the south side of the canal will cause local congestion and affect the town".
[back to top]

Time Off
A LOOK BACK AT THE 1960s
If you missed the pictures of boating on the canal in the early 1960's which Tim Dodwell displayed at 'Woking 150', we're grateful to him for a selection of prints shown here.

Tim was one of the last boaters to cruise the length of the canal and use the locks - but not without difficulty. He recalls using part of a discarded crate and an old door to help block up one of the paddle holes in bottom gates of Brookwood Lock 12 to help fill it which took two hours!

He also sent us a report of a trip tip the canal in 1961 which was intended to appear in Windlass, an IWA local branch magazine, but never published, 'because of the need to use extreme tact when dealing with the Canal Company and their dislike of publicity'.

The trip included Mr Charles Poulter's converted life boat Mary Toft, and Mr C.H. Carter's cruiser Wagtail. with a crew from the Cambridge Vniversitv Shipping Club, which managed to get as far as Pirbright Bridge. 'But it was not like cruising on the Thames', Tim wrote, 'as at all but three locks the bottom gates had to he sheeted with tarpaulins and at two the absence of tipper balance beams required the use of ropes and tackle'. They also had to contend with filling two dry pounds - at Sheerwater and at St John's - before proceeding, not to mention some missing paddle gear!

(Left) Boats from the Wey Navigation ascending Lock 3 at Woodham in 1963. (Right: Sheeting up the bottom gales in Lock 28 with a tarpaulin to help fill the chamber in an attempt to lock up the flight in 1963. (Photos: Tim Dodwell).
[back to top]

AND MEMORIES OF THE 1962 RALLY
Our picture of the 1962 Woking Rally (BC News, March issue) prompted Denys Hutchings, vice-chairman of the Kennet & Avon Canal Trust, to write:

'One boat that actually got to Woking was Arcturus owned then - and I believe still is - by Brian Nicoll and I remember the trouble she had in taking out enough ballast to reduce the draught at the first lock. She had further problems when she winded in Woking.

Arcturus is a wooden boat and another was, I am sure, the Queen which subsequently moored at Reading but eventually sank and was broken up. In your picture is a wide boat which I suspect is the Firebrand which sometime later I towed from Reading to the Wey behind Enterprise the latter now having reverted to her original Josher name of Kimberley.

Another visitor to the rally was Viscount St. Davids in his motorised punt which he made many canal trips in. One day visiting him at his home in London, which backs onto the Regent's Canal, he took me back to Paddington in her. I was at the 1962 rally with my double sculling gig, now well over 100 years old and she has travelled many hundreds of miles on rivers and canals, in August 1988 we took her to France with other rowing boats and had four days on a French canal before taking these 12 boats to the wonderful festival of boats at Douarnanez on the Atlantic Coast. For the first time ever these boats, constructed for river use, went out onto the sea performing well but naturally the sea was not rough.

My first venture onto the Basingstoke Canal was at Jubilee week-end in 1935 which was a very fine and sunny time. We decided that as we could not use the locks we would make a contrivance from bicycle wheels to get the boats round locks. Unfortunately the wheels were not up to the job and we had to drag the boat round each time -- very hard work.

Those interested in canals today cannot realise just how scarce information was then. There were no canal societies and maps were almost non existent other than ordnance surveys. In fact few gave thoughts to canals which were there and in use and thus any waterway journey was rather a trip into the unknown. When we rowed up the Grand Union in 1935 we only had the most scant information regarding locks and junctions and in fact actually went towards Rugby from Braunston instead of towards Birmingham! So it was in 1935 that we did not know that there was the Goldsworth Flight and certainly had no inkling of what lay beyond, other than that the canal was supposed to go to Basingstoke! We chickened out on seeing the Goldsworth Locks and after spending the night afloat in Woking returned to the Thames'.
[back to top]

Time Off
GREYWELL TUNNEL INSPECTION
A number of members enjoyed the experience of navigating almost half a mile into Greywell Tunnel on five trips organised by Janet Greenfield and committee member David Junkison in September.

Authorised by Hampshire County Council, members were poled into the tunnel aboard a work punt and were surprised by the dry brickwork and generally good condition of the lining.

Members were warned not to disturb any bats found. On most of the trips no more than four were spotted, supporting the belief thai they do not use the tunnel to any extent during the summer.

The punt went within sight of the extended fall. Visitors were provided with an informative leaflet about the 1230-yard long tunnel, compiled by Stan Meller who has led the engineering team looking at methods of restoring it. Greywell is the only tunnel on the Basingstoke canal, and forms the largest single example of engineering on the waterway. The Engineer was William Jessop, and the Contractor was John Pinkerton.

Construction commenced in 1798, and completion took 6 years. For the most part the bore passes through chalk, but at about 850 yards from the eastern entrance it passes into the Reading and Woolwich beds. These comprise of a mixture of sub-soils but consist principally of clay.

The lining consists of brickwork three bricks thick. As was the practice in the days when it was built the bricks are joined by a very soft mortar made of sand and lime. The bricks were made locally, and it is believed that a member of the Harmsworth family was a quality inspector acting for the company in the purchase of the bricks.

When the tunnel was built a number of shafts were dug down from the ground above to the line of the tunnel. From the bottom of these the miners were able to strike out in both directions thus working on many faces at the same time and speeding up construction. Thanks to a thorough survey of the tunnel and the ground above made some years ago by the architect to Hampshire County Council it has been possible to identify the possible site of these shafts. It seems that seven were dug at regular spacings of about 200 yards. Statistics (all measurements are approximate): —
| | |
| --- | --- |
| Length | 1230 yds |
| East portal to 1st adit | 155 yds |
| Distance from East portal to fall | 825 yds |
| Length of blockage by fall | 220 yds |
| Depth of water | 7 ft. |
| Width of bore | 14 ft. |
[back to top]
Dear Sir,
WILDLIFE NEEDS BOATS
On Saturday 20th August I saw my first kingfisher in the Deepcut flight. After marvelling at the flash of brilliant blue, I had the following pessimistic train of thoughts:
No boats — No clear canal
No clear canal - No fish
No fish - No kingfishers
Mammals, such as these rare birds deserve to be seen as much as rare plants. The NCC et al will deny the chance if their narrow view is promulgated. The sighting occurred just after the passing of three boats!
Yours faithfully
Michael J. Ledger
58 Mount Pleasant Close, Lightwater, Surrey.
PS: In addition to enjoying the canal I am also a radio amateur (G811XD). I believe that there may be others in the Society who have the same hobby. Recent changes to our Licence allows us to operate from boats.
If the Society is willing I would he prepared to mount a Radio Station on the John Pinkenon during one of the first passages through the restored canal. The event would I believe be unique and would be literally broadcast WORLDWIDE on short wave radio in addition to VHF/UHF local (UK) contacts.
Are there any olher members interested in such a project ?
[back to top]
BWB FIGURE IT OUT
Gone are the gloomy days, it seems, when Sir Frank Price, as chairman of British Waterways Board, used to warn the Government of the mounting maintenance arrears, and the waterways world called for more cash.
To-day we live in more optimistic if not totally realistic times. And the essential aim of British Waterways is to break even with a smile. So it was good to read of 'good progress in all areas of British Waterways work' and to see from the annual accounts that 'Income' neatly matched 'Costs 'at £64.7m. Better still earned income was up by £1 million which enabled the Government to reduce its annual grant accordingly. This year's income also appeared to equal the previous year, so no complaints about BW being short-funded.
But hold on a moment. In the previous year's accounts, 'Income' for 1986/87 was given as £66.2m. Simple subtraction would indicate that this year's income was actually two per cent down.
Ten years ago, maintenance arrears were valued at a staggering £60 million. Admittedly BW's new chairman did refer tn the outstanding works in this year's report which staled: 'British Waterways remain concerned about the backlog of waterways maintenance for which there is no provision'. But thankfully, perhaps, he didn't put a value on the work to he done.
[back to top]
In the News
RECORD YEAR FOR THE TRIP BOAT
Members operating the John Pinkerton trip boat have had a record year to celebrate the boat's tenth anniversary.
While charter trips amounted to 185 bookings, about equal to last year, turnover has been substantially increased due to carefully planned marketing, both in pricing and promoting the service. Bookings Manager, Tony Karavis, reported an extended peak period for charter trips from June to August with practically all available trips sold.
More people went on the public trips this year which started at Ash Wharf over the Easter holiday with sales of £1,000.
Highlight of the year was the 25-mile cruise John Pinkerton made down to Woking for the first time. During the course of 'Woking 150' - the railway celebration - the boat made nearly £1,000. John Pinkerton also took part in 'Winchfield 150' carrying railway enthusiasts down to see our steam dredger Perseverance operating at Crookham.
This year Barley Mow wharf became a new base for six weeks, offering short 60-minute return public trips to Blacksmiths Bridge, Dogmersfield.
Charter trips covered all ages and interests from a party of Hell's Angels to a silver wedding celebration. School educational trips increased in popularity; company and club social outings remained high on the bookings list which included one christening party and two wedding receptions.
The newly installed Cellnet has already proved valuable. On one occasion the police phoned to advise the crew that a coach had broken down on the M27 and a party from Southampton would be late.
Twelve firm bookings have already been made for the 1989 season.
[back to top]
A RIGHT GOOD CREW
A big part of the success of the John Pinkerton operation is the willingness of members and friends to volunteer for crew duties ably organised by Elaine Manship who writes: 'A most hearty thank you to all those who gave their valuable time and volunteered to crew the trip boat this year. Special thanks to Mike Hammersley for co-ordinating the weekday crews, and to all those people whom I phoned and agreed to stand in at short notice when the need arose. In addition to handling the boat, crews are called upon to 'entertain' the passengers, answering their questions, serving refreshments and maintaining their interest. We receive a lot of complimentary letters from hirers thanking us for giving them a good time which is all credit to efforts of our crews.
Many crew members now phone me to book themselves in advance of my call which is a great help. If you wish to become a crew member or can get a complete crew of four people together and want to get on the rota, please phone me on Yateley 879413 (I would be grateful if you would try and avoid between 7 pm - 8 pm as my telephone receptionist and filing clerk, aged 3 years and one year old respectively, are being put to bed). There will, of course, be some crew training sessions again before next season starts for those with limited experience.
Thank you all again, have a good Christmas and I look forward to working with you again in 1989'.
[back to top]
DOWN IN THE COUNTING HOUSE ....
According to John Elliott, the trip boat company's treasurer, takings for the 1988 season could be an all time record but he won't be certain until the accounts are completed.
At the end of September about £15,000 had been taken in charter fares and almost £11,000 in galley sales of which 40 per cent is profit. So the net profit could be as high as £16,000, which would be £2,000 more than our record takings since we started operating ten years ago, and top the £100,000 total profit mark.
According to John the key to higher takings in 1988 lay with the company's decision to increase charter prices selectively and increase the price of drinks. "Even with higher prices the John Pinkerton is still a cheap evening out", he commented, "and most weekend evening trips were booked well before the season got under way, and daytime trips at just £35 continue to be a great hit with schools and retirement clubs".
[back to top]
NATURALISTS CONTROL MOVES CLOSER
The Nature Conservancy Council (NCC) is due to designate a continuous 25-mile length of the Basingstoke Canal a Site of Special Scientific Interest (SSSI). The designation will cover the canal from Greywell to Brookwood, but official publication of the citation has been delayed in an effort to agree 'management operations and recreational activities'.
Central to any SSSI designation are listed Potentially Damaging Operations (PDOs). One of the key issues will be what restriction the NCC will wish to impose on the number ofmotorised boat movements permitted. The NCC's standard list of PDOs does not specify the number, but it is expected to aim for no more than 2000 movements. Based on British Waterways surveys, a boat makes an average of seven movements a year which would limit motor boat licences to no more than 300 which is the existing number available. But boat users estimate that at least 400 licences need to be made available to satisfy the projected demand from riparian land owners and visiting craft when the canal is fully opened in 18 months time.
The PDOs will also affect management of the canal and especially maintenance work such as dredging, bank piling, weed cutting and bankside clearance. The NCC demands four months notice of any work specified as a PDO, generating an administrative nightmare, quite apart from operational headaches. In practice the county councils will seek a pre-determined management agreement, as British Waterways has done, to reduce the need for time consuming consultation.
[back to top]
GONGOOZLER'S GOSSIP
TERRAPIN spotted resting on a floating car tyre on the canal at the site of the former stop lock above Ash Lock.
THANKS to our member John Anstey for painting out 'KEEP OFF' scrawled on rusty corrugated iron 'doors' at Colt Hill and giving them a coat or two of green paint to help tidy up the area. If the bollards could now be painted again the wharf area might look quite smart.
PROCRASTINATION is the thief of time ... and funds. The much debated maintenance dredger is now costing the county councils £15,000 more than originally quoted. And the Society's committee has agreed to increase our contribution by £1,000 to £3,000.
£1,000 has been paid to the Society for work done by the full-time team towards restoration of Langman's Bridge at St. John's.
PABLO Haworth, veteran of Woodham flight working parties was the guest of the executive committee at members' luncheon aboard the John Pinkerton early in October.
PLANNING application made for a new bridge to replace King's Head Bridge at Frimley.
THANKS to members who kindly enclosed donations with their requests for the Phillips Petroleum sponsored information folder about the canal. Your contributions have been sent on to the Treasurer.
HERON seen fishing in canal at Coxmoor, west of Crookham and kingfisher between Pondtail and Reading Road South bridges, Fleet.
CANAL paintings by our member and local landscape painter Terry Harrison will be on show in an exhibition of his latest works at the Godalming Galleries, Wharf Street, starting Sunday 20th November for a fortnight.
WINCHFIELD 150 saw unique line-up of diesel locomotives. Society stand took £300 and dispensed lots of information to interested visitors, thanks to Derek Truman, Graham Meade and a few other members. Thanks also to Arthur Dungate for his special video and to Bourns Electronics who once again kindly loaned us a TV and cassette player.
SPECIAL trips aboard the John Pinkerton were all fully booked by visitors to 'Winchfield 150' as part of a package tour to see Perseverance in steam. The trips made a profit of about £350.
[back to top]
TEN YEARS AGO ..... From Newsletter No. 82 November/December 1978
* In its first year of trading the John Pinkerton made a net profit of £4,250 exceeding all expectations.
* Work started on Ash Embankment to clear small trees and dense undergrowth from the water channel which was breached in September 1968.
* Members of Crookham Village Association completed work repairing Poulters Bridge and a commemorative plaque was unveiled by Cllr Maurice Jones, Chairman of Hampshire's Recreation Committee.
* A derelict ex-army swimming pool in woods at Deepcut, above lock 28, was cleared and covered over to make a workshop for construction of lock gates for the canal. To date over 100 pairs have been built there.
* 18,000 tickets were sold for the Society's first Grand Draw, organised by our member Ted Williams, which raised £1,520.
* The Society submitted a 109-page proposal for setting up a Trust to run the canal, at the invitation of both Hampshire and Surrey County Councils. In it the Society argued the case for operating the waterway as an entity as the most economical way of maintaining it.
[back to top]
COPY DATE FOR JANUARY 1989 BC NEWS: 30th NOVEMBER 1988
Published by the Surrey and Hampshire Canal Society Ltd., a non profit distributing company limited by guarantee, registered as a Charity. The views expressed are not necessarily those of the Society.
Editor: Dieter Jebens. Production: Jo Evans.
Collation & Distribution: Janet and George Hedger, Edwin Chappell & helpers.
Editorial Office: 60 Middlebourne Lane, Farnham, Surrey GU10 3NJ. (Farnham 715230).
Chairman: Robin Higgs, 18 Barnsford Crescent, West End, Woking, Surrey, GU24 9HX. (09905 7314)
Vice-Chairman: David Millett, 14 Dinorben Close, Fleet, Hampshire, GU13 9SW. (0252 617364)
Hon. Treasurer: Mrs Gwyneth Browne, 102a Aldershot Road, Fleet, Hampshire, GU13 9NY. (0252 621745)
Hon. Secretary: Philip Riley, Meadow Vale, Guildford Road, Normandy, Surrey, GU3 2AS. (0483 234776)
Membership Secretary: Edwin Chappell, The Spinney, Meadow Road, Ashtead, Surrey, KT21 1QR. (0372 272631)
Working Party Organiser: Mike Fellows, 30 Reynards Close, Winnersh, Wokingham, Berkshire, RG11 5NT. (0734 787428)
Dredger Manager: Roger Flitter, 10 George Road, Fleet, Hampshire, GU13 9PS. (0252 622956)
Working Party Information: Peter Jones, 54 Wharf Road, Ash Vale, Aldershot, Hampshire, GU12 5AY. (0252 313076) Peter Cooper, 5 Addison Court, Oakley Avenue, Baling, London, W5. (01 993 1105)
Trip Boat: Tony Karavis, 12 Loddon Road, Farnborough, Hampshire, GU14 9NT. (0252 549037)
Sales Manager: Situation vacant
Talks Organiser: Mrs Janet Greenfield, 9 Mistletoe Road, Yateley, Surrey, GU17 7DT. (0252 873167)
Exhibitions Manager: Phil Pratt, Flat 5, Fleetwood Court, Madeira Road, West Byfleet, Surrey, KT146BE (0932340281)
[back to top]