No. 138 MARCH 1988

Comment - A HUMORISTS WARNING
IT is always gratifying when items in the BC News are reprinted in national publications and so gain an even wider readership. So we were pleased when 'Clive's Canal Calendar' (136 November 1987) was featured in Waterways World' and also reprinted in 'Motor Boat and Yachting'.
For those who missed it, Clive Durley, took a light-hearted look at the future of the canal. His crystal ball foresaw nature conservationists achieve a ban on powered boating; the canal falling derelict again; filled in and finally the creation of the New Surrey and Hampshire Canal Society to start restoration all over again.
Written with tongue in cheek, there was nevertheless a serious reflection behind the humourous notion. However improbable the scenario might seem, today's fiction often has a way of becoming a reality tomorrow.
Take, for example, a recent report in the Surrey Advertiser that Dr Arthur Lindley, conservation officer to the Surrey Wildlife Trust, has opposed restoration of the Wey and Arun Canal. He has, apparently, gone so far as to put the Trust's objection in writing to Surrey County Council and local district authorities. He gives turbidity and the weed cutting action of propellers as his reasons. And this is a waterway which is so derelict in places that it has actually disappeared although there is every prospect of its ultimate restoration throughout.
This is the same Arthur Lindley who used to tramp the Basingstoke Canal, working alongside canal restorers, advising on specific locations where wildlife was at risk and how best to proceed. At that time the word turbidity was a little used noun tucked away in the Oxford Dictionary. Today it is fast becoming the most overworked word in the naturalist's vocabulary.
The disturbing aspect of the naturalists attitude towards restoration of the Wey & Arun is that they are now not only seeking to restrict inland navigation but condemning efforts to re-open waterways which will be of enormous benefit to water dependant wildlife regardless of navigation.
The Wildlife Trust's reported move to prevent full restoration of the Wey & Arun is symptomatic of a growing intolerance of waterways cruising which must be taken as a serious threat to the restoration and improvement of more inland navigations.
Waterways seem to have become the soft option and target for naturalists intervention. Perhaps because waterways enthusiasts are better at pursuing practical conservation work than promoting political ends.
While actions speak louder than words there is a growing need for the waterways world to become more vocal in support of their interests.
Meanwhile the Surrey Wildlife Trust is opposing restoration of a waterway which, if left undisturbed, nature herself will ultimately destroy as an aquatic habitat. Their objection doesn't make sense.
[back to top]
THE BENEFITS OF BOATING
Boaters tend to be helpful, friendly people which may explain why Hampshire's canal manager got a good level of response to a questionnaire sent out with this year's licence renewal applications.
In an effort to discover more about the effects of boating on aquatic wildlife, the survey sought details about boat size, hull profiles and propellor design. How many times the boat had been used last year, when and where. Selected respondents were even offered a payment to keep a detailed log this season.
For what purpose this information will be used was not explained. We'd be surprised if it is intended to benefit boating.
We suggest that boaters might spend their form-filling time more profitably by promoting the benefits of inland cruising as a primary reason why canals like the Basingstoke are being restored. How boat movements keep the water channel clear of silt and excessive weed. That the licence fees they pay contribute towards the cost of maintenance. Not to mention the delights of cruising and the satisfaction of seeing any navigation in use for the purpose it was built.
The benefits may seem obvious enough to boaters but they are not so well appreciated by the world outside.
[back to top]
ANNUAL GENERAL MEETING
THE Society's 11th Annual General Meeting will be held on Saturday 23rd April at the Canadian International School (formerly Robert Haining School), Mytchett Place Road, Mytchett, Surrey, starting at 6.30pm. (not 8.00pm as stated in the last BC News).
FRONT COVER
THE END OF THE DAY Time to rest and reflect on the events of a memorable day at Ash Lock, site of the 1984 Boat Rally. Hampshire CC's depot at Ash Lock Cottage makes a pleasant canalside site for a barbecue and chance to relax after a busy and enjoyable day. (Photo: Dieter Jebens/Clive Durley).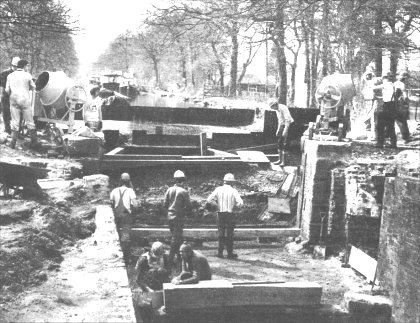 CALLING ALL LOCK 1 NAVVIES. Volunteers working on the upper cill of Lock 1 which the IWA's Guildford and Reading Branch adopted 11 years ago. Restoration is now all but complete and working party organiser Dick Harper-White wishes to hear from anyone who has worked on the site. There's plans to organise a re-union and celebrate the end of a decade. Contact Dick on Weybridge (0932 42074). (Photo: Dieter Jebens/ Clive Durley).
[back to top]
SOCIETY'S FUTURE ROLE ASSURED
ANY doubts over the future need for the Society after restoration is finished were expelled at a special meeting of the Executive Committee held in January.
The Secretary, Philip Riley pointed out that the Society's declared objectives went far beyond restoring the canal alone. It was constituted also to ensure ihe canal's future maintenance and promote its fullest use' as a navigable waterway.
To achieve future objectives, it was agreed that the Society needed to maintain a healthy level of membership. "We have an increasingly important role to play as a member of the Joint Management Committee", said Robin Higgs, pointing to three key areas:
* To continue monitoring planning applications for riparian developments which threatened the amenity value of the canal.
* To maintain a watch on demands for management policies which could affect the canal's fundamental role as a navigation.
* To promote full use to be made of the canal for all suitable recreational purposes.
The Committee also saw a continuing role for voluntary working parties to help maintain the canal.
Looking at possible future developments the Committee wanted Hampshire County Council to acquire the canal west of Greywell still owned by the New Basingstoke Canal Co. Ltd.
Given the opportunity it was agreed that the Society was well placed to restore much of the derelict navigation in the same way as the main part of the canal has been renovated. This would give the Society a major new project after the 32 mile Greywell-Byfleet length is completed.
The western end of the canal will be featured in a special film presentation at the AGM.
"We hope the AGM will spend more time looking forward and we want to hear members views on how they see the Society's future role", commented Robin Higgs.
[back to top]
| | | | |
| --- | --- | --- | --- |
| ORDINARY | | | |
| Michael & Jenny Adams | Cove | Mr A Ripley | Woodham |
| Surrey Industrial History Group | Bookham | Karen Scanlan | Guildford |
| Anthony Ganderton | Ash | Mr & Mrs R. Brincat | Fleet |
| Mr C.R.Dunn | Woking | Mr & Mrs M.B. Smith | Woking |
| Rodney Wardlaw | Egham | Mr J. Gunner | Woking |
| Mr L.R. Butcher | St. Johns | Christine Davey | Romsey |
| Maureen Simpson | Woking | Mr Etherington | Woking |
| Mr & Mrs F.E. Spanton | Horsell | Ms J. Rosenbaum | Woking |
| Mr P. Malim | Brookwood | Mr M. Walden | Blacknest |
| Ian Bell | Bisley | Peter McCammond | Fleet |
| Mr H.J. Goddard | Fleet | LIFE | |
| Mr R.M. Adams | Cove | Mr D. Healey | Yateley |
| Mr J.A. Schilling | Weybridge | David Bulleid | St. Johns |
| Mr & Mrs A.W. Neve | Frimley | Skeet & Jeffes Ltd. | Woking |
[back to top]
MEMBERSHIP MATTERS
YOU will, no doubt, have noticed a special code on the address label for the newsletter. This is in fact your Membership Number. An example number would be as follows: 2OC 22485
The first characters indicate your membership category; i.e. 2OC = two OAP members who pay by Cash; FB = Family membership paying by Banker's Order; C = single Adult member paying by Cash; B = single Adult member paying by Banker's Order. The second set of numbers indicates your Postal Area; i.e. 22 = Newsletter sent by post; 99 = Complimentary Newsletter. Other numbers represent hand delivery rounds; i.e 12 = Fleet. The last set of numbers is your unique number identity for that Postal Area. The Membership Number is invaluable when dealing with queries over renewals and changes of address. If you think your Membership Number is wrong or if you have any questions, please contact Edwin Chappell.
[back to top]
ALLAN GODFREY PRINCE
SOME of you will have heard of the sudden death of Allan Prince on the 28ih December. Having just travelled to visit some friends in South Wales with his girlfriend Gill Heather, Allan suffered a heart attack and died instantly. He was buried at St Peter's, Ash on 7th January. Allan will be sadly missed and we offer our condolences and support to Gill and to Allan's brother, Michael.
Allan was brought up at Ash Vale and in recent years has lived at Alton. Like so many other Canal Society members he worked for the National Gas Turbine Establishment at Pyestock.

(Photograph: Aubrey Slaughter)
His main involvement with the Society was through the John Pinkerton trip boat. He was a director of the operating company and for several years organised the crewing rota. More recently he became the Crew Training Manager and was responsible for teaching the large number of new members who volunteer to crew the boat each year.

However, Allan's contribution did not stop with his crewing responsibilities. On a cold winter day he would be found at Deepcut with the faithful few who scrape and repaint the boat each year, and when a disaster occurred it was often Allan who turned out to restore a sense of normality to the situation.
A few days after the funeral the Boat Company Chairman, Roger Cansdale, received the following letter: —
Dear Roger,
Please find enclosed a cheque as a donation to Surrey & Hampshire Canal Cruises in memory of Allan Prince. We suggest a memorial fund is started to which this contribution be added in order to purchase a suitable memorial to A llan which is placed on the John Pinkerton.
However, we are happy to allow the Committee to use their discretion on the best way in which this donation can be used.
Yours sincerely,
Dorothy, Andrew and Ron McLaughlin
This is a splendid idea from some very nice people and would enable us to remember Allan through a permanent memorial. If other Canal Society members would like to contribute to the fund then perhaps they could send their donations to John Elliott at 42 Fir Tree Way, Fleet, Hants GU13 9NB. (John Elliott is Honorary Treasurer of Surrey and Hampshire Canal Cruises Ltd.).
Time Off


[back to top]
EXPLORING THE WESTERN END
THE western end of the canal is set in undeveloped countryside of farmland and secluded woods.
Greywell remains a quiet village, with an ancient mill and is a winner of Hampshire's Best Kept Village Award. The Fox and Goose remains a pleasant country pub, popular (but not popularised) which makes a good lunchtime stop. Across the road, a few yards down Oerwent Road on the left, is a public footpath leading almost immediately to the eastern portal of the tunnel.
Having no towing path, barge horses were led over Greywell Hill. Although there is no longer a direct track over the hill to the western end of the tunnel, a public footpath exists which is no doubt the start of the original bridlepath. You will find it a few yards along Hook Road to the north of the pub. The path is well worn until you reach a stile. Ahead across a field, is Greywell House. To your right across the field is another stile — follow the perimeter wire (there is no sign of a footpath) round and cross the stile.
Look carefully for the path as you go through a coppice until you reach a third stile and turn left onto a well worn bridlepath. This leads into a muddy area of hawthorn trees used by cattle for shelter. A perimeter fence will prevent you straying into the woodland, which is private property. You are now on the top of the hill. To your right, in the woods, the ground slopes away steeply suggesting the other end of the tunnel. In fact you are now over the tunnel and about halfway along it. Dep­ending on which side you find it a signboard marked 'Bridleway' indicates you are not trespassing. Look for a gate ahead. On the other side, the bridlepath is once more quite discernible and you will soon find yourself at a crossway. To the left, through the trees, is Greywell House, to the right is a barrier marked 'SSSI Private'.
The track straight ahead is well worn. You pass a dense woodland of mature trees. Disturbed wood pigeons flap noisily into flight above you while rabbits abound in the grassy clearings. Take heed of the sign 'Wildlife Conservation. Please Keep Dogs on Leads', You should also reject the temptation to enter the woodland on your right to find the other end of the tunnel. Apart from trespassing and causing a disturbance, the chances of finding the collapsed western portal are very slim.
As the woodland thins and fields once more appear to your left you are in an area known attractively as Hives Garden. The bridlepath becomes very muddy before emerging in the lane leading to Eastrop Bridge to your right. Turn left and the Mapledurwell-Greywell road is a few yards away.
Be Prepared
To find the tunnel's western end follow the cul-de-sac lane to the end and continue down a footpath which takes you over Eastrop Bridge. Cross the fence on your right and scramble down onto the remains of the towpath.
This is not Sunday afternoon strolling terrain. There's clay underfoot which is usually wet, muddy and slippery. So be prepared.
Away from the tunnel you can force your way along the towpath to Slade Bridge (otherwise reached down Heather Lane, an unadopted driveway).
What remains of the towpath is interrupted at Brickwork's Arms which once had a footbridge crossing.
The best place to view the canal, if you are motoring, is from Brick Kiln Bridge which is just off the Greywell-Mapledurwell road. A quarter mile on, the road crosses the canal on the site of Penney Bridge.
If you want to see Little Tunnel Bridge, a listed "monument' now used to store hay, park at the next junction westwards (motorway crossing) and take the footpath signposted on the left hand side of the road which crosses the 50-yard long tunnel.
NB Exploring the western end is not recommended for families with small children as a weekend outing. The going is too rough and muddy. Car parking is also a problem in narrow lanes. The smaller the car the more places you'll find to park without obstructing local farmers and residents. Ordnance Survey Sheet 186 (1:50,000) will help you find your way.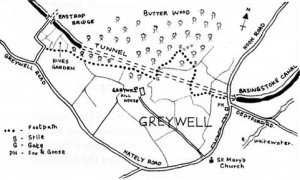 [back to top]
WORKING PARTIES and Progress by Peter Cooper
BEING now well and truly into 1988, we can consider for a moment what we still have to do, to complete restoration of the canal, and when it is all likely to be finished. Lock work is now concentrated on Locks 2, 3 and 4 at Woodham, and Lock 4 is likely to be completed during the spring months. The prediction for completion of Locks 2 and 3 is autumn of this year, and we have now done these sort of jobs enough times to be able to make realistic predictions. Gating of these locks will not, of course, be completed until a little later. There are other jobs, too - the dredging operation in Hampshire is certainly not expected to be completed in 1988 and bankside clearance can even be regarded as a never ending job.
The working parties currently operating are listed below. It is usually as well to contact your working party leader, a few days before attending, just in case there's been a last minute change of plan.
Woodham Locks 2, 3 and 4 Every weekend
At Lock 2 the demolition of the second chamber wall is almost complete. The works at the bottom end of Lock 3 are now complete, including the bottom hollow posts, and the new footbridge has been installed. During the winter most of the work will be concentrated on the remaining demolition, to be followed by the Working Week following Easter.
At Lock 4 the bottom hollow posts have been installed, the ladder is now in place, and the footbridge frame is in. The next jobs are rebuilding the top recess walls and installing the top hollow posts.
The coordinator of the Society's work on this flight is MIKE FELLOWS on Wokingham (0734) 787428, and for further details you should contact him, or one of the working partyleaders listed below. The working parties, with the locks they work on, are listed below. Note that there will be no working parties on the weekends of 16/17 April or 28/29 May, owing to conflict with other events - the St. Johns reopening, and Woking 150, respectively.
First weekend of the month — Locks 2 and 3
5/6 March, 2/3 April, 30 April/1 May
PETER JONES on Aldershot 313076
Second weekend of the month - Lock 4
12/13 March, 9/10 April, 7/8 May
PABLO HAWORTH on Byfleet 42081
Third and fifth weekends of the month — Locks 2 and 3
19/20 March, 14/15 May
PETER REDWAY on Woking 21710
Fourth weekend of the month — Locks 2 and 3
26/27 March, 23/24 April, 21/22 May
JULES WOOD on Farnborough 515737
When working on these locks, volunteers are asked to park their cars in the large car park near West Byfleet station. Please do not use the small car park by Lock 2, and please do not bring your car down the small lane (Paris Lane) leading to Lock 3.
Dredging in Hampshire Every weekend
The dredger is still about 100 yards short of Malthouse Bridge. A lot of breakdowns and maintenance problems in the past year have meant that progress has not been as good as expected. Dredging has been stopped for a month to allow resolution of these problems, but should be under way again by the time these notes appear.
Regular crew should contact ROGER FLITTER on Fleet 622956 to arrange schedules. For other details contact ANDY STUMPF on 0923-778231 (work) or Chesham 785720 (home).
Lock gate building
The prime task now facing this working party is building the gates for the Woodham Flight, which they will do in conjunction with the full time work force and other workers. Dates are:-
5/6 March, 2/3 April, 7/8 May
Details from FRANK JONES on Deepcut 835711 (workshop) or Camberley 28367 (home).
Surrey bankside work
First and third Sundays of the month — 6 March, 20 March, 3 April, 17 April, 1 May, 15 May
This party continues to work in the Woking area, helping to prepare the canalside areas in readiness for the Woking 150 celebrations. The work is unskilled and suitable for family parties. For further details, including work site and meeting place, contact PETER JACKMAN on Woking 72132.
Full time work
Gating of the St Johns Flight is now complete, and the work force are spending time putting the waterflows and levels of the Cowshot stream to rights, besides preparing for gating of the Woodham Flight. The further works at Langmans Bridge still remain to be done.
Weekday volunteering
If you are able to come along and work on the canal during the week, even if only for a few days, you should contact FRANK JONES on Deepcut 835711 (workshop) or Camberley 28367 (home), and he will find you something to do.
Working Week
This is a further reminder of the Working Week, starting 2nd April, at Locks 2 and 3. If you wish to take part, contact PETER JONES on Aldershot 313076 to make arrangements.
[back to top]
HART MOVES TO AID DREDGER PURCHASE
A CONTRIBUTION of £4,000 has been voted by Hart District Council's Leisure Services Committee towards the cost of purchasing an £86,000 maintenance dredger ordered by the two county councils for use on the canal. The Society has already offered a contribution of £3,000.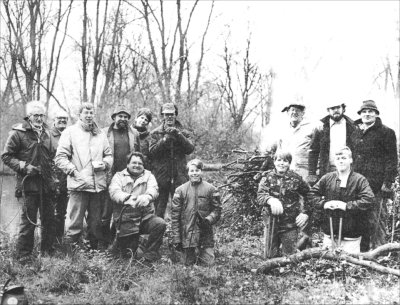 PETER JACKMAN (far right) and his team of towpath clearers, including a Society founder member, Dick Snell (kneeling from left), who crossed the county boundary when Hampshire canal manager David Gerry appealed for assistance To help clear hurricane storm felled trees along Ash Embankment in December. (Photo: Alison Snell).
[back to top]
DISTRICT COUNCILS IN HANTS MOVE TO SUPPORT CANAL COSTS
HART and Rushmoor district councils, the only two riparian local authorities along the Hampshire length of the canal have agreed to help fund the cost of running the restored waterway. The move will bring them in line with local councils bordering the canal in Surrey who pay 50 per cent of the total cost of operating the canal in the County.
Although Hart has 11 miles of the canal running through its area against Rushmoor's 4 miles, they have agreed to share the cost equally calculated on a composite figure comprising rateable values, population and canal mileage.
The contribution is scheduled to be phased in over a three year period starting with an initial payment of one tlurd of the final annual contribution in the first financial year starting April 1989.
RADAR TRAP FOR CANAL?
IN a letter from Hampshire Canal Manager. David Gerry, to existing boat licence holders, speeding boaters are warned that the authorities will consider using a radar gun to trap culprits who cause damage to banks created by the boat's wash.
[back to top]
ANOTHER TWO YEARS DREDGING
DREDGING operations along the canal's Hampshire length were halted at the beginning of January to lake stock of mechanical problems and assess future needs. Progress last year was severely hampered by the hard winter weather, breakdowns and finally the hurricane in October.
Crew morale had also suffered through periods of inactivity while repairs were being made.
The organisers have now met and discussed solutions to their difficulties. As a result they are seeking to spend over £3,000 on repairs and new equipment stating that 'quick fixes were unacceptable'. In a report the Executive Committee has been asked to find an additional tug for which an appeal fund was launched at the end of last year.
Crew efficiency will also be increased by more experienced supervision and publication of guidelines to operating the dredging equipment.
Given improved progress, the Dredging Team aims to reach Reading Road Bridge by the end of 1989 and terminate dredging there because Perseverance and tugs cannot get under the hridge.
The team has recommended that Hampshire CC should be warned that it will need to organise dredging the remaining length to Pondtail Bridge.
[back to top]
Coming Events
CANAL'S BIG DAY AT ST JOHN'S IN APRIL
ONE of the Society's major achievements is going to be celebrated in style on Saturday 16th April.
After 6-1/2 years voluntary work, backed up by our full time team and Surrey County Council, the St John's flight of five locks is once again fully operational. And Woodend Bridge has been carefully restored to its original design.
To mark the completion the John Pinkerion will make her first ever cruise beyond Brookwood for a string of re-opening ceremonies as tapes are cut at Woodend Bridge and each lock in turn.
Among the guests being invited are Mrs B.E. Tomlins, whose family Trust has made generous donations towards the fine restoration of Woodend Bridge.
Another chief guest will be Cllr. J.J.M.H. Evelyn, this year's Chairman of the Joint Management Committee, and the Mayor of Woking, Mrs Margaret Gammon. Also represented will be the Spar Grocery Group, whose cash prize to Marguerite Redway in 1979 heralded the start of work on lock 11.
The John Pinkerton, with guests aboard, is scheduled to leave Capstan Wharf (just above Kiln Bridge) at 2.00 pm. The trip boat is expected to cruise as far as the winding hole below Arthur's Bridge.
In the evening there will be a canalside barbecue at St John's top lock. All members are welcome. For tickets contact Peter Redway on Woking 21710 —payment will be by donation on the night.
[back to top]
JOIN THE 'ST JOHN'S ARMADA'!
YOUR chance has come to be among the first to sail into Woking as a part of the ceremonial re-opening of the St John's flight.
In conjunction with the Mayoral festivities on the afternoon of Saturday 16th April, boaters are invited to lock down through Surrey and bring the canal back to life with a bang. Because the locks are not yet available for general public use, only those who have entered will be able to enjoy this unique opportunity.
And boaters are also invited ro participate in the barbecue at lock II on the Saturday evening.
Current plans are to make the locks available for locking down on the afternoon of Friday 15th April and during the morning of Saturday 16th April. Return up the locks will be on the afternoon of Sunday 17th April. Secure overnight moorings at St John's will be available if required. Moorings at other locations may also be available by prior arrangement. If demand is sufficient a crane will be provided at lock 11 for larger craft that may not have the time to lock through.
Please enter early, as numbers may be limited, by contacting Chris de Wet, I Floods Farm Cottages, Chalky Lane, Dogmersfield, Basingstoke, Hants RG278TD. ('Phone Aldershot 850311.) There is no fee - but again it must be stressed that only those boats that have entered may use the locks.
Finally, all boats entering must be licensed. Licenses are available from Hampshire County Council, Basingstoke Canal Depot, Ash Lock, Government Road, Aldershot, Hants. ('Phone Aldershot 313810.).
[back to top]
GALLEON MARINE EXPANDS
IN 1987 David Stansfield and his partner took over Benford's Boat Station in Odiham, Hampshire and changed the name to Galleon Marine Ltd. Trading in 1987 was limited to row-boat hire due to pending planning permission which was granted in October to change the existing workshop into a chandlery shop and to excavate a basin adjacent to the canal to moor six hire cruisers.
The chandlery opened on January 23rd and offers everything for the needs of the boater from canoes and dinghies to cleats and brassware. Boating shoes, wet weather gear and quality sweaters will also be stocked. Galleon Marine has been appointed agents for Mercury outboard engines (sales and service) and for Stour Vale Cruisers. New and second-hand boats will be on sale and a brokerage service will be offered.
Beginning at Easter, the company will offer 2/4 berth and 4/6 berth cruisers for short-term hire. These brand new cruisers will be available for long weekends and mid-week breaks. Bookings are now being taken via a 24 hour service on Odiham 3691. This will be the first business using the canal for 38 years.
Row-boats and punts will be available for hire from Easter 1988.
[back to top]
GUILDFORD WATER FESTIVAL IN JULY
THE Guildford Water Festival will this year again provide a wide range of waterside entertainment for all the family as part of the annual 'Guildford Festival'. Over the weekend of 16th and 17th July at Millmead (on and along the island site opposite Guildford Boat House) there will be a colourful gathering of boats together with a full supporting programme of events plus craft stalls, trade stands, side-shows, waterway society displays etc. A special feature this year will be the Unigate National Canoe Championship to be held on the river adjacent to the Festival site.
Boat entry fee for the Festival is £6 (including commemorative plaque) and for entry forms please write (with SAE) to Pat Perry-Barton,Segren, Grove Road, Beacon Hill, Hindhead,Surrey, GU26 6PH or phone Hindhead 6496. For general information about the Water Festival please contact Dick Harper-White, 25 Jubilee Crescent, Addlestone, Weybridge, Surrey, KT15 2JU - phone Weybridge (0932)842074.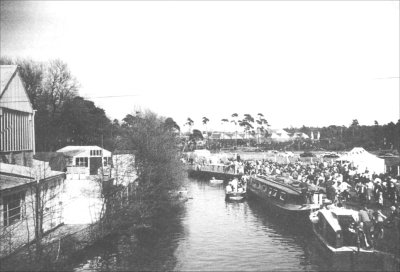 THE last boat rally on the Basingstoke Canal at Woking 26 years ago... the Inland Waterways Association's London and Home Counties branch rally in 1962. The picture shows the rally site, opposite the Industrial Packers premises, seen from Monument Bridge. In the background is the Sorbo works now Woking Business Park.
(Photo supplied by Mrs Jordan of Horsell).
[back to top]
FILM SHOW HERALDS 'WOKING 150'
AN EVENING of rare and historic film featuring the Basingstoke Canal, other waterways, railways and steam locomotion of all kinds has been compiled by John Huntley, the well known film and transport historian.
The programme, entitled 'Journey through the Archives', is being presented by the Society in conjunction with the Arts Council for Woking. This will be Mr Huntley's third presentation at Woking and,judging by the demand for tickets previously, advance booking is advised.
The special film show will be screened on Sunday 22nd May at the Rhoda McGaw Theatre in Woking Centre Halls, starting at 8.00 pm. Tickets are £2.50 each (adults) and £1.50 each (children and pensioners) available from Woking Centre Halls Box Office (Tel: Woking 69765) or from Mrs Pamela Watkin, 124 High Street, Old Woking, Surrey GU22 9JN (enclose SAE). Tel: Woking 69765.
The film evening will make an appropriate curtain-raiser for the Woking 150 celebration to mark the anniversary of the London - Southampton Railway, completed lo Woking in 1838. This year also marks the 200th anniversary of the start made to construct the Basingstoke Canal.
Free Entry to Woking Boat Rally
Who said boat rallies have lost their campaigning purpose? The decision to mount a colourful and attractive boat rally on the canal in Woking on 29th — 30th May, as part of Woking 150. is likely to have a big influence on Woking's planning decision for the town's canalside in the future.
If you are a trail boat owner, canoeist or dinghy potterer. please make a special point of joining in the canal festivities. It's the most effective way to show councillors and the local community the amazing potential amenity value of the restored waterway.
Boat enlries are free but you must register in the normal way. Entry forms are available from: Mrs V.M. Millard. 5 Lara Close, Chessington, Surrey KT9 2PF. (Please enclose SAE).
BOATERS AND MEMBERS SUPPER
ROUND off the opening day of celebrations for 'Woking 150'and relax with your friends over supper and entertainment with rally boat crews and Society members on Sunday evening 29th May.
Tickets £3.50 each from Mrs Janet Greenfield, 9 Mistletoe Road, Yateley, Camberley, Surrey. GU177DT.
Closing date for ticket sales is 30th April.
YOUR HELP WILL BE WELCOMED
'WOKING 150 'is the Society's big chance. .. to recruit new members, raise funds and publicise the value of the canal to Woking as a unique amenity. Help the Society impress on councillors and the community just how important the canal is to Woking. Offers to help man stands and assist generally will be welcomed by Vic Trott (Woking 68607).
[back to top]
DATES FOR YOUR DIARY
Monday 14th March 1988*
Local historian, Ian Wakefield, gives a talk with slides on the influence of the railway on Woking as a curtain raiser to the 'Woking 150' event in May.
Monday 4th April
Exhibition of landscapes and canal scenes by artist Terry Harrison opens at the Century Gallery, Hartley Wintney fora fortnight.
Wednesday 2nd March — Saturday 9th April
'Basingstoke Canal - Past and Present' and exhibition of canal paintings, at Surrey Heath Museum, Council Offices, Knoll Road, Camberley. Open Tuesday — Saturday 11 am - 5.00 pm.
Tuesday 22nd March
Pub evening at ihe 'Barley Mow', Winchfield, by the canal bridge and car park. Last of the winter season.
Good Friday 1st April — Easter Monday 4th April
John Pinkerton public Trips from Ash Wharf — Mytchett Lake leaving 11.00am, 12.30pm, 2.00pm and 3.30prn. Adults £1, Children 50p each.
Monday llth April*
"Wildlife and Nature Conservation" - an illustrated talk by Andrew Byfield, County Officer Mid/North Hampshire Nature Conservancy Council. 8.00pm
Saturday 16th April
Official re-opening of Woodend Bridge and St John's Locks. John Pinkerton scheduled to leave Capstan's Wharf (just above Kiln Bridge) at 2.00pm. Evening Barbecue.
Sunday 17th April
Westel Canoe Club Tourist Trials, Frimley Lodge Park.
All canoeists welcome. It's not a race. Just choose your distance and enjoy the company of other paddlers. For details and registration forms, call Doug Morgan on Fleet 623246.
Saturday 23rd April
Society's eleventh Annual General Meeting at Canadian International School, Mytchett Place Road, Mytchett, starting at 6.30pm.
Sunday 24th April
Annual Sponsored Walk between Wey Navigation and Ash Vale. For details phone: Graham Meade on Fleet 629466.
Sunday 22nd May
'Journey through the Archives' film clips presented by John Huntley at the Rhoda McGaw Theatre, Centre Halls, Woking. 8.00pm.
Weekend 29th - 30th May
Woking 150 celebration combined with 200th anniversary of start made to construct Basingstoke Canal. Railway and steam locomotive exhibition plus boat rally on the canal.
9th- 10th July
IWA National Steam and Trail Boat Rally on the Mon and Brec at Pontypool, Gwent. Boat, caravan and tent entries to: David Jones, 10 Hughes Avenue, Ebbw Vale, Gwent. (Tel: 0495 304757).
16th-17th July
Guildford Water Festival organised by the local branch of the IWA on the Wey Navigation at Millmead. Don't miss it.
26th - 29th August
IWA National Boat Rally and Carnival at Castlefield Basins on the Bridge water and Rochdale canals and the River Irwell.
* Meetings at the Methodist Church Hall, Brewery Road, Woking, starting promptly at 8.00pm. Refreshments provided.
[back to top]
SUCCESSFUL CANAL EXHIBITION - Dieter Jebens delivering a traditional canal boatman's Buckby water can to Ann Jones, Curator of Farnham Museum, for a special Basingstoke Canal Exhibition which closed on 28th February after three months on display. The exhibition was widely publicised in local newspapers and attracted a hundred visitors on the first Saturday of opening. Featuring a number of artefacts rarely seen including the original tonnage books recording Barge movements and cargoes and the 1789 one shilling token paid to the navvies who constructed the canal.

The exhibition, including paintings of the canal by Terry Harrison, moves to Surrey Heath Borough Council's museum in Knoll Road, Camberley for six weeks from 1st March - 9th April, (Photo: Chris Shepheard)
[back to top]
LETTERS TO THE EDITOR
Dear Sir, 15th December 1987
TOWPATH REPAIRS
The comment section of the November 1987 Basingstoke Canal News suggests the main work of the Society is done and wonders whether the Society should be turning to the restoration of other canals.
As you ask for views, I can only say NO! I would be the first to agree a great deal of good work has been done in restoring the canal as a waterway. But many sections of the towpath are deplorably muddy in wet conditions. Remember most people can only enjoy the canal by walking the towpath, but this is difficult in many places.
The Comment suggests walking from Chequer's Wharf to Poulters Bridge and beyond as it is "neatly trimmed". This can be a very muddy section of the tow-path and the section in the cutting between Crookham Swing Bridge and Malthouse Bridge is almost impassable in Winter.
Thus my suggestion is that the Society should now concentrate on rapidly improving the towpath so that people can walk along the canal and so appreciate the restoration work.
The section between Double Bridge and the location of the dismantled Chatter Alley Bridge in Dogmersfield has been well-surfaced and shows what can be achieved. What is needed is to bring the rest of the towpath up to this standard.
I hope this constructive comment is received in the spirit in which it is made.
Yours faithfully,
R. Rose
12 The Bourne, Fleet, Hants GU13 9TL.
EDITOR'S NOTE: We invited Hampshire's Canal Manager, David Gerry, to respond which he has kindly done.
He is very much aware of the problem and efforts have been made to improve the towpath surface. But until the work can be fully mechanised by use of the floating dredger now on order, the task is otherwise labour intensive (and therefore costly); often impractical (vehicles getting bogged down) and sometimes not very effective (witness the length filled by volunteers west of Malthouse Bridge).
Two lengths of the towpath have been successfully repaired. From Chatter Alley to Tundry Pond was repaired until funds ran out as part of the 'Great Wall' construction at Dogmersfield. And the short length between Blacksmith's and Double bridges was greatly improved by obtaining access for materials across the riparian field. But in both cases, David Gerry states, if repairs had been extended 'we would have sunk in a bog of our own making'.
A third length full of potholes was patched up in the Aldershot area and this proved to be very labour intensive.
That's why the Canal Manager believes the only practical and economic method of working is to use waterbourne plant and materials - and so we'll have to await the arrival of the new maintenance dredger.
Dear Sir,
VALUE OF THE WESTERN END
Up Nateley is an important part of the Canal at the 'rear' of Greywell Tunnel. It's no good having an attractive entrance at the eastern end if the 'back door' is in decay.
Restoration would present an elongated reservoir and a stretch of water for fishing, rowing and as a wildlife.
The Up Nateley length also has the old brickworks arm and remains of buildings which would make the basis of an ideal museum and give that part of the canal a new lease of life.
I would also like to see the towpath restored to the centre of Basingstoke and the site of the former town wharf.
Yours faithfully,
K. Blake,
Upper Flat, 12 Lilford Road, London SE5 9HX.
Dear Sir, 17th November 1987
PART OF OUR HERITAGE
I have just read in BC News No. 136 (November 1987) Derek Truman's remarks on the future of the Canal which, in 1988, you think you will have completed all you set out to do (or nearly).
I am only a very elderly non-participating member but to my way of thinking, after everybody's extremely hard work and complete dedication, it would be criminal to 'let it be'.
The Canal, like the Alresford Railway and other such enterprises, must be kept if possible as part of our heritage.
I think I became interested in your Canal project as far ago as 1965 or 1966 when a meeting was held in Winchester.
Your leaflets and now your much more satisfactory BC News interests me every time and I shall go on being interested as long as I possibly can.
Yours faithfully,
Miss Isabel Fowler,
32 Homerise House, Hyde Street, Winchester, Hants. SO23 7HA.
Dear Sir, 17th January 1988
ALL ADRIFT
I note with interest the article in the January Newsletter (page 6) re boat licences and I am intrigued by "Class 2 multi-seat non-powered".
As there is little or no movement of water in the Basingstoke Canal at present, I wonder how much pleasure the owners of such boat derive from sitting still in their boats.
I realize that when the Canal is fully restored and used by Classes 1 and 3—7 there will be movement of water from west to east as locks are worked. At that stage Class 2 boat owners will be able to float eastwards to the River Wey, never to return. How very sad!
Yours faithfully,
Mrs Y.A. Chappell,
The Spinney, Meadow Road, Ashtead,Surrey KT21 1QR.
[back to top]
Waterside Watch
BREWERY ROAD CAR PARK UP-DATE
THE canalside car park off Brewery Road in Woking is a key issue in the town's re-development plans. Its future use will also have an enormous effect on the attractiveness or otherwise of the entire length of the canal through Woking.
The Borough Council has long recognised the potential use of the car park area to enhance and project the canal's amenity value in the town. But gone are the days when recreational facilities were considered on their own merits alone. Today, it seems, even leisure amenities must pay their way. And so a succession of schemes have been presented by prospective developers for a commercially viable plan to achieve the Council's brief.
Every plan has had its supporters and critics. Some would like the space to remain a car park. Local residents favour a water space development. Business interests are pushing for the site to be used for Woking's much needed hotel which has moved around the town map alighting briefly on every possible site. But a favourite is still Brewery Road car park.
Peter Coxhead who keeps a watch on planning applications along the canal in Surrey for the Society, writes:
Before outlining individual proposals, the following is an extract from Woking Council's Planning Brief for the Brewery Road car park site. The Canal related items they have listed are very much in line with our own thinking:
USE OF THE SITE
Certain uses are seen as essential if the site is to benefit both the canal and the town centre.
* An increased water area would allow boats in transit to moor temporarily while using the facilities of the site or the town centre. This could be achieved in various ways; for instance by widening the canal and possibly by forming a basin within the site. It should be made possible to turn a canal boat at this point.
* A "Town Quay" - a wide paved terrace at the water's edge, to which the public has unrestricted access.
* Eating places (pub/cafe/restaurant), with a sitting out area, where informal meals and drinks can be obtained adjacent to the widened waterside area.
* A trip boat station which would require a small office or kiosk and a mooring place with public access.
* A Public Car Park. To ensure that the amount of public car parking in the town centre is maintained at a level commensurate with needs, a substantial number of parking spaces should be retained. It may be possible, however, to accommodate parking in a concealed, low, split-level arrangement on a smaller part of the site, allowing scope for the introduction of one or more of the other uses referred to.
* In addition, other uses of a Canal related nature such as small shops, services and an interpretation centre may be appropriate in a quay-side block. The interpretation centre might relate specifically to the Canal or provide a museum resource for the Borough as a whole (although it should be noted that the Borough Plan Town Centre Inset identifies alternative locations for a museum).
1. 120 Bedroom Hotel with associated functions rooms, hotel parking and public car parking.
Comment - This was referred to in the last issue of B.C.N., the problem here being that the hotel dominated the site with none of the canal related features listed above being catered for.
2. 150 Bedroom Hotel with Restaurant, Conference and Leisure Facilities incorporating marina/Canal turning point and pedestrian access to town centre.
Comment - This proposal went some way towards meeting the Planning Brief, but the basin was too small and the amenities such as small shops, services and museum, all of which are required to maximise the potential of this important canalside site were not included.
3. 85 Bedroom Hotel, Meeting and Function Room and car parking; Town quay with boat mooring and turning space and mixed use development including eight retail units; interpretation centre; museum, exhibition/meeting space; trip boat facilities; work­shop boat service and parking.
Comment - by far the best so far submitted and apart from a public seating requirement which was not indicated, I would go along with this proposal. My view is that a good looking hotel building is better than a multi-storey car park however discreetly placed on the site.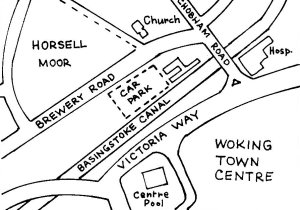 OTHER HOTEL PLANNING APPLICATIONS
In addition to the above, the latest scheme, albeit only an outline application by a prospective buyer, is for the hotel to be positioned on the site by the new Goldsworth Relief Road Bridge, currently occupied by Halls. Not enough detail to comment properly on this one yet.
The earlier application to build a hotel on the Victoria Hospital site has as far as I am aware been dropped, which I consider to be good news as it was an overpowering development as far as the Canal was concerned.
BROOKWOOD HOSPITAL SITE
This gigantic potential development has started to rumble, preliminary applications now being made.
The society will have to be vigilant and present a forceful case for this very important green field site.
[back to top]
FUND RAISING NEWS by Derek Truman
YOU won't be surprised to learn that the Society's need for money in 1988 and beyond is greater than ever. The dredger and ancilliary equipment is likely to cost some £3,000 and that is without buying a third tug. Why so much? Because our equipment is old and uneconomic to maintain. A third tug would not be there just for back-up, it means more barges would be available to remove the mud from the dredger especially as it moves further away from the dump site.
But people are still the Society's most important asset. Not only do we need to support the volunteers to ensure that they have all the equipment they need for the last stages of this part of the canal's restoration, we also have to take account of our 4-men full-time team. There's plenty of work left for them to do and we have a major commitment in ensuring that their wages, totalling more than £35,000 a year, are paid.
Of course we would like money from you but we also need to raise it from whatever source we can find. You, as members, can do an enormous amount to help by:
* Putting in a word for the Society if your firm nr other contacts might be willing to make us a donation (please let us know).
* Devising and running your own money-raising schemes be they market stalls, car boot or jumble sales, fetes, bazaars, or something much larger.
* Making donations to the tug and dredger fund -see below.
* Joining (with your families and friends) in any of our fund raising activities, especially the following:
ANNUAL SPONSORED WALK - 24th APRIL
This is being held almost a month earlier this year because of the 'Woking 150' event. Graham Meade, 89 Tavistock Road, Fleet, Hants. (Tel: Fleet 629466) is determined to make the Ash Vale railway station to Lock 3 (Byfleet) walk an outstanding success. He has the spare brochures and needs marshals and extra help, especially at the eastern end of the walk.
Although we want as many other organisations and schools to participate as possible (on the usual 50:50 basis for sharing the funds raised) we would also like to see a record number of walkers from the Society. So please book the date, sign up your sponsors and join in.
[back to top]
'WOKING 150' CELEBRATION
As at Frimley 1987, the Society will have a marquee (shared with Surrey CC) with sales, information and membership stands. We shall sell draw tickets and find other ways of making a few pounds. Please come and help us on the 29th and 30th May.
'THE 200 CLUB'
1987 and 1988 takings so far have enabled the club to give the Society £1,000. with some more to come. It's not too late to join and it only costs £10 for a year's subscription from March.
For information on the 200 Club, other fund raising activivities, donations to the tug and barge appeal fund and offers to help with the Society's stand at 'Woking 150', please contact: Derek Truman, Compton Cottage. 11 Connaught Road, Fleet, Hants. (Tel: Fleet 613435).
[back to top]
WINNING WALKERS IN DEAD HEAT
CONGRATULATIONS to two members who are joint winners of the individual to raise the largest sum of money in the 1987 Sponsored Towpath Walk. No. that's not a contradiction in terms. Mrs Alison Snell of Arfold near Bordon raised £463.37 and Mrs M. Coles of Horsell was so close behind with £463.05 that the organisers have decided to make them joint winners. But as Mrs Coles has been keeping the cup polished for the past year, being the 1986 winner, perhaps she'll pass it on to Alison.
Other winners were: The Winston Churchill School, St John's, (£116.16) - school entry prize. Si. Peter's Hospital, Chertsey (£485) - group entry prize. Mrs Dawn Murrell and her son Robin Murrell (£258 with half going to The Royal Marsden Hospital children's dept.) — winners of the family entrant prize for raising the highest sum.
Winners of the Towpath Trail contest were: Claire Chamberlain (12)of Chobham Road, Knaphill and Roger Elliott (12) of Royston, Herts.
With more prizes to be won in this year's Sponsored Walk, Graham Meade will welcome more entries especially from schools, and individual walkers to take up the challenge and top the magic £500. When you consider that just two members accounted for almost a quarter of the total amount raised last year, imagine the potential income if a few more members took up the bid to raise £500.
And to give you the incentive Graham is offering a special prize to everyone who takes up the challenge and joins the '500 Club'.
MEMBERSHIP RATES
Family £7.50. Adult £6.50.
Junior (under 18) £2.00.
Senior Citizen £2.00.
Group Affiliation £10.00.
Life Membership £80.00.
Subscriptions are due March 1st unless you joined after 1st November 1987. All members are invited to pay by Deed of Covenant which enables the Society to claim the tax you've paid on your subscription. Ring Edwin Chappell: Ashtead (03722)72631.
[back to top]
Time Off
'SOMEDAY' or THE JOYS OF TRAIL-BOATING - Christine Butler
For years we'd wanted a boat. Even before we owned a car we had thought about buying one but the problems had proved too great. However, a few years ago we found a small fibreglass cruiser for sale at a price we could afford, with a mooring we could reach easily on the River Wey.
Farncombe was where our search for a boat had started and that was where it ended one May weekend. We bought the boat and excitedly spent several weekends cleaning and making plans.
The outboard was in running order despite six months of neglect so each weekend, before going home, we would start up and cruise downstream as far as Unstead Lock looking forward to longer voyages to come.
When we bought the boat we had agreed to change its name,but choosing a new one proved difficult. Many of the local names we liked were already to be seen on narrow-boats and cruisers on the river so we had to think of something more unusual. During a conversation about 'one day we'll be able to cruise on the Basingstoke Canal' and also 'Some day perhaps we'll buy a narrowboat' it came to me — we would call the boat 'Someday'.
We spent several seasons on the River Wey, mainly pottering about on the beautiful reaches between Guildford and Farncombe but occasionally venturing further when time and weather permitted. Passing the silted up entrance to the Basingstoke Canal at New Haw we once attempted to cruise to the first lock to look at the old barge moored below it but we had to give up because of weed (this section has now been dredged which gives hope to passing boaters that re-opening is really not far off).
Eventually the cost of our Farncombe mooring prompted us to seek a new one lower down the river nearer the Thames. We also considered buying a trailer. Then new moorings became available at BTU's premises in Guildford and we were offered the chance of moving there, which we took.
GETTING MOBILE
Decorating at home, bad weather and damage to the boat by vandals restricted our cruising the following season and we again considered joining the ranks of the more mobile trail-boaters. However, our initial inquiries brought us up against a problem — how much does 'Someday' weigh? "No problem" said one dealer, "Just take the boat to Guildford Weighbridge and weigh it, on a trailer of known weight." But who would lend us a suitable trailer? We would have to try a different approach.
Another point to consider was whether our car was suitable for towing quite a heavy boat. We solved that one by selling it and buying an Austin Princess. Then a phone call to Walton Marine ended our search for a trailer. "A Callumcraft 17 foot cruiser? Looks a bit like a Morris Minor? Oh yes, I know the one," the sales engineer answered, "I'm sure we can get you a suitable trailer" and so we became the slightly apprehensive owners of a large Snipe trailer.
A month or two later, in November 1985, we spent a very cold morning recovering our boat at Stoke Lock slipway with the help of the lock keeper and adjusting the supports and rollers on the trailer. Late that afternoon, after a very anxious drive home, we managed to manoeuvre boat and trailer onto our front lawn without getting completely bogged down. There they sat throughout the winter, looking forlorn.
At last the weather improved slightly and we were able to complete the adjustments to the trailer, jacking up the boat to shift the wheels nearer the bows to improve the weight distribution. Then we started on the repairs and re-painting. Under the accumulation of weed on the bottom of the hull we found to our dismay that the fibreglass was flaking off. Further investigation revealed an old patch, the edges of which were lifting.
ASH LOCK RALLY
We arranged for a new canopy to be made, rubbed down and re-varnished the woodwork and patched weakened places on the superstructure ready for eventual re-painting. The outboard engine went away to be checked and serviced and we started planning a visit to the Basingstoke Canal, hopefully to attend the rally at Ash Lock on 7th and 8th June.
The late May Bank Holiday arrived to find us far from ready, with the engine still away and the new canopy returned to Walton for modification. Then we had another look at the loosening patch and decided to seek the opinion of an expert. This meant taking the boat to Guildford which provided a useful test-run for the trailer (and the driver!). The verdict was that the patch needed replacing as the water could eventually lift it off and we left the boat there for this to be done.
A week before the rally the boat was still waiting for its new patch and we were despairing of being ready in time. However, on the Wednesday, the boat, engine and new canopy were all back safely and we spent Friday polishing the hull, washing down the top, fitting a strengthening-bar to the transom and re-connecting the engine controls.
Eventually the cushions were replaced and our gear stowed in time for our departure Saturday morning and we duly arrived at Ash Lock for launching at about 11am. The harbourmaster was very helpful, especially when we explained that it was our first launch, and the trailer was soon lined up on the slipway.
"No, not quite deep enough —just a foot or two more. Mind the car's back wheels don't go into the water. It's front-wheel drive? Oh, that's just the job. You'll be alright. Yes, she's just about floating . . . she's off!" At that I jumped up and down with delight and relief to see our boat floating gently across the canal — "Someday" had arrived!
[back to top]
SAFELY AFLOAT
We were almost as jubilant when the engine started easily and we cast off for a short cruise upstream before finding a mooring for the afternoon. Most of the visiting boats were away on an organised cruise so the moorings looked a bit empty. We cooked lunch in our tiny galley and watched the other boats return while we ate, before reporting for duty on the pick-a-straw stall for the afternoon.
As the weather was unsettled we had not arranged to sleep on board Saturday night so we returned home after the evening barbecue (a most enjoyable meal), intending to return as early as possible next morning. Unfortunately we overslept and were not back until about 10.30 Sunday morning so our morning cruise took us only as far as Eelmoor. We stopped for lunch by the RAE boundary fence to enjoy the sunshine before returning for ihe afternoon pick-a-straw session.
At about 6pm the stalls were packed away as the crowds diminished and we returned to our boat to tidy up ready for recovery operations. After our nerve-racking experience at Stoke Lock slipway when we first had the trailer we were full of apprehension, which was heightened by having to wait for ages in the queue to use the slipway while one crew sorted out the problem of lining up their boat properly so that it fitted neatly onto the intricate system of rollers and supports on their trailer.
Eventually ours was wheeled down into the water and "Someday" motored gently towards it. I grabbed for the bow-rope as she came to a halt and the winch-cable was attached. With some gentle nudging at the stern with a pole to keep her straight and Clive Durley keeping a helpful eye on proceedings Len wound the winch and our boat was safely on the trailer. This time it was his turn to jump up and down with delight, at the ease with which the operation was finally accomplished. He then drove easily up the slipway and stopped, very relieved, to remove and stow the fenders and lash the boat down for the drive home.
John Pinkerton cruising
at N. Warnborough
(photo: Clive Durley)
[back to top]
Coming Events
NEW SEASON FOR JOHN PINKERTON by Roger Cansdale
HAVING got off to the worst possible start with the tragic loss of Allan Prince, the year can only improve.
We shall be having our usual pre-season crew training day on Saturday 26th March. The boat will be starting from Ash Wharf and we shall be leaving at 11.00am and 2.30pm. We have not as yet appointed a new Training Officer so if people interested in coming would like to phone me, Roger Cansdale, on Reel 616964, there will be less chance of us leaving without them.
Over Easter we shall be running public trips from Ash Wharf which, hopefully, will prove more accessible than Ash Lock. The cruising season proper does not start until 30th April but over the weekend of 16th - 17th April the boat will be going down to St John's for the official opening of Woodend Bridge and the flight of locks. From 30th April we shall be operating from Colt Hill where we remain until 22nd May.
The following week we will be heading eastwards again for the 'Woking 150' celebrations over the late May Bank Holiday weekend. This will also closely coincide with the 10th Anniversary of the Pinkerton's first trip. We shall be doing public trips from Woking on the stretch between Arthur's Bridge and Horsell Common.
Then we return westwards to Winchfield. We will be operating from Barley Mow for a trial period from 2nd June to 17th July doing trips to Odiham or Chequers Wharf, Crookham.
Finally, we shall return to Odiham to finish off the season.
Our leaflets for 1988 are printed and if anyone would like to distribute some, contact Graham Meade (Reel 629466). He also has posters.
Elaine Manship (Yateley 879413) will again be organising our crews, having thoughtfully organised the arrival of her baby son during the closed season for boating: please give her all the support you can - she has a very tough job.
Bookings are still being handled by Tony Karavis (Farnborough 549037) so if you know any potential charterers point them in his direction.
Members' Evenings
Every Tuesday evening there is an informal cruise for members - free. It is also a maintenance evening involving a short (and unobtrusive) stop to empty the toilet tank, and do odd jobs about the boat. Nothing is done to disturb passengers who join the cruise for a relaxed evening out. But if you would like something to do as well, please offer to help when you come aboard and the crew will give you a job if there's one going.
The crew will also be pleased to give you a tour of the boat if you are thinking of joining the crewing roster or wish to train as a captain.
STOP PRESS NEWS: We are delighted to announce the appointment of Gill Heather to Crew Training Officer. Anyone wishing to leam about crewing the trip boat can contact Gill on Fleet 624612.
[back to top]
GONGOOZLER'S GOSSIP
LICENCES for existing houseboat moorings in Surrey have been extended until end of May.
NEW bridge to replace existing Hermitage Bridge scheduled to be built by Surrey County Council this year.
CONGRATULATIONS to Perseverance Manager Andy Stumpf on his engagement to Margaret Camp of Berkhamsted (on the Grand Union). The wedding is planned to take place at St. Thomas' Church, Berkham­sted on Saturday 4th June.
OVERSEAS members in 7 different countries read BC News. We've 2 in the Netherlands, Denmark (1), France (1), Canada (2), USA (1), Australia (3) and Japan (2).
GOING down the drain ... our member Ginny Millard who works for Thames Water is trying to organise a visit down a sewer at the request of members who attended her talk at Woking on waterworks.
GRAND draw ticket sales last year amounted to £1,588 making a net profit of £1,015.
MASTERMIND TV contestant and member Stan Knight of Crookham Village chose Roman Coinage as his specialist subject and scored a creditable total of '28 points and no passes' at Exeter University.
CONGRATULATIONS to Woking MP, The Right Hon. Cranley Onslow, a Society Vice-President, on his appointment to the Privy Council.
SHELL Environmental Award 1987 of £250 went to the Society.
DONATION of £500 gratefully received from the Inland Waterways Association towards the new Tug and Barge Appeal Fund. Interest free loan of £2,000 also offered.
CHINESE waterways including trips on the Grand Canal connecting Shanghai with Peking, 3 days down the Yangtse and on the Lee River were the subject of Dick Elder's slide show at the Society's December meeting in Woking.
BOOKKEEPER wanted for Sponsored Walk receipts and records. Grateful thanks to Bert Savill of Fleet who has 'retired' from the job after so long. Graham Meade seeks another volunteer to take over. It doesn't take a lot of time but makes an invaluable contribution towards running the event. Phone Graham with your offer to help on Fleet 629466. He's waiting for your call now.
[back to top]
COPY DATE FOR MAY 1988 NEWSLETTER: 15th MARCH 1988
Published by the Surrey and Hampshire Canal Society Ltd., a non profit distributing company limited by guarantee, registered as a Charity. The views expressed are not necessarily those of the Society.
Editor: Dieter Jebens. Production: Jo Evans.
Collation & Distribution: Janet and George Hedger, Edwin Chappell & helpers.
Editorial Office: 60 Middlebourne Lane, Farnham, Surrey GU10 3NJ. (Farnham 715230).
Chairman: Robin Higgs, 18 Barnsford Crescent, West End, Woking, Surrey, GU24 9HX. (09905 7314)
Vice-Chairman: David Millett, 14 Dinorben Close, Fleet, Hampshire, GU13 9SW. (0252 617364)
Hon. Treasurer: Mrs Gwyneth Browne, 102a Aldershot Road, Fleet, Hampshire, GU13 9NY. (0252 621745)
Hon. Secretary: Philip Riley, Meadow Vale, Guildford, Surrey, GU3 2AS. ((0483 234776)
Membership Secretary: Edwin Chappell, The Spinney, Meadow Road, Ashtead, Surrey, KT21 1QR. (03722 72631)
Working Party Organiser: Mike Fellows, 30 Reynards Close, Winnersh, Wokingham, Berkshire, RG11 5NT. (0734 787428)
Dredger Manager: Andy Stumpf, 37 Higham Road, Chesham, Buckinghamshire, HP5 2AF. (0494 785720)
Working Party Information: Peter Jones, 54 Wharf Road, Ash Vale, Aldershot, Hampshire, GU12 5AY. (0252 313076) Peter Cooper, 5 Addison Court, Oakley Avenue, Ealing, London, W5. (01 993 1105)
Trip Boat: Tony Karavis, 12 Loddon Road, Farnborough, Hampshire, GU14 9NT. (0252 549037)
Sales Manager: Situation Vacant
Talks Organiser: Mrs Janet Greenfield,9 Mistletoe Road, Yateley, Surrey, GU17 7DT. (0252 873167)
Exhibitions Manager: Phil Pratt, Flat 5, Fleetwood Court, Madeira Road, West Byfleet, Surrey, KT14 6BE (09323 40281)
[back to top]