No. 135 September 1987

Comment - THE FIGHT FOR NAVIGATION
IN this issue we report on moves by nature conservationists to enforce severe restrictions on the number of motor boats used on the Basingstoke Canal. The seriousness of this new turn of events comes in the following message from the Society's chairman, Robin Higgs:
"After more than 20 years campaigning for and working to restore the Basingstoke Canal, it was somewhat of a shock to be presented, at the Joint Management Committee meeting in March, with a paper prepared by the Nature Conservancy Council, the effect of which if implemented, would severely limit the use of the canal by motorised craft. At the llth hour the goalposts have been moved — it seems we 're in danger of restoring the canal to become a Site of Special Scientific Interest and not a working waterway.
We have been working over the years, in partnership with the County Councils and the district authorities, to restore this waterway for navigation, asa multi-functional amenity, for people to share, for balances to be struck.
We accept the need to look for compromise, but it must be constructive compromise. If, as the naturalists allege, motorised craft above a very low level willbe damaging to the submerged and emergent aquatic flora, then as on the Montgomery Canal, positive steps should be taken to provide alternative habitats for the species said to be at greatest risk.
For this relationship between boating and its effect on water clarity, or turbidity, which is at the heart of the matter, is not something simply to be quantified. There are many variables, like the width, depth and nature of the canal bed; the weed growth therein, and the type of boats, and their speed, draught, hull and propellor design and other factors.
That the canal has become an important ecological area is probably not in doubt, but, ironically, this is so because of the success of our work.
Without the Society there would be no canal to argue over, for certainly the NCC took no part in campaigning or paying for its restoration. One wonders whether they remember what it was once like, and how uncertain its future must have been?
For we are very much conservationists in the broadest sense of the term, and if there is a conflict here, then it is between conservation interests that it lies, not between conservation and canal restoration.
The view of NCC that the provision of just one mooring basin in Hampshire would, at a stroke, "overload" the system and destroy the ecological interests, indicates the very low level of boating which they wish to impose. To object so strongly as they did recently at the public inquiry in Fleet, to the provision of such a basin at Pondtail, leads us to believe that they would probably resist such provision anywhere on the canal, if the effect is as they allege.
Without commercial linear moorings, a policy we have rightly rejected, and no mooring basin, how are we to accommodate a reasonable number of boats, or is that maybe what NCC want?
The operation of two trip boats like the John Pinkerton is the level of usage which would appear to be their limit for the canal, for it would seem likely that the majority of the waterway is to be designated a SSSI.
We accept the need to work together to find a solution, if one is to be found, but it is as a canal and a statutory navigation that constructive anwers should be sought.
We believe that in the broad representation to be found on the JMC lies the best future for the canal".
[back to top]
WATER DOWN TO WOKING
WOK1NG needs to see more boats on the canal to stimulate interest in the waterway and generate the support we need to put the navigation in the forefront of the Council's town planning.
That opportunity has suddenly presented itself in the 'Woking 150' celebration next July. A chance to show the residents what an asset they have in the canal running through their town.
But will the canal be re-opened down to Woking in time? There must be no 'ifs' and 'buts'. It can be achieved and should be done to mount the canal's most valuable promotional campaign yet. And make a fitting celebration to mark the 200th anniversary of the year the first shovel full of earth was moved to construct the 37-mile navigation.
[back to top]
FRONT COVER
THE WAY IT WAS ... Barley Mow Bridge, Winch field in 1970. The canal bed was a marshy plantation of reeds and the worn out towpath thickly overgrown. A desolate, derelict scene. THE CANAL TODAY... alive and attractive again. The water channel is navigable again, flowering plants thrive on the banks and the towing path has been levelled and cleared... ALL THANKS TO OUR MEMBERS WHO JOINED THE FIRST WORKING PARTIES IN NOVEMBER 1973 AND THE DREDGER CREWS WHO CLEARED THE CHANNEL IN 1980.
Photographs: Dieter Jebens and David Robinson. Processing and printing: Clive Durley
[back to top]
WORKING PARTIES and Progress - Peter Cooper
RECENTLY it has been the work camp season, and the realisation has come with this that the 1987 camp must surely be the last work camp on this canal, as we are now well into the last flight of locks, at Woodham. Almost exactly ten years ago another epic event occurred on the Basingstoke Canal — this was the 1977 Deepcut Dig, which marked the start of serious work on the lower locks of the Deepcut Flight. Comparing the two shows how far we have come in that time, and makes us realise how close we are now to a complete and fully restored canal. Thoughts like this should give a further impetus to the efforts to complete the final stages of the job.
The working parties active are listed below. It is usually as well to contact your working party leader a few days before attending, in case there is a last minute change of plan.
Woodham Locks 2,3 and 4 Every weekend
At Lock 4 they have been rebuilding the lower flank, return and wing walls. The next task will be the upper recess walls, after which the lock will be getting distinctly near to completion.
At Lock 2, by the time the work camp started, both lower flank and return walls, and one wing wall, had been rebuilt. The offside main chamber wall had been demolished, and the footings had been laid for the new wall. There was no further progress to report at Lock 3. But all this is likely to have been greatly altered by the work camp.
The coordinator of the work on this flight is MIKE FELLOWS on Wokingham 787428, and for further details you should contact him, or one of the working party leaders listed below. Working parties, with the locks they work on, are listed below: —
First weekend of the Month — Locks 2 and 3
5/6 September, 3/4 October, 31 October/1 November
PETER JONES on Aldershot 313076
Second weekend of the month — Lock 4
12/13 September, 10/11 October, 7/8 November
PABLO HAWORTH on Byfleet 42081
Third weekend of the month — Locks 2 and 3
19/20 September, 17/18 October, 14/15 November
PETER REDWAY on Woking 21710
Fourth weekend of the month — Locks 2 and 3
26/27 September, 24/25 October, 21/22 November
JULES WOOD on Farnborough 515737
When working at these locks, volunteers should park their cars in the large car park near West Byfleet station. Please do not use the small car park by Lock 2, and please do not bring your car down the small lane (Paris Lane) leading to Lock 3.
Dredging in Hampshire Every weekend
The steam dredger "Perseverance" is about 300 yards short of Malthouse Bridge, on the outskirts of Fleet. A recent breakdown of the dragline is likely to cause a break in dredging, but it is hoped not for long. Meanwhile the 9 ft barge is being repaired at the Dry Dock. Existing dredger crew should contact the crew organiser ROGER FITTER on Fleet 622956; other details from ANDY STUMPF on 0923-778231 (work) or Chesham 785720 (home) or from BRIAN BANE on Hook 3627.
Lock gate building
This party have lately been assisting in the fitting of the gates at Lock 12, and will continue to tackle further lock gate jobs as they arise. Dates are:-
5/6 September, 3/4 October, 7/8 November
Details from FRANK JONES on Deepcut 835711 (workshop) or Camber ley 28367 (home).
Woodham Lock 1
Third weekend of the month - 19/20 September, 17/18 October, 14/15 November
The chamber is now finished apart from casting the lower hollow posts, replacing a few coping stones, and some pointing on the upper wing walls. Jobs after that will be things like installing the bridge. For further details of this party, which operates under the auspices of the Guildford branch of the IWA, you should contact DICK HARPER-WHITE on Weybridge 42074 or ROY DAVENPORT on 01-979-7075.
Surrey Bankside work
First and third Sundays of the month - 4 October, 18 October, 8 November,22 November This party will be working in the Sheerwater area when they resume, to complete clearance of this section. Initial meeting point will be Monument Bridge, to trim an area already worked on. Details from PETER JACKMAN on Woking 72132.
Full time work
Matters are still not finally settled at Lock 12,but nevertheless the full time team have installed and fitted the bottom gates there, and have installed the top gates, though these can't be fitted until after the problems have been resolved.
Further east, some underpinning work has been done at Langmans Bridge, and the team have been helping with disposal of dredgings from the recent dredging operation at Woking. Gates have been fitted to Lock 9, and are being built for Lock 8. As if this wasn't enough to keep them busy, the team have also been delivering supplies for the work camp.
Weekday volunteering
If you are able to work on the canal during the week, even if only for a few days, then your contribution will be most welcome. You should contact FRANK JONES on Deepcut 835711 (workshop) or Camberley 28367 (home), and he will be delighted to find something for you to do.
[back to top]
In the News - NATURALISTS PRESS FOR BOATING LIMIT
FEARS that the Basingstoke Canal may become unnavigable again within twenty years of re-opening are being expressed following moves by nature conservationists to put severe limits on motor boating.
As reported in BCNews No. 133, the Nature Conservancy Council (NCC) is seeking to extend existing Sites of Special Scientific Interest (SSSI) to cover 'substantial stretches' of the 16-mile Hampshire summit pound because it is 'exceptionally rich in wildlife'. To maintain the 'ecological balance', Mr Andrew Byfield, a local NCC official, told members of the Joint Manage­ment Committee at their meeting last March that use of motor boats on the Basingstoke Canal should be restricted to 500 — 1000 movements annually. Since then two meetings have been held between representatives of the two County Councils, the Inland Waterways Association, the Society and nature conservationists to discuss the NCC's claims over wildlife, and the implications of restricting use of the canal.
At the meetings held in May, Mr Byfield explained that the main cause for concern was turbidity of the water caused by propeller driven boats which 'impeded the penetration of light and led to the suppression of plant growth as well as disturbance to the invertebrate population'.
The Society's Chairman, Robin Higgs, pointed out the implication of the proposed boating restriction when he revealed that the John Pinkerton alone makes 500 boat movements a year. "If one further trip boat were put into operation the limit would be reached without any other boating", said Mr Higgs.
At the meeting it was agreed to seek further information on number of boat movements water plant life might tolerate.
As a result of a further meeting in July, it became clear that evidence of damage to plants caused by motor boating was limited and attributed mainly to research work undertaken by Dr John Eaton and Mr John Pygott at Liverpool University. Dr Eaton was less categorical over boating limits. Following a visit to the canal Dr Eaton stated that be believed there would be a slight loss in the 'biological quality' of the canal above 1,000 boat movements, but that a major decline would not occur until 2,000 to 4,000 boat movements were attained.
A detailed report is now being prepared by Dr Eaton on the relationship between plants and motor boating on the Basingstoke.
Naturalists oppose boat basin
Vigorous opposition to a proposed boat basin on heathland adjacent to the canal on the non-towpath side, below Pondtail Bridge, Fleet, has been lodged by the NCC. The government funded Council submitted objections to the basin which is in Hart Council's local plan. At a public inquiry held in July, the Hampshire and Isle of Wight Naturalist Trust and the local Countryside Action Group also opposed the construction of a mooring basin.
Speaking for the NCC, Mrs Margaret Palmer, a fresh­water biologist, said that 85 species of Britain's 189 aquatic flowering plants and ferns could be found in the Basingstoke Canal. It was also a noted habitat for 24 species of dragonfly. The "extraordinary diversity of the aquatic wildlife was", Mrs Palmer said, "due to the water chemistry made up of calcareous spring water at the western end and the effect of acid heathland eastwards".
Mrs Palmer said that the NCC opposed the proposed boat basin at Pondtail because, she had calculated, it would generate in excess of 1,000 boat movements a year.
Mr Byfield pointed out that the NCC had previously opposed the proposed siting in 1983 (when the boat basin was originally included in Hart's local plan) on the grounds of preserving the heathland habitat.
Additional submissions against the basin were made by Dr Robert Page on behalf of the local naturalist trust and by Mr Chris Hall for the vociferous Countryside Action lobby which, he admitted, was only an informal group of four people.
Both objectors used extraneous calculations to fortify their respective cases. Dr Page contrived to prove that there was uncertainty over the size of the basin and facilities to be provided, noting the County's estimated land coverage would be 3-5 acres while the Society's had approximated 'less than 5 acres'. While Mr Hall took the popularised independent pollster route to prove that a 'decisive' 89.8% of local householders disapproved of the planned boat basin. In fairness, Mr Hall did acknowledge that in a pre-survey letter, sent to a good proportion of his 'sample', he warned that as a result of the basin, 'the clear water teeming with life we enjoy in Fleet now will be turned into a dirty, polluted channel....'.
Supporting the Pondtail basin
Defending the inclusion of the boat basin at Pondtail Hart District Council submitted that since the canal was being restored for navigation by powered craft, and for recreation, appropriate facilities should be provided. The council acknowledged the ecological value of the wet heathland site but did not consider the total land requirement, put at 1.5 acres, was at all excessive.
In answer to the question of pollution in the widest sense, Hart Council submitted that British Waterways Board figures showed that not more than 10% of boats would be in use at any one time. 'Mooring basins are rarely the source of noise and are more often than not places of peace and tranquillity', the submission concluded.
Supporting the need for navigating the canal, the Council stated: 'its use by powered craft is necessary if plant growth is not to burgeon and render the waterway unmanageable. An artificial waterway, designed and constructed solely for the passage of craft cannot rely or natural scouring action to stay clear'.
Hampshire County Council was represented by Mr David Dixon, Assistant County Recreation Officer and Mr David Gerry, Hampshire's Canal Manager. Mr Dixon pointed out that the Council had acquired the canal in 1973 'with the declared intention of restoring the waterway to permit a full range of uses including navigation by motorised craft'. He felt that the work had been done with due consideration given to the natural history interest which was represented in the future operation of the canal by the Joint Management Committee. Mr Dixon referred to the anomaly between the NCC's aim to limit boat movements to 1,000 annually with that of 2,000 movements given by BWB in a management policy document prepared jointly with the NCC.
In his statement Mr Gerry pointed out that prior to restoration, the canal was in danger of being filled in and re-developed. It had become densely overgrown and dry in places to the extent that an existing SSSI at Dogmersfield had been withdrawn.
An adequate level of motorised boating was necessary on the Basingstoke Canal to keep the navigation channel watertight, he said. The canal was unusual in that it was not clay puddled along its entire length and it was necessary to stir up the silt which helped 'to clog the porosity of its banks'. 'In civil engineering terms the canal needs to have muddy water, and not crystal clear water, and this will occur if the canal is regularly used by large, deep draughted boats or boats fitted with engines', Mr Gerry's statement concluded.
Supporting the boat basin proposal, the Society's Vice-Chairman, David Millett, reminded the inquiry inspector that the proposal to site a basin at Pondtail had been 'very fully aired' at the previous inquiry held in 1983 when it was approved. Mooring basins had been established on waterways throughout the country to reduce linear moorings, he submitted.
Mr Millett also emphasised the widespread support for restoring the canal to a navigable condition, not only through the Society's membership of over 2,000, but also by the enormous amount of voluntary labour put in. In total, he said some £3 million had been spent on restoration by the county and district local authorities and the Society.
Cross examinations
An alarming level of assumptions and dogmatism was revealed upon questioning the objectors. Should the NCC not be looking at alternative arrangements for wildlife, such as riparian ponds and use of canalside flashes?, Mr Higgs asked Mrs Palmer. "Yes", replied Mrs Palmer, "I suppose so".
Tony Davis, for the Inland Waterways Association, asked Mrs Palmer, what did she understand a boat basin to be for? "To get more boats on the canal", she replied. "You seem to think basins attract boats", Mr Davis concluded. "If we could be assured that the basin would not attract more boats, it might be a different matter", Mrs Palmer responded. Asked if she would prefer a boat basin to canalside linear moorings, she agreed that environmentally she would prefer boats to be moored in a basin.
Mr Davis also assured Mrs Palmer that, contrary to her erroneous assumption, boat basins were neither designed nor in any way suitable as a venue for holding boat rallies or water festivals.
Mr Dixon pointed out that restoration had caused some previously lost plants to re-appear, and Mrs Palmer agreed that the chances of the canal being restored would have been less if the NCC had restricted the work.
Hart Council's solicitor established that there is, in fact, only one rare species of plant associated with the canal and that is a bankside grass in Surrey. Mrs Palmer agreed that this would not be affected by the boat basin. Canal Manager, Mr David Gerry established that the size of boat, hull design and propeller shapes were not taken into consideration in the University research project. Was Mrs Palmer aware that boat users on the Basingstoke were recommended to use weed-slipping propellors to avoid frequent clearance?, Mr Gerry asked.
The DoE inspector is expected to make his recommendation to Hart Council at the end of September or early October.
[back to top]
DATES FOR YOUR DIARY
Saturday 26th September
Boat gathering and lunchtime barbecue at the Fox & Hounds, Fleet, starting 10.30am.
Saturday 3rd October
Barn Dance, Horsell High School. Woking 8.00pm. Tickets from Peter Coxhead (Byfleet 44564).
Sunday 11th October
Coach trip to Bristol, starting Fleet at 7.00am.
Tuesday 20th October
Joint meeting with IWA local branch at Christ Church Hall, Town Square, Woking. Talk by Jack Dalby, editor of The Butty', on restoration of the Kennet and Avon Canal, 8.00pm.
Tuesday 27th October
Informal gathering in the lounge bar of the 'Barley Mow', Winchfield, 8.00pm.
Tuesday 17th November
Society member Ginny Millard, Area Trade Effluent Officer for Thames Water takes a light-hearted look at the waterworks in a talk There's more to running water than running water'. Christ Church Hall,Woking,8.00pm.
Tuesday 24th November
Informal bar meeting at the Barley Mow, Winchfield, 8.00pm.
Tuesday 15th December
'China and some of its Waterways' — illustrated talk by our member Dick Elder. Christ Church Hall, Woking, 8.00pm.
Tuesday 22nd December
Informal meeting in the Barley Mow,Winchfield, 8.00pm. N.B. As from January Woking meetings will be held in the Methodist Church Hall, Brewery Road.
[back to top]
CANAL DISPLAY PLANNED IN NEW MUSEUM COMPLEX
A NEW museum designed to house the contents of ten existing army museums and the RAE collection, is planned on military land near the canal.
The plan was revealed by the Aldershot News early in August. It was reported the extensive museum would be part of a leisure complex including a marina, riding school, drill square, activities centre, short stay canal moorings and a nature trail.
The site chosen by the Army, in consultation with Hampshire County Council and Rushmoor Council, is on a little-used area of training land bordered by Fleet Road, Clubhouse Road and the canal.
Reporter Larry Signy revealed that the development cost of £4.4 million would be financed by an hotel and leisure company which would be provided with land to build an hotel as part of the deal.
A design consultancy is already working on the scheme for a composite museum,it was reported.
[back to top]
Feature Page
THE BEGINNERS GUIDE TO CANAL RESTORATION - Philippa Gray and Mike Lind
SHORTLY after we started taking boating holidays we decided to make up for all the battered lock gates we left in our wake as we made our normal progress down the cut. Needless to say it took over three years to pluck up courage to take the decisive step of signing up for a work camp; by which time we had almost stopped bumping into things and learnt to watch our wash.
In the absence of specific instructions as to arrival time, 9.00am on the first Saturday seemed very reason­able. Not so, the accommodation (a disused school which was very comfortable despite the showers which were designed for use by eight-year-olds) was deserted apart from a large alsation. Luckily he was as friendly as everyone else connected with the work camp. Intelligent life was eventually discovered in the kitchen and the innocent volunteer was press-ganged into the Kent and East Sussex Canal Restoration Group, the Waterways Recovery Group and heavens only knows what else.
Throughout the whole fortnight we never quite worked out who belonged to which group despite the obvious rivalry between them. Canal Society members seemed to be fewer in number but perhaps that was because we kept quiet and saved our energies for working, eating and drinking (not necessarily in that order, of course!).
It transpired that all the experienced work camp members had arrived the previous evening and started work at 8.00am prompt. This early start was quite normal, as was working for 12 hours, if need be, in order to be ready for the next days delivery of ready mixed concrete. All new recruits are given a safety lecture by Ken Parish and then it is straight in to work: carrying piles of bricks, laying concrete, removing concrete which has been laid in the wrong place (this doesn't happen very often), re-laying coping stones, removing trees (which can be very attached to canalside living), digging trenches, filling in trenches and digging them somewhere more useful (this doesn't happen very often either), learning to drive a dumper, using the dumper to tow a heavy roller out of the canal (this only happened once), eating Barry's lollies (this happened quite frequently), wondering if Spikey Dave will chip his nail varnish and guessing what will be in the sandwiches at lunch time (could be absolutely anything left over from breakfast). The food, incidently, was plentiful and delicious.
To compensate for all the hard work there was plenty of entertainment laid on: nightly visits to the pub (which kept running out of HSB, can't think why), trips on the John Pinkerton and to see Mikron theatre group, and a barbeque each week where Ken Parish demonstrated that not only can he and Mike Fellows organise a work camp but he can also burn beefburgers all by himself. The most original entertainment beyond doubt was the barbeque in week two to celebrate completion of the St. John's flight, which took place on the side of lock 11. Among the guests were members of the lock 11 working party led by Ken Halls and Peter Redway who laid the final brick in the lock wall. The only low point of the evening was when Mike Fellows didn't fall in.
In short, the workcamp was totally enjoyable and an unforgettable experience, our only regret is not taking part in one sooner. One word of advice:— if there should be another camp on the Basingstoke Canal be careful who you go drinking with on the last night — you may find yourself being persuaded to write about it!
[back to top]
LAST OF THE SUMMER WORK CAMPS?
THE prospect of hot showers after a hard day's work was one of the attractions which prompted some of the 110 recruits to join this year's summer work camp on the canal.
Twelve months of preparation by the Society's working party organiser, Mike Fellows, ensured the basis for another major restoration attack on locks 2 and 3 at Woodham, led by Ken Parish of Kent & East Sussex Canal Restoration Group. Experienced group members helped supervise the volunteers.
The team included members of the Kennet and Avon Canal Trust's Newbury working party group and more familiar faces from our Society. Among them was John Park, a bricklayer whose waterway interest and working life started at Deepcut on an MSC work experience scheme. A number of volunteers, including three girls from Merseyside.took part to help them qualify for the Duke of Edinburgh's award.
Home for the fortnight, which started on 18th July, was Westfield Infant School, Woking. Catering was organised again by Sue Burchett, helped by local WRVS members who came in daily.
"Everyone worked very hard", said Mike Fellows. "We stretched them to their limits but they thoroughly enjoyed the experience and want to come again", he added.
Work concentrated to building chamber walls and excavating cills and wing walls for reconstruction. At lock 3 they had the exacting job of constructing a by-pass weir - not only in terms of the limited space, but also having to work to a tight schedule in order to re-open a public footpath which was temporarily closed for the work.
So, will there be another camp next year? Mike Fellows would not commit himself but did not rule it out. "It depends on whether there is a sufficient amount of work of the rightkind to employ a number of people", he replied.
In the meantime with lock 2 three-quarters restored and lock 1 nearing completion, Surrey County Council is expected to complete lock 2 to enable those houseboats which will not be re-licenced to move off the canal by the end of the year.
[back to top]
PHOTOGRAPHS
WORK CAMP '87. (Top left) Voluntary workers restoring a chamber wall at Lock 2. (Top right) The upper apron and decayed brickwork in the wing walls being excavated. (Bottom left) Action at Lock 2... re-facing one of the chamber walls and excavating the lower apron and wing walls for renovation. (Centre right) Erecting a barrow hoist to lift spoil out of a trench for the by-pass channel which could not be reached by Hy-mac. (Bottom right) Students Karen Wood from Hinckley in Leicestershire (last year she was knocking the old wall down) and Richard Martin, KESCRG member, from Shorne in Kent, at work in Lock 2.
[back to top]
page 7 --

[back to top]
LETTERS TO THE EDITOR
20th July. 1987 Dear Sir.
NATURAL CAUSES EFFECTING BROADS
The letter from Professor John A. Davies really ought to be written on April 1st. It is complete rubbish to say motor boats have ruined the Broads. The reverse is probably nearer the truth. I made a study for 35 years of Broadland problems, and it was only the large scale dredgings sympathetically carried out that have saved the Broads. Certain academics on a summer afternoon seeing boats go by making wash dash into print without a proper study of the problem. The Broads which have carried no boating and have been left to themselves have, in a number of cases, disappeared in my lifetime. I attach herewith a map showing one of the largest broads that was closed to boating from about 1890 onwards. The decay of the broad has been very severe indeed. Motor boats do cause erosion, particularly on canals to some degree and the problem is being tackled, but on the Broads the wind and rain and effects of tidal ebb and How are factors which cause much greater erosion. The narrow River Ant, a winding river, was piled almost throughout before the first World War when there were hardly any boats. In addition, there was a very serious problem of siltation, and in the latest edition of The Easterling. our journal, we will be dealing with this in depth. It is perhaps apt to remind Professor Davis that the section of the Basingstoke Canal in 1948 dial was alleged to contain certain very valuable plants, the water supply stopped, the canal dried up in that section and one day it caught fire. There is now an L.C.C. estate on the site at the present moment. At the time those of us who wished to restore the canal were ordered to keep out of the area.
Equally it is rubbish for it to be talked about as a National Park. The Brecon and Avergavenny Canal is mainly in the Brecon Beacons National Park. A clause in the original National Parks Act allows the National Park administration to finance waterways within the Park and accordingly the canal carrying motor boats benefits. It was once near derelict, now it is a living part of the Park.
If Professor Davis wishes to be helpful could not he inspire some of the conservation ayatollahs to go along and join voluntary working parties. They have been strangely absent for very many years and only appear when the work of a quarter of a century is near completion.
Yours faithfully,
L.A. Edwards. MISTC
Hon. Sec. The East Anglian Waterways Association,
Wych House. St. Ives. Cambs.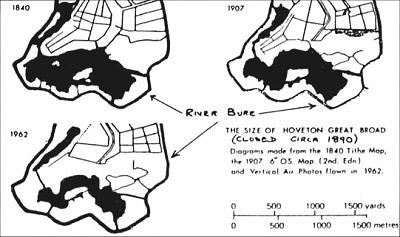 29th August 1987.
Dear Sir,
ELEVENTH HOUR INTERVENTION
I write in reply to the letter from Professor J A. Davis published in the July Newsletter.
Professor Davis states that he wishes to have all 'motor boats' banned from using the canal, but he would permit punts, rowing boats and canoes, to use the canal. He also says that he is a 'long term contributor to the restoration'.
I would ask three questions:
1. For how long has he contributed to the restoration?
2. What is the nature of his contribution?
3. If he has contributed to the restoration for a long time, why didn't he raise these issues in 1974 before restoration started on the 28 locks in Surrey?
Obviously if 'motor boats' were to be banned, there is no need for these locks, I have spent several hundred days working on restoration of locks, and I am annoyed, and amazed, by his attitude.
The full magnitude of restoring the locks can be illustrated by my informed estimate that, so far about 35,000 man (and women!) days have been spent on this job. Surrey County Council have supplied all the materials, which include nearly one million bricks.
Professor Davis and the NCC watt until this work is 90% complete, and then come up with these suggestions.
Although the NCC is asking for the impossible with regard to a limitation of boat movements, there must be some common ground between them and the Canal Society.
For example we would surely agree on stopping more building schemes by the canal, limitation of boat speeds, improved methods of bank protection (using plastic mesh ground reinforcement), elimination of pollution, and preservation of the main flashes for wildlife only.
So far the NCC have acted in a negative and dictatorial manner which will not succeed.
Let us hope that in future the NCC can contribute manpower and money towards the canal, instead of just words, and vast quantities of paper, which is all they have done up until now, over the past thirteen years of restoration.
Yours faithfully,
David Junkison,
4 Thames Meadow, West Molesey, Surrey
2nd August, 1987 Dear Sir,
SEEKING A BALANCED APPROACH
I write with reference to the letter from John A. Davis. in Issue No. 134 of the Basingstoke Canal News, and must take the strongest possible exception to being referred to as a "vandal".
The suggestion that I and fellow boat owners are intent upon "Fouling our own nest" is so far from the truth that it would be laughable were it not for the fact that some gullible people might be persuaded to believe the learned and erudite gentleman, with tragic consequences.
Surely the first inescapable fact is that the canal was built as a "Waterway", with the implication that use by boats was its purpose. From that, at least to my simple mind, one might deduce that, being man-made and without a natural current, unless movement is created by the passage of craft with associated release of water through the use of locks, stagnation and re-silting up will inevitably occur.
Your correspondent refers to the ruination of the Broads, about which I am not competent to comment with any authority, but surely if only on logistical grounds this is hardly a parallel case, and can be further regulated by the already sensible licensing system. Perhaps ours is not an entirely similar waterway, but recent visits to the Wey Navigation give no indication that wild life and the ecology were being unduly affected there, even with use by a far greater number of powered craft than we are ever likely to see on the Basingstoke.
Obviously no serious person wishes to see the canal become a watery "M.1", and my own feelings are that people with all interests associated with the waterway should be free to enjoy its undoubted attractions. Far better that than sections being built on by greedy developers which in my view would inevitably occur if it is not preserved as an entity.
On an entirely personal note, I have recently changed the engine on my boat in an effort to reduce both actual and audible pollution, and am shortly moving home to a canal side location, where I shall try to play a small part in maintaining the riparian aspect. I am certain that I am not alone in wishing for a sensible and balanced approach by all interested parties, but of course it is usually the more extreme and vociferous minorities that make the news, which is where the danger lies.
Yours faithfully,
R. Macgregor,
63 Dukes Mead, Calthorpe Park, Fleet, Hants.
Dear Sir,
ODE TO JOHN DAVIS AND THE N.C.C.
Oh we love to sit by the Basingstoke,
and listen to the splash of the oars,
While the "Vandals" dig mud and get weary,
We study the newts and the flowers.
It was grand in the 30's and 40's
When the canal was rotting away,
We were not disturbed by a motor,
you can say we had our day.
We want the canal to be quiet,
so when the "Vandals" have finished their toil,
We will use the "might" of a minority
to exclude the motors, that use oil.
In time, when the gates are rotting,
and it's all in a state of wane,
We will call back the sons of the "Vandals"
and they can do it for us again.
With apologies to those who love poetry.
Yours faithfully,
Bill Bristow
The Anchorage, 9 Kingswood Creek, Wraysbury, Staines, Middlesex
[back to top]
SOCIAL JOTTINGS
THE FOX & HOUNDS BOAT GATHERING SATURDAY 26 SEPTEMBER
AS mentioned in the last issue of BCNews, this year's boat gathering at the Fox & Hounds pub in Fleet will be on Saturday 26 September.
The event will start at about 10.30am and barbecue facilities will be available at lunch time (please bring your own meat etc.). The Society Sales and Membership stands will be there too.
Do come along and enjoy the fun. And if you're a boat owner bring that too. There is the Ron Kettle Trophy for best boat to be won.
Advance notice of boats attending will be much appreciated by Chris de Wet, 1 Floods Farm Cottages, Chalky Lane, Dogmersfield, Basingstoke RG27 8TD ('phone Aldershot 850311 but not from 30 August - 13 September).
COACH TRIP TO BRISTOL AND RIVER AVON
Sunday llth October
Seats are still available on the coach trip (a second coach has now been hired) to the River Avon and Bristol, leaving Fleet at 7.00am on Sunday 11th October and returning at 8.00pm. A full and varied programme of activities has been organised including a trip on the famous paddle steamer Waverley in the morning, a visit to the >I?SS Great Britain and the Maritime Heritage Centre in the afternoon followed by a cruise aboard NB Redshank around Bristol harbour. Cost: £1195 each inclusive except for providing your own packed lunch. Phone Rosemary or David Millett for reservations. Fleet 617364. (See BCNews No. 134 for full details).
FLEET SOCIAL EVENINGS
SINCE nobody has volunteered to organise social evenings in Fleet, formal meetings have been suspended. Instead there will be an informal meeting on the fourth Tuesday of each month starting on Tuesday 27th October in the lounge bar of the Barley Mow, Winchfield (opposite the canal carpark and bridge) at 8.00pm.
The Society is still anxious to recruit a member to arrange speakers/events for more formal meetings. Please volunteer to arrange a programme — phone David Millett on Fleet 617364.
[back to top]
HAMPSHIRE URGES DREDGER ACTION
MOVES to purchase a maintenance dredger should be 'brought to the boil', urged Mr Colin Bonsey at the July meeting of the Joint Management Committee.
Both County Councils had agreed to contribute towards the cost and although riparian district councils had been approached, no response had yet been received it was reported.
The Society had agreed in principle to contribute but had not quantified the amount, reported Mr Robin Higgs.
Mr Bonsey warned that unless contributions were forthcoming the project was in danger of being excluded from the current year's budget.
[back to top]
COMING EVENTS
WOKING 150 IS BUILDING-UP STEAM
STEAM locomotives at Woking Station will be the centre of attraction next May when the town celebrates the 150th anniversary of the arrival of the London and South Western Railway.
Up to eight steam engines will be on show in the station goods yard and are expected to entice many thousands of people, including visitors from all over the country, on the Sunday and Monday of the bank holiday weekend (29th and 30th May).
It is planned that the locos will include several Bulleid Pacifies, which ran on the London — Southampton line, and if this comes to fruition it will be the first such gathering on Southern Region tracks since the days of steam ended in 1967.
The locos will not be able to move under their own steam because of safety restrictions on the electrified track, but it is hoped that some of them will be in light steam while stationary.
In contrast to all this nostalgia, the first of British Rail's new Bournemouth-line rolling stock is to headline a display of old and modern diesel and electric trains.
But the trains are not going to be the only crowd-puller. For 1988 is also the 200th anniversary of work starting on cutting the Basingstoke Canal and, with water back in the canal after so many years of neglect, there is to be a boat rally together with a steam fair, steam traction engines and other attractions, including trips on the Surrey and Hampshire Canal Society's narrow boat "Pinkerton". The event will be centred on the canalside at the site of the old Spanton's timber yard on Boundary Road Common.
At the same time, Woking Homes Railcare Centre — founded in 1885 as the railway orphanage — will be open to the public and is to stage a model railway exhibition.
A week-long exhibition at Centre Halls will trace the development of modern Woking since the advent of the canal and, more importantly, the railway, and this will be combined with the Arts Council for Woking's festival of arts and crafts, which next year will be on the railway theme.
There will also be a series of special events at Centre Halls, including a Victorian Ball, film shows on the railway and canal themes, live theatre with a Victorian flavour, and an exhibition being planned by Woking Chamber of Trade and Commerce (COT AC) highlighting the progress of the professional, commercial, industrial, retail and other business interests in the area.
It is hoped that vintage buses will provide a passenger shuttle service between the various locations during the bank holiday weekend, with special excursions to the Great Cockrow Model Railway at Chertsey.
The Woking 150 celebrations are being co-ordinated by Woking Borough Council in conjunction with British Rail, Surrey County Council, the Surrey and Hampshire Canal Society, the Arts Council for Woking, Mayford and Woking District Local History Society and COTAC.
Woking Council is putting up cash to cover the organisational costs, and substantial sponsorship is being sought, and it is expected that if the celebrations make a "profit" it will be given to local charities.
British Rail sees the Woking event as one of the main celebrations of the 150th anniversary of the London — Southampton line. BR's new Woking Area Manager, Mr David Murray, is a member of the Woking co-ordinating committee which is chaired by Mr Graham Cartland Glover, the Borough Council's Director of Planning and Technical Services.
[back to top]
In the News
COUNCILS AGREE FUTURE COSTS
AGREEMENT has been reached by Hampshire and Surrey County Councils to share equally the cost of maintaining the Canal.
Based on a composition of the canal's mileage, rateable values and population, Surrey would have been expected to contribute nearly twice as much as Hampshire. But on mileage alone, the share is almost exactly half each and 'in the spirit of joint ownership' it has been agreed to contribute equal amounts, Mr J.E. Scotland, Hampshire's County Treasurer reported to a meeting of the canal's Joint Management Committee in July.
Although there was an element of 'rough justice', in in the agreed share, Mr Colin Bonsey, Hampshire's Recreation Officer, welcomed the arrangement and urged for it to be adopted as early as possible. He also stressed the need to complete restoration as soon as possible. Although current work would continue to be funded by individual councils, Mr Bonsey thought that Hampshire should be prepared to contribute towards the cost of completing the eastern end and the houseboat moorings.
For Surrey, the County's Countryside Officer Mr Raymond Stedman also welcomed the financial agreement and said that the next step was to formulate joint staffing arrangements.
Current Expenditure
In the last financial year, Surrey spent £115,500 of which half is contributed by riparian district councils.
With the Hampshire length restored except for dredging, the council's capital cost was only £17,000 last year. So far Hampshire's bankside district councils, Hart and Rushmoor, have not contributed towards the cost of restoration but they are being asked to support the canal's future upkeep.
Restoration Costs
The current annual cost of running the canal, excluding the capital cost of restoration works, was put at £124,000 of which Hampshire's share is 64%.
It was revealed that Surrey's capital cost of restoration has been £946,000 to date, with plans to spend £130,000 in the current year. Hampshire's cost to date has been £500,000.
The Society's Vice-Chairman, Mr David Millett pointed out that the Society had spent £500,000 (at current prices) since 1975 which together with Man­power Services Commission grants, totalling £500,000, and the value of the massive voluntary labour input came to around £1% million over the 11 -year period.
[back to top]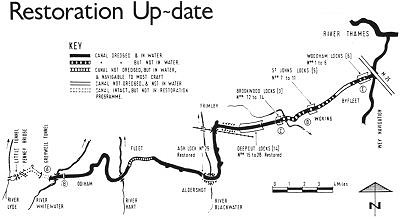 [back to top]
AIMING FOR TARGET '88
ONCE a year we publish a map showing how restoration of the Basingstoke Canal has progressed, complete wiih a list of achievements.
This year, with bullseye clearly in sight, we're publishing a simplified map, drawn by David Junkison, showing work remaining to complete restoration.
Those who like to promote the impressive list of projects completed may be disappointed with our new approach. But we felt it helps emphasise the nearness to completion and, perhaps, generate new interest and renewed energy to help complete the massive task which has been in progress for the past thirteen years.
Since November 1973. when the first official working parties were organised to clear the Hampshire towing path, an impressive catalogue of work has been undertaken. As a result approximately 29 miles of the navigation channel have been dredged and 20 miles of the waterway are once more navigable. 20 locks are restored complete with new lock gates, and the towing path is passable throughout its length. Not to mention a host of large and small engineering works, from re-building a minor let-off weir at Deepcut to major earthworks to stabilise a cutting at Dogmersfield.
So, what more is there to do?
A. GREYWELL TUNNEL.
Not included in the current restoration programme but subject to a detailed engineering study, along with derelict water channel westwards to Up Nately, for future restoration.
B. NORTH WARNBOROUCH LIFT-BRIDGE.
Newcomer to restoration schedule. Due to be replaced by bascule-type lift bridge, operated manually, this autumn.
C. BROOKWOOD LOCKS.
Lock 12 completed and full of water on 5th August, so the Brookwood Three are finished.
D. GOLDSWORTH LOCKS.
Nos. 9, 10 and 11 completed. Nos. 7 and 8 complete except for gates.
E. WOODHAM LOCKS.
Nos. 5 and 6 complete except for gates.
No. 1 85% restored.
No. 2 70% restored and No. 3 40% restored by end of Summer Work Camp. No.4 80% restored.
DREDGING
A mile to complete in Hampshire between Crookham and Fleet. In Surrey, a few hundred yards between the new Goldsworth Bridge and Arthur's Bridge. Also from Monument Bridge, on east side of Woking to just above Sheerwater Bridge. Then between Locks 1 and 3 (houseboat moorings). This length also requires some bank piling.
[back to top]
GONGOOZLER'S GOSSIP
MEMBERSHIP forms are available. If anyone wishes to distribute a few copies, ring Edwin Chappell on Ashtead 72631.
NATURE Conservancy Council's grant has increased from £8 million in 1979-80 to £365 million in the current year.
VICE Chairman David Millett, and Exhibitions Manager Phil Pratt organised the Society's stand at Guildford for a bigger than ever IWA Water Festival at Millmead in July.
GLAD to hear Jean and Roger Hunter have joined the 'workers' by taking over the Society's photocopier. Members can get non-Society work done at a very reasonable charge. Phone Fleet 628495.
WATER Festival at Frimley made £13,000 of which the Society will get £5,200.
NATURAL history survey now being done of canal in Surrey to review current status of existing SSSI and maybe designate further lengths.
PILL boxes along canal should be retained wherever possible, Society has told Hampshire County Council.
TRIPS for local councillors aboard John Pinkerton from Ash Lock enjoyed by Woking and Runnymede councillors.
GOING up — 50 new members joined the Society at the Frimley Water Festival and 8 people joined at the Guildford Water Festival.
LIMITED edition copies of "Basingstoke Canal Restoration" are still available, price £8.95 including post and packing from Aubrey Slaughter, 37 Fir Tree Way, Fleet, Hants.
[back to top]
BOAT LICENCES REFUSED
DESPITE Surrey Council Council's wish to see more motor boats using the Deepcut — Ash Vale pound, at least two boat owners have been refused licences.
Both boats were intended to be moored in Wharfenden Lake, a private water space which is part of Mr Bob Potter's Lakeside Country Club at Frimley Green. But SCC is in dispute with Mr Potter over official agreements in respect of use of the public slipway at his new restaurant 'Potters' at Mytchett, and over commercial licences for his trip boats used during the Frimley Water Festival.
The Council is using its stringent mooring regulations to refuse private boat licences to owners intending to moor on the lake because planning permission has not been granted.
Whatever the rights and wrongs of the situation, it seems totally unfair to use innocent boat owners in an attempt to force the issue — especially when the restored navigation needs more use to help maintain the channel.
[back to top]
CO-EDITOR STANDS DOWN
CHRIS de WET has given up his role as co-editor of BC News in which he has served 3-1/2 years.
My thanks to him for his support and an enjoyable time spent working together.
I would welcome a call from anyone who would like to consider taking over from Chris. Editing BC News is an interesting way of keeping in touch with a wide range of the Society's activities and the organisers.
A journalistic background is not necessary but an interest in writing is helpful.
Give me a call and I'll tell you what's involved. Dieter Jebens, Farnham 715230.
[back to top]
COPY DATE FOR NOVEMBER 1987 NEWSLETTER: 15th SEPTEMBER 1987
Published by the Surrey and Hampshire Canal Society Ltd., a non profit distributing company limited by guarantee, registered as a Charity. The views expressed are not necessarily those of the Society.
Editor: Dieter Jebens. Production: Jo Evans.
Collation & Distribution: Janet and George Hedger, Clive Durley and helpers.
Editorial Office: 60 Middlebourne Lane, Farnham, Surrey GU10 3NJ. (Farnham 715230)
Chairman: Robin Higgs, 18 Barnsford Crescent, West End, Woking. (Chobham 7314)
Vice-Chairman: David Millett, 14 Dinorben Close, Fleet. (Fleet 617364)
Hon. Treasurer: Mrs Gwyneth Browne, 102a Aldershot Road, Fleet. (Fleet 621745)
Hon. Secretary: Philip Riley, Meadow Vale, Guildford Road, Normandy. (Worplesdon 234776)
Membership Secretary: Edwin Chappell, The Spinney, Meadow Road, Ashtead, Surrey, KT21 1QR. (Ashtead 72631)
Working Party Organiser: Mike Fellows, 30 Reynards Close, Winnersh, Wokingham, Berks. (Wokingham 787428)
Dredger Manager: Andy Stumpf, 37 Higham Road, Chesham, Bucks. (0494 785720)
Working Party Information: Peter Jones (Aldershot 313076) and Peter Cooper (01-993-1105)
Trip Boat: Tony Karavis, 12 Loddon Road, Farnborough, Hants. (Farnborough 549037)
Sales Manager: Aubrey Slaughter, 37 Fir Tree Way, Fleet, Aldershot, Hants. GU13 9NB. (Fleet 623102)
Talks Organiser: Mrs Janet Greenfield, 9 Mistletoe Road, Yateley, Camberley. (Yateley 873167)
Exhibitions Manager: Phil Pratt, Flat 5 Fleetwood Court, Madeira Road, West Byfleet. (Byfleet 40281)
[back to top]