.

No. 126
March 1986
1
| | |
| --- | --- |
| 2 | 2,3 |
Inside front cover --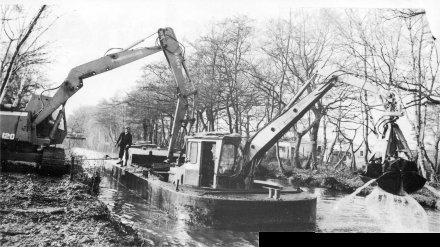 1,2
Comment - THE FINAL FURLONG TO HOME
This issue includes an up-date on our 'Restoration Progress' map, prepared by David Junkison, which last appeared two years ago. We've also included a revision of the '4-year Restoration Plan' which appeared last May in Newsletter 121. What a contrast! As the list of jobs done mounts up impressively, the remaining tasks really do show that we are getting near the end.
But we are not there yet, as Mike Fellows stressed when he told a recent meeting of working party leaders and team members. "Anyone who tells you that the Basingstoke is finished all bar the shouting is sadly mistaken", Mike said, adding. "The next two years will be a period of hard slog, and every, but every, volunteer is needed if we are to complete in 1988".
Moreover the revised completion plan gives volunteers a major role to play because of continued local government restraints on spending, and the limited size of our full-time team. In the circumstance the decision to hold another summer work camp takes on a new importance and will be a vital factor in the plan for volunteers to take on restoration of Locks 2 and 3. But the amount of work the camp achieves will be dependent on our readiness for work to start. There are back-up services to organise, a work compound to establish, access to the sites for vehicles and accommodation to arrange. A good deal of the preparatory work is for the County Council to organise.
Another major task, towards completing restoration, which is still something of an unknown quantity, is dredging the length between lock 1 and 3. involving the temporary movement of up to 40 houseboats. The council has already given considerable thought to the problems arising which must soon be answered and put to the test.
Less of a problem in terms oflogistics or engineering, but a question of time, is restoration of Lock 12 which is the only interruption to what is otherwise a completely restored canal from the county boundary on Ash Embankment right down to Kiln Bridge, St John's. And by the end of this year the five locks at St John's can be included. If restoration of Lock 12 at Brookwood could be accelerated, 11 miles of continuous waterway, including 22 locks in Surrey will have been restored. That would give the project a tremendous psychological boost (and some practical benefits), and focus attention more acutely on what remains to be done, from Woking to the Wey junction.
[back to top]
THE SPUR TO VICTORY
The Society has made a commitment to completing restoration of the Basingstoke Canal in 1988. To this end we were disappointed to read a recent Committee meeting minute pointing out the distinction between completing restoration and re-opening the canal on target.
We suggest that this is not a time for qualification which might be perceived as an expression of doubt. It is more a time to attract added support through that infectious enthusiasm and the determination to succeed which has been our strength in the past.
The relatively small numbers of people who turned up at our recent public meeting points to a diminishing interest in what we are doing to restore the canal. All that has been well publicised. People now want the promise made a reality. To them completion means re-opening, with or without a civic ceremony. And that, surely, is our aim.
[back to top]
PHOTOGRAPHS
INSIDE: (Top) Thames Water Authority dredging the '1/2-mile length of canal from the Wey junction to Lock 1. (Centre inset) A new 70-ft steel mud boat, built by YTS apprentices at British Shipbuilder's Porchester yard at a cost of £10,000, and a work boat for Hampshire CC being 'launched 'at Reading Road Bridge, Fleet (Bottom) An earlier Porchester-built work punt for Surrey CC in Deepcut dry dock, being inspected by County land agent Gerard Brierley, prior to painting and fitting out. FRONT COVER: 'John Pinkerton'in Deepcut Lock 17 during last October's cruise through the flight of 14 locks. (Bottom left) The derelict lock (Bottom right) The trip boat entering Lock 17 at Cowshot Manor Bridge.
(Photographs: Dieter Jebens, David Gerry and David Robinson. Printing and processing: Clive Durley).
"Perhaps there's room in this colony for the Greywell lot!"
[back to top]
In the News
VOLUNTEERS PREPARE FOR THE FINAL PHASE OF RESTORATION
40 working party leaders and regular volunteers crowded into an upstairs Functions Room at The Star, Woking on 16th January to hear how the Canal Society will help to complete restoration of the Basingstoke Canal, scheduled for 1988.
The meeting followed a review of the work to be done and its division between the three main parties: volunteers, the Society's full-time workers and Surrey County Council.
Frank Jones, who leads the Society's four-man full-time team, opened the meeting by saying that with the demise of MSC workers, the emphasis would be on voluntary labour, while the full time team would provide the necessary continuity between voluntary parties, 'management, planning and supply'.
More details were given by the Society's working party leader, Mike Fellows, who said that the review had been made because of 'constraints and limitations' which necessitated the best possible uses to be made of available resources. Some confusion over the future of voluntary input had also been apparent. Mike Fellows said that there were fears that volunteers working at St. John's would be overtaken by the full-time workers moving on Lock 2 and 3, leaving them twiddling their thumbs while waiting for the canal to re-open'.
"Now, the plan shows that volunteers have a good deal to do", Mike Fellows said. Another work camp, with 50 to 60 volunteers is being planned for a fortnight in July. The camp will be centred around Lock 2 with some work on Lock 3 and a 'presence' at St. John's.
Work on Lock 2 will include constructing a by-pass channel on the towpath side; dredging the lock chamber; removal of the old gates; building an access ramp and starting demolition work.
But Mike Fellows warned that there were a number of problems to be overcome which were 'down to the County Council'. A footpath may have to be diverted; there were wayleaves to be negotiated; the towing path made up for use by vehicles; dams to be built below each lock and a site compound established — all needed to be done in readiness for the Work Camp.
Moving on to the other aspects of the plan, Mike Fellows said that it was hoped work on the five locks at St. John's would be completed by the end of this year. Regular working parties would then continue on Locks 2 and 3 scheduled for completion during 1988. Meanwhile Pablo Howarth would continue working on Lock 4 and it was hoped that the Guildford and Reading IWA branch would complete Lock 1 by the end of this year.
Volunteers would also be employed on repairing Langman's Bridge and continue to help build lock gates.
Turning to the County Council's input, their main preoccupation was seen as restoration of Lock 12, which is being tackled by NACRO workers under an MSC Community Programme scheme, a new towpath link under the Brookwood Bridge and about 1-1/2 miles of dredging. A major problem lies in the 35 or more houseboats, moored between Locks 1 and 3, which will have to be moved temporarily while the lengths are dredged.
The Society's full-time team is scheduled to restore up to three culverts situated below the Brookwood length, and build and fit new lock gates together with the requisite paddle gear.
Mike Fellows appealed for more volunteers to support existing working parties (see Working Parties and Progress).
The meeting ended with an appreciative word of thanks to the organisers of the meeting, which clearly, had dispelled any feeling that the St. John's volunteer force would go into early retirement. "It's well planned, there's a job to be done and therefore volunteers enjoy the work", concluded Bill Nicholson of the Kennet and Avon Canal Trust.
[back to top]
BIG INCREASE IN JOHN PINKERTON PROFITS
Despite a poor start to the season, profits from the John Pinkerton trip boat operation rose substantially last season to a record £14,049, reports the Boat Company's treasurer, John Elliott, after the books had been audited by Mike Reid.
"By last August there was much doom and gloom in the Pinkerton camp", John Elliott reflected, "Bookings were down, the public trips were half empty and profits looked decided unhealthy". But takings during the Ash Lock rally, coupled with moving the boat to operate from Aldershot turned the tide. "Suddenly there were queues of people wanting to go cruising and simply not enough hours in the day to fit them all in", said John Elliott. The success of the Ash Lock base is reflected in the Company's profit of £2,700 made in the last six weeks of the season.
The Company has already decided to spend at least half of the 1986 season at its Ash Lock base. Any member wishing to charter the John Pinkerton should contact the Bookings Manager: Tony Karavis, 12 Loddon Road, Farnborough, Hants. Tel: Farnborough 549037.
[back to top]
COUNTIES SEEK GREATER USE OF CANAL
The time of year for licensing of craft for use on the canal has arrived once again. The good news is that the rates remain unchanged from 1985 - for example a powered craft up to 14 feet in length will cost £12.00 to licence and an unpowered craft with 2 or more seats will set you back £6.00.
The level of the top Surrey pound has gradually been increased and the problem of leakage from the canal appears to have reduced somewhat. However the very use of boats on that pound will help further in two ways. Firstly the weed growth will be kept under better control and secondly silt brought into suspension will tend to seal the remaining leaks.
Licences are available from Hampshire County Council, Canal Office, Ash Lock Cottage, Government Road, Aldershot, Hants. GU11 2PS. Tel: Aldershot 313810. Here's to a busy season of boating!
BASINGSTOKE CANAL
RESTORATION TARGET 1988


A-A
Footbridge (Wey Link)
.
-SCC/RDC 1986
Restore Lock 1
IWA 1987
Bank Protection (Locks 1-3)
SCC ?
Towpath works
SHCS ?
Restore Lock 4
SHCS 1986/88
Restore Locks 2&3
SHCS 1986/88
Dredge (locks 1-3)
SCC ?
Complete Locks 5&6 (Gates)
SHCS 1987
B-B
Towpath works
.
SHCS 1987/88
Dredge
SCC 1986 or 87
C-C
Replace piling at Spantons Wharf site
WBC ?
D-D
Towpath works
.
SCC 1987
Wheatsheaf Br ballustrade
SCC 1986
E-E
Towpath works
.
SHCS 1987
Dredge
SCC 1986/87
Repair Langmans Br
SHCS 1987
Restore Woodend Br
SHCS 1986
Complete locks restoration
SHCS 1986
F-F
Bank protection
.
SCC/SHCS/WBC 1988
G-G
Renew culverts
SCC/SHCS 1986
Towpath works
SHCS 1986/87
Bank protection
SCC/SHCS 1986/87
H-H
Brookwood Br towpath
SHCS 1986
Restore Lock 12 - remove pillbox
SCC 1986/87
Towpath works
SHCS 1986
Dredge flash
SCC 1986
J-JBank protection (Lock 15)
.
SCC/SHCS 1986
Asjustments to locks
SCC 1986
K
Complete raising water level (7ins)
and monitor bank repairs at Ash (SCC)
L
Dredge 1/4 mile to Greywell Tunnel (HCC)
Dredge 1 mile Chequers Br-Fleet (SHCS)
Towpath works throughout (HCC)
[back to top]
TEN YEARS AGO - From Newsletter No. 67 - APRIL 1976
* On 8th March an official of Surrey County Council left County Hall, Kingston upon Thames, by car bound for Basingstoke with a cheque for £40,000 to complete the purchase of the 17-mile long eastern end of the canal.
* Membership stood at 2,340, and the Society recruited its first three life members.
* 'Perseverance' had almost reached Swan Bridge, North Warnborough; Penny Gaskill and lan Cripps each took a week's leave to operate the dredger full-time, and 15-year old David Meller was organising track laying along a 900-yard length of towpath to run silt skips.
[back to top]
IS IT A RECORD?
When angler Jon Davies of Old Basingstoke caught a pike in Crookham Deeps recently he sent the kitchen scales whirling several times round the clock trying to weigh it. Then Nigel Newport of Western Fuels, the fisherman's Aladdin's cave in Fleet Road, came to the rescue with a more substantial balance to weigh the catch which registered 17 lbs 12 ozs. Is this a record? We'd be interested to hear if it's been bettered on the Basingstoke Canal.
NB Those who fancy their chances in making a similar catch might like to know that Jon used a float fished minnow. You'll also need a permit which is obtainable from Western Fuels, 151 Fleet Road (north end) costing 75p per day for adults or 40p per day for juniors. Monthly permits cost: £2.50 (adults) and £1.25 (juniors and OAP's).
[back to top]
County Call
SURREY'S SEEPAGE CONTROL AND STRUCTURE CHANGES - Ray Stedman — Countryside Officer
ASH POUND SEEPAGE
I have read with interest in the January Newsletter, what I construe to be the enthusiasm and expectation of many Members to be able to have free passage through the Deepcut Flight. I therefore thought it may be helpful to give an update of the present position with the top pound in Surrey.
We are still experiencing a certain amount of seepage whilst water levels have been raised progressively over the last few months. Levels are now to within 7" of working water level and there is reason to believe that the works of clay puddling and ditching have had a very marked degree of success. It would, however, be foolish of me to say that we have cracked all the problems as anybody involved in canals knows the problem of seepage is an ever present one for most canal managements.
I am sure that limited use of the waterway helps the problems and enables the 'fines' to be stirred up to re-settle and effect a seal, so I encourage people to make use of the slipway facility at Potters and to enjoy this beautiful stretch of the canal.
With works still to be completed, I cannot guarantee that this part of the navigation will always be available during this year but the licensing office and Canal management will be only too pleased to help you if you have any particular enquiries at any time.
WARDENS TO RANGERS
Surrey's countryside workforce is undergoing a review and a new structure will operate from 1 April this year. This new structure seeks to give better visitor services on the ground and therefore the Wardens' service has been re-vamped with the help and encouragement of the Countryside Commission to form a Ranger Service. The canal structure remains the same but they will now be known as Canal Rangers. They will also be on duty more at weekends with more of the canal being available for navigation. The staff involved in Surrey are as follows:
Senior Canal Ranger
(Tony Beecher - Tel: Woking 23652)
Canal Rangers
(Les Foster -Tel: Deepcut 835298, and George Copping — Tel: Farnborough 548327 as from 1st April).
[back to top]
CANAL CRUISER FOR SALE
17' GRP Cruiser - Callumcraft
2 single or 1 double berth - Folding table - Cooker - Sink - Separate toilet.
Ideal Canal cruiser. No engine, hence £550. Will deliver reasonable distance.
Pyrford Marina. Byfleet 40739
Selection of Cruisers always available.
[back to top]
Time Off
SOCIETY APPEALS FOR WEEKDAY WORKERS
Do you have the odd morning, afternoon, couple of hours, spare time during the week? Frank Jones who heads the Society's full time work force continues to look for volunteers to help achieve our TARGET 1988.
Two documents have recently been produced by Frank and Mike Fellows, our working party organiser. These lay out in detail a programme of works leading up to that exciting day in 1988 when all can lean back on their shovels and shout "WE'VE MADE IT!"
Frank assures me that he can fit YOU into the programme at almost immediate notice. The jobs allocated depend on that programme, your particular skill —but in the immediate future the work to be done encompasses carpentry, culvert construction, and wall and step construction at Connaught Bridge.
The scheme to date has been a great success and the volunteers have (as always) proved adaptable. The success can be measured by the considerably faster production rate of lock gates recently.
Give Frank Jones a ring and discuss it with him — hell be glad to hear from you on DEEPCUT 835711 during the day and on CAMBERLEY 28367 in the evenings. The best times to dial those numbers are before 9.30am (before it gets too noisy and no-one hears the 'phone) and after 6.00pm (to save Frank from indigestion).
[back to top]
SOCIAL JOTTINGS
The season of talks, films and slide shows is drawing to a close. Don't miss the last few! The Fleet meetings are held at the new venue of Fleet Cricket Clubroom, Calthorpe Park, Reading Road North, Fleet. The meetings are held onthe LAST TUESDAY of the month. The Woking meetings are held on the 2nd MONDAY of the month. DO COME ALONG and bring your friends.
WOKING SOCIAL EVENINGS: At the Christ Church Hall,Town Square, Woking (50 yards from the Centre Halls). Coffee and biscuits available, plus the Sales Stand.
Monday 10th March, 8.00pm
'The Birds of the Surrey Waterways". Brian Nobbs of the Royal Society for the Protection of Birds will be the presenter.
Monday 14th April, 8.00pm
"Thames Walks" will be presented by the Ramblers Association.
FLEET SOCIAL EVENINGS: At the Fleet Cricket Clubroom, Calthorpe Park, off Reading Road North, Fleet. (1st left about 200 yards from the Oatsheaf pub traffic lights on the A323 Fleet —Hartley Win tney road.) Bar available plus coffee and biscuits.
Tuesday 25th March, 7.45pm
A talk and slide show by the RSPB.
[back to top]
DATES FOR YOUR DIARY
Monday 10th March
"Birds of the Surrey Waterways" - presented by the RSPB, Christ Church Hall,Woking,8.00pm.
Tuesday 25th March
Presentation (including slide show) by the RSPB, Fleet Cricket Club, Reading Road North, Fleet, 7.4Spm.
Monday 14th April
"Thames Walks" - the Ramblers Association,Christ Church Hall,Woking,8.00pm.
SATURDAY 26th APRIL
Annual General Meeting, St John's Memorial Hall, St John's Lye,Woking. Further details enclosed.
Saturday 17th May
Society Stall at Camberley Centre.Offersof goods,help etc. to Pauline Hadlow on Camberley 28367. See Newsletter 125 for full details.
Saturday 17th May
A further series of Deepcut specials on the John Pinkerton. Details elsewhere.
Sunday 18th May
Society's Annual Sponsored Towpath Walk.
Weekend 7th & 8th June
Boat rally at Ash Lock - to commemorate Society's 20th anniversary and IWA's 40th anniversary.
[back to top]
IWA BASINGSTOKE SECTION FORMED
A new section of the Inland Waterways Association has been formed by Mrs E. M. Brenchley (36 Stratfield Road, Basingstoke, Hants RG21 2SD) meeting at the White Hart, London Road, in an upstairs room at 7.45pm for the following programme:
Wednesday, 19th March — London WRG by Eric Garland.
Wednesday, 16th April - AGM followed by members' slides. Informal monthly meetings take place on the first Monday of each month in the lounge bar of the White Hart.
DO YOU PAY YOUR ANNUAL SUBSCRIPTION BY CASH OR CHEQUE?
A reminder to all those members who pay their Society subscription by cash or cheque that renewal date is 1st March 1986. Subscription rates are: Family — £7.50. Adult - £6.50. OAP/Junior - £2.00. Group Affiliation - £10.00.
Send your subscription, please, to Janet & Chris Brazier, Heathlands, Button Road, Ash Vale, Aidershot, Hants. GUI2 5EY. Cheques should be made out to: The Surrey & Hampshire Canal Society Ltd.
[back to top]
NEW MEMBERS
Mr M. Gumming - Church Crookham
L/Cpl.R.F.E.Goff - Aldershot
R. Harris - Woking
R.P. Dore - Woking
Mr & Mrs W.Urquart - Woking
P & C Sillett - Woking
Bill Powney - Woking
Mr & Mrs M. MacLoughlan - Woking
Mrs Gaunt - Woking
W.A.M. Jones - Woodham
A. Cartwright - Woking
Mr & Mrs Thompson - Fleet
A.P. Gannon - Wantage
W.R. Hunter - Fleet
I.Keating - Byfleet
D.A. Webber - Farnham
C. Brady - Woking
Miss B.L. Byne - Chessington
Mrs S. Owen - Church Crookham
Alison Smith - Newbury
Mr G.A. Cullen - Woodham
Peter Grove - Pyrford
Michael Veail - Bisley
Andrew Capel - Woking
James Miller - Jacobs Well
Mr & Mrs W.L. Thompson - Frimley
Mike Munro - Dorking
NEW LIFE MEMBERS
Fleet Byfieet Mr N.T. Timmins - Fleet
Mr W.J. Parker - Byfleet
[back to top]
WORKING PARTIES and Progress - Peter Cooper
As the days lengthen, the prospect of a day's voluntary work on the canal beckons ever more appealingly. With the restoration planned to be completed in 1988, there are not many summers left for YOU to come and do your bit towards finishing the job, and YOUR contribution is certainly needed if the canal is to be finished by then.
The currently operating working parties are listed below; it is usually as well to contact your working party leader a few days before attending, in case of any last minute change of plan.
St Johns (or Goldsworth) Flight Every weekend
The aim here is to have most of the chamber reconstruction work finished this year; this is a big challenge for the Society in 1986. Lock 9 is now completed except for certain finishing jobs like bollards, quadrants, etc., which should be addressed in the next few months; most of the work is now on Locks 7 and 8. At Lock 8 the first chamber wall has reached the first lift of scaffolding, and the top cill is progressing. Lock 7 is only worked on when a large enough body of workers is present to justify pumping out the chamber, and not much work has been done here lately; however, the top cill is being rebuilt.
The coordinator of volunteer work on this flight is MIKE FELLOWS on Wokingham 787428, and for further details you should contact him, or one of the working party leaders listed below. The St Johns roster, for Locks 7, 8 and 9, is:-
| | | | |
| --- | --- | --- | --- |
| (PR, KH, EC) | (JW) | (PR, KH, EC) | (PJ) |
| 1/2 Mar | 8/9 Mar | 15/16 Mar | 22/23 Mar |
| 29/30 Mar | 4/6 Apr | 12/13 Apr | 19/20 Apr |
| 26/27 Apr | 3/4 May | 10/11 May | 17/18 May |
JW - Jules Wood - Farnborough 515737
PJ - Peter Jones - Aldershot 313076
PR - Peter Redway - Woking 21710
KH - Ken Halls - Woking 23981
EC - Edwin Chappell - Ashtead 72631
In addition, the party led by ALAN GRIMSTER (Brookwood 6127) will meet on 9 Mar, 23 Mar, 13 Apr, 27 April and 11 May.
As before, volunteers wishing to share accommodation with a visiting group should contact MIKE FELLOWS to make arrangements.
Dredging in Hampshire Every weekend
The steam dredger Perseverance is now 200 yards from Chequers Bridge and continuing to make good progress. The dredger will be stopped during February for various repair jobs, including some boiler work, but is planned to be in action again for the Open Day on 2nd March. The dredger crew are grateful for a donation of engine spares for the tugs from B.C. Jones & Sons of Brentford (manufacturers of Bantam tugs). New recruits for the dredger team are always sought; for further details contact ANDY STUMPF on 0923-778231 (work) or Chesham 785720 (home), or BRIAN BANE on Hook 3627.
Lock gate building
This party are currently making things like paddle frames and jack heads for the St Johns Flight. Dates are:-
1 /2 Mar, 5/6 Apr, 3/4 May - FRANK JONES on Deepcut 835711 (workshop) or Camberley 28367 (home).
Towpath work in Surrey
First and third Sundays of the month — 2 Mar, 16 Mar, 6 Apr, 20 Apr, 4 May.
This party have been operating in the area of Monument Bridge, Woking, and have been making good progress. To get as much done as possible before the enforced stop for the bird nesting season, they are now meeting twice a month. This is unskilled work, suitable for family parties. For details, including work location (this may change around March) contact PETER JACKMAN on Woking 72132.
Lock 4 (Woodham)
Second weekend of the month - 8/9 Mar, 12/13 Apr, 10/11 May
The second chamber wall is now up to the top row of pockets, so there are about ten courses of bricks to go before coping stone level is reached. For further details contact PABLO HAWORTH on Byfleet 42081.
Lock 1 (Woodham)
Third weekend of the month - 15/16 Mar, 19/20 Apr, 17/18 May
The top hollow posts (quoins) and bottom flank walls are done, and the next jobs will be the bottom hollow posts and the bridge and ancillaries. For further details of this party, which operates under the auspices of the Guildford branch of the IWA, contact DICK HARPER-WHITE on Weybridge 42074 or ROY DAVENPORT on 01-979-7075.
Towpath work in Hampshire
The Society is still looking for a volunteer to lead a working party doing bankside work in Hampshire. Anyone who would like to take on this job is invited to contact a member of the Society's committee, or to write to this Newsletter.
Full-time work
The Society's full-time team have now finished Lock 13 at Brookwood, and are now engaged on various ancillary works between St Johns and Brookwood, including installing a replacement culvert.
The NACRO team at Lock 12 are now about half way up in rebuilding their first chamber wall.
Weekday volunteers
If you are free to work on the canal during the week, if only for a few days, you should contact FRANK JONES (Deepcut 835711 - workshop, or Camberley 28367 -home) who will certainly be able to find you something to do.
Work Camp
This is another reminder that the 1986 Work Camp will inaugurate the epic task of restoring Locks 2 and 3 at Woodham, the only two untouched locks on the canal. Can YOU afford to miss this one?
[back to top]
LETTERS TO THE EDITOR
Dear Dieter,
Many members I am sure will be pleased to know the kingfisher can still be seen in St John's. There were fears that they had been driven away by the work on the locks and dredging etc. — not so it seems.
While we were working on lock 8 on Sunday, 5 January,a kingfisher came and perched on some overhanging brambles, just a few feet from the upper wing wall, stayed a moment or two, and then flew off towards lock 9, where it was seen by a gentleman and his younger son, who were taking photos for a school project.
At lunch time I went home for half an hour or so, to give our dog a run, while taking him along the towpath towards Kiln Bridge, I was lucky again - there he was along by the Health Centre.
So if you're working on the St John's flight, or just out walking,keep a look out for that bright splash of blue.
MARGUERITE REDWAY 1 Redway Cottages, St John's Lye, Woking, Surrey GU21 1SL
Dear Sir,
May I endorse the sentiments expressed by David Barton (Newsletter 124) concerning the proposed demolition of the pillbox at Brookwood.
Its presence has no adverse effect whatsoever on the canal and is, I suggest, of as much historical interest in its own sphere as the canal itself.
During the war it was adorned with a dummy sash window and a sign proclaiming it to be a canal toll booth ("MR BUNN, LOCKKEEPER"). I always doubted that this might delude the enemy invaders, but attibuted it to light-hearted initiative by the Home Guard whose head­quarters were behind the nearby garage.
I observe that the pillbox is partially overgrown with creeper and it would be interesting to discover if any relic of this sign remains. Yours faithfully, TONY REES 21 Colebrook Close, Mytchett, Camberley, Surrey.
Dear Editors,
John Profit, a new member from Barley Mow Cottage, Winchfield, is endeavouring to compile a history of his ancestors, the Warrens of Hurst Farm, Winchfield. He would be pleased to hear any memories, facts, fictions, gossips or legends concerning them. He is under the impression that Levi Luckham Warren ran barges down the canal from the Barley Mow Wharf to Aldershot with forage for the new army camp and that he had a narrow axis dog cart built so that he could drive along the towpath to check on their progress and that he may have held shares in the canal company. Any information or records from the old canal accounts concerning the tonnage he shipped or the tolls paid would be welcome.
There is also a story that he built a roadway part of the way from Winchfield to Odiham to avoid paying the tolls on the turnpike. He also farmed Hatch Warren, Basingstoke, and it is known that his wife Eileen Warren topped the polls at the first election ever held in 1894 to choose a Parish Council for Winchfield. William Warren from Monkwood (1856), his wife Mary Yeats Warren from Godmaston (1871), their youngest son Levi Luckham Warren (1890) and his wife Ellen (or Eleanor) Birch Warren from Islington are all buried at St Mary's, Winchfield from which most of the latter's brood of 10 were married.
JOHN PROFIT
Barleymow Cottage, Spratts Hatch Lane, Winchfield,
Hampshire RG27 8GG
Dear Editors,
May I add a word to the interesting correspondence which you always seem to obtain? Mr Grandjean, of the local anglers, wrote a tolerant and informative letter, a change from the usual abuse and distortions that some "angling spokesmen" produce. But I'm afraid Mr Grandjean is too content about the swan situation.
The important thing is not whether the swans have moved to gravel-pits, or whether their numbers have grown or fallen. It is the undeniable fact that THOUSANDS of them all over the country have died from lead weights, plus some from other tackle and line. Post-mortem figures have been published again and again in different areas, and lead poisoning is lead poisoning, and it causes a very unpleasant death.
It is therefore a relief to hear that anglers are now conscious of this, for their associations denied all responsibility for years, even trying to blame boats! But it would be an even greater relief to know that lead was to disappear for ever, quite soon, and not just voluntarily. A recent survey by the RSPB at 300 tackle shops showed that NOBODY was buying the non-lead alternatives.
Yours sincerely, JOHN GAGG
Shootacre House, Princes Risborough, Aylesbury, Buckinghamshire, HP17 9NN
Dear Editor,
I thought that your readers might be interested to know that during the 1985 boating season our 18' launch "Dabblelyn" navigated the canal from 'Potters' to North Warnborough lift bridge — not beyond as the Troll was on duty. Unremarkable except that we probably draw more water than any other craft using the canal — at least 2'6" or about 8" more than the John Pinkerton. Of course we touched the bottom many times but having a heavy galvanised shoe on the keel and a large slow revving propeller we got through. It wasn't till the end of October when water levels were particularly low that we had to obtain help from the towpath. Our thanks to the walkers who hauled us into deeper water near 'Potters' slipway. The dredger crew might like to know that we saved them a job just beyond Chequers Wharf - we removed a 4' length of steel ventilation duct — obviously thrown in by some vandal. It was so large I had to take it to the tip at Hartley Wintney by trailer!
Finally may I make a plea to those who design the slipways. Could we please have some timber fendering on the steel piles adjacent to the slipways and something to which one can attach mooring lines whilst parking the car and trailer. Those of us with heavier boats would also appreciate a strong point well beyond the top of the slip to which one can attach a winch cable. I burnt out a clutch this year towing my trailer out of the mud at the bottom of the existing slipways. Yours hopefully, G.B.DEAVIN 20 Sandhurst Road, Yateley, Camberley, Surrey
[back to top]
WATERSIDE WATCH
HATCHWOOD FARM APPEAL DISMISSED
An appeal by Charles Church Developments against Hart District Council's refusal to allow the Company to build 130 homes on land at Hatchwood Farm has been dismissed by the Secretary of State for the Environment, Mr Kenneth Baker.
The Society welcomes the decision not to allow the development of the 16-1/2 acre grazing land site, which slopes down to the canal from the Farnham Road, west of the new by-pass bridge. To extend the built-up area of the village beyond its clearly defined limits would not only spoil an attractive piece of open ground, viewed both from the road and the waterway, but would also detract from the extremely attractive character of Odiham.
[back to top]
NEW SITE FOR CANALSIDE HOTEL
A plan to develop the Brewery Road car park site, on the banks of the canal in Woking (see Newsletter 121), was rejected by Woking councillors at a special meeting held last December. Pressure from Horsell residents prompted a majority vote for the proposed 120-bed hotel to be built on commonland, also on the banks of the canal, opposite Brook House, between Chobham Road and Monument bridges.
The decision came as something of a surprise since council officers and consultants had consistently advised that the Brewery Road site was the most suitable. According to a local Press report, Labour councillors were 'furious' with the decision because the open grass covered commonland, opposite Brook House, is 'the last remaining green space of land for nearby residents whose housing was the densest in Woking', a councillor claimed.
In a report on a study made of the canal through Woking, prepared and published by the Inland Waterways Association in 1976, it was stressed that the existence of the piece of commonland in question was a 'valuable amenity', and the report recommended it should be retained as such and integrated with the canal by clearing the existing hedge of undergrowth.
While the Society does not appear to have given its view officially, development of the Brook House site appears to have our tacit agreement in our Chairman's reported view that the developers should be urged to consider the close proximity of the canal when they design the layout of the hotel which he hoped would have a 'staggered' roof line.
Is the Society right to accept one or other canalside site? We suspect that a number of members, especially those who are familiar with the two sites, would support one councillor who was reported to have said, "My vote would go for land in central Woking where we don't have to take green land from an area which desperately needs it".
[back to top]
In the News
CALL FOR INDUSTRY AID TO COMPLETE CANAL'S RESTORATION
An appeal for more support, not just from individuals but also from local businesses and industry, to help complete the restoration of the Canal, was made by Mr Cranley Onslow, Member of Parliament for Woking, speaking as guest chairman at a meeting organised by the Surrey and Hampshire Canal Society held at the Centre Halls, Woking.
Mr Onslow recalled that, at a similar meeting held five years ago, the theme had been 'We're coming your way'. Whilst considerable progress had been made during the intervening period, the slogan was now 'Target 1988' referring to the date it was hoped restoration would be completed. But Mr Onslow warned that to meet the target would require even more enthusiastic support and the need for more money to finance the project. He suggested that local firms might contribute by offering to pay for a pair of new lock gates to be built. "The canal is a tremendous asset", Mr. Onslow said, "It will be a great amenity, whether for walking along the towpath, boating or just sitting beside it, and will be worth every ounce of effort that's gone into it."
An 'Any Questions?' panel, including Mr Raymond Stedman, SCC's Countryside Officer, and Mr Douglas Spinks, Planning Officer for Woking DC, covered a variety of subjects raised by the audience such as the cost of boat licences, water supplies for the canal, houseboat policy and mooring regulations. A number of questions concerned the canal in relation to the town centre of Woking. Mr Spinks said that the Council saw the canal as a tremendous asset to the town. "The canal is so close to the town centre", Mr Spinks observed, "that we must find a way of integrating the facilities and bringing the canal into the town centre ".
[back to top]
BOOK REVIEW
West Sussex Waterways by P.A.L. Vine, published by Middleton Press ISBN 0 90652024.Price £6.95 hardback.
A new book by the author of 'London's Lost Route to Basingstoke'.the definitive history of the Canal. Following today's vogue for canal picture books, Paul Vine's latest production makes revealing use of his collection of photographs, postcards, maps and drawings showing waterways in West Sussex.
The book includes 122 monochrome photographs covering the area from such obscurities as the 3-3/8-mile long Baybridge Canal (which L.A. Edwards lists an alternative name for the canalised section of the River Adur terminating at West Grinstead),to the 23 mile Wey and Arun Junction Canal, the subject of his book 'London's Lost Route to the Sea'.
The reproduction of the photographs is excellent, and the accompanying narrative-style captions, by an expert on these local waterways, provides the reader with a wealth of information and a fascinating insight to a surprising number of navigations in this part of the country.
[back to top]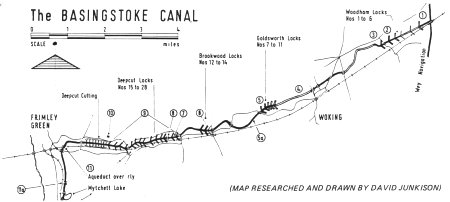 Restoration Progress -
NOVEMBER 1973 - MARCH 1986
NB Navigation open for 20 miles above Lock 28, including undredged lengths to depth of 2 ft. approx. Navigation not open below Lock 28.
1. LOCK No. 1 Chamber 90% restored
2. LOCK No. 4 Chamber 40% restored
LOCK No. 5 Chamber 100% restored
3. LOCK No. 6 Chamber 100% restored
4. NEW ROAD UNDER CONSTRUCTION BY CANAL FOR 1/2 MILE
NEW ROAD BRIDGE
NEW PEDESTRIAN BRIDGE (TO REPLACE SWING BRIDGE)
ARTHURS BRIDGE ALTERED FOR PEDESTRIAN USE ONLY
STEAK HOUSE BY ARTHURS BRIDGE - BANKSIDE PILING 250 YARDS
5. LOCK No. 7 Chamber 45% restored
LOCK No. 8 Chamber 65% restored
LOCK No. 9 Chamber 98% restored
LOCK Nos. 10 & 11 Chamber 100% restored
LOCK No. 10 to KILN BRIDGE - BANKSIDE PILING 200 YARDS
KILN BRIDGE - NEW SHOP/CANALSIDE PUB/LANDING STAGE
5.a. NEW OVERFLOW WEIR
6. LOCK No. 12 Restoration 10% complete
LOCK Nos. 13 & 14 Restoration 100% complete. Gates fitted
7. DISUSED RAILWAY BRIDGE DEMOLISHED
8. COWSHOT BRICK ARCH BRIDGE REBUILT
9. LOCK Nos. 15 to 28 RESTORED AND GATES FITTED 1-1/4 MILES OF TOWPATH RESURFACED/BUILT UP
10. LOCK GATE WORKSHOP BUILT. NEW DRY DOCK. NEW OVERFLOW WEIR
11. AQUEDUCT OVER RAILWAY RELINED
12. ASH VALE OVERFLOW WEIR REBUILT
11a to 13. MYTCHETT PLACE BRIDGE TO ASH WHARF SANDBAG WALL 150 YARDS
13. ASH WHARF TO RAILWAY BRIDGE BANKSIDE PILING 330 YARDS
14. EMBANKMENT RELINED WITH CLAY 1200 YARDS NEW OVERFLOW WEIR
15. LOCK No. 29 RESTORATION COMPLETE. GATES FITTED SLIPWAY & PLANT DEPOT BUILT. COTTAGE RESTORED.
16. OVERFLOW WEIR REBUILT
17. FARNBOROUGH WHARF OVERFLOW WEIR REBUILT. CAR PARK & SLIPWAY BUILT
17.a. NEW OVERFLOW WEIR
17.b. NEW CULVERT. OVERFLOW WEIR MODIFIED
18. THREE CULVERTS REBUILT
19. EMBANKMENT BASE BY LAKE REPAIRED DOGMERSFIELD CUTTING - GABION RETAINING WALL BUILT. BARLEY MOW BRIDGE - CAR PARK & SLIPWAY BUILT
20. THREE BRICK ARCH BRIDGES REPAIRED CULVERT REBUILT
21. THREE BRICK ARCH BRIDGES REBUILT
22. CULVERT REBUILT COLT HILL BRIDGE - WHARF, CAR PARK, TOILETS BUILT
23. OVERFLOW WEIR REBUILT
24. CULVERT REBUILT CUTTING BANK STABILISED BY HEAVY DUTY PILING
25. LIFT UP BRIDGE MECHANISM ELECTRIFIED
26. RIVER CULVERTS BUILT
27. TUNNEL PORTAL REPAIRED
"INDICATES SINGLE ITEMS OF MAJOR IMPORTANCE
N.B. THE ABOVE LIST EXCLUDES THE FOLLOWING EXTENSIVE WORKS:
BY PASS CHANNELS BUILT AROUND 25 LOCKS
FOOTBRIDGES INSTALLED AT 21 LOCKS
STOP PLANK GROOVES INSTALLED AT BRIDGES
CONTINUING BANKSIDE TREE CLEARANCE AND MAINTENANCE
TOWPATH BALLASTED. IN ADDITION TO LONG LENGTHS LISTED
DREDGING PROGRESS MARCH 1984 TO MARCH 1986 -
LOCK 1 TO RIVER WEY 1/2 MILE
EAST OF BROOKWOOD LOCKS 1/2 MILE
WEST OF CHEQUERS BRIDGE 1 MILE
[back to top]
FUND RAISING NEWS - Derek Truman
Money is now more important than ever if we are to maintain our 4-man team of full-time employees and provide all the support needed by our volunteers, both those on lock restoration and dredging. But that means we are looking for a minimum of £30,000 a year for the next 3 years (and possibly beyond) if we are to achieve our target of restoration by 1988. So all fund raising efforts, of whatever size, assume even greater importance than before. At present we cannot have too much money especially as the jobs of four people depend on our success. So what are we doing about it and what can you do to help?
SPONSORED WALK, SUNDAY 18th MAY
Five out of the last six sponsored walks have each raised over £5000 — some quite a bit more. Our 1986 walk from Fleet to Woking(or vice versa) could, indeed should, set a record. We hope you will make a special effort this year, not only to participate but to persuade the largest possible number of people to sponsor you. Remember the Society and numerous other organisations and schools have benefited over the last four years from our S0:50 sharing arrangement: a scheme, which has been instrumental in our achieving such a consistently successful financial return. So if you know any organisation or school which might be interested in joining us, please put in a word and ask this year's organiser, Graham Meade, to send them details in the brochure enclosed with this Newsletter. (And remember there are prizes and cups for those who raise the most money.) Graham's address is 89 Tavistock Road, Fleet, Hants (Fleet 29466) and he will also appreciate any offers of help, particularly as marshals.
DONATIONS FROM CHARITABLE TRUSTS
Richard Allnutt is continuing with his very successful approaches to charitable trusts. He has mined quite a rich seam but this is not inexhaustible. Any ideas, contacts or help to Richard at 68 Hazelboume Road, London SW12 (01 -673 0241).
EVENTS
A few major events can raise very large sums for the Society. But such things as fashion shows, chanty nights at theatres or clubs and so on take a great deal of planning and organising. They need people who can find the time to do an effective job. If you think you can take on such a task or would like to join a group for this or just have some ideas, please contact Derek Truman.
JOHN PINKERTON
It would be wrong to write notes on fund raising without referring to the magnificent work, which must not be taken for granted, done by all those who run the John Pinkerton trip boat. The JP is still our biggest, single source of income and likely to remain so (unless we can double our membership). We hope that support for the boat will remain unabated and that as many people as possible will be fare-paying passengers in 1986 and encourage others to be so — suggest a charter trip for your firm's social or club outing. Contact Tony Karavis on Farnborough 549037 for details.
1985 Sponsored Walk. A record or not? If everyone paid up the money they had promised, we would have grossed some £6,500. But there is still some £800 outstanding. If you have any money for the walk, please send it as soon as possible to Bert Savill, 3 Rushmoor Close, Fleet, Hants.
200 CLUB
At the time of writing, about 90 subscriptions had been received, yielding well over £500 for the SHCSand a similar amount in prizes. It is still not too late to join —there is a reduced subscription covering the remainder of the Society's financial year. Details from Derek Truman. December winners:
Mr M.E. Cornell, £41 ;Mrs A. Terry, £20;
Mrs A.M. Peart, £11; Mr R. Bresh, £l 1.
FLAG DAY
On Saturday 10th May we have a flag day in Fleet. All offers of help, especially in the morning, to Derek Truman. The more helpers on the day, the more the Society will make from this sought-after fund raising opportunity.
DONATIONS FROM COMPANIES
We are hoping to mount a campaign seeking donations from companies located reasonably near the canal and which might take an interest in the local community and environment. But we also hope to extend such a campaign to other companies and this would be made much easier if we could he given the names of useful contacts who might help. Any ideas or information (or help, not least with word processing) should be sent to Derek Truman, 91 Tavistock Road,Fleet, Hants (Fleet 3435).
[back to top]
SUPPORT OUR SPECIAL STALL IN CAMBERLEY
Offers of books, bric-a-brac and plants are already coming in to Pauline Hadlow who is organising a special one-day market stall in Camberley's busy town centre on Saturday 17th May. But Pauline wants lots more attractive and readily saleable merchandise. So please turn out your cupboards and let her have things of interest and even value that you would not give to a jumble sale but don't really need.
Anything is welcome except for clothing and large items. Plants are welcome too. Not only house plants, but also bedding out plants, dahlia tubers and gladiolus corms.
Helpers on the day are also wanted. Please give Pauline a ring and offer to help her for at least part of the day. It should be fun and with your help - profitable for the Society. This is every member's chance to make a contribution towards Target '88.
Contact Pauline Hadlow: Beaulah, Parkstone Drive, Camberley,Surrey. Tel: Camberley 28367.
[back to top]
Coming Events
LEARN TO CREW THE JOHN PINKERTON
As the new cruising season approaches we are once more keen to recruit and train crews to handle the John Pinkerton. A large part of the John Pinkerton's success is the small army of volunteers who make up the crewing rota which enables us to operate the boat during weekdays as well as evenings and at weekends.
Naturally we hope that the 'old hands' will once more volunteer but we are always looking for new volunteers so that we don't have to call on the same people too regularly.
We need steerers who know something about handling a boat or are willing to learn, crew members to assist the boatman if he gets stuck, mooring and keeping an eye on the passengers especially when children are aboard. And galley crew, usually consisting of two people serving refreshments, handling cash, selling souvenirs and making drinks. Ideally each crew consists of four people and so family groups or two couples make perfect teams, but single persons are also in demand to help make up the number.
Our Crewing Manager, Allan Prince, has once again arranged a Crew Training Day on Saturday 22nd March aboard the John Pinkerton leaving Colt Hill at 11.00 am and again at 2.30 pm. If you are interested do come along and hear more about what is involved, and better still learn how to do it. But you are under no obligation - so if you have some doubts just turn up and find out if it's for you. In the meantime you can get further information from Allan by phoning him on Alton 86538.
[back to top]
BOOK NOW FOR ANOTHER SPECIAL TRIP DOWN (OR UP) THE DEEPCUT FLIGHT
Although the Deepcut flight of 14 locks is not yet open to navigation, the Society has been given approval to operate two special trips down and back up the Deepcut flight aboard the John Pinkerton, on Saturday, 17th May. The concession was negotiated with the County Council because we know a number of members and their friends were unable to go on the two trips last October because of the demand for seats.
The first trip will go down the flight, leaving Lock 28 at 10.30 am. The lock is approached by car down a track marked 'Canal Cottage' off the Deepcut to Brookwood (via Pirbright Camp) military road which follows the line of the canal on the north bank. There will be ample parking space and free transport will be provided at Lock 15 (Pirbright Bridge) where the trip terminates.
Following the morning trip which takes about two hours, the Mayor of Woking will board the John Pinkerton and cruise into the Borough to declare Brookwood Lock 13 and 14 officially restored.
Passengers wishing to book for the trip up the flight should also leave their cars at the Canal Cottage at Lock 28 and wait for free transport to take them down to Lock 15 for departure at 2.30 pm. Since transport down to Lock 15 will require us to provide a shuttle service it would be helpful if passengers arrive at around 2.00 pm so that we do not have a last minute queue of people. Cost (including transport): £250 per adult, £1.50 children under 16 years old. Bookings in advance to: Tony Karavis, Bookings Manager, 12 Loddon Road, Farnborough, Hants. GU14 9NT. Tel: Farnborough 549037.
[back to top]
DOUBLE CELEBRATION! ASH LOCK 20/40 BOAT RALLY JUNE 7th-8th 1986
Our third Rally of Boats to be held at Ash Lock, with the support of Hampshire County Council, will be a special event to mark the Society's 20th anniversary which also co-incides with the Inland Waterways Association's 40th year. It is an especially happy coincidence because the IWA has worked alongside us on many projects from the day the Society was formed. So we are getting together for a big celebration this year which everyone can join in and help make a great successful and memorable event. It presents both organisations with a unique opportunity to publicise the use of canals for recreation and, of course, completion of the Basingstoke.
All members with boats are urged to take to the water for the Rally weekend. Application forms for this exciting weekend event can be obtained from: Mr. Ulick Palmer, Wychwood'.The Ridgeway, Cranleigh, Surrey (Please enclose a SAE).
We also need lots of willing helpers to prepare the Rally site, serve at stalls on the day and help with the many other duties to make the rally run smoothly. Volunteers please contact: Vic Trott on Woking 68607. Do give Vie a call - you'll be made welcome.
Full details of the entertainments programme being planned will appear in the May Newsletter but you can be sure that after the success of the first two rallies, this, too, will be a weekend of activity, interest and a colourful spectacle. Book the date now and bring your family, friends and neighbours, and anyone else you can think of, to sample the delights of a waterways weekend. The John Pinkerton will be running hourly trips, there'll be plenty of stalls and sideshows — something for everyone.
Please note the date for the Rally is 7th-8th June and not 14th—15th June as shown in some waterways magazines.
[back to top]
NEW MEMBERSHIP SECRETARY SOUGHT
In April Janet and Chris Brazier are moving to Shropshire which means they will have to give up the job of Membership Secretary. Although they took over only about twelve months ago, they have done a great deal in a short time to boost the Society's membership which now stands at around 2,000. In seeking someone to take over, Janet says they will miss doing the job. She writes: 'It is an enjoyable job with a steady amount of clerical work, and almost daily contact with members on the telephone. It is easy and extremely rewarding work. The peak period is between March and June. It includes up­dating a card index system, issuing documents to new members and banking subscriptions. We have both coped with the job in addition to our full-time jobs and other interests. However there is plenty of scope for making it an even more rewarding job by canvassing for new members, promoting the Society and raising much needed funds.
'I hope I have whetted someone's appetite to volunteer for this vital post in the Society. A replacement is urgently needed as we cannot continue after April. Roll up — the Society needs you!'
For further details ring Janet or Chris Brazier on Aldershot 25460 and they will be pleased to tell you more about what is involved.
[back to top]
GONGOOZLERS' GOSSIP
ERROR crept into Newsletter 124 (what an admission!). Andy Meller NOT David gained a BSc Honours degree in mechanical engineering recently. Apologies Andy, and congratulations.
HART District Council recently chose the cover photo­graph for their new publication - the "Hart Mini Guide" From a selection it was felt that a picture of our John Pinkerton would be the most appropriate attraction for the District.
VOLUNTEER Post - a new publication edited by Edwin Chappell is now in circulation. Described as "the all new ultrafab newsletter of the workers" we wish it well. The first edition comprised 2 pages - when it expands will we see a Page 3 Navvy??
ERROR 2 (but not ours). Letter from Hampshire Basingstoke Canal Anglers Association in Newsletter 125 should have concluded "we are now putting our house in order" rather than "... not putting . .." as published!
IWA Trail Boat Rally for 1987 will be .... on the Basingstoke. Hurrah!
ENGINE of the John Pinkerton has been inspected by Fetters and is reported to be sound.
ENJOY a day sitting beside the canal as a marshall for the Sponsored Walk on Sunday 18th May. 20 volunteers needed. Phone Graham Meade on Fleet 29466.
ROGER Jones has kindly volunteered to undertake the administrative work for covenanted subscriptions. Many thanks. Covenant enquiries to the Membership Secretary still.
HEAR that the John Pinkerton produced some £4,000 revenue from the Ash Lock operation last year. A great success that is to be repeated this season.
CONGRATULATIONS to Roger Cansdale who has recently joined the Society's board as representative of the trip boat company.
NEW work boat and mud boat delivered to Hampshire CC during December.
THANKS are due to Eileen Meller for her steadfast efforts over the last year in producing an ever increasing volume of minutes for the board as the Society's minutes secretary.
SHOULD be an official opening of locks 13 and 14 during May.
NEXT Target 1988 public meeting is scheduled for April and will be held at Frimley Green.
[back to top]
URGENT .. . URGENT .. . URGENT ... URGENT . WORK CAMP '86 ACCOMMODATION
Mike Fellows is in dire need of accommodation for this year's Work Camp. Anything considered but preferably in the Woking or Byfleet area. If you have any ideas, contacts etc. please contact Mike as soon as possible on Wokingham 787428. URGENT ... URGENT ... URGENT ... URGENT .
COPY DATE FOR MAY 1986 NEWSLETTER: 15th MARCH 1986
Published by the Surrey and Hampshire Canal Society Ltd., a non profit distributing company limited by guarantee, registered as a Charity.
Editors: Dieter Jebens, Chris de Wet. Production: Jo Evans.
Collation and Distribution: Janet and George Hedger, Clive Durley and helpers.
Editorial Office: 60 Middle Bourne Lane, Farnham, Surrey GU10 3NJ. (Farnham 715230)
Chairman: Robin Higgs, 18 Barnsford Crescent,West End, Woking. (Chobham 7314).
Vice-Chairman: David Millett, 14 Dinorben Close, Fleet. (Fleet 7364)
Hon. Treasurer: Mrs Gwyneth Browne, 102a Aldershot Road, Fleet. (Fleet 21745)
Hon. Secretary: Philip Riley, Meadow Vale, Guildford Road, Normandy. (Worplesdon 234776)
Membership Secretary: Chris Brazier, Heathlands, Hutton Road, Ash Vale, Aldershot, Hants GU12 5EJ. (Aldershot 25460)
Working Party Organiser: Mike Fellows, 30 Reynards Close, Winnersh, Wokingham, Berks. (Wokingham 787428)
Dredger Manager: Andy Stumpf, 37 Higham Road, Chesham, Bucks. (0494 785720)
Working Party Information: Peter Jones (Aldershot 313076) and Peter Cooper (01-993-1105)
Trip Boat: Tony Karavis, 12 Loddon Road, Farnborough, Hants. (Farnborough 549037)
Sales Manager: Aubrey Slaughter, 37 Fir Tree Way, Fleet, Aldershot, Hants. GU13 9NB. (Fleet 23102)
Mobile Sales Stand: Martin Bowers, 162 West Heath Road, Cove. (Farnborough 513095)
Talks Organiser: Mrs Janet Greenfield,9 Mistletoe Road,Yateley, Camberley. (Yateley 873167)
Exhibitions Manager: Phil Pratt, Flat 5 Fleetwood Court, Madeira Road, West Byfleet. (Byfleet 40281)

[back to top]