.

No. 119
January 1985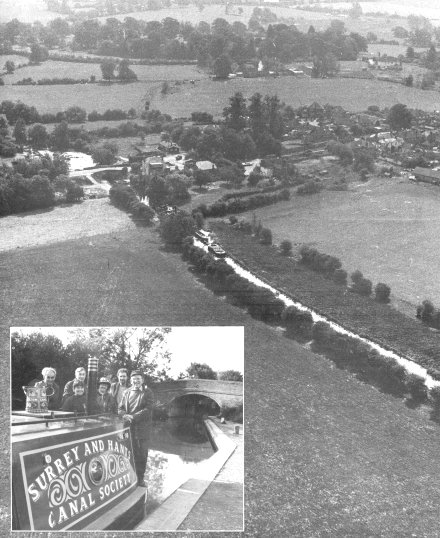 Inside front cover --

| | |
| --- | --- |
| | 1,2 |
| | |
| --- | --- |
| | 3,4 |
| | |
| --- | --- |
| | 5,6 |
4-YEAR PLAN TO COMPLETION
1988 — that's the target date by which Surrey County Council is aiming to complete restoration of their 16-mile length of the Basingstoke Canal. And, with dredging being the major remaining task in Hampshire, we can take 1988 as the year in which the whole canal should be re-opened.
The detailed plan has been drawn up in close consultation with the Society and relies a good deal on our continued in-put to meet the target date. For example, restoration of the five Goldsworth locks — now well under way with locks 10 and 11 complete except for gates - remains the responsibility of the Society.
In addition to providing all those involved in restoration of the canal with a target date, the schedule also highlights where the bulk of the work lies. For instance, although the Deepcut 14 flight of locks have been restored, and it has been assumed that the 2-mile length is ready for navigation, there remains a considerable amount to be done for one reason and another. In fact, it is envisaged that the flight will not be fully operational until early in 1986.
Piling work to protect banks and towpath repairs are also seen to account for a considerable amount of the work still to be done — 35% in terms of the total cost to complete restoration.
In the next issue we plan to show, graphically, the 4-year restoration plan. Not with a motive to keep any party to the schedule set out but, as we wrote in the last 'Comment' column, to provide an incentive to other people in the community to make their contribution.
[back to top]
A DWINDLING MEMBERSHIP?
Apart from editing the Newsletter, we also deliver a few local members' copies. The round has remained virtually unchanged for a good number of years. In fact, the nucleus was probably formed as a result of the one and only Public Meeting held in Farnham in 1971. A very successful recruitment drive, chaired by one of our Vice-Presidents, Sir John Verney also a local at the time, during our campaigning years.
It is sad to relate four envelopes out of the usual six deliveries were missing from the last round. Whatever the reason, which may have nothing to do with a loss of interest, they are no longer members of the Society.
We hope this is the exception and not the rule.
[back to top]
HOLIDAY CRUISING
We're delighted to have Stroudwater Cruisers, our first commercial advertiser outside the local area, take space in the Newsletter. The firm was introduced to us by our member, Mr. Lock, and we hope that, if you are planning a cruising holiday on the canals this year, you'll at least send for the company's brochure. Stourport is certainly an excellent centre for starting a cruise of quite a number of our finest waterways.
[back to top]
PHOTOGRAPHS
FRONT COVER:
The canal at Colt Hill, Odiham, soon after the navigation had been dredged, with mud barges moored alongside the field on which the fertile spoil was dumped. A bulldozer can be seen levelling the field, (inset) The last day of the most successful 1984 season for the 'John Pinkerton' (left to right) Clive Durley, George Hedger, Barbara Durley, Raymonde Fethney, Alan Prince and the boat Company's chairman, Peter Fethney.
INSIDE PAGE: (1) Surrey's contract Hymac excavator clearing the water channel below Brookwood Bridge, (2) The cleared canal at Hermitage Bridge with the two houseboats temporarily moored alongside each other above the bridge which is also getting a 'clean up', (3) YTS workers restoring Brookwood Lock 13, with the completed chamber of Lock 14 above it. (4) How they used to look... the overgrown, derelict remains of Lock 12 immediately above Brookwood Bridge awaiting renovation, one of only three locks on the canal not yet touched, (5) The new slipway built by Hampshire at Barley Mow Bridge, Winchfield, complete with carpark, and the Courage pub of the same name in sight, (6) Pablo Haworth at Woodham Lock 5 (see Pen Portrait)
[back to top]
ANNUAL GENERAL MEETING 1985
Notice is hereby given that the Eighth Annual General Meeting of the Surrey and Hampshire Canal Society Limited will be held on Saturday 27th April 1985 at Courtmoor School Hall, Springwoods, Fleet at 6.00 p.m. Following the AGM there will be the customary Supper. Further details will be given in the next Newsletter.
NOMINATIONS FOR THE BOARD OF DIRECTORS (KNOWN AS THE EXECUTIVE COMMITTEE)
In accordance with the Society's Memorandum and Articles of Association all the members of the Executive Committee retire at the Annual General Meeting and all are eligible for re-election. However it is always desirable to have new faces and new ideas. Last year there were more nominations than there were places so an election was held which is all to the good.
If you feel that you have something to contribute why not put your name forward? Nomination forms are available from the Honorary Secretary (address and phone number on the back page.) The closing date for nominations is Saturday, 9th February 1985.
[back to top]
WORKING PARTIES - Peter Cooper
By the time this newsletter reaches you, we will probably be into a new year, and this reminder of the passage of time provokes a thought. Many of the Society stalwarts who have led working parties, or attended them regularly, have been doing so for up to ten years or even considerably more. They would certainly be entitled to feel they would like, perhaps, to take things a bit easier, no longer being quite as young as they were. (Whether they really do want to take things easier, is another matter!)
Working party attendance clearly has great appeal to people under about 30, as shown by the sort of attendees attracted to the St Johns work Camp. So if you're a Society member of that sort of age, then working parties are probably just the thing for you.
Alternatively, perhaps you know someone of that age who would be a likely recruit — suggest they come along and join in, they don't need to be a Society member (they can always join later). ,P> The working parties available for all these keen new recruits are listed below. You are advised to contact your working party leader, a few days before attending, just in case of a last minute change of plan.
St Johns (or Goldsworth) locks Every weekend
The first chamber wall at Lock 9 is now complete, and awaits replacement of its coping stones. The lower recess walls are about halfway up. This lock is being restored in a rather unusual sequence, as the biggest job now remaining is the rebuilding of the second chamber wall. Demolition of this was completed in the work camp and rebuilding should start soon.
Lock 8 has been very much at the demolition stage, but the lower wing walls are now starting to go up. The co-ordinator of volunteer work on this flight is MIKE FELLOWS on Wokingham 787428, and for further details you should contact him or one of the working party leaders listed below.
(PJ)
26/27 Jan 23/24 Feb 23/24 Mar
Lock 9
(AG) 13 Jan 10 Feb 10 Mar
(JW & TG)
12/13 Jan 9/10 Feb 9/10 Mar
(EC)
19/20 Jan 16/17 Feb 16/17 March
Lock 8
(KH & PR) 5/6 Jan
2/3 Feb 2/3 March
JW -Jules Wood-Farnborough 515737
TG - Tony Gould - 01 941 3014
AG — Alan Grimster — Brookwood 6127
PJ - Peter Jones - Aldershot 313076
KH - Ken Halls - Woking 21710
EC - Edwin Chappell - Ashtead 72631
The accommodation arrangements described in the last newsletter, for Society workers to lodge with a visiting group during the weekend if they have long journeys to make, still hold good. However, during the period of this newsletter there are no visiting group attendances planned.
Dredging in Hampshire Every weekend
The steam dredger "Perseverance" is now well clear of the bridge hole of the old swing bridge, and is about 400 yards from Coxmoor Bridge. Two Barges, the 9 ft. and the 12 ft. have been repaired by Chris Blackman at minimal charge to the Society. The dredger team are now training the new recruits they acquired at their Open Day, but they could still use a few more. Details from ANDY STUMPF on Chesham 785720 or BRIAN BANE on Hook 3627.
Surrey towpath work
First Sunday of the month — 6 Jan, 3 Feb, 3 March After doing a one off job at Reading Road Bridge, Fleet, this party expect to continue their work in the Brookwood area. This is unskilled work, suitable for family parties. For further details, contact BERT and BETTY SCAMMELL on Aldershot 23215.
Lock gate building
With the completion of the gates for Locks 10 and 11, this party will be starting on the preparatory work, including measuring, for the gates for Lock 9. By now the lock gate building activity, based at Deepcut workshop, has produced a total of 70 gates for the canal, of which about 12 have been assembled partly or completely by volunteers.
Working party dates and leaders are: 5/6 Jan, 2/3 Feb, 2/3 March - FRANK JONES on Deepcut 835711 (Workshop) or Camberley 28367 (home)
27 Jan, 24 Feb, - ALAN GRIMSTER on Brookwood 6127.
Lock 4 (Woodham)
Second weekend of the month — 12/13 Jan, 9/10 Feb, 9/10 March.
This party have now concreted the lock invert and cast the bases for both chamber walls, which they expect to start rebuilding soon. Two ready-mix concrete lorries have made the journey across the rubble-built causeway by the lock, which certainly seems a thorough test. For further details contact PABLO HAWORTH on Byfleet 42081.
Lock 1 (Woodham)
Third weekend of the month - 19/20 Jan, 16/17 Feb, 16/17 March.
The main chamber walls are now almost complete, and demolition work is in progress on the flank and return walls. For further details of this party, which operates under the auspices of the Guildford branch of the IWA, you should contact DICK HARPER-WHITE on Weybridge 42074 or ROY DAVENPORT on 01979 7075.
[back to top]
In the News
PINKERTON'S PROFIT PEAK
The trip boat John Pinkerton is expected to have made a record profit of around £13,000, when figures are released, during the 1984 season - 19% up on the previous year. Bookings Manager, Ron Hursey took 176 charter bookings (two were for double trips) and 40 public cruises carrying 1,483 passengers.
Profits from the Ash Lock Rally weekend came to £500, and trips to celebrate the dredger's 50th anniversary made £160.
The season was generally free of breakdowns or mishaps although a trip for members of the Mid-Hants Railway Preservation Society came to a sudden and embarrassing end for Peter Jones and his crew when they headed eastwards while the temporary dam was still in place at Winchfield. Unable to turn, the boat had to be stern-hauled back to Colt Hill. Peter Fethney, the boat company's chairman, and Alan Prince, Crew Organiser, also came to an abrupt stop soon after starting off from Colt Hill westwards one Sunday afternoon when they encountered a fallen tree across the navigation.
The 1985 season is likely to include a month's experimental operation based at Ash Lock although the company believes it can still operate most profitably from its base at Colt Hill.
The company's thanks to all those who crew the John Pinkerton and help to run her. See you again this year!
[back to top]
STOP PRESS
On 4th December John Pinkerton became the first boat to navigate the centre length of the canal from Ash Lock to Deepcut since the water level was lowered to stem the water seepage at Ash last June. With levels approaching normal height, the boat was taken down to the dry dock above Lock 28 to have anodes welded onto the hull as a rust prevention measure.
From now until the 1985 season opens, working parties will meet at the boat located at Colt Hill, Odiham, each weekend to carry out maintenance work. Volunteers are needed to help paint, make woodwork repairs and do general maintenance jobs. Your assistance will be appre­ciated so that we make the trip boat look its best. Please give Dick Abbott a call on Fleet 7183 for details of how you can help.
[back to top]
DATES FOR YOUR DIARY
Sunday January 20th
"An Evening of Historic Canal Films" presented by John Huntley, Rhoda McGaw Theatre, Woking Centre Halls, 7.30pm. Tickets from Peter Coxhead (Byfleet 44564). (See Newsletter 118 for more details).
Wednesday January 23rd
"Thames Walk" — a slide presentation by the Ramblers Association. Prince of Wales Pub, Reading Road South, Fleet, 7.45pm.
SATURDAY FEBRUARY 9th
CLOSING DATE FOR COMMITTEE NOMINATIONS. See AGM Notice for details.
Monday February llth
The Kennet & Avon Canal Trust will present an illustrated talk on the progress made on the restoration of this vital waterways link. Christ Church Hall, Woking, 8.00pm.
Wednesday February 27th
"A Look at North American Canals & Waterways" —
David Gerry, Hampshire County Council's Canal Manager, presents a slide show & talk about his recent visit. Prince of Wales Pub, Reading Road South, Fleet, 7.45pm.
Saturday March 9th
Forewarning of the Barn Dance at St Johns Hall, Woking. Booking Form enclosed with this Newsletter. Always very popular — don't miss it!
Monday March 11th
John Humphries presents his film on the Gota Canal in Sweden. Christ Church Hall, Woking, 8.00pm.
Wednesday March 27th
L.A. "Teddy" Edwards, the well-known canal historian and author and former secretary of the IWA, will give a talk entitled 'The First Waterways Campaign to Save the Basingstoke Canal". Prince of Wales Pub, Reading Road South, Fleet, 7.45pm.
SATURDAY APRIL 27th
SOCIETY AGM, Courtmoor School Hall, Fleet, 6.00pm.

[back to top]
Time Off
A WALK ALONG THE MONMOUTHSHIRE by Mike Fellows
Whilst on holiday on the Brecon and Abergavenny Canal (see September Newsletter), I decided to spend a day walking the old Monmouthshire Canal through 31 locks to reach Pontymoel Basin on the outskirts of Pontypool. Here it joined the Brecon and Abergavenny. The original line continued for another couple of miles to Pontynewynydd but this had been closed by 1853 and little remains.
South of Pontymoel the Monmouthshire runs through pleasant suburbia and this continues for 1V& miles until the culverted Crown Bridge at Sebastopol. Only dredging is required to re-open this section which includes a very popular canalside pub; but in 10 years (since the restoration of the B & A) nothing has happened and the community appears to have forgotten its canal. Beyond Crown Bridge the canal rapidly becomes rural and after Vi mile a short tunnel, in perfect condition, is reached. Another }£ mile brings you to the north of Cwmbran and the first of many major obstacles.
A new road crosses the canal, almost at water level, and the canal disappears into a concrete hole protected by a grille. Below the road is the first of the magnificent locks. Each chamber has a fall of approximately 11 feet and the locks are grouped close together giving the impression of a staircase but in fact they are not, since they have short pounds between them which are connected to large 'side ponds' behind hedges across the towpath; a la Bratch. There are five such locks here and the chambers are in excellent condition. This was a feature of all the locks and bridges and must reflect the solid nature of the local stone with which they were built. At first sight it looks as though the bottom gates are still in place, but a closer inspection shows that they are really an elaborate concrete dam carefully cast to give the impression of oak beams and planking. Obviously, somebody has gone to a great deal of expense and trouble to create this environmentally pleasing masterpiece, but how much better if real gates had been installed.
Below this flight the canal continues as an attractive but isolated pound for about % mile before the next flight of 5 locks. Here the treatment has been even more dramatic as the locks have been cascaded and the pounds turned into flower beds. A lot of money has been spent to turn this into a pleasant garden area with cascading waterfalls, but it has failed as the channel is full of rubbish and obviously the locals don't appreciate it. Below the locks the canal is culverted for 100 yards as it is crossed by two roads. It then reappears and meanders for nearly a mile in a very derelict state to the centre of Old Cwmbran. I arrived just in time to see them felling a line of poplars which lined the canal. They were the only large trees around and a green softener on an otherwise dreary landscape. They were being felled to make way for a new road, Cwmbran Drive North, the very road to which our Society had lodged objections, but with very little success.
Beyond this the canal continued for Vi mile and several more dropped bridges before regaining the open country, leaving Cwmbran behind. Here the canal becomes rural and secluded and continues on its way continuously falling through the many locks each in beautiful condition. But, what is this? — signs of activity! Clearance of lock chambers, canal banks etc. Yes! Torfaen District Council have a large Community Project (MSC) scheme and the whole of the canal south of Cwmbran toMalpas, a distance of 3& miles, is being worked on. How ironic when the Council above is bent on its destruction.
Below Malpas the last lock before Newport is reached and lo and behold it is restored, complete with working gates, so progress is being made: or is it? Unfortunately, the plaque on the lock says it was done in 1968; so what happened to this early restoration? Below the lock the M4 thunders across; but at least it is elevated and a navigable channel exists. Immediately beyond is a T-junction, the right branch being the Cwmbran arm which is well worth a visit as the Cefn or Rogerstone 14 locks are one of the most impressive in the country. On this occasion I turned left and continued down the main line for another & mfle to Newport itself where the canal disappears into a tunnel and never reappears! The original line has been flattened by roads and buildings.
The Monmouthshire is very pretty and well worth a visit and it is easily walked as you can return to your starting point by bus as there is a frequent service along the main road which runs about 1A mfle away. Apart from Cwmbran the canal is in excellent condition and large sections could be restored at little expense. Cwmbran itself is a different story. Any restoration would be very expensive. I find it surprising that a new town like Cwmbran with lots of money for new roads, houses, etc. should have obliterated what could have been a real feature in a town so obviously needing reaction facilities. All is not lost however, as the Development Corporation is about to hand control to a local council so perhaps a new body controlled by elected representatives may take a different view and slowly remove obstacles as is beginning to happen on the Rochdale and Huddersfield canals.
[back to top]
NEWS LETTER ADVERTISEMENT RATES
Full Page: £50 Half Page: £30
Quarter Page: £18 One-eighth Page: £10
Advertisements can be set by the printer from clearly typed copy but layouts cannot be specified.
Any special typematter, artwork or drawings must be prepared by the advertiser or his agent and the advertisement supplied ready for reproduction. Advertisements can only be accepted on the basis of cash with order.
SPRING WALK - Paul Garrett
Meet at Mill Mead Car Park Guildford on Sunday 10th March 1985 at 10.45am for a ramble along the Banks of the Wey, past St Catherine's Lock to Shalford Mill, stop for lunch at the Sea Horses Inn at Shalford. Reasonable pub grub available. We shall then re-cross the Wey to look at St Catherine's Priory, walk along the North Downs Way and back along the old Hogs Back Route. Distance about 6H miles. Leader Paul Garrett, Byfleet 41993.
[back to top]
FUND RAISING NEWS
£££'s AND PEOPLE Derek Truman
Last month's editorial asked for a target date for completing the canal. But no target is any use if the manpower and money are not available in sufficient quantity. So we need many more members, volunteers and cash. Each of us can try to recruit more members to the Society; their subscriptions will increase our basic income and some may have a few hours to help either with the restoration work itself or with any of the other numerous activities including fund raising.
Even in the relatively affluent South of England, money for charities is not easy to come by and it is fair to say that there are many, concerned with human suffering, which have more emotional appeal at this time. Other environmental projects may have more glamour — certainly commercial sponsors prefer projects which give them a greater publicity return or carry more prestige. So all this makes your help and contributions vital.
There are a number of ways you can help. Quite a lot of companies have funds for charitable purposes but the queues are long and the amounts available each year are limited. Often the best way of tapping these is by personal contact — knowing an appropriate manager or Member of the Board. Do you have any connections, however tenuous, which you can follow up? If you want advice, contact our fund-raising officer, Derek Truman (Fleet 3435).
But there are other possibilities. If members in half a dozen towns along the canal organised one good jumble sale in each town every year, the SHCS would get an income of over £1,000. Who's going to get organised? (Contact D.T. for co-ordination.) And can we try to ensure that all social events not only cover their costs but try to make a minimum return of say, 10% of the outlay?
What about the 200 Club? Give it a boost this year and make it live up to its name. Half the proceeds go to restoration and half is returned as prizes to members. We are very grateful to all those who have joined (or renewed) for 1985. If you have not done so, please examine your wallets and see whether you could not really spare a £1 a month. (Forms were enclosed with the November Newsletter but spares can be obtained from Derek Truman, 91 Tavistock Road, Fleet — a S.A.E. would be appreciated.)
And the October winners were:—
Mr P.E. Terry £37
Mr P. Youngs £18
MrsC. Speight £10
Mr B. Wood £10
Please keep your diaries free for Sunday 19th May, 1985, for our next sponsored walk — Ash Vale Station to West Byfleet. In the meantime, money continues to roll in for 1984:-
Courtmoor School, Fleet £58
Warwick School, Redhill £5 7
Brookwood & Woking Leos £23
8th Woking Cubs £13
[back to top]
TEN YEARS AGO - From Newsletter No. 60, January/February 1975
* Members were invited to submit suggestions for re-naming the New Inn at Colt Hill. The name Watney Mann finally chose was Waterwitch after a narrow boat of the same name that traded on the canal in the late 1890's.
* The Society launched an appeal for 4,000 capping bricks to complete the restoration of seven accommodation bridges being restored along the Dogmersfield to Odiham length. The appeal marked the Society's contribution to European Architectural Heritage Year.
* The steam dredger crew announced an 'open day' in February for members to inspect the newly renovated dredger and see her in steam. Members were also invited to submit suitable names — she is now aptly named Perseverance.
* The Society's annual income was reported to be £7,059.05 against an expenditure of £4,561.74.
* Concern was expressed at a Public Meeting, organised by HCC following their first year of canal ownership, about 'the possible noise nuisance from high speed motor boats'. It was explained that a 4 knot limit was likely to be enforced.
* As a result of the canal bed being ploughed over east of Little Tunnel Bridge, Up Nately, concern was expressed over the protection of the bridge. This led to it being registered as a listed structure.
[back to top]
MAGAZINE SCENE - Dieter Jebens
Thanks are due to the monthly magazine Canal and Riverboat for sending a copy of the December issue with the promise of more to come. The waterways press is helped by the free news and pictures sent under the PR banner by canal society press officers. Not that we expect any payment because, of course, most press officers/PR consultants get paid for their endeavours by their clients. So, full marks to the editor of Canal and Riverboat, Sandra Wickins, for recognising the fact that canal society press people are unpaid volunteers.
Readers who may not be familiar with the Waterways press, can choose from the following magazines available through most newsagents:
Waterways World. 80p monthly.
Now in its 14th year and first edited by ex-IWA General Secretary Bob Shopland. Printed on good quality paper and well presented, the December issue features a family's life on working boats, a canal trip on the Grand Union Canal and a report on restoration of the Huddersfield Narrow Canal (last month the Basingstoke was featured). Keith Goss reviews the delights of cruising round the Midland canals and there's an article on fitting out the editorial narrow boat 'Kottingham' plus 'European Commentary' edited by Hugh McKnight.
Canal and Riverboat. 90p monthly.
The December issue has an attractive colour picture of a narrow boat in a winter canal schene. Looks rather like Crookham Deeps but isn't. There's a pen portrait of Sheila Davenport who has been seen more than once on the Basingstoke. Then there's a feature on six newcomers to canal cruising who took a week's holiday on the Leeds and Liverpool, and a 3 page article by Anthony Burton (probably the best writer on waterways) exploring a newly opened length of the Kennet and Avon Canal.
The development of inclined planes is chronicled and the Thames gets a photo feature. Plus a boat review — holiday boating in 1939 and how to install a domestic water system in your boat.
Narrow Boat. 80p monthly.
Newcomer to the canal magazine scene, started last year by Harry Arnold and Niall Allsop late of C&RB.
The December issue has a superb winter colour cover picture of a canal scene guaranteed to make any boatman batten down the hatches and gather round the stove.
The accent may be on narrowboats but the coverage is a mixture of today and yesteryear. There's a holiday boating article, a trip on the Lancaster Canal and Mike Beech's experiences organising a boat rally. An article on commercial carrying on the Oxford and one on the rigours of 'Christmas Cruising'.
The feature of the month (for us) is a 4 page photo review of Alec Harmsworth's 3 month attempt in 1913 to reach Basingstoke in a narrow boat of the same name (he finally got stuck at Basing). Some of the pictures have been published previously, but others are startlingly new — quite a scoop. Then there are the inevitable boat building and fitting out articles.
Motor Boat and Yachting. £1.25 monthly.
As its title indicates, MB&Y's boating interests extend far wider than inland waters but editor Alex McMullen always includes canal news and a feature which is often refreshingly different. The Society's publicity leaflet is a reprint from an article that appeared in MB&Y.
Waterways. Quarterly. Free to members of the Inland Waterways Association.
The IWA's official magazine which perhaps suffers a little from too many 'standing orders'. Highlight is probably John Gagg's 'Waterway Cuttings' in which he reviews what the papers say. Whether you read it or not, you should join the IWA. Phone 01-586-2556 for details.
Windlass. Bi-monthly. Free to IWA SE Region members.
After wasting away, this once influential branch magazine has been resuscitated by its new editor, R.H. Perks.
Navvies. Free to subscribers to Waterway Recovery Group
Details of voluntary canal working parties from Chesterfield to Chichester. Lively content despite the specialist content. Contact: Alan Jervis on 0423 60067.
Waterways News. BWB House Magazine.
Editor Sheila Doeg expertly manages to cover in-house domestic staff news with waterways news and current affairs (including the non-BWB Basingstoke on occasion) giving the newspaper-style publication interest to external readers too. Available free to callers at Melbury House, or by subscription, phone 01-262-6711, ext. 6365 for details.
[back to top]
Feature Page
COLT HILL -PAST, PRESENT AND FUTURE - Chris de Wet
With changes about to occur at Colt Hill, Odiham, this seems an appropriate time to reflect on this site of such great significance to the history of the Basingstoke Canal. One of the earliest references to the Wharf at Odiham at Colt Hill Bridge appears in the press announcement regarding the opening of the Canal. This announcement is dated August 14,1794 and was issued at Crondall. In this Odiham is one of "The Wharfs for receiving Goods on the Line of the Canal" and it states that "All Goods, Wares, and Merchandise .. . will be forwarded by the Barges in succession with all dispatch". Further "Warehouses, sheds, pens, and other accommodations, are preparing at the several Wharfs". The other wharves referred to were at Basingstoke, Basing, Winchfield, Crookham, Farnham Road, Ash, Frimley, Purbright (as spelt in the announcement) and Horsell.
The beginning of the 19th century saw a decline in traffic to Basingstoke due to lack of water and hence the increase in local trade to Odiham helped balance the Company's books. In 1804 the Chairman reported a considerable fall in the trade of timber felled in Odiham and Winchfield offset however by a new source of trade which had been "lately opened, with malt and flour from King's Clear". Further very significant local traffic during the early part of the century was of course chalk from the various pits at Odiham.
In 1813 it was reported that the Wharves at Odiham (at that stage not owned by the Company) had fallen into decay in recent years. Robert Bland, the Company's Chairman, visited them in July of that year and commented that they "exhibited a face of distress and desolation and were in want of every kind of convenience ... having been for many years in the hands of an indigent and very indolent man". As a result most traffic to Alton and beyond was now going to the Famham Road Wharf at Aldershot to which point it paid a much lower toll.
As a result the Company bought both the Great and Little Wharves for about £1,000 and spent further large amounts on buying the crane and other structures, rebuilding the warehouse, establishing new coal pens and building the Wharfinger's house. These works were completed in the autumn of 1815.
The Great Wharf was positioned opposite the newly constructed wharf from where the 'John Pinkerton' operates (on the south eastern corner of Colt Hill Bridge). The Little Wharf was on the south western corner of the Bridge between the landing stage at the 'Water Witch' pub and the bridge.
Three specific buildings were the Wharfinger's house, stables and the Tally Clerk's Office. The Office was positioned immediately adjacent to the south-east of Colt Hill Bridge on the Great Wharf site and the Wharfinger's house and stables are adjacent to the site of Little Wharf.
The construction employed for the stables in particular was somewhat unusual. The structure is positioned at right angles to the canal and hence built down the slope. The courses of bricks were laid parallel to the slope rather than horizontally!
In the late 1890's a revival of traffic on the Canal was brought about firstly by the building of the brickworks (and 100 yard long Brickworks Arm) at Up Nately and secondly by the shipment of bricks from there commencing on 13th January 1899. The 'Mabel' left on that date with 15,000 bricks bound for Mapledurwell and Basingstoke. February saw 18,000 bricks dispatched some of them bound for Odiham. These were samples for local builders' use. This traffic brought about a temporary revival in trade on the Canal but due to the poor quality of the bricks the Hampshire Brick & Tile Company went into liquidation in January 1901. This failure sealed the fate of the upper reaches and regular traffic from and to Odiham Wharf ceased about this time. The occasional load of chalk to Woking continued to 1904 however.
The auctioning of the Canal in 1949 with the resul­tant formation of the New Basingstoke Canal Company, from whom the County Councils purchased the Canal, saw the sale of various buildings along the Canal. Amongst these was the Wharf House at Odiham which was sold for £900! The stables at Little Wharf were retained by the Canal Company however and so are now owned by Hampshire County Council.
And so to the present and, indeed, the future. The Tally Clerk's Office, a listed building, hopefully will be renovated in the not too distant future and will comple­ment the developments to occur in the area of the existing car park. This development will take a few years to reach completion but will as envisaged include an octagonal building to be erected by HCC for use both as a sales and information facility and toilet facilities. In the short term, hopefully this winter, the car park will be properly surfaced and temporary toilet facilities will be provided along with the necessary sewerage facilities for the future. (Related to this it will be of interest to note that the Tally Clerk's Office was used as accommodation by Odiham's official 'Remover of Night Spoil' during the late 19th century!)
The stables are likely to be used in the future by HCC for general storage of equipment and materials.
In closing it is interesting to note that the pleasure boating facilities at Colt Hill are by no means new. The predecessors to the activities of both the Society and Bob Benford go back to at least 1883 when Henwood and Porter were active there!
Acknowledgements are due to Paul Vine and his book "London's Lost Route to Basingstoke" — a few still available from the Society, see Newsletter 118 — and David Gerry, one time Chairman of the Society and now Canal Manager for HCC.)
JUMBLE SALE
Civic Hall, Fleet, on Saturday April 20th. Please save your Jumble — further details in the next Newsletter.
[back to top]
County Call
MORE RESTORATION PROGRESS
In Surrey the Council has made good progress dredging the 1/2 mile length between Hermitage and Brookwood Bridges. While this work will continue until next Spring, water levels through Ash to Deepcut are once more being raised following remedial work to seal the leaking embankment, which stopped the civic re-opening of the centre length last June. British Waterways Board engineers have been consulted and concurred with the action taken by the Council's civil engineer to overcome the seepage. As we went to press water levels through Ash were reported to be within 12 inches of the operational height.
Also in Surrey, the Society's full-time team — Martin Smith and Ron Wheeler — supported by Frank Jones, are continuing to work on the Deepcut flight. Although the 14 locks are restored and complete with new lock gates, a good deal of adjustments are needed to make them operational. In particular the relative heights of lock gates, by-pass weirs and towpath have to be checked and corrected to ensure there will be no danger of flooding when a full head of water is re-introduced. The team expect to reach Lock 25 and beyond in the New Year.
Further down the canal, at Brookwood, the YTS team is completing the restoration of Lock 13.
In Hampshire two County Rangers have been re-building silt traps on the streams that enter the canal at Broad Oak. The work is expected to be completed by the end of the year. Two other Rangers have been felling dead trees and thinning out others along the towpath at Fleet and along the Ash Embankment.
[back to top]
BOAT LICENCE FEES INCREASED
The licence fee for a single seat canoe is increased by 50p this year from £3.00 to £3.50. The fee for a motorised craft, up to 14 ft. long, increases by £2.00 from £10.00 to £12.00.
Engine sizes will be restricted, in the interests of protecting canal banks. 1/3 h.p. per foot is regarded as adequate and a maximum of 3/4 h.p. per foot may be permitted. With the provision of public slipways, non-towpath riparian landowners will be allowed to moor one boat permanently against their land.
The construction of a boat lay-by will be granted, wherever suitable, although boats up to 7 ft. beam can be moored without the need for a lay-by.
A charge of 50% of the annual craft licence will be charged for permanent moorings, subject to established restrictions. Boats moored in specially constructed lay-bys will not be charged mooring fees.
Landing stages may be constructed, using approved materials and design.
Editor's note: With slipways now available at Farnborough Road Bridge and at Barley Mow Bridge, Winchfield, we hope more members with boats will make use of the canal. Remember, navigation helps keep the channel clear. Although the length between Dogmersfleld and Fleet has not yet been dredged, shallow draught boats (John Pinkerton at 1 ft. 10 ins. has no difficulty) can get through, offering the entire 16-mile pound from Ash Lock to North Warnborough for cruising.
[back to top]
PEN PORTRAIT
"That'll mean all the mystery will have gone", was the reaction of working party leader L.E. Haworth of Woodham Lane, Woking, when we asked him to feature in this new series of 'Pen Portraits'.
Better known as Pablo and rarely without his hat (worn indoors as well as outside), it is certainly true that little is known about him in spite of having been a Society member, and an active one, since 1972.
Pablo joined Tim Dodwell's working party (one of the few approved by the Canal Company), clearing the towpath through and on the outskirts of Woking. But the parties tended to be spasmodic in timing, so, in September 1973, he started his own group. Four months later the first Canal Society member, Peter Cooper, joined him working at Lock 1 on 6th January 1974. "Except when the weather was cold", says Pablo (and we suspect he means excrutiatingly so), "I have organised at least one working party every month ever since". And the evidence will remain for very many years to come. From towpath clearance, Pablo progressed to patching up Lock 6 and on to much more ambitious work in restoring Lock 5 and now Lock 4. Asked why he got involved he says,typically, "Canalhas to be restored, think it, do it". He is also matter of fact over his ability to be successful, acknowledging the support he gets from volunteers like David Junkison who 'trained' on the Deepcut flight and took their expertise eastwards to Woodham.
Born 47 years ago, in Peru, his father was in the cotton business and, as the surname might indicate, came from Lancashire. Aged eleven, Pablo came to England to be educated at King Edward VII grammar school at Retford. He recalls his first association with a waterway when he used to run down the towpath of the Chesterfield Canal to ogle at the high school girls on the opposite bank!
Leaving school, Pablo studied aeronautical engineering at Imperial College and joined Vickers Armstrong, at Weybridge, in 1964, where he still works to-day as a CNC Programmer.
He married Jill in 1962 and they have two children: Kathleen (19) and Philip (17). He lists his hobbies simply as: house (to which he has done a great deal of work himself), car (an essential piece of canal restoration equipment) and canal restoration.
A little of the mystery may now have been revealed, but what makes him the character he undoubtedly is will remain his secret. (DJ)
[back to top]
VOLUNTEER LENGTHSMEN PRAISED
The Society's voluntary lengthsmen are greatly appreciated by Surrey's Countryside Officer, Mr Raymond Stedman, who finds their reports on the condition of the canal extremely useful. Small problems which are spotted and reported early enough can be corrected and save the possible need to greater expense later if left unattended. Some lengthsmen even help keep their lengths tidy by removing fallen branches and trimming towpath banks. But Mr Stedman asked us to remind all those involved that actual adjustments, such as the control of water levels, must be left to County Council staff. This is because what is done in one pound will affect the navigation elsewhere. Voluntary lengthsmen should restrict their work to reporting any problems and not attempt to take remedial action.
[back to top]
SOCIAL JOTTINGS

Hampshire — vacant; volunteer required
Surrey —vacant; volunteer required
Information: Hampshire — Fleet 7364; Surrey — Byfleet 44564
Social evenings with a varied selection of slides, speakers and subjects continue at Woking and Fleet.PLEASE SUPPORT THESE EVENINGS as they are organised for your benefit. Non-members and friends are very welcome.
WOKING SOCIAL EVENINGS: All at the Christ Church Hall, Town Square, Woking (50 yards from Centre Halls)
Monday February llth 8.00pm
Our friends from the Kennet & Avon Canal Trust present a restoration progress report illustrated with slides.
Monday March llth 8.00pm
The well known waterways personality and now a Vice President of the Society, John Humphries, will present a film evening entitled "The Gota Canal, Sweden". The Gota Canal is one of the most spectacular canals in the world and runs for over 300 miles from Gothenborg to Stockholm through beautiful scenery, passing through lakes, passing historic castles and includes on its route some impressive staircase or "riser" locks. Not to be missed.
FLEET SOCIAL EVENINGS: All at the Prince of Wales (Baronial Room), Reading Road South, Fleet.
Wednesday January 23rd 7.45pm
A slide show presented by the Ramblers Association entitled "Thames Walk". Everyone has their favourite Thames spots but this show takes you from Putney 156 miles along the towpath and remote footpaths to the source. A fascinating journey with fine river views, handsome towns and villages all the way. Hear too about the unique problems that face this embryo long distance path and of the missing Thames ferries.
Wednesday February 27th 7.45pm
David Gerry, Hampshire County Council Basingstoke Canal Manager, has recently returned from two months in the United States and Canada undertaking his Churchill Award Fellowship. He will present a slide show based on his experiences on that continent entitled "A Look at North American Canals and Waterways". David's particular interest was to see how North American country parks, canals and rivers provide facilities for full enjoyment by the disabled. This slide show will however cover all aspects of interest to the canal and waterways enthusiast and also to those who just like beautifully scenic slides.
New Members
Bradford Family - Farnborough Bamber Family - Cove Mr R.M.R. Chacksfield - Alton Mr P.R. Linzey - Woking Vass Musson Family - BasingstokeBright Family - Church Crookham Thomson Family - Brookwood Pickup Family - Woodham Mr B.A. Bearne - Dorchester Mr H.H. Speck - Guildford Robinson Family - FinchampsteadFlaton Family - Basing Shimmen Family - Sunbury on Thames Evans Family - Woking Mr M. Chatfield - Worthing Jones Family - Fleet Bisacre Family - WokingFriend Family - Farnborough Moxey Family - St Johns Mitchell Family - Frimley Green Mr H. Bailey - Leatherhead Meredith Family - Jacobs Well Mrs C. Speight - London W12
[back to top]
Letter to the Editor
Dear Editors,
Having received the November Newsletter, I have two suggestions to make. That before the Society seriously thinks about clearing the towpath in Surrey, they wait until the County Council gets the mechanical means of keeping the newly cleared section kept cleared. I have cleared the Sheerwater section twice; it is now a jungle. I see the boat rally is going to be held on the second weekend in June. Last year it was also held on the second weekend, which meant that it clashed with my working party. Because of this I 'unofficially' opened the top Surrey pound all on my own, before the official party was stopped by the stop planks at Heathvale Bridge. Perhaps this year people like myself could meet on the weekend following the official 'do'.
Yours sincerely, Pablo.
PRINTS FROM NEWSLETTER PHOTOGRAPHS
Prints size 8"x 6" of photographs showing contemporary events (not historical) published in the Newsletter, are available, subject to the photographer's approval, at £1.50 each including post and packing. Part of the proceeds will be donated to the Society funds. Cheques and Postal Orders should be made payable to the Society's official photographer: C.N. Durley and orders sent to the Editorial Office (see back page).
[back to top]
GONGOOZLERS' GOSSIP
HEAR that various lengths of film shot over the years by Mike Hammersley are now being processed with a view to reproduction on video cassette in the future.
ENTREPRENEUR is talking of chartering the 'John Pinkerton' next year on a regular basis specifically for Australian tourists. Specific requirement is to carry 400 pints of Fosters for each trip!!!
CONGRATULATIONS are due to Cranley Onslow, MP, one of our Vice Presidents, who has just been elected as Chairman of the Conservative Party 1922 Back Bench Committee.
THANKS are due to the Southampton Canal Society for a donation of £25, to Joan Green for a donation of £50 and to an anonymous Member for a donation of £50.
NEW Transit has been acquired by the Society. It is an X-registration that has done 24,000 miles. Very upmarket compared with its predecessor.
PROJECTED excess of income over expenditure for this year is some £5,000. Mainly due to enormously successful season by 'John Pinkerton'.
FURTHER to recent "Fancy a Flight?" venture Colin Ward, Silcroft, Mill Lane, Yateley, Camberley, Surrey, would like to hear from those interested in further such flights. Phone Yateley 875088 if you prefer.
KEYS found by John Pinkerton mooring at Colt Hill. Claimants please contact Peter Fethney, phone Fleet 5524.
"BOATS" book now out of print that was published by the Society has been rewritten by Tony Harmsworth for publication by HCC. Gives details of the history of the various barges and narrow boats that plied the Basingstoke.
VOLUNTEERS for positions of Treasurer and Sponsored Walk organiser still being sought. Applications to the Secretary please!
QUESTION and Answer sheet at Lock 4 expands on the efforts made by the Society volunteers. An idea to be copied elsewhere?
GLAD to hear that Judy Gerry, wife of HCC's Canal Manager, David Gerry, is making a good recovery after a spell in hospital. Get well soon!
GENEROUS donation of canal slides made by Mrs Bunyan as contribution to slide collection used by the illustrated talks group. A keen prize-winning photographer — thanks Bunny!
HELP prepare John Pinkerton for the 1985 season. Painters and general maintenance jobs every weekend. Volunteers phone Dick Abbott, Fleet 7183 for details.
CONGRATULATIONS to Ken and Denise Halls on winning £250 cash prize and a quantity of paint for the Society in a Dulux community projects competiton.
BOAT owner annoyed because he was refused canal licence for a 14ft boat with 45 h.p. motor!
[back to top]
COPY DATE FOR MARCH NEWSLETTER: 15th JANUARY 1985
Published by the Surrey and Hampshire Canal Society Ltd., a non profit distributing company limited by guarantee, registered as a Charity.
Editors: Dieter Jebens, Chris de Wet. Production: Jo Evans.
Collation and Distribution: Janet and George Hedger, Clive Durley and Helpers.
Editorial office: 60 Middle Bourne Lane, Farnham, Surrey GU10 3NJ. (Farnham 715230).
Chairman: Robin Higgs, 18 Barnsford Crescent, West End, Woking. (Chobham 7314).
Vice-Chairman: David Millett, 14 Dinorben Close, Fleet. (Fleet 7364).
Hon. Treasurer: Peter Fethney, 5 Longdown, Courtmoor, Fleet. (Fleet 5524).
Hon. Secretary: Philip Riley, Meadow Vale, Guildford Road, Normandy. (Worplesdon 234776).
Membership Secretary: Bob Trott, 24 The Greenwood, Guildford, Surrey GU1 2ND. (Guildford 570082).
Working Party Organiser: Mike Fellows, 30 Reynards Close, Winnersh, Wokingham, Berks. (Wokingham 787428).
Dredger Manager: Andy Stumpf, 37 Higham Road, Chesham, Bucks. (0494 785720).
Working Party Information: Peter Jones, Aldershot 313076 and Peter Cooper, 01-993 1105.
Trip Boat: Ron Hursey, 119 Keith Lucas Road, Farnborough. (Farnborough 519619).
Sales Manager: Aubrey Slaughter, 37 Fir Tree Way, Fleet. (Fleet 23102).
Mobile Sales Stand: Martin Bowers, 162 West Heath Road, Cove. (Farnborough 513095).
Talks Organiser: Pauline Hadlow, Beaulah, Parkstone Drive, Camberley. (Camberley 28367).
Exhibitions Manager: Phil Pratt, Flat 5 Fleetwood Court, Madeira Road, West Byfleet. (West Byfleet 40281).

[back to top]