.

No. 118
November 1984
| | |
| --- | --- |
| | 1,2 |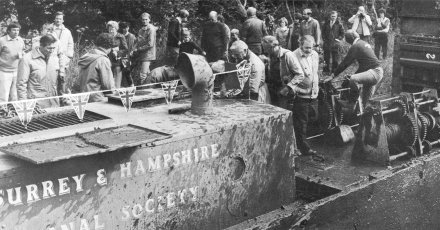 3

Inside front cover --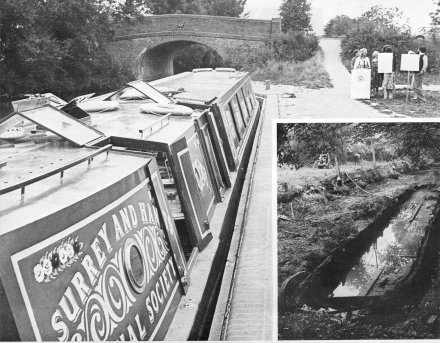 1,2
Comment - A PLAN OF ACTION
Efforts to complete restoration of the canal's centre length earlier this year highlighted the essential need for a detailed work schedule. Such a discipline not only has obvious practical benefits in exposing the problem areas and working out solutions in advance to save time and effort, it also provides a yardstick by which to assess progress.
The Society has been pressing Surrey County Council, at their monthly Forward Planning meetings, for a plan of action to complete restoration. Surrey has now agreed to formulate a draft schedule for discussion at an early future meeting.
It is over ten years since restoration work on the canal started. And it's 17 years since the Society was formed with the aim of promoting restoration. A target date would give all parties involved with the project a more definite objective to aim for and heighten public interest and support to help achieve the aim. Like the giant barometer we've all seen, charting contributions towards the Church Roof Repair Appeal Fund, or whatever, a target gives both organised groups of people and individuals a greater incentive to contribute more, or for the first time, to achieve the objective.
Every enterprise needs a challenge. Ours is not just to restore the canal but to re-open the navigation as soon as possible. Perhaps that is why the Inland Waterways Association has chosen to hold its National Rally of Boats on the Kennet & Avon Canal in 1988. Someone has suggested 1989 for the IWA's annual rally on the Basingstoke. But would 1987 not make more of a challenge for the re-opening of this canal?
YOUR VIEWS AND COMMENTS ARE WELCOME
We'd like to hear from more of our readers. Your views, comments, reminiscences or ideas anything of interest about the canal or of possible benefit to the Society is welcome. Following the last Newsletter, Dr. H. Hamilton-Hislop of Woking wrote to tell us he'd met Alison Colville, a County Sound presenter, and passed on a copy of our Newsletter. Mr. L.A. Teddy' Edwards of Ashtead wrote giving us the name of an expert on embankments he knows who might give us some useful advice on the repair of Grey-well Tunnel. Several ideas came from David Smith of Richmond, Surrey. He suggested we might offer back numbers of the Newsletter for sale in special binders. He also came up with the idea of producing sets of postcards (historical, restora­tion, scenic) of the canal. And Lewis Harris, secretary to the Hampshire Basingstoke Canal Anglers Association wrote in support of our suggestion for an information centre at Colt Hill. He said that this would be a useful outlet for selling fishing permits as well as the Society's sales items and to provide visitors with informa­tion about the canal's history, current restoration and future amenity facilities.
Please drop us a line (or telephone) if you have any ideas, profitable or otherwise, which might prove useful to the Society.
Some few years ago we were invited to a Christmas party where we met a member of SCC's exhibition unit. Naturally we got onto the subject of exhibitions and Surrey's involvement in the canal. We mentioned that we had a lot of interesting material about the canal but nowhere to display it. It emerged that Surrey had a Porta-kabin available and, from this chance meeting, the Society collaborated with the Council in the design of an attractive travelling exhibition of the canal's history and restoration work. It toured the entire length of the canal and was visited by thousands of people who learned something about the canal for the first time.
And it started when two strangers met over a Christmas drink .. . Whilst on the subject of seasonal events, since this is the last Newsletter this year, at the risk of being a little premature, our best wishes to all our readers for a happy celebration ahead.
[back to top]
PHOTOGRAPHS
FRONT COVER:
'Perseverance' Open Day held on the canal at Dogmersfield (1)
TVS cameraman and recordist found plenty of action and sounds of the dredger at work,
(2) Martin Bowers did a brisk trade from his towpath sales stand,
(3) Visitors inspecting the mud stained dredger believed to be the only one of its kind still at work. INSIDE PAGE:
Canal-side protest at Colt Hill - see 'Politics come to the canal' inside.
(3) Summer work camp volunteers take time off aboard the 'John Pinkerton'.
(2) NB 'Seagull' uncovered at Up Nately by Stan Meller and a team of volunteers - story inside.
(5) Bank piling between St John's Locks 10 and 11 during the summer work camp and
(4) volunteers clearing Lock in preparation for restoration.
Photographs by Clive Durley, Geoff HaUiwell (Seagull) and George Walsh, Hampshire Chronicle photographer (Colt Hill demo.)
[back to top]
WORKING PARTIES and Progress - Peter Cooper
Now is the time of the year when the weather is less appealing for active work on the canal but don't be put off by this. The restoration on this canal is becoming very much appreciated these days as one of the biggest such jobs going on in the south, and a lot of favourable comment is to be heard. People are becoming aware that something rather impressive is happening in the restoration of the Basingstoke Canal. So come along and help, and give the passing visitors even more to admire.
The working parties operating are listed below. You are advised to contact your working party leader, a few days before attending, just in case of a last minute change of plan; this is particularly true around the Christmas-New Year period, where special arrangements may be made in some cases.
St Johns (or Goldsworth) locks Every weekend
Chamber restoration of Lock 11 is now complete, and the parties formerly working there have now moved to Lock 8. At this new work site, the first job being tackled is the rebuilding of the wing walls, starting with the lower ones.
Work at Lock 9 is now well into its stride and benefiting from the considerable progress made during the work camp. The first chamber wall is three quarters of the way up, and work has now started on both the lower recess walls.
Visiting groups are now, at times, being set to work on Lock 7, where, following chamber clearance during the work camp, the bottom cill is being excavated and recast.
The coordinator of the Society's work on this flight is MIKE FELLOWS on Wokingham 787428, and for further details you should contact him or one of the working party leaders listed below.
(PJ)
1/2 Dec 29/30 Dec 26/27 Jan
Lock 9
(AG) 11 Nov
9 Dec 13 Jan
(JW & TG)
17/18 Nov 15/16 Dec 12/13 Jan
(EC)
24/25 Nov 22/23 Dec 19/20 Jan

Lock 8 (KH & PR)
10/11 Nov 8/9 Dec 5/6 Jan
JW - Jules Wood - Farnborough 515737 TG - Tony Gould - 01 941 3014 AG - Alan Grimster - Brookwood 6127 PJ - Peter Jones - Aldershot 313076 KH - Ken Halls - Woking 23981 PR - Peter Redway - Woking 21710 EC - Edwin Chappell - Ashtead 72631
Some workers on this flight may wish to spend the whole weekend here, particularly if they have a long journey to make, and may be looking for accommodation. When a visiting group is present, it should be possible for other workers to join such a group at their accommodation. Such groups will be visiting on 3/4 Nov, 10/11 Nov, 8/9 Dec and 15/16 Dec. If you wish to lodge with the visitors on one of these weekends, you should contact Mike Fellows to arrange this.
Dredging in Hampshire Every weekend
The 50 year old steam dredger "Perseverance" is now operating by the bridge hole of the swing bridge near to Double Bridge. Progress is good, though the barges are now in need of repairs, but there are still about 3 miles to dredge to Fleet. At the present rate of about a mile a year, it's easy to estimate how long that is likely to take.
The dredger crew are concerned that people in small boats should not be put off by the dredger's presence — the dredger team are happy to see boats go by them, except, perhaps, when they are working close to a bridge, when things may be a bit cramped. To learn how you can join this gallant crew, you should contact ANDY STUMPF on Chesham 785720 or BRIAN BANE on Hook 3627.
Surrey towpath work
First Sunday of the month — 2 Dec, 6 Jan. This party have been working in the Brookwood area, but their working location in the next few months is not yet decided. This is unskilled work suitable for family parties. For further details, including work location, contact BERT and BETTY SCAMMELL on Aldershot 23215.
Lock gate building
Both parties here have completed their main recent assignments — the top gates for Lock 10 and the bottom gates for Lock 11 are all finished. Until the next St Johns lock is ready to be measured for gates, these parties are likely to be doing other, ancilliary, work related to the gates for this flight.
Their dates and leaders are:— first full weekend of the month -1/2 Dec, 5/6 Jan - FRANK JONES on Deepcut 835711 (workshop) or Camberley 28367 (home).
Fourth Sunday of the month - 25 Nov, 23 Dec -ALAN GRIMSTER on Brookwood 6127.
Lock 4 (Woodham)
Second weekend of the month - 10/11 Nov, 8/9 Dec, 12/13 Jan.
This party have, they think, finished building their giant causeway for lorry access; it now awaits the first lorry to try it. In building this they have demolished both chamber walls, all four recess walls, the bow wall and the upper wing walls, leaving only the lower wing walls and the flank and return walls. The County Council will shortly be converting the fence, at the end of the causeway, to a padlocked double gate, so giving a more secure working environment.
The next job the working party will tackle is concreting the chamber floor. For further details contact PABLO HAWORTH on Byfleet 42081.
Lock 1 (Woodham)
Third weekend of the month - 17/18 Nov, 15/16 Dec, 19/20 Jan.
The rebuilding of the main chamber walls is now about five courses short of the top. The lower recess walls, and flank and return walls, are now being demolished. For details of this party, which operates under the auspices of the Guildford branch of the IWA, contact DICK HARPER-WHITE on Weybridge 42074 or ROY DAVENPORT on 01 979 7075.
[back to top]
TEN YEARS AGO - From Newsletter No. 59 November/December 1974
* The Committee allocated £1,000 from £3,000 raised from a sponsored towpath walk to building four pairs of lock gates in its resolve "to see the Surrey locks working again".
* David Robinson, the Society's photographer and archivist, reported receiving a 561b. weight inscribed 'BCN' found in the mud under Swan Bridge, North Warnborough. Thought to date back to between 1788 and 1866 when the canal was known as the Basingstoke Canal Navigation, the weight was probably used to weigh goods sold at one of the local canal wharves. Also sent in: a cast iron mileage plate inscribed '27 miles to the River Wey' found in the woods near Broad Oak Bridge and an oval piate worn as an armbadge by employees of the Woking, Aldershot and Basingstoke Canal Company which existed from 1896-1900. (Any old finds like these and photographs are always being sought by the current Society's Archivist, Peter Fethney - telephone Fleet 5524.)
* Ron Jesse reported that the dredger "Perseverance" bought from the Kennet and Avon Canal Trust and renovated by our Society Members had been rebuilt and was operational at Colt Hill, Odiham.
* Paul Vine, author of 'London's Lost Route to Basingstoke' the definitive history of the Basingstoke Canal, presented the Society with a copy of the 3rd Edition of his book first published in 1965. Now, sadly, out of print, an updated edition is believed to be under consideration.
[back to top]
DATES FOR YOUR DIARY
Monday November 12th
Wednesday November 28th
Slide evening about the recovery of the 'Mary Rose', Prince of Wales, Reading Road South, Fleet, 7.45pm.
Monday December 10th
Iain Wakefield presents a talk on the 'History of Woking', Christ Church Hall, Woking, 8.00pm.
Wednesday December 19th
Christmas Social Evening featuring Bernard Potter and his scenic slide tour of Yorkshire and its Dales, Prince of Wales, Reading Road South, Fleet, 7.45pm. (NOTE: Third Wednesday this month only.)
1985
Sunday January 20th
"An Evening of Historic Canal Films" presented by John Huntley, Rhoda McGaw Theatre, Woking Centre Halls. Details and tickets from Peter Coxhead (Byfleet 44564).
Monday February 4th
John Humphries presents his film on the Gota Canal in Sweden, Christ Church Hall, Woking, 8.00pm.
Saturday March 9th
Forewarning of the Barn Dance at St John's Hall, Woking.
Saturday April 27th
Society ACM, Courtmoor School Hall, Fleet, 6.00pm.
[back to top]
NB SEAGULL" - THE LATEST DEVELOPMENTS
From the results of a further study of NB "Seagull", the remains of which are in the Brickworks Arm at Up Nately, it appears that this is a much more valuable find than was originally envisaged. It now seems that the bottom of the "Seagull" is longitudinally planked. This is very unusual according to the Curator of the British Waterways Board Museum at Stoke Bruerne. This type of construction dates it toe. 1850 or possibly earlier. As this is the only known example of this type of construction extensive measurements are being taken and drawings prepared.
Towpath working parties
The present party led by Bert and Betty Scammell cannot be working in Hampshire and Surrey at the same time, and their preference is to work in Hampshire. There certainly is, and will continue to be, a need for regular working parties in both counties, to keep the rampant bankside vegetation in check.
So a volunteer is being sought, to come forward and lead a regular bankside clearance party to work in the Surrey half of the canal. Anyone who fancies taking on this job should contact their nearest committee member, or alternatively write to this newsletter, who will pass their letter on.
The cartoon which appeared with a report of the proposed auction of the Basingstoke Canal in the Daily Mirror on 12th February 1949(see "1949 And All That" -Newsletter 117).
[back to top]
Feature Page
"THE DAY THEY ROWED THE BOAT RACE ON THE BASINGSTOKE CANAL"
In 1970 Mr Mark Johns, Campaign Director of the 'Keep Britain Tidy Group', wrote to Les Harris as one of the organisers of the IWA National Rally of Boats held on the Wey Navigation in Guildford that year. He enclosed a collection of poems about the Basingstoke Canal some of which were to be included in an entertainment being staged at the Yvonne Arnaud Theatre as a part of the Rally Programme.
One of the poems was especially amusing. Earlier this year we asked Les to dig them out and upon reading again "The Day They Rowed the Boat Race on the Basingstoke Canal" we enjoyed the entertaining verses and the even more amusing mental pictures the words created.
Sadly on seeking the whereabouts of Mark Johns we discovered that he died last year in Yorkshire under tragic circumstances. We went on to contact the poet himself, Mr Henry Clapp, who became a well known Fleet Street journalist working on the Daily Express under Arthur Christiansen before joining Associated Newspapers. He was Editor of the Daily Graphic and of the Daily Sketch at different times and went on to become the Managing Editor of the Daily Mail.
Now a public relations consultant living in Wimbledon, Mr Clapp recalls being invited to join the "Friends of the Basingstoke Canal" by Mark Johns whom he had taken on as the TV Critic for the Daily Mail. Mr Clapp writes:
"Mark invited me to submit a humble application for membership with two important provisos:
1. I must never have seen, and pledged never to see, the Basingstoke Canal. It was a sacred mystery.
2. On the solemn understanding I must submit some verses about the Canal and, if possible, praise it. My rhymes would be judged by 'the Committee'. "
Mr Clapp added that he still makes a detour when driving in the Basingstoke area in order to avoid "confrontation with the holy waters"!!
The winds of change are blowing, but I've heard my father tell of the year they rowed the Boat Race on the Basingstoke Canal.
Now it's not to be expected that I'll get the details right
But I think the Thames was frozen up to Mortlake overnight.
You could roast an ox at Hammersmith, a swan at Chiswick eyot;
And some clever lads from Putney did — at half-a-crown a plate.
So a warmer, kinder venue for the race the umpires chose
And the place was down at Basingstoke whose tideway never froze
For the simple human reason that the warmth of human drains
Bade defiance to the winter (like the sewage up at Staines).
Oh, they brought the college barges down for tone and dignity
(Though you should have heard the comments from a Basingstoke bargee!)
And to lend a bit of gaiety along the old Canal
They secured some bargain bunting lately rained on in the Mall.
Then the crews and coaches, umpires, No. 5 and bow and stroke
Were transported down in brewer's drays and got to Basingstoke
With the many girl admirers bringing poodle, pug and pooch
From the better parts of Biggleswade and Ashby-de-la-Zouch.
There were parties up from Irkdale and a crowd from Seaton Sluice
And some lads from Walton-on-the-Naze and Wigan on the loose
And a man whose second cousin in his sober, lucid spells
Had invented the gas telephone now used at Tunbridge Wells.
There were also raggamuffin, down-at-heel and shabby folk
From the public schools like Eton going down to Basingstoke
And a cad who'd won a scholarship from lesser Heaton Mersey
With a big rosette and rattle and a Leeds United jersey.
I recall the lady almoner from Peterborough Soke
Who was somehow near-related to the handsome Oxford stroke
And some lovely girls from Kensington and their mama as well
(Though they afterwards protested that they didn't like the smell).
The pubs of course were open in those good old days serene
You could get a drink at breakfast (bless Victoria our Queen)
And a damned great tot of whisky cost you tuppence, and what's more
You could fight the King of Zanzibar on two or three or four.
Now it is to be regretted that the Cambridge Crew and Cox
Had a snifter on arrival at the local Dog and Fox.
On a victory for Cambridge every cantab put his shirt,
For their double-headed penny made the race result a cert.
But the landlord, an Oxonian, whose wife had run away
With a Cambridge undergraduate, persuaded them to stay
With his wily invitations which encouraged them to souse
Such as "Don't be bashful fellows. Have the next one on the house."
So the Cambridge bow, an Englishman from Pittsburgh Pa. and Yale
And the wiry Owen Thomas (rowing 4) from Ebbw Vale
And the lanky ginger Aussie (Jesus, what a handsome man)
Swilled the whisky down with porter, stingo, old, and black-and-tan.
You could hear their lusty singing, and the fight they had when bow
Socked a rude porkpie designer who complained about the row
And the laughter when the yankee, standing on a rocking chair,
Tried to nail his college colours to a wall that wasn't there.
In this state of high elation they embarked with shout and splash
You can say before they started that the crew was well awash.
But alas they hadn't reckoned with the course at Basingstoke
Which as seasoned oarsmen know is not by any means a joke.
The canal is rather narrow and the crew that gets in front
When the umpire fires his pistol must remain there - to be blunt
You can sweat and strain and struggle but when once you're pushed aside
You are just a tail-end Charlie being taken for a ride.
So in consequence the Cantabs were in quite a sorry plight
When their rivals grabbed the lead and stopped their passage left and right
And no alcoholic frenzies could assist them in their case
As the Oxford boat pushed on ahead and kept them in their place.
There were cries of "Oxford" "Cambridge", "Go it chaps" and "Ha-ha-ha"
And the hardest soaks of Basingstoke left drinks along the bar
To enjoy the towpath comment; and a man from Heckmondwike
Used a megaphone for insult on his penny-farthing bike.
There were inches twixt the boats, about the same on either side
It was utterly impossible to get into your stride.
And in pulling hard but vainly the young Welshman (No. 4)
Swept a smashing girl from Masham from the towpath with his oar.
Like the brave Laertes' sister in the play, Ophelia,
She was borne upon the waters with no person heeding her
If her pretty fate was then to be to live or to expire
I'm afraid no single person even bothered to inquire.
It is said on ghostly midnights on the Basingstoke Canal
When the drunken bargees whistle to maintain their blurred morale,
You can hear her mournful singing of the sad days long ago —
If there's any truth at all in this I really wouldn't know.
Now the winning post is straight ahead, five furlongs less or more
And the Cambridge crew, now desperate, step up to 44
And with cries of "up and at 'em" ram their rivals in the rear
And dispose of competition with the shipwreck of the year.
Shouts of "Oh" and "Dirty rotters", "That's not cricket", "Oh, I say"
And of "That's the stuff to give 'em" as the Cantabs win the day
Rowing strongly through the wreckage, over heads of cursing men
And the little Oxon Coxon who was never seen again.
You can well believe the cheering and the celebration drinks
(Though in annals of the boatrace this particularly stinks):
And the kissing and the fighting and unmentionable deeds
On the college barges afterwards that rocked among the reeds.
It is said the Romans, Vikings, Normans, Anglo-Saxon horde
Never caused such frightful havoc as those fellows did aboard
And the plunder, arson, pillage of the old-time Hengist, Horsa
Was a garden fete by contrast. This was infinitely coarser.
0, it's far away and long ago, and now the waters lie
Like a tarnished silver ribbon from the pageantry gone by.
But at least there is a token of the fun of boy and gal —
I was born a little later - son of Basingstoke Canal.
H.E.Clapp
[back to top]
"PERSEVERANCE"CELEBRATES IN STYLE! - Chris de Wet
For the second time this year the Society has had a tremendously successful public event. The celebration of 'Terseverance's" 50th birthday went off smoothly and with great interest not just from the public but also from the Members.
The day itself, Sunday 23rd September, dawned grey and lifeless. It is my good fortune, excepting when anti­cipating the early Sunday morning preparations for an event such as this, to live not far from Double Bridge in Dogmersfield. This of course was to be the prime scene of activity for the celebrations.
Not long after 9.00am David Millett arrived armed with various signs that needed to be erected to direct the traffic. Through the courtesy of Mr Mark Butler of Frank Butler Farms we were able to make use of a field just off Chalky Lane — an added bonus was the discovery that despite the heavy rains that had preceded, the ground was still firm. This rain had revived the canal — from its previous level which was a good 9-10 inches down it was now up to 2 inches ABOVE normal levels.
As the signs went up the weather cleared and a glimmer of sunshine emerged. Upon arrival at the site of the "Open Day "(the site of a now long gone swing bridge between Double Bridge and Chequers Bridge) the scene was one of last minute activity. Martin Bowers had set up the Sales Stand and Vie and Shirley Trott with their helpers had laid on a neatly laid table with various cakes on offer, not to mention tea, coffee and cold drinks.
"Perseverance" of course had been spruced up and proudly wore bunting (a theme repeated from Double Bridge which itself was gaily decked out). All the various equipment had been brought down by tug from Double Bridge. Phil Pratt set up the various photographic ex­hibits and all was ready.
The "John Pinkerton" was running scheduled public trips from the Barley Mow at Winchfield. These had been widely publicised and the intent was to bring people down to the site, give them plenty of time to admire "Perseverance" and avail themselves of the refreshments. Sales Stand etc. As the "JP" arrived for the first trip the whole area was bathed in glorious sunshine. The onlookers "oohed" and "aahed" as "Per­severance" went about her job under the able supervision of the dredger crew.
At that point someone arrived with the news that a television crew was at Double Bridge — could someone fetch them please. A dinghy was dispatched to rescue them and their expensive equipment was entrusted to waterborne transport. The crew were from TVS and they themselves were captured by the emotion of the occasion. They spent a while with us and left (again by water) truly amazed by the spectacle that they had just witnessed.
The "John Pinkerton" made three trips in all from the Barley Mow and brought 100 people or thereabouts to wish "Perseverance" well. The crews and passengers had the unusual experience of leaving the site backwards -a tug had been assigned the task of pushing the "JP" back to Blacksmiths Bridge to wind. The general public arrived (almost) in droves - the car park was filled with about 40-50 cars for most of the day, mostly due to the weather being kind. I believe that probably 300 people in total paid their respects to a grand old lady.
On the fund raising front the day was a great success. The "JP" made £135 in fares and £50 on sales; the refreshments stand turned over £43; the Sales Stand produced £95; and Bob Humberstone sold £12 worth of Grand Draw tickets, gathered in over £20 in donations and signed up 3 new Members!
All in all a truly successful day. Thanks are due to all who helped and it seems fitting to close by wishing a sincere
Happy Birthday, "Perseverance"!
[back to top]
FUND RAISING NEWS
1984 SPONSORED WALK
At the time of going to press, we had received over £4,100 and we are very grateful to all those who have raised and sent us these much needed funds. But there is still a good deal outstanding and Bert Savill, 3 Rushmoor Close, Fleet, Hants is itching to get his hands on your cheques. Please don't delay.
A major feature of the annual SHCS walk is our 50:50 partnership with other organisations and indiv­idual walkers who take the opportunity to help us and another favourite charity, school or association. Our very grateful thanks to:
The pupils of Aldershot Manor School — £300
8th Woking Scouts - £160
2nd Knaphffl Guides - £143
Woking District Scouts - £90
Lions Club, Fleet - £45
Mr Hogan for Farnborough Grange Junior School - £38
Concordia Club, Woking - £61
Ealing National Trust (Mr and Mrs Sharp) - £162
Robin Murrell (8) and Dawn Murrell who gave us and Woking District Multiple Sclerosis Society £31 each
Heathcote Memorial Middle School, Ash - £32
The Students of Farnborough Sixth Form College - £100
1st Four Marks Rangers, Alton — £34
Duke of Edinburgh's Award Scheme, 'GOLD WRUSH'-£81
Janet Brazier — £13 for us and also Abbeywood Old Folks Home
There's more to come and if any reader can help to ensure that the money comes in soon, that would be much appreciated by all concerned.
[back to top]
200 CLUB 1985
Feeling lucky or just generous? Want to help with restoration and support the Society in its work but lock restoration or dredging are not really for you? Well, all you need is a pen, and envelope and a stamp. If you can afford one pound a month, or better still, a single payment of £12, the minimum subscription to the 200 Club, you can help to make substantial funds available. The more who join, the bigger the prizes — 50% of the proceeds are returned to the members — and the greater the benefit to the SHCS. Please join the Club for 1985 or renew your subscription if you are already a member. And talk your friends and families into joining! Details can be had from Derek Truman, 91 Tavistock Road, Fleet, Hants. (Fleet 3435).
August winners were:
£37 £18 £10 £10 Mr B. Wood - £37
Mr Clive Durley - £18
Miss K. Watkins - £10
Miss V. Spilling - £10

[back to top] WELCOME TO NEW MEMBERS
Williams Family - Church Crookham
Mr H. Davis - London NW10
Fry Family - Guildford
Davey Family - Aldershot
Fensome Family - Horsell
Miss J. Newman - Farnham
Miles Family - Owlsmoor
Miss J. Turner - Church Crookham
Dale Family - Odiham
Mr H.L. Frampton-Jones - Carshalton Beeches
Logan Family - Bracknell
Coney Family - Chobham
Mr R.G. Thumwood - Basing
Mr T.C. Pearce - Little Sandhurst
Mr M.R. Clarke - Hersham
Hewins Family - Badshot Lea
Wilson Family - Ash Vale
Mrs D. Huggins - Godalming
Lind Family - Rowlands Castle
Mr R.A. Wyld - Virginia Water
[back to top]
NOTES FROM THE MEMBERSHIP SECRETARY - Bob Trott
The Editorial in Newletter 117 has given me the opportunity to tell you the latest membership figures and to give a little background to future plans. Currently (mid September) we have a total of 1793 Members paid-up; these are comprised of 43 Life Members, 704 Members who pay by Bankers Order and 458 Members who pay by Cash. Of these there are 588 Family Members (counting as two) and 16 Group Affiliates.
This year's new membership total is 110, this figure being slightly higher than at this time last year. Sadly this year has seen a lot of lapsed memberships — 270 in all. In addition we have 121 payments that are lower than the subscription — these are classed as "donations" and thus not included in the membership total.
It had been intended to cut off non-payers after the warning earlier in the year but in view of the large numbers they received a further reminder instead of Newsletter 117. At this stage we will have probably cut some Members off in error. This is due to a number of unrecognisable Bankers Orders — if anyone recognises such an order in the name of "Surrey Amenity" or pays through either the Arole Bank Ltd or Commercial Bank of Near East, please let me know.
Following June Sparey's suggestion made at the AGM membership forms have been distributed at a number of local libraries and the possibility of using 'free news­papers' to include either a form or an article is being investigated. A further idea is the use of Freepost or pre­paid membership forms for a recruitment drive and a decision on this is to be taken shortly.
Gordon Scott has undertaken this recruitment drive and 2 different styles of poster are being prepared for publicity. These will be aimed at the casual enquirer at work sites as well as for more general purposes. Applic­ation forms for membership are available from me or from Committee Members, should you need a supply.
[back to top]
In the News
WORK CAMP 1984 - Mike Fellows
The 1984 Work Camp held at St. Johns turned out to be one of the biggest and most ambitious ever held on the waterways. During the period from 28th July to 15th August over 80 people visited us, some for just a couple of days but many for the full 2 weeks. People came from a variety of sources — our own working parties at St. Johns; Lock 4 and Lock 1 working parties; the Kent and East Sussex Canal Restoration Group; last year's Work Camp; the Kennet and Avon Group and via the Waterways Recovery Group publicity (which brought many new faces). They came from far and wide and included 2 lads and a girl from America, a girl from Iceland and another from West Germany.
Ken Parish (who led the Camp) and myself had planned for about 30 people per day but as the number rose to up to 45 people we had to consider whether we would declare the Camp full. In the end we decided to accept everybody who applied as there was plenty of work though the accommodation was going to be tight. Woking Council had again leased us the old baker's shop and flat just across the road from the work site; an ideal location. Unfortunately fitting 40 people into it was a problem but we managed by using every available space (only 6" between the beds!) and nobody complained!!
The work allocated to the Camp was to build the top gates for Lock 11; pile the pound between Locks 10 and 11; concrete the top cill of Lock 9 and cast the bottom quoins and demolish the offside chamber wall; to build the bypass channel at Lock 7 and to remove the silt from the chamber. There was also a stop plank base to install at Monument Road Bridge. This was a daunting set of tasks involving some of the most technical jobs undertaken on the canal.
The lock gate team led by Frank Jones completed the top gates in 11 days — a new record. They are now in the canal (the gates, not the team!) above Lock 15 awaiting a more suitable time to fit them at St. Johns.
The piling was the most prestigious job of the Camp as 150 metres of the towpath bank between Locks 10 and 11 had to be piled. A new deeper recessed pile was to be used — each of which was 10 feet long and weighed 1 cwt. By Sunday afternoon the team, led by Tony Duff in (a previous Work Camper), were ready to drive the first piles. Nobody had driven piles of this size before so we were very apprehensive. We were all only too aware of how easy it would be to make a mess of the job and as it was very much in the public view we knew it had to be perfect.
Fortunately Roy Warner of the Kent and East Sussex CRG turned up at this stage. He had had experience in supervising this type of work on the Regents Canal so he was able to set the job up properly and keep his eye on progress. The key to the job is a gate which consists of two big baulks of timber separated by the thickness of the piles and long enough to take 4 piles at a time. This is cantilevered out over the canal and weighed down with 20 or so piles to make it absolutely rigid thus stopping the piles flopping around. Armed with this device the piles were kept under control and it was possible to drive a near perfect pile every time. Unfortunately being a new pile the driving attachments were also new and, as it turned out, untested.
Within 10 piles each yoke (the adaptor which sits in the piling gun) broke and as we only had 3 it was obvious we weren't going to make much progress. It turned out that there was a design fault and so the firm which supplied them (nobody else could) then tried to get as many as they could from all over the country. By the second week Martin Smith was spending virtually all his time chasing new yokes and getting old ones welded up. This managed to keep us going most of the time but only with one team instead of the two we would have liked to have run. Thus the job was only half done — we prob­ably could have finished it; most frustrating.
Lock 9 saw a lot of work which included the demolition of the offside chamber wall, re-building the top cill which included installing the bump piece and laying the 12" thick slab of concrete which used 12 cubic metres of ready mix. The bottom hollow post moulds were positioned and the quoin posts cast. Leaders for the job were Dick Whisson from the Kent and East Sussex CRG for the first week and Chris Willis who was completely new to canal work for the second week. Bill Nicholson and six other Kennet and Avon Group members came in for an extended weekend and looked after the hollow posts and concreting of the top cill.
A small amount of work was done by a team led by Edwin Chappell (SHCS) on the top cill of Lock 8; this was eventually abandoned as other work assumed greater importance. Lock 7 was the main work site and saw most of the activity. Brian Gower (Kent and East Sussex CRG) was in charge but he was assisted by Mike Palmer (for the first week) and Cathy Watson (second week) (both from last year's Work Camp) who took responsibility for pipe laying. About 50,2 foot diameter, 5 cwt. pipes were laid to form the bypass channel. This involved the use of a self-drive crawler digger (KHIS) and a JCB-type machine complete with driver. By the end of the Camp the channel was 99% complete. The other job was the clearance of the chamber which had several feet of very black, smelly mud and rubbish in it. The clearance was mainly done using a Kubota KH8, a small crawler digger, but nevertheless a lot had to be removed by hand and there was plenty of scope for getting dirty. Several people were covered from head to foot in mud as spirits got a little high. They seemed to enjoy it though!
The final job was at Monument Road Bridge where a stop plank base had to be installed. This was done with a small team led by Mike Palmer and assisted by Hymac. Saturday morning saw the arrival of two loads of ready mix and by mid-afternoon the job was completed — despite the Hymac catching fire!
This amount of work required vast support. At its peak we had 7 dumpers, a MF 40 digger, a JCB digger, a Hymac, 2 crawler diggers, 2 compressors and a large assortment of generators, pumps, breakers, etc. We consumed (well not US actually) 100 gallons of diesel, 200 gallons of petrol, 40 tons of ballast, 5 tons of cement and 25 cubic metres of ready mix. It has brought the St. Johns flight back to life after 6 months away on the top pound — it was equivalent to about 1 year's work of our normal working parties.
A contractor doing this work probably would have cost about £15,000. Despite the hard work everybody enjoyed themselves. A full programme of social events was laid on which included trips on the "John Pinkerton", visits to other parts of the canal and to other canals, slides, films (pres (presented by Phil Pratt and friends) and barbeques etc. The real highlight was the food. The cook for the first week was Len Collins assisted by Soo Duffin, Ros Claugher and others. Large quantities of good whole­some food was dished up which included roast lamb and roast pork. The second week saw Bob Sellick in charge and the already high standard was lifted to a new level as Bob is a professional chef. We had superb meals which included roast beef, an amazing pizza, chicken lasagne (!) and much, much more. How Bob and the others coped with cooking for up to 40 with only one cooker and a Baby Belling in a tiny kitchen, I shall never know. The results were excellent and showed no signs of the difficulties under which they must have laboured.
The organisation and support for a Camp of this size involved everybody around and really was an excellent example of how interconnected the Council, the full time workers and the volunteers are. Martin Smith dealt with most problems on a day-to-day basis and by the end of the camp was on full-time support for us. The wardens kept us supplied with pipes and piles and the countryside team organised the diesel, WRG supplied us with vans for transport and an assortment of cooking gear. Council Officials Ray Stedman, Douglas Brown, David Sayee, Gerrard Briefly and Dennis Cavey all made visits to the site and were not only impressed with the amount of work but also by the high standard achieved.
The enthusiasm for what was happening is difficult to describe and only from being part of it could one appreciate it. A quote from a letter received after the Camp from Dave Webb of Lock 4 sums it up:
"Thanks for a very enjoyable time; I just wish I had come down for the full two weeks. I never realised what a good atmosphere there could be at a Work Camp".
I've not really mentioned all the people who helped but there were the ladies who supplied us with scones and cakes; and Dorothy who helped with the meals; the people who lent us equipment; and those who put in time to help prepare the accommodation. I know that everybody who helped in any small way can feel proud to have been part of the most successful Camp ever held on the canals.
Finally, I advertised the Camp as the last ever on the Basingstoke because no suitable sites would be available next year. However everybody wanted to book in for next year and so as a result of the new skills acquired and the proof of being able to take on new and complicated jobs and do them well, I am reviewing the situation. At present I cannot say what will happen but I am looking at various jobs. By the end of the year I should know whether a Camp can be run and what form it will take.
[back to top]
SOCIAL JOTTINGS
Volunteer wanted Volunteer wanted Fleet 7364 Byfleet 44564
Social Secretaries
Hampshire — Vacant
Surrey — Vacant
Information — Hampshire — Surrey
Social evenings, with a varied selection of speakers and subjects, continue at Woking and Fleet. PLEASE SUPPORT THESE EVENINGS, they are organised for your benefit. Non members and friends are very welcome.
WOKING SOCIAL EVENINGS: All at the Christ Church Hall, Town Square, Woking (50 yards from Centre Halls) — See Diary column.
FLEET SOCIAL EVENINGS: All at the Prince of Wales (Baronial Room) Reading Road South, Fleet.
Wednesday 24th October, 7.45pm Members film and slide evening. Bring along your films or slides of waterways at home and abroad. Holiday trips, cruises, boat rallies etc., or slides of an unusual waterway. Preferably telephone Fleet 7364 first or alternatively just bring along your films or slides on the evening.
Wednesday 28th November, 7.45pm
Frank Gough, of the Mary Rose Trust, will present a slide evening featuring the raising of the Mary Rose and the work of the Mary Rose Trust. This would seem quite topical considering that we are hoping to raise the remains of the hull of the "Seagull" from the bed of the Brickworks Arm of the Basingstoke Canal next year.
Wednesday 19th December, 7.45pm. (Note — Third Wednesday this month only)
Christmas Social evening featuring Bernard Potter who will give us a scenic slide tour of some of the beautiful landscapes of Yorkshire, and will include the rivers and the Dales. Bernard Potter is well known to the Society both as a local Fleet resident and as the printer of the Society newsletter.
[back to top]
FREE FISHING OFFER TO MEMBERS
In Newsletter 117, under 'Gongoozlers Gossip', we gave the address of the Secretary to the Hampshire Basingstoke Canal Anglers Association to whom Society members could apply for a free permit to fish in the canal.
We've been asked to point out that the offer applies only to the Hampshire length of the canal and that applicants are asked to comply with the following application procedure: * State your name, address and S&HCS membership number (printed on the envelope containing your News­letter), plus your membership category i.e. family, individual etc.
* Enclose a stamped, addressed envelope size 6" x 4".
Applications should be made to: Mr Lewis A. Harris, Secretary, HBCCA, 24 Hampton Court, Woolford Way, Basingstoke, Hants. RG23 8AZ.
[back to top]
BRITISH WATERWAYS 1985 CALENDAR
British Waterways Board's large pictorial one month to a view 1985 Calendar has been published and is available for purchase.
The 12 full colour photographs capture many of the wide range of activities which can be pursued on the Board's inland waterways in England, Scotland and Wales. For example, a lockside scene of holiday makers enjoying pleasure cruising on the Shropshire Union Canal contrasts with the splendours of a Scottish High­land scene observed from the Caledonian Canal. Inland waterway transport, which offers safety, environmental and economic benefits to both users and nearby communities, is represented by the view of a modern 700 tonne tanker on the Aire and Calder Navigation in Yorkshire.
The Calendar costs £3.00 per copy plus 65p postage and packaging and is available, cheque with order, from the Information Centre, Press and Publicity Office, British Waterways Board, Melbury House, Melbury Terrace, London NW1 6JX.
[back to top]
LETTERS TO THE EDITOR
THOSE GOOD OLD DAYS ON THE CANAL
(This letter appeared in the "FleetNews" 24th August 1984)
The marvellous work put into restoring the Basing-stoke Canal, calling on hundreds of volunteers, is reflected in the large stretches of canal that have been cleaned out, locks repaired and the increased use of the waterway for use by pleasure boats slowly and peacefully recalling those days when the canal was a very popular leisure and pleasure centre for thousands of local people.
The water is so much cleaner now after the 10-year rescue operation, the towpaths cleared of overgrown shrubs and grass —just like it used to be.
I wonder if it will ever return to its former glory, though. Literally scores of boats were seen on the canal and the towpaths crowded with families out for a Sunday evening walk, anywhere between Mytchett Lake and Tuppers, the riverside inn, now renamed The Swan.
Tuppers was the ultimate rendezvous for both walkers and rowers, with the lawns stretching down to the water and the tables on the lawn liberally covered with beer glasses, lemonade and the inevitable crisps.
Or, if you wanted something more substantial, how about a "ploughman's" (or a "bargee" as some people called it, owing to quite a number of barges using the canal). A "ploughman's" consisted of %lb. of butter, 4 large pickled onions, a tomato and a pint of mild and bitter for just one shilling the lot! An attraction at Tuppers was the maze in the beer garden, modelled on the famous maze at Hampton Court, and if you had one too many it presented a bit of a problem getting out of it.
I've seen many exasperated or frustrated people break their way through the shrubbery instead of following the paths. Alas, the maze was done away with after the war, to become a building plot.
Of course, it was not only boating that the canal was famous for — there was bathing in Mytchett Lake and the Flash and a nice little spot up by Eelmoor Bridge which was called Sandy Bay because it was one of the few parts of the canal that had a sandy bottom and just right for bathing.
The canal was equally famous for its fishing and probably the best-known name in that field was my friend Bill Raison, who must have taken more fish out of the canal than anyone I know. He spent many a night sitting in a boat in the middle of Mytchett Lake no matter what the weather was like.
Another name synonymous with the canal is that of the Harmsworths, who owned the boathouses at Ash Vale and Frimley Green. They built boats as well as hiring them out; I think hiring was a shilling an hour in my young days.
Not that I was a particularly enthusiastic boatman, because just after the First World War my father took my mother, my brother and myself for a row and nearly overturned the boat. No, he hadn't been to Tuppers!
I never went rowing again until 20 years later, in the Second World War, when I was on an assault course — and that was not by choice!
The canal was used on one occasion as the location for a film requiring a river background. I can't remember who was in it, but I know it was supposed to represent a "raging torrent" — and to think I used to paddle in the "torrent" right up to my knees. A very nice walk if you had the time was from Pyestock to Queens Avenue. There were plenty of refreshment venues on the way if you wanted them — the Forest Cafe by Eelmoor Bridge and then two cafes on the Farnborough Road Bridge - one each side — and my ideal stretch of towpath for blackberries.
Yes - some good times were had by all and the canal is still giving enjoyment to many people, thanks to the great work put in on its restoration. — A.E. Pancott, Winchester Street, Farnborough.
(A letter sent to Hampshire County Council's Boat Licence Clerk, Mary Harmsworth)
Dear Mrs Harmsworth,
Water water everywhere
There's not enough to float
I'd ask you for a licence
But I haven't got a boat!
Please let me have one later
When the Canal is nice and tight
And soon all will be happy
When the Council's put it right!
Yours sincerely,
DAVID GOODWIN,
Alban Lake Road, Deepcut, Camberley.
Dear Editors,
We have been members of SHCS for some years now, having lived in Basingstoke for 26 years and before that, by the canal in Sheerwater Road, Woking for 4 years. We also helped with clearing the towpath in the Odiham area in the late 60's and early 70's — but have only walked along the banks more recently.
Six weeks ago we came to Belfast, for 2 years, and thought you might be interested in the enclosed cuttings from the Irish Times. We were in the Republic a fort­night ago and went to see the Royal Canal on our way back, saw the stretch near Thomastown and walked from one bridge to another, in glorious sunshine, where it looked very much like a stretch of the Basingstoke Canal between Odiham and North Warnborough.
A glance at the map of Ireland will show that the Royal Canal runs from Dublin to the Shannon, connecting East to West. Yours sincerely, JOHN and EDITH WIGZELL, 7 University Avenue, Belfast.
Editor's Note:
The cuttings enclosed from the Irish Times include the following:
"TIMES PAST"
"A real live canal is to come to the Auction Mart shortly. The canal is that which connects Basingstoke with the River Wey, and so gives access from the Hamp­shire town to the Thanes. The canal is 3 7 miles long, has 29 locks, is crossed by 70 bridges, and is capable of bearing barges of about 65 tons. The work was constructed about the year 1790, and of an area of 384 acres more than half consists of the waterway itself. It belongs at present to the Woking, Aldershot and Basingstoke Canal Company, and is to be sold by order of the Court.
"The Irish Times, August 2nd 1904."
[back to top]
WATERSIDE WATCH - David Millett
Following on from the article in the May newsletter the current situation as at mid-September is as follows:—
KILN BRIDGE LAND ADJOINING ST. JOHN'S LOCK, WOKING
The Society has been successful in getting the proposed development reduced from three storeys to two and the latest scheme will probably be passed by Woking Borough Council. However discussions are now taking place on the possibility of redevelopment of the Tyre Centre at the back of the site and in addition now that the Prince of Wales pub has closed this site may well be incorporated as well. So overall the whole aspect of development may well change here, but the Society will continue to fight for the best possible 'green' area to be left near to the lockside.
THE CANAL FLASH SITE OFF ARTHURS BRIDGE ROAD, WOKING
The owners of the land, which includes the flash, are not now going to appeal against the refusal of Woking Borough Council to allow the flash site to be developed, but have instead drawn up revised proposals to allow dwellings to be built around a redredged winding hole. In principle the Society would be happy with this but we have reservations regarding the density of the proposed development and the size of the winding hole which must be sufficient for a full length narrow boat to turn. In addition it would be essential for Surrey County Council to acquire the winding hole so that it was under their management.
FREELANDS FARM/VELMEAD FARM/LITTLE ANSTICE, CROOKHAM VILLAGE
The Inspector's report on the local Inquiry that was held in April has now been published and accepted in full by Hart District Council. He has supported our views that the vista from the canal over Freelands Farm must be protected and development of this site will not now take place during the currency of the new Local Plan which extends to 1988. However, it still may well be threatened in the future so a close watch must still be kept on the situation.
HATCHWOOD FARM, ODIHAM
Charles Church have now decided to appeal against the recent refusal by Hart District Council to allow development of this site, which is on the non towpath side of the canal between the Odiham By-pass Bridge and Colt Hill and an Inquiry will be held in December. We shall be represented to present the case that has already been made by the Society. This site is not included in the revised Hart District Plan so a strong case can be made against development both on canal and planning grounds.
[back to top]
BLISWORTH TUNNEL RE-OPENED AFTER FOUR YEAR CLOSURE
Blisworth Tunnel, on the Grand Union Canal in Northamptonshire, which has been closed to public navigation for four years, has been re-opened by Sir Leslie Young, CBE, DL, Chairman of British Waterways Board, after completion of a £43 million repair programme. Sir Leslie, leading an official party on board two inspection vessels, re-opened the northern entrance by cutting a tape. Then the party travelled through the tunnel to view the completely re-lined centre section where pre-cast segmental concrete rings have replaced 1,000 yards of defective brickwork in the one and three quarter mile long tunnel.
The opportunity to commence the extensive investigation programme necessary before the repair work could begin came early in 1982 when finance was allocated. This followed the announcement in 1981 by the Government that additional finance was to be provided to assist the Board in tackling the substantial backlog of maintenance on the waterways and associated structures. The Blisworth Tunnel relining work is the largest repair project which the Board have undertaken and restores the direct canal route between the South of England and the Midlands.
Blisworth Tunnel was opened in 1805. It was the last section of the Grand Junction Canal (now Grand Union Canal) to be opened and traffic was taken over Blisworth Hill by tramway until the tunnel was opened.
Boats were propelled through the tunnel by 'legging' until 1871 when steam tugs took over. A replica of the first tug "Spider" followed at the rear of the official convoy. Deterioration in the brickwork lining caused the tunnel to be closed to navigation for reasons of public safety in the Autumn of 1980.
[back to top]
MORE DREDGING OF THE FILM ARCHIVES - Tony Rozelaar
Following the highly successful presentation in July by Woking's New Cinema Club of John Huntley and his fascinating programme of canal and railway film from the archives, it looks as if there is going to be a second chance to see his rare clips of the Basingstoke Canal (see September '84 Newsletter) during an evening of historic film devoted entirely to canals being arranged to take place in the Rhoda McGaw Theatre at Woking Centre Halls on Sunday, January 20th 1985.
What else is John Huntley likely to introduce. One distinct possibility is a special screening of the Elstree Film Studios' own archive copy of that cinematic evergreen of the waterways world "Painted Boats". Made in 1945, it shows the Grand Union with all the commercial traffic there was at that time and bargees legging it through the Blisworth Tunnel when it was all part of a hard day's work.
It is also hoped to persuade John Huntley to bring along another superb film which is exceedingly rare and which he just happens to own! This depicts a trip by horse-drawn barge along the length of the Regents Canal in about 1924. It is a quite unforgettable record of this bygone mode of water-borne travel and during the course of the journey there are many unique glimpses of other forms of transport also long gone.
John Huntley is a leading exponent of this type of presentation and anyone who has spent an evening in his company will tell you how enjoyable it is and how infectious is his enthusiasm! So do make a note of the date (January 20) and tell your friends about it. Watch the local Woking press or telephone Peter Coxhead (Byfleet 44564) for further details. In due course tickets should also be going on sale at the Woking Centre Halls Box Office.
[back to top]
In the News
POLITICS COME TO THE CANAL - Chris de Wet
There I was, on a peaceful late summer's evening, quietly minding my own business, as were the other "John Pinkerton" crew members. Indeed this description might even be applied to the group of people who had chartered the "JP" for the evening — the local branch of the National Union of Journalists. (Well maybe THAT'S stretching the imagination a bit!)
As I was saying all was well — we were about to wind (always reminds me of my 4 month old daughter) the "JP" to head East, the first trip in that direction for several weeks (at least since the memorable trip by the Mid Hants Railway Society which ended up by stern hauling back from the Thatched Cottage where the canal had been dammed for pipe laying).
I digress. Who was that group of people converging on the "JP" from the direction of the bridge? Unfurling things and waving sticks with cards on! Goodness — a real live "demo"! All complaining about the plight of imprisoned Jews in Russia.
You don't believe it? Neither did I but I have the photo's to prove it. Needless to say none of the crew had a camera but by some fluke one of the NUJ chaps did. Thanks, George Walsh, for the pictures — something for the archives.
The cause of the demonstration turned out to be the presence of a Russian journalist on board who had been invited by the NUJ and the protesters were from the local Guild of Jewry.
A first for the Basingstoke?
[back to top]
SURREY STARTS DREDGING AGAIN
After a summer break, for natural history conservation reasons, Surrey County Council has resumed dredging work to clear the &-mile canal length between Hermitage Bridge and Brookwood Bridge.
Prior to Hymac excavation, the Council's canal wardens tackled the potentially tricky job of moving the two houseboats lying above Hermitage Bridge. The boats were successfully moved one length towards the bridge and positioned alongside each other on steel sleepers in what is effectively a dry dock situation. A temporary catwalk has been erected so that the owner of the houseboat nearest the opposite bank can gain access to his home from the towpath.
It is anticipated that the dredging will be completed early next Spring. Surrey's countryside team has been piling more than 100 yards of the canal's bank at Lock 28. The work is expected to be completed by the time this Newsletter is published. *Following clay puddling to seal the leaking embank­ment at Ash Vale, Surrey plans to slowly increase the water level and carefully monitor the effect.
[back to top]
KEEP MIKRON AFLOAT
"As I left the pub, what stayed in my mind was the picture of a rather plump nine-year old who had been sitting on one side of me and one of the pub's older regulars who'd been sitting on the other. Both had chuckled away throughout the evening, both had watched the serious parts with concern, both had clearly had a good time. When the closing song came, the little girl followed the lyrics in her programme with the straw from her Coke bottle, the man with a pint of bitter in his hand, and both sang heartily the refrain, "Still carrying, still carrying, still carrying on." In the circumstances could there have been a more ironic conclusion to the evening?"
[back to top]
ARTFUL REPORTER JUNE 1984
Most people with any kind of interest in waterways will be aware by now that our future is threatened by the Arts Council decision to withdraw our grant-in-aid at the end of the year.
We have been given no reason except that we do not fit into the Council's new strategy of getting the arts out to the regions!
Thousands of you have signed our petition, hundreds of you have written personal letters to the Arts Council but all of this has failed to reverse what we know to have been an ill-considered, off-hand decision.
Perhaps the editorial of 29th August, 1984, in the Gloucestershire Echo sums up most people's feelings:—
"The basic idea of having a benevolent and progressive body to ensure that art in all its many aspects flourishes and is given room for expression is an excellent one. But the Arts Council seems unable or unwilling to draw the line between the truly creative and the nonsensical, while at the same time diverting cash from art and entertainment for the masses to prolix and abstruse posturings for the few."
Despite having been dumped without warning by the Arts Council, we are determined to keep going.
We shall continue to seek financial help from Regional Arts Associations and Local Authorities, and we shall attempt to raise sponsorship from large organisations unconnected with the waterways and who will know little or nothing about our work. But in order to survive we need your help as well — you, the readers and advertisers of this magazine. The waterways system of this country was saved from dereliction despite wilful govern­ment short-sightedness. Mikron can be saved in the same way if we all decide that a unique part of our heritage is more important than government strategy.
We, in co-operation with Waterways World, Narrow Boat, and Canal and Riverboat Monthly, have set up a "Keep Mikron Afloat Appeal Fund". Don't forget we are a registered charity (No. 265159).
Is your company prepared to sponsor Mikron to a small or large degree? Please let us know as soon as possible so that we can discuss details.
Have you, as an individual, considered covenanting a sum of money to Mikron? It doesn't matter how small the amount, it just means that we get the benefit of the tax you pay on it — and not the tax man! Request a Deed of Covenant form from the address below.
Or would you like to donate an amount of money, however small, to our Appeal Fund? Please make cheques payable to the "Keep Mikron Afloat Appeal Fund" and send them to Mikron Theatre Company, 31 Warehouse Hill, Marsden, Huddersfield, West Yorkshire, HD7 6AB.
We will, of course, keep you informed of developments, including the response to this appeal, in future issues of this magazine.
Editor's Note: Press statement received from Mikron Theatre Company.
[back to top]
SURREY & HAMPSHIRE CANAL SOCIETY PRICE LIST - WINTER 1984/85
Available from Aubrey Slaughter, 37 Fir Tree Way, Fleet, Hants GU13 9NB. Tel: Fleet 23102. Cash with order please. Cheques, etc, payable to Surrey & Hampshire Canal Society Ltd.
GOODS AVAILABLE BY POST
Society Publications - Price Postage
Guide to the Basingstoke Canal NEW .75 - .17
Towpath Walks by the Basingstoke Canal .50 - .17
Waterside Inns of the Basingstoke Canal .40 - .17
History of the Basingstoke Canal .50 - .17
All four titles above 2.15 - .50
Other Goods
Sweatshirts with Society Logo (only small stock held — may be to order only dependent on size/colour)
Small (36), Medium (38), Large (42), Ex. Large (44). Colours: Navy Blue, Wine, Green. 8.50 - .85
Tea Towels: Narrow Boats — blue or yellow, Castles — green, Principal Canals, Operation of Canal Lock, 1.40 - .25
Canal Code, Quiet Waters, Waterside Pubs, Waterside Plants
"Adelina" the story of a Basingstoke Canal Houseboat 4.95 - .50
Members Enamel Lapel Badges .75 - .17
Boat Race Game 1.00 - .25
Members Ties 2.00 - .17
Members Car Badges 1.50 - .25
The following may be added to an order for any of the above without futher postage charge or separately at .17 postage.
Yellow & black badges - .10
Note Pads - .15
Ball pens — round with cap, white or yellow - .18
Ball pens — triangular Red, blue, black, green, orange - .30
Car Stickers - .20
Leather bookmarks — various colours - .50
Painted pendants & brooches, roses design - .60 & .75
Painted Coasters - .55

GOODS NOT AVAILABLE BY POST
Ceramic Dishes (Ash Trays) green, grey, tan - .75
Mugs — brown, with token emblem - 1.20
Mugs — grey & blue - 1.55
"Hang It" hangers for tea towels - .45
Hand painted miniatures — roses design - 1.20
Painted spoons - .90
Painted brushes - 1.65
Balsa models — narrow boats, open - 1.50
(either as motor or butty) closed - 1.60
Balsa model-hire craft - 130
Cut outs — canal boatman & woman; canal horse each - .20
SPECIAL OFFERS ON PAUL VINE BOOKS
"London's Lost Route to Basingstoke" — the definitive history of the Basingstoke Canal (now out of print)
American Edition — signed by the Author. £12.50, plus £1.00 postage and packing.
"London's Lost Route to the Sea" — a history of the Wey and Arun Canal. £7.50 plus £1.00 postage and packing.
A VERY LIMITED NUMBER OF THESE BOOKS IS AVAILABLE.
"Pleasure Boating in the Victorian Era" Paul's latest publication. £7.50 plus £1.00 postage and packing.
[back to top]
BOOK REVIEW
"Walks in North-East Hampshire " by the North East Hampshire Group of the Ramblers Association (Published by Paul Cave Publications Ltd.)
Ten walks are covered in the book in the area bounded by Bramshill, Yateley, Fleet, Crondall, Odiham, Well, and Hook and includes the Greywell area. All the walks are of between two and six miles in length and are all circular returning to the starting point. The book includes some excellent photographs and each walk is complete with a sketch map.
As well as describing the route itself general descriptions of the historical aspects found along the route are included, an example being a good brief history of Odiham or King John's Castle adjoining the canal at North Warnborough. This is part of the Odiham, Greywell and Basingstoke Canal walk.
Any members wishing to explore some of the beautiful rural scenery of North East Hampshire will be well advised to buy this booklet which is a very useful complement to our own booklet 'Towpath Walks by the Basingstoke Canal". It is good value at £1 and can be obtained from the Fleet Bookshop of Beacon Books in Fleet or direct from the publishers, Paul Cave Public­ations Ltd, 74 Bedford Place, Southampton at £1.20 (post paid).
(David Millett)
WATERWAY WALL CHARTS
British Waterways Board in conjunction with Pictorial Charts Education Trust, have produced two colourful wall charts and accompanying teachers notes, covering the themes of "Canals" and "Life Afloat".
The "Canals" chart describes how the man-made canals were built some 150-200 years ago and features pictures which show the different methods of construction and maintenance which have developed. The centre of the chart highlights, in a simple to understand diagrammatic form, the major engineering features which are to be found on canals, for example a tunnel, embankment, water supply reservoir and locks. ,P> The social and family life of the people who lived and worked on the waterways in the days when the narrower canals provided an important mode of freight transport in this country is the subject of "Life Afloat". This features historic photographs, some hand coloured, which vividly bring out the detail of life afloat under the spartan conditions which existed and which have left us with a rich legacy of folklore and traditions, many of which modern pleasure users of the canals continue to sustain.
Both charts measure 38" x 30" and they come folded flat with four pages of specially prepared notes in a plastic wallet for ease of mailing. They are priced at £3.90 per copy (including postage) and are available from the Information Centre, Press and Publicity Department , British Waterways Board, Melbury House, Melbury Terrace, London NW1 6JX.
[back to top]
GONGOOZLER'S GOSSIP
"JOHN PINKERTON" looks set to make £12,000 profit this season — a record. Thanks to all crews for ensuring this continued huge contribution to the canal's restoration.
SLIPWAY at Barley Mow, Winchfield should be finished by the time you read this. Plenty of parking and elegantly finished off by HCC.
SALES List enclosed should provide answers to the Christmas gift problem. It's that time of year again.
450 man days work carried out at the Work Camp (or should that be person days!). More than Society's volunteers effort for one year at St John's!
HEAR that there is a preliminary meeting in November to discuss plans for a marina at Pondtail Bridge. SHCS will be represented.
BOAT Rally for 1985 will definitely be at Ash Lock and will take place over the weekend 8-9 June. Book the date now.
SPONSORED Walk in 1985 will take place on Sunday May 19th. Book the date now.
MORE "John Pinkerton" news — likely to be running public and charter trips from Ash Lock for a month next year. Probably September.
SPONSORED Walk has brought in £4,000 to date. All further contributions to Bert Savill, 3 Rushmoor Close, Fleet, Hants as soon as possible please.
YET more "John Pinkerton" news — hear that use of the loo requires caution these days. The floor bearers have gone!
GOURMETS beware. Dredger crews recommend diet of "Scampi Fries" and Courage.
LOCK 11 now complete, Locks 7 and 8 being worked on and reconstruction of Lock 4 is about to start.
CRANE ex Molesey Reservoir (Thames Water Authority) has been acquired and is likely to be installed just to the West of the dry dock. Thanks are due to Adrian Birtles.
GET WELL soon Roger Burchett after your recent accident.
MANY thanks to Marjorie Wright for delivering all the Farnborough bundles of Newsletters for many years. Best wishes for your recovery from your recent illness.
NEWBURY 1988 for the IWA National Rally of Boats. What about Ash Lock for 1989??
DONATION of £50 received from our Member Ralph Rothera of Woking. Many thanks, Ralph!
WALTON Bridge Cruising Club had a 'whip-round' for the canal's restoration fund after a talk given by Teddy Edwards who kindly sent us the £5 collected which is now in the hands of the Treasurer. Thank you.
PHOTOGRAPHS printed in the Newsletter are now available — price £1.50 including post and packing. A proportion of the proceeds will go to the Society. Cash with orders, please, and a note clearly stating the Newsletter number and identifying the photograph required. Prints supplied will be 6" x 8" size. Cheques and P.O's made out to C.N. Durley and sent to the Editorial Office (address below).
[back to top]
COPY DATE FOR JANUARY NEWSLETTER : 15th NOVEMBER 1984
Published by the Surrey and Hampshire Canal Society Ltd., a non profit distributing company limited by guarantee, registered as a Charity.
Editors: Dieter Jebens, Chris de Wet. Production: Jo Evans.
Collation and Distribution: Janet and George Hedger, Clive Durley and Helpers.
Editorial office: 60 Middle Bourne Lane, Farnham, Surrey GU10 3NJ. (Farnham 715230). Chairman: Robin Higgs, 18 Barnsford Crescent, West End, Woking. (Chobham 7314)
Vice-Chairman: David Millett, 14 Dinorben Close, Fleet. (Fleet 7364)
Hon. Treasurer: Peter Fethney, 5 Longdown, Courtmoor, Fleet. (Fleet 5524)
Hon. Secretary: Philip Riley, Meadow Vale, Guildford Road, Normandy. (Worptesdon 234776)
Membership Secretary: Bob Trott, 24 The Greenwood, Guildford, Surrey GU1 2ND. (Guildford 570082)
Working Party Organiser: Mike Fellows, 30 Reynards Close, Winnersh, Wokingham, Berks. (Wokingham 787428)
Dredger Manager: Andy Stumpf, 37 Higham Road, Chesham, Bucks. (0494-785720)
Working Party Information: Peter Jones, Aldershot 313076 and Peter Cooper, 01-993 1105.
Trip Boat: Ron Hursey, 119 Keith Lucas Road, Farnborough. (Farnborough 519619)
Sales Manager: Aubrey Slaughter, 37 Fir Tree Way, Fleet. (Fleet 23102)
Mobile Sales Stand: Martin Bowers, 162 West Heath Road, Cove. (Farnborough 513095)
Talks Organiser: Pauline Hadlow, Beaulah, Parkstone Drive, Camberley. (Camberley 28367)
Exhibitions Manager: Phil Pratt, Flat 5 Fleetwood Court, Madeira Road, West Byfleet. (West Byfleet 40281)
[back to top]