.

No 112
December 1983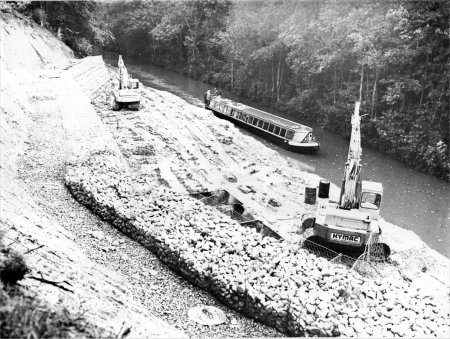 1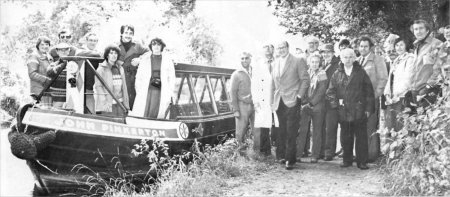 2
Inside front cover --

| | |
| --- | --- |
| | 1,2 |
| | |
| --- | --- |
| | 3,4 |
| | |
| --- | --- |
| | 5,6 |
COMMENT - TEN YEARS ON
The approach of a New Year is an appropriate reminder that it is exactly ten years since restoration work on the Basingstoke officially started. On November 1st 1973 Hampshire took possession of their length of the waterway and work started immediately with voluntary vorking parties clearing the towpath at the western end and Barley Mow bridge hole.
Visions of re-opening the 32-mile canal by the early 1980's have long since become a dream. But for many of us, who recall the sorry state of the navigation ten years ago, can view the progress made to date with satisfaction. Fifteen of the canal's twenty nine locks have been completely restored and fitted with new gates; a further six chambers are well on the way to completion and four more under way. Just four chambers renain untouched. Only five miles of canal are still to be dredged and all major engineering works have been completed. Today the canal is well on the way to being completely restored.
But although the end is in sight, the amount of effort and funds needed to finish the project, on an annual basis, remains as demanding as ever.
Working party leaders are appealing for volunteers to help maintain work schedules, and Derek Truman is seeking your support to make the 1984 sponsored walk an even greater success to help raise more money.
This year the Society has had to face some heavy expenses; over £6,000 to complete the dry dock at Deepcut, a similar amount has been spent on repairs to the steam dredger and tugs, and remember we have our full-time team of four to pay costing over £15,000 a year.
We may be 75% of the way there but the going will be just as tough to complete tho last 25%.
Co-Editor Co-Opted. We welcome Chris de Wet as co-editor of the Newsletter taking over from Chris Brazier. My thanks to the outgoing Chris, supported by his wife Janet, for his counsel and assistance in compiling this publication.
Chris de Wet, a project leader with a computer software company was a member of the Society around 1970 before moving to South Africa. Recently returned, Chris contacted the Society and volunteered to edit the Newsletter - in Captetown he edited the MG Car Club Magazine.
Chris lives at Dogmersfield with his wife Bee and 3-year old daughter Robyn.
WE WISH ALL MEMBERS AND READERS A MERRY CHRISTMAS AND A HAPPY NEW YEAR
[back to top]
PHOTOGRAPHS
FRONT COVER:
(top) 'John Pinkerton', hatches battened down, on the October members trip to Blacksmith's Bridge, passing The Great Gabion Wall at Dogmersfield.
(bottom) Hart councillors and officers embarking on the J.P. at North Warnborough for a trip to Dogmersfield.
INSIDE PAGE
(top left & right) an ex-Thames barge on the canal at Fleet on route to Reading Road Bridge where it was winched out for repairs.
(centre right) Tony Conder, BWB Museum Curator, looks on as Stan Meller and his son Andrew inspect the 'Seagull's' prop shaft.
(centre: The base of the boiler being manhandled onto the bank.
(bottom left) lifting the crankshaft and flywheel clear of 'Seagull' and (bottom right) Robin Higgs and Ken Frericks inspecting the components (see story)
(Photos by Clive Durlcy (front & inside top) and Dieter Jebens. (Seagull).
[back to top]
WORKING PARTIES - Peter Cooper
This being your seasonal Christmas Newsletter, can we suggest that you include in your festive arrangements a visit to the canal, to join in a working party? It is much recommended as an antidote to major bouts of eating, to bring some fresh air and healthy exercise into the system. Then there will be New Year Resolutions to make, and you'll be able to resolve to attend a working party regularly.
The working parties available are listed below. It's usually best to contact your working party leader a day or two before attending? just in case of last minute changes of plan.
St. Johns (or Goldsworth) Locks Every Weekend
Progress continues on three locks on this flight. At lock 11 the flank walls are almost complete, after which the bottom hollow posts will be installed. Then the main job will be to rebuild the recess walls.
At lock 9, the first main chamber wall is now going up, and the lower wing walls are well advanced. The bow wall, at the top end of the lock, is an urgent priority, Lock 8 is mostly worked on by visiting groups. Here the lower cill has been concreted (a huge job in this case) by the Kent & East Sussex group, and the lower wing walls are being demolished.
The Society's co-ordinator for this work is MIKE FELLOWS, on Wokingham 787428, and for further information you should contact him or one of the working party leaders listed below. If you plan to work at the Christ­mas or New Year weekends, you should contact your working party leader to confirm the exact working arrangements for those weekends; the dates given for these weekends are only provisional.
Lock 9 - Doc 3/4 (PJ), Dec 11 (AG), Dec 17-18 (JW&TG), Dec 31 (PJ) Lock 9 - Jan 2 (PJ), Jan 8 (AG), Jan 14-15 (JW&TG), Jan 2S-29 (PJ) Lock 9 - Feb 11-12 (JW&TG), Feb 12 (AG), Feb 25-26 (PJ)
Lock 11 - Dec 10-11, Dec 24 & 27, Jan 7-8, Jan 21-22, Feb 4-5, Feb 18-19 (KH&PR) PETER JONES (PJ) - Aldershot 313076. ALAN GRIMSTER (AG) - Brookwood 6127 KEN HALLS (KH) - Woking 23981) PETER REDWAY (PR) - Woking 21710 JULES WOOD (JW) - Farnborough 515737 TONY GOULD (TG) - 01-941-3014
Dredging in Hampshire Every weakend
The dredger is currently stopped, receiving her first major refit since her arrival in 1974. The work includes making a new clutch, and a number of other jobs are being attended to at the same time. The regular boiler inspection is scheduled shortly, and the ex-Thames mud barge is under repair. The dredger and tugs are also being repainted. Dredging operations should restart in November, when helpers will again be needed. For further details you should contact ANDY STUMPF on Wat­ford 37278 or BRIAN BANE on Hook 3627.
Bankside work in Surrey First Sunday of the month.
This party will continue operations, but the working site is not yet known. For further details contact BERT and BETTY SCAMMELL on Aldershot 23215.
Lock Gate Building Various weekends
Dec 3-4, Jan 7-8,Feb 4-5
The working party building the bottom gates for Lock 10 are continuing work on their second gate. For further details contact FRANK JONES on Deepcut 5711 (lock gate workshop) or Camberley 28367 (home).
In addition, a second lock gate working party is now operating on the 4th Sunday of the month - Jan 22, Feb 26.
This party are working on the top gates for lock 10. For further details and to find out whether this party will meet over the Christmas weekend, contact ALAN GRIMSTER on Brookwood 6127.
Lock 4 (Woodham) Second weekend of the month
Dec 10-11, Jan 7-8, Feb 11-12
Restoration of lock 5 is now complete, and so this party are moving round the corner to lock 4. The first thing to do will be to find lock 4 among the copse that has sprung up around it, and to establish a worksite and lay bare the brick work. For further details contact PABLO HAVORTH on Byfleet 42081.
Lock 1 (Woodham) Third weekend of the month
Dec 17-18, Jan 14-15, Feb 18-19
The bricklaying of the main chamber walls has reached the level of the bow wall, which is above the normal water level, so, for the first time in several years, this party can operate without having to pump out the chamber first. Regrettably, there is also still vandalism on this site. For more details of this working party, contact DICK HARPER-WHITE on Weybridge 42074 or ROY DAVENPORT on 01-979-7075.
PILING Dec 10-11, Jan 7-8, Feb 4-5
This is a special working party to meet a special need. Piling has to be carried out at Anglers Flash, Mytchett, in readiness for rewatering the Ash-Deepcut section of the canal, and the Society has undertaken to do this. This is distinctly a one-off job, and we hope to appeal particularly to people who haven't lately been working on the canal regularly. Further details from PETER JONES on Aldershot 313076.
[back to top]
WORK CAMP
Following the great success of this summer's work camp, it is planned to hold another one next summer. It will again be led by KEN PARISH, of the Kent & East Sussex canal restoration group, and is to start on 28th July and run for two weeks.
SURREY FULL-TIME TEAM
The bankside repairs by Mytchett Lake are now complete, and further piling nearby is being attended to. On the Deepcut Flight, where all lock chambers are restored and all lock gates installed, the finishing touches are now being applied. Meanwhile, as part of the routine, training of the young people on the scheme continues.
HAMPSHIRE RANGERS have continued to build the 'Great Gabion Wall' at Dogmersfield, backed by Hampshire's MSC team, scheduled for completion by Christmas. Emergency repairs have been made to Crookham swing bridge which was vandalised. The bridge will be kept locked until rangers complete repairs and vandal-proof it.
Rangers recently moved one of the Society's 70ft mud barges from Dogmersfield to Fleet for repair. It is probably at least 4O years since a vessel of its size navigated this length. Apart from taking 2-1/2 hours to negotiate Malthouse Bridge, Fleet, the voyage was uneventful.
SURREY RANGERS have now re-filled (with water) Ash Embankment which has not had a full head of water since the breach occurred in September 1968. Bank protection work continues eastwards prior tc re-filling, and rangers are monitoring re-watered stretches for leaks. At present the team is reduced by one with the early retirement of Les Thrumble.
[back to top]
ANNUAL GENERAL MEETING 1984
NOTICE is hereby given that the Seventh Annual General Meeting of the Surrey and Hampshire Canal Society Limited will be held on Saturday, 5th May 1984 at St. John's Memorial Hall, St. John's Lye, Woking.
Following the A.G.M. there will be the customary Buffet Supper. Further details will be given in the next Newsletter.
NOMINATIONS FOR THE EXECUTIVE COMMITTEE
Nominations are now being invited for the 12 seats on the Society's Executive Committee for the year commencing in May 1984. In recent years the level of nominations received for the Committee has never exceeded the number of seats available, and no elections have been held for membership of the Society's governing body. This apparent lack of interest could indicate that members are entirely satisfied with the way in which the Committee handles the Society's affairs. A more likely explanation might be that very few members are really prepared to take on the responsibility of running the SHCS. We can only achieve our aims if we are constantly looking for new ideas and are prepared to adapt to changing circumstances. This in turn means that we need an Executive Committee with the drive and determination to carry the restoration of the canal through to a successful conclusion. So, if you feel that you have something to contribute, why not put your name forward?
Nomination forms are available from the Honorary Secretary (address and telephone number on back page). The closing date for nominations is 15th January 1984.
[back to top]
DIARY
DECEMBER
12 'Thames from Source to Tideway' Christ Church Hall, Woking 7.45pm.
14 Members Christmas Get-together, Prince of Wales, Fleet 7.45pm.
25 A Happy Christmas to all our readers!
JANUARY
9 'Woking & The Basingstoke Canal' Christ Church Hall, Woking, 7.45pm.
25 'Kennet and Avon Canal', Prince of Wales, Fleet, 7.45pm.
FEBRUARY
13 'BWB Canals - Past and Future' Christ Church Hall, Woking, 7.45pm. 22 'Silver Sword Cruising' Prince of Wales, Fleet 7.45pm.
MARCH
12 John Humphries' Waterways Film, Christ Church Hall, Woking, 7.45pm.
[back to top]
ENJOY MESSING ABOUT ON THE RIVER
One of the major facets of the success of 'The Return' has been the role played by the Turn Round Crews. Unfortunately, one of them is unable to carry on next year and so we are looking for a replacement.
A crew normally consists of a couple who are responsible for seeing the returning holidaymakers off the boat, replenishing the essential services, showing the new hirers over the boat and finally wishing their 'bon voyage'. No experience is necessary as tuition will be given.
So, if you are looking for a very pleasant way to spend every 5th or 6th Saturday whilst at the same time having the perfect excuse to mess about on a boat please give Chris Braxier a ring on Aldershot 25460.
[back to top]
'MARY ROSE' OF THE CANALS
"Well, that went off successfully", said Tony Condor, curator of the Waterways Museum at Stoke Bruerne, surveying the crankshaft and flywheel from an old steam engine recovered from a submerged narrow boat at Up Nately. "We told the press we'd lift it at 12 o'clock and we were right on time", we said triumphantly, adding, "It's not often we satisfy the media like that".
But then he had not worked with Stan Meller before, nor perhaps, knew of his reputation for meticulous planning.
The cause of Tony's satisfaction - dubbed the 'Mary Rose' of the Canals certainly attracted the curiosity of both Press and television. In truth, the operation was hardly on the same scale, but Stan and his recovery team faced some similar problems in the task of recovering a delicate structure which had not been exposed for many years. And for canal historians, the recovery was every bit as exciting as raising the famous galleon was to seafaring men.
For 80 years the steam driven narrow boat, believed to have been named 'Seagull' has lain abandoned in Brickworks Arm, a 100-yard cut off the main Basingstoke line just west of Slades Bridge, built to serve the Hampshire Brick and Tile Company.
During the second World War, the boiler was removed for scrap and about 7 years ago a further part of the engine was removed and deposited at Castle Nurseries, Chobham, run by Robin and Peter Higgs.
It was on a visit to the Warwickshire Steam Engine Society that Robin Higgs mentioned the existence of 'Seagull' to Philp Weaver, author of 'Steam on Canals'. Interest spread to the Waterways Museum and soon word got back that the wreck could well provide rare and valuable information on the early development of steam powered narrow boats.
The engine is believed to be a single cylinder Haines of about 10 hp, with a large vertical boiler, of which no surviving examples exist of the period indentified as 1890 by a plaque on the engine.
Haines supplied steam plant to the Grand Junction Canal Co., prior to the Fellows, Morton & Clayton era. Little is known about boats of this early period and so the 'Seagull' will provide a unique 'missing link' to what little is recorded.
Thanks to Mr. Ken Frerick and his wife who own part of Brickworks Arm as part of their property, Stan Meller and other members of the 'rail­way gang' including his sons, David and Andrew and John Peart started work earlier this year. The water level was lowered and weed growth, debris and mud carefully cleared off the pointed stern to reveal the engine.
The crankshaft, flywheel and boiler feed pump together with the large 4'6" boiler base were released and manhandled out using scaffold poles and straps to lift out. Next year the propeller and shaft will be rescued and the rest of the boat excavated. N.B. A short history of the 'Seagull' is included in Tony Harmsworth's book 'Boats from the Basingstoke's Past'. (SHCS)
[back to top]
BOOK REVIEWS
'The Itchen Navigation' by Edwin Course published by the Southampton University Industrial Archaeology Group. Price £1.50 plus 30p postage.
Published in January 1983, this well illustrated 31-page A4 size book traces the history of the ancient navigation which dates back to 1200 when the Itchen was first made navigable to Alresford.
Dr. Edwin Course's book details the re-birth of the navigation between Southampton and Winchester, authorised by an Act of Parliament in 1662. The book takes the reader on a walk along the 10-3/8-mile waterway which had 15 locks, and describes the remaining archaeological features.
An export on transport, Dr. Course has assembled a comprehensive account of the waterway which also makes a valuable handbook to anyone interested in exploring this nearby navigation. Copies available, at the above costs, from Mrs. P. Moore, 'High Trees', 52 Park Lane, Fareham, Hants PO16 7LB.
'Pleasure Boating in the Victorian Era' by P.A.L. Vine, published by Philimore & Co. Ltd., Chichester.
Published in October 1983, this 159-page hardback book has been written by Paul Vine, author of 'London's Lost Route to Basingstoke', and a Vice-President of the Society. The title is perhaps a little misleading since, as the publisher's blurb says, it is an anthology of some of the more enterprising voyages made in pleasure boats on inland, waterways during the 19th century.
Not that the voyages don't make interesting and often amusing reading, but anyone expecting the emphasis to be on boats will be disappointed to find that the Victorians - or at least those who made epic voyages -chose canoes almost exclusively. But if the type of boat is only a means to an end, the waterway adventures by such as Mr. and Mrs. Dashwood from the Thames to the Solent; Jerome K Jerome and companions' famous Thames trip; Warington Baden-Powell's Swedish canoe adventures and Robert Louis Stevenson's account of canoeing through France and Belgium, give us an insight of the participants, places and times.
Those who have read Paul Vines definitive history of the Basingstoke, should expect a similar style, described by the publisher as a 'work of reference'. But nonetheless very readable, especially with such glorious inventions as Lf. Haskett's Boat Cloak which could be worn before being converted into a boat! This and 83 other illustrations make the book an attraction in themselves.
SPECIAL OFFER
The normal price of this book is £9.95. The Society is making a special Christmas price offer of £7.50 (plus £1 postage and packing). Available from A.J. Slaughter, 37 Fir Tree Way, Fleet, Hants GU13 9NB or from the Sales Stand.
[back to top]
JUMBLE SALES ££££££'s
Bert and Betty Scammell wish to thank all those who helped them take £78.45 on October 15th - the day it never stopped raining. Special thanks to Frank Jones for providing transport.
Many thanks too, from Janet Greenfield to all contributors and helpers especially the 'Ash contingent' - who assisted her to make £95 at Yateley on October 29th. Who is going to organise the £100 sale???
[back to top]
MANY HAPPY 'RETURNS' Tony Stevens
Its the spirit that counts. Throughout the 1983 boating season Mike Borrow lent to the Society his magnificent 52ft. narrow boat, The Return, so that members could enjoy a half price boating holiday while adding some £7.50 to restoration funds. How many of us would have been so generous? How many would have had one moment's calm whilst crew, experienced and novices alike, steered their way through the perils of New Haw lock or Henley Reach? And how many would have turned out without so much as a groan to correct a faulty water pump or to keep the cabin heater burning? But even better than this, his generosity and energy proved positively infectious - like so much activity on the Basingstoke.
What makes a man like Tony Mumford set forth (in his ambulance, of course) to beat the lashing tempest of the Thames to once more get the wheels (or is it the prop?) turning? And why should wife, Jan, allow Chris Brazier to take on yet another canal duty - his 23rd I believe - to compose the comprehensive handbook, to organise and entertain the running team, to find friends and contributors through­out the water course and to join the rescue/revival teams whenever needed? A student of sociology would find much to intrigue by studying these leaders and the full back-up team. Richard Tully must be the only man, yet, who can actually find a nook in his garage for yet another acquisition, yet somehow the nook was found and rapidly filled with replacement gas bottles, life jackets, a spare barge pole (needed the very first week) to keep company with 2 cars, 2 motor­cycles, and a pools table!
Of course, all was not sweetness and light and Mike has received some good advice on how to replace the milk bottle crate with a proper step into the cabin. An interesting entry in the log book, reads, "Jimmy came rushing into the cabin, stepped too far onto the edge of the milk crate, and did a dive towards the chair bed. When he came round....". But the next day recorded. "Jimmy much better and there now seems no need for a burial at sea". And a masterpiece of understatement, "As we approached the boat yard we had a slight mishap and unfortunately three windows have to be repaired...".
There must be a reason who so many log entries, recorded nothing, but, "Excellent pub on the right, just after the lock", and, "Emptied loos yet again".
No records were broken unless one counts the enterprise required to negotiate Teddington Lock, tidal Thames and the Grand Union just to get to Milton Keynes or, in a rather different light, the provisions for a week, "A crate of champagne and a large packet of crisps". But the whole exercise must have been outstanding in showing what human relationships can be. Far from the inventory check proving essential to keep tag on losses, each week showed additions large and small from gang planks to potato scrapers... Although it is still not quite clear whether the London A to Z donated really meant that they had hauled her out onto the North Circular. It is firmly expected that the sale of half used squeegee washing up bottles will add to the profits at least another £100! But if not one penny had accrued our sociologist might well have observed that it was all well worth while as yet another indication that there is nothing like the restoration of a waterway to bring out the very best in all concerned. It's the spirit that counts!
Editors Note: Following adoption of the suggested improvements, 'The Return' 'will start operations again on 24th March 1984 with all inclusive prices ranging from £95 to £195 (+VAT). To take advantage of arguably the only 'perk' from being an SHCS member or simply for information please ring Chris Brazier on Aldershot 25460.
[back to top]
FUND RAISING Derek Truman
200 Club Members with little time to spare or who cannot get too involved in the more physical aspects of restoration, can help by joining the 200 Club. A single subscription costs £12 or £1 a month using the standard order form enclosed with this Newsletter. Every subscription means £6 for the Society. If you are an old member, please renew your subscription in 1984. If you are not, join now and give the Society a much needed boost.
AUGUST WINNERS
1. Mr. B.C. Smith £41. 2. Mrs. G. Bennett £21. 3. Mr. S.J.G. Eaves £10. 4. Mr. F.W.P. Radford £10
OCTOBER WINNERS
1. Mrs. B.C. Milsum £4l. 2. Miss D. Maynard £21. 3. Miss G.L, Miller £10. 4. Mr. M.G. Hunt £10
1983 and 1984 Sponsored Walks
Keep Sunday 20th May 1984 free in your diaries for the sponsored walk between Fleet and Woking.
In the meantime, our thanks to all those who participated in the 1983 walk. If you haven't yet sent the money you raised to Bob Humberstone, please do so as soon as possible - his address-: 11 Tichborne Close, Frimley, Camberley, Surrey.
The number of other organisations and schools which joined us on the 50-50 fund raising basis increased dramatically. Our grateful thanks to the following for the amounts received:
Cove Rangers £22.89 Farnborough Grange Junior School £26
Bisley Scouts £56.10 Crown Life Sports & Social Club, Woking £70
Concorcia Club £13 Red Cross Youth Group £22
Nuffield Hospital £190 Eighth Woking Scout Group £84.06
Court Moor School, Fleet £131 Surrey & Hants Inter-varsity Club £46.57
Second Knaphill Guides £21.29 Brookwood Lions £264.66
Fleet Rotoract £33.34 Fleet Leos £141.85
Woking and District Multiple Sclerosis £35.16
There are a few more to come; we are most grateful to these organisations and are glad that both they and the Society have been able to benefit from the sponsored walk. We hope that they and others will join us in 1984.
[back to top]
CHANGE OF MEMBERSHIP SECRETARY
After three years in the post of Membership Secretary, Ted Williams has now handed over to Bob Trott of Guildford. The Society's grateful thanks must go to Ted for all the work he has put in in keeping our membership records up to scratch. The post of Membership Secretary is very important as for all new members he is mainly the first point of contact with the Society whether in writing or on the telephone.
Will all members pleane note the changeover, and, if you have membership forms in your possession, it would be appreciated if you could alter the Membership Secretary's name and address by hand as follows: Bob Trott, 24 The Greenwood, Guildford, Surrey GU1 2ND. Tel: Guildford 570082.
If you have a fair supply please contact Bob and he will provide you with stickers to save hand alterations. Welcome, Bob, and good luck in your new post. It's very pleasing when appeals in the Newsletter produce the right result.
[back to top]
SOCIAL JOTTINGS
SOCIAL SECRETARIES
Hampshire - Vacant - Volunteer wanted
Surrey - Mike Grist - Woking 71581
We are now in the middle of the Winter Social evenings and attendances are generally good but a larger number would be welcome at the Fleet meetings.
Due to the fact that no one seems prepared to volunteer to be the Hampshire Social Secretary, the meetings are being arranged on an ad hoc basis by the Vice Chairman. PLEASE WILL A MEMBER VOLUNTEER URGENTLY. Details of what is involved in organising these meetings can be obtained from Mike Grist or the Vice Chairman, David Millett (Fleet 7364)
WOKING SOCIAL EVENINGS All at the Christ Church Hall, Town Square, Woking. (50 yards from the Centre Halls)
Monday 12th December, 7.45pm. Peter Chaplin of T. Harrison Chaplin Ltd. the specialists in waterside construction and good friends of the Society, will give an Illustrated Talk entitled 'Thames from Source to Tideway' based on his book of the same name. His book will be on sale at the Sales Stand and Peter Chaplin has kindly agreed to autograph copies for members.
Monday 9th January 7.45pm. Peter Barnet from the Press Office of British Waterways Board will give an Illustrated Talk entitled 'Canals - Past and Future'. Time permitting Peter Barnet will also answer general questions on BWB activities.
Monday 12th March 7.45pm. Those exceptionally good friends of the Society John and June Humphries will be showing their latest Waterways film. Enchanting camera work and nice pithy comments full of humerous asides and a lovely soundtrack have been the hallmark of their past films. Its sure to be a magic evening so please do not be late.
The Society Sales Stand will be present and coffee and biscuits will be available.
FLEET SOCIAL EVENINGS All at the Prince of Wales (Baronial Room) Reading Road South, Fleet.
Wednesday 14th December 7.45pm.Members Christmas Get-together
Wednesday 25th January 7.45pm.
Len Dalby, the Editor of the Kennet and Avon Canal Trust Magazine 'Butty' will give an Illustrated Talk on the Kennet and Avon Canal entitled 'Past, present and future'. A chance to see the progress that has been made in the restoration of the canal in the last few year.
Wednesday 22nd February 7.45pm.
The well known Waterways author, writer and journalist, John Gagg makes a return visit to the Society and will give an Illustrated Talk entitled 'Silver Sword cruising'. For many years until recently, John Gagg has been the organiser of the 'Silver Sword' cruising awards on behalf of the Inland Waterways Association, which encourages boat owners to visit the dead end and more remote parts of the cruising canals and waterways of England.
[back to top]
THE LOWER HEYFORD CRANE.An Un-Publicised Working Party. Adrian Birtles.
Late in 1978 Society member David Quilley happened to see an apparently disused Victorian wharf crane standing forlorn beside the Oxford Canal, in the old timber yard at Lower Heyford. Thinking that it would look well beside the Basingstoke, he alerted the Society. After protracted correspondence with the owner of the site (Corpus Christi College, Oxford), their agents, the owner of the crane, and British Waterways Board, £150 changed hands, and the Society owned a crane.
That was in Spring 1980, and the Society then commissioned Stan Meller to make an engineering assessment for the crane's removal from Heyford, This assessment, done with the customary Meller thoroughness, laid the foundation for the work. What no-one could guess from an inspection though, was how much like an iceberg this crane would prove to be.
Working parties under Martin Bowers' direction got under way in 1981. The whole of the superstructure, jib, slewing frame, winding gear etc, were dismantled and brought back to Frimley in a few days work.
There was then an intermission, the members involved becoming concerned with other things, until the job of organising the removal of the king post and spreader castings devolved upon the writer. A determin­ed assault was started in Autumn 1982, but it was not until Summer 1983 that the regular working parties achieved success. This represented about 50 man-days work by Messrs. Dave Quilley, Martin Bowers, Geoff Hudson and Chris Reed.
The problem was twofold. First the logistics of getting men, a diesel generator, pump, hoses, cables Kangos and small tools to a site 65 miles from Frimley for a day's work. Second, was the king post itself.
The post was very close to the edge of the Oxford Canal, embedded in solid concrete, and it went down and down and down (we think that there is a nut somewhere in Australia). It was necessary to keep the excavation within the block of concrete to avoid the risk of a collapse particularly of the canal bank. This made for a very constricted working space, but even so our luck ran out at eight feet below ground (well below the BED of the canal) the original hole evidently tapered towards the bottom, we ran out of concrete on one side and the water and ground came in.
The hole was patched up, but going on down was out of the question, and it was decided to cut off the post as far down as possible. This was mostly done with a disc cutter (unpleasant in a confined space), but had to be finished off with several hours of hacksawing because of the lack of access for the cutter.
After that Frank Jones organised the lift out and transport back to Ash Lock - its future home - with his usual efficiency, and all that was left at Heyford was to fill in the hole.
But what of the future? The crane is a good example of a Victorian wharf crane, although its parentage is uncertain. The Heyford legend is that it was brought second-hand to the timber yard early in this century, having started its life on the railway. It is tempting to think that it might have been designed by I.K. Brunei but......
Anyway it should look well by Ash Lock, and the aim is to have it restored and re-erected in time for the opening of the pound to Frimley next Summer. What is needed now is more working parties. All those interested in something slightly different please contact Adrian Birtles on Camberley 29897.
[back to top]
TRIP BOAT'S SUCCESSFUL SEASON
The 'John Pinkerton' made 33 public trips and 185 chartered cruises this year, slightly fewer than last year, but the operating company expects to increase its profit to £10,603. The increase is attributed to the premium charged for the most popular cruise times - Friday and Saturday evenings - and higher galley takings.
The season ended with three special trips. On October 8th officers and members of Hart District Council were guests of the Society for a cruise from North Warnborough to Blacksmith's Bridge, Dogmersfield. Two members trips took place on October 15th to inspect the engineering work being done to shore up the cutting at Dogmersfield, and view the newly re-opened length of navigation.
Commenting on the season's success, Peter Fethney, chairman of the operating company said, 'We have all those who volunteer to crew the boat to thank, as well as those who run the operation, without whom the task would be impossible".
Next year's season opens at Easter on April 22nd. Charges for hiring the 56-seat boat for a 2-1/2 hour cruise from Colt Hill range from £45 -£60 with pensioner and schools parties at £35. Public trips will cost £1.50 for adults and 75p per child.
Enquiries to bookings manager, Ron. Hursey on Farnborough 519619.
[back to top]
TRIP BOAT COMPANY CHANGES
The company is sorry to lose David Wimpenny from the post of Treasurer which he has performed so efficiently. David also acted as stores purchasing officer, storekeeper and services manager. The company is extremely grateful for his contribution in the smooth running of the enterprise. Taking over as Treasurer is John Elliott, an accountant from Fleet. Our thanks to John for volunteering.
Thanks too, for two years spent organising the crewing schedules go to Malcolm Pickett of Yateley. His organising ability has solved the potential problems in this important job. Volunteer crews can expect a call from Alan Prince, a scientist at the NOTE, who lives at Alton, in future as he is taking over.
[back to top]
TEN YEARS AGO.... from Newsletter No. 53 Nov/Dec 1973
* Following Hampshire C.C.'s acquisition of its part of the Canal, it was announced that voluntary working parties would start immediately.
* Called to give evidence at the Public Inquiry into the County Councils application for compulsory purchase orders on the canal, Mr. Colin Bonsey for HCC estimated that it would take 4 or 5 years to restore the Hampshire length. Providing Surrey was in a position also to start work, the whole canal should be back in use before 1980.....
STOP PRESS. .... STOP PRESS ...... STOP PRESS. ..... STOP PRESS.......
Vandalism is a major problem at Lock 1, Woodham. Pumps have been immobilised, the garage by Scotland Bridge Road has been broken into, tools and equipment tipped into Rive Ditch. We appeal to members, if you need somewhere to take your dog for a walk please walk along the canal between Scotland Bridge Road and Lock 1 so that a description of anyone looking suspicious can be given to the police or even photographs taken. Any information please to Dick Harper-White on Weybridge 42074 or Tony Davis on Weybridge 44261.
[back to top]
GONGOOZLERS GOSSIP
TYPIST WANTED, for typing the Newsletter. Only takes a few hours every two months. Excellent job for mums at home wanting to keep their hand in on the typewriter. For information contact Diana Snow on Walton 244830 or the Editorial Office.
COLLINGWOOD Sixth Form organised a raft race on the canal between Odiham and Winchfield raising £310 for the Royal Commonwealth Institute for the Blind.
CRUISER for sale - 12 foot open cruiser, built at Ash Lock in 1973 free delivery 70 miles Southampton. Also available road trailer & 6 hp. O/B with tank. Offers/details from Robert Mew on 0703 455759.
BOOKINGS now being taken for holidays aboard 'The Return* in 1984. Season opens 24th March, prices range from £95 to £195 (+VAT) and are fully inclusive. Further details available on Aldershot 25460. Book early to avoid disappointment!
VERY sad to report that Percy Broomfield's smiling face will no longer be a feature of St. Johns working parties. In his late 70's Percy has been a regular worker for some 5 years but sadly died on 2nd November. Our sincere sympathies go to Cathy.
FOLLOWING the success of this year's Work Camp plans are already being laid for a repeat performance next year starting on 28th July
REGRETTABLY the Wine Tasting had to be cancelled due to lack of support. Ideas for social/fund raising events of general interest would be welcomed by Derek Truman on Fleet 3435.
BROCHURES on various types of bridges have been obtained by the Committee as a first 'step' towards recreating the pedestrian link between the Wey and the Canal.
SHEET steel piling is now being done by Society volunteers on the Ash Vale-Deepcut pound in order to aid its readiness for the proposed opening on June 9th 1984.
THANKS to Jeremy Browne for returning his £10 prize for selling the greatest number of Draw tickets and to another member for donating £20 being half her 200 Club Cirst prize. A most generous gesture from them both.
[back to top]
COPY DATE FOR MARCH NEWSLETTER: 15th JANUARY 1984
Published by the Surrey & Hampshire Canal Society Limited, a non- profit distributing company limited by guarantee, registered as a charity.
Editors: Dieter Jebens, Janet & Chris Brazier | production Diana Snow and Dick Abbott.
Collation & distribution: Janet &. George Hedger, Clive Durley and helpers.
Editorial office: 60 Middle Bourne Lane, Farnham, Surrey GU10 3NJ (Farnham 715230)
Chairman: Robin Higgs , 18 Barnsforcl Crescent, West End, Woking (Chobham 7314)
Vice-Chairman: David Millett, 14 Dinorben Close, Fleet (Fleet 7364)
Hon. Treasurer: Peter Fethney, 5 Longdown, Courtmoor, Fleet (5524)
Hon. Sec: Philip Riley, Meadow Vale, Guildford Rd., Normandy (Worplesdon 234776)
Membership Sec: Bob Trott, 24 The Greenwood, Guildford, Surrey GU1 2ND (570082)
Working Party Information: Peter Jones, Aldershot 313076 and Peter Cooper, 01-993-1105
Trip Boat: Ron Hursey, 119 Keith Lucas Rd. , Farnborough (519619)
Sales Manager: Aubrey Slaughter, 37 Fir Tree Way, Fleet (23102)
Talks Organiser: Pauline Hadlow, Beaulah, Parkstone Drive, Camberley (2837)
Exhibitions Manager: Phil Pratt, 26 Fleetwood Court, Madeira Rd. West Byfleet (40281)
[back to top]