.

No 106
December 1982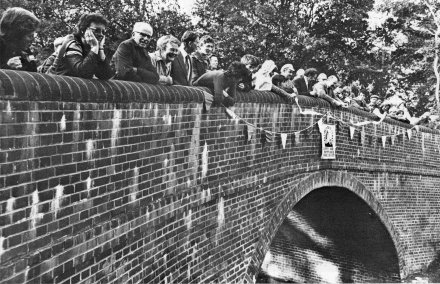 1
| | |
| --- | --- |
| | 2,3 |
Inside front cover --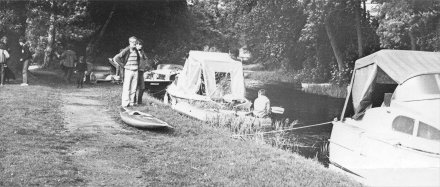 2
| | |
| --- | --- |
| | 3,4 |
| | |
| --- | --- |
| | 5,6 |
COMMENT
The sale of land on the off-side bank of the canal just below Mytchett Place Bridge, to Mr. Bob Potter of the Lakeside Country Club, raises three important issues.
The 3-1/4 acre woodland site is believed to have been sold for around £10,000 by the Property Services Agency - the army's estate agent. Since the MoD is the largest riparian landowner, including a great deal of undeveloped land, any future change of use could have a significant influence on the canal's environment. It is somewhat disturbing, therefore, that the PSA declined an offer to be rep­resented on the Joint Management Committee and so we have no regular contact with it.
Mr. Potter has applied for outline planning permission to provide car parking, a picnic area, fishing and boat moorings in a marina made out of four ponds adjacent to the canal. So far, so good, but as the proposed development plan states: "It would be essential to the total viability of the proposed scheme that commercial refreshment facilities should be available to canal users and other visitors".
The facilities include a lounge bar, children's room and tearoom in what appears to be an attractively designed building which would also house a resident manager.
The J.M.C. likes the principle of the plan while the Society has taken a non-committal view. As Woking Councillor, David Boorman has pointed out, a developer's perception in a glossy brochure can be quite different from the reality.
Details of the scheme apart, the application raises the question of the Society's view to riparian developments generally.
So far we have opposed a number of new housing estates along rural parts of the canal, maintaining that natural and open spaces are essential to its amenity value. How, then, do we justify the development of the land in question?
We welcome the JMC's intention to set up a Panel to monitor developments. There is certainly a pressing need for an authoritative voice to speak up on behalf of the waterway. The Committee would do well to extend their interest and co-ordinate a plan for leisure facilities.
We believe that many people would like the canal kept as natural and close to its original concept as possible. There remains a sizeable sector of the community who seek to enjoy natural surroundings without the addition of bars, ice-cream kiosks, tearooms and refreshment stalls. And commercial concessions need not necessarily be offered to provide for less profitable facilities. After all, restoration has progressed successfully without a great deal of commercial support.
We are not opposed to waterway associated commercial development and Mr. Potter's plan could be attractive. What concerns some people is the kind of vision Mr. Potter has in saying, 'When we have done it, I think other people will copy it all along -the canal'.
A HAPPY CHRISTMAS AND GOOD WISHES FOR 1983
[back to top]
PHOTOGRAPHS
FRONT COVER
Cowshot Bridge re-opening, (bottom right) Frank Jones, Robin Higgs, author Paul Vine and Mr. Patrick Evelyn, High Sheriff of Surrey who declared the bridge open (left).
INSIDE PAGE
(top) boats moored at the Fox and Hounds, Fleet, after cruising down from Ash Lock.
(centre) Pablo Haworth's working party concreting the bottom of lock 5.
(bottom) Volunteers working on St. John's lock 10. (centre left) Replica steamboat 'Meteorite' owned by Adrian Birtles.
Photos: David Millett, Phil Pratt & Dieter Jebens.
[back to top]
WORKING PARTIES Peter Cooper
The autumn leaves fall again, and volunteer restoration of the canal moves into its tenth year. It's now nine years since the very first official working party met, to start to clear the towpath in the Dogmersfield-Winchfield area. We hope a few more people will come along and support Society working parties; otherwise it may take another nine years to complete the job!
Working parties are listed below. It's usually advisable to contact your working party leader a few days before attending, just in case of last minute changes of plan.
Every weekend Goldsworth Locks, St. Johns
Lock restoration can be particularly susceptible to interference from the elements, particularly when much of the work involves bricklaying and similar constructional tasks. You can't lay bricks in heavy rain - mortar trickles all over the place, and you can't lay bricks when it's freezing, either, as the mortar won't set. So though both locks 10 and 11 are well advanced, you may find the weather causing work to stop on these locks at times in the winter, and everyone, in that case, moving down to lock 9 to join in the demolition. And you can do demolition in almost any weather, except perhaps after very heavy snow, when, you can't see what you're trying to demolish.
At lock 11 the chamber base (the invert) has been concreted, the top cill is almost complete, and work is due to start soon on rebuilding the second chamber wall. It's hoped to complete chamber restoration of lock 10 by next Spring (winter weather permitting), and work is currently well advanced on rebuilding the flank and return walls at the bottom end of the lock, after which the partial rebuilding of the second chamber wall will have to be completed. Lock 9 is now getting a lot more attention than it did for many months, most of it from visiting groups, though this lock is still largely at the demolition phase.
The Society's working parties on these locks are listed below. For further details contact MIKE FELLOWS (Wokingham 787428), the Society co-ordinator of work on this flight, or any of the working party leaders listed below. (Note: there may be a working party on 26/27 Dec check with Mike Fellows or Peter Jones nearer the date).
Lock 11 Every other weekend 11/13 Dec, 8/9 Jan, 22/23 Jan 5/6 Feb KEN HALLS on Woking 23981 or, PETER REDWAY on Woking 21710
Lock 10 - No working party will take place on 1/2 Jan and consequently all remaining parties in January move back one weekend.
First weekend of the month - 4/5 Dec, 8/9 Jan, 5/6 Feb - TONY GOULD on 01-941-3014.
Second weekend of the month - 11/12 Dec, 15/16 Jan, 12/13 Feb - PETER OATES (Southampton Canal Society) on 0703-463188
(Mike Fellows will be leading the December Working Party, as Peter Oates will still be away oh his course).
Second and fourth Sundays of the month - 12 Dec, 9 Jan, 23 Jan, 13 Feb - ALAN GRIMSTER on Brookwood 6127.
Third weekend of the month - 18/19 Dec, 22/23 Jan, 19/20 Feb - JULES WOOD on Farnborough 515737.
Fourth weekend of the month - 29/30 Jan - PETER JONES on Aldershot 313076.
Every weekend Dredging in Hampshire
As the problem of the landslip is still not resolved, the steam dredger 'Perseverance' is continuing to work westwards, back over her tracks, redredging those sections which need the treatment. The dredger has now passed Baseleys Bridge, in the 'wrong' direction. The dredger team are looking for more helpers, particularly to train as drag-line drivers. For further details contact ANDY STUMPF on Watford 37278 or BRIAN BANE on Hook 3627.
First Sunday of the month Bankside Clearance Dec, 9 Jan, 6 Feb.
This party continues to clear the towpath on the Ash-Deepcut section, in readiness for the forthcoming reopening of this section. This is work for all ages, including family groups, and requires no skills. For further details, including exact work location, contact BERT and BETTY SCAMMELL on Aldershot 23215.
First weekend of the month Lock gate building 4/5 Dec, 8/9 Jan, 5/6 Feb.
Installation of the gates at Lock 16 is now complete, and most of the work was done by this working party. The full-time workers' progress on this front has been so good that all the locks on the Deepcut flight now have their gates physically in place, and only locks 17, 18 and 19 still have to have them fitted. This working party is now starting to work towards building and installing the gates for the St. Johns flight, and are going to start by making the necessary jack-heads. Further details from FRANK JONES on Deepcut 5711 (lock-gate workshop) or Camberley 28367 (home).
Second weekend of the month Lock 5 - Woodham
11/12 Dec, 8/9 Jan, 12/13 Feb.
The floor of the chamber has been concreted, and work continues on the flank walls and other jobs. Fuller details can be had from PABLO HAWORTH on Byfleet 42081.
Third weekend of the month Lock 1 - Woodham
18/19 Dec, 15/16Jan, 19/20 Feb.
This party now feel they have at last left the demolition phase, and from now on it should all be construction. The biggest job, now starting, is the rebuilding of the chamber walls. For more details of this party, which operates under the auspices of the Guildford Branch of the IWA, contact DICK HARPER-WHITE on Weybridge 42074 or ROY DAVENPORT on 01-979-7075.
[back to top]
ANNUAL GENERAL MEETING 1983
NOTICE is hereby given that the Sixth Annual General Meeting of the Surrey and Hampshire Canal Society Limited will be held on Saturday, 16th April, 1983 at St. John's Memorial Hall, St. John's Lye, Woking.
As usual, following the A.G.M. there will be a Buffet Supper to give members the opportunity to stay on and socialise over a meal, and meet up with friends some of whom often come from quite a distance for the A.G.M. Further details in next Newsletter.
NOMINATIONS FOR THE EXECUTIVE COMMITTEE
Committee nomination time is with us again, and the closing date will be Saturday 15th January, 1983. All the present committee automatically resign at the AGM in accordance with the terms of the Memorandum, and Articles of the Society so nominations are required for,all twelve positions. Our present Honorary Treasurer, Bryan Jones is resigning at the AGM, so the Society is looking for a new Treasurer.
If you would like to be more involved in the Society's affairs please put your name forward. New faces bring new ideas, and this is essential for the future of the Society. If you wish to know more of what committee work involves please contact the Honorary Secretary (address and telephone number on back page), from whom nomination forms are available. Nominations must include the signatures of the proposer and seconder, together with the confirmation of the nominee's willingness to stand. Remember the closing date for nominations is 13th. January, 1983
[back to top]
SOCIAL JOTTINGS Social Secretaries:
Hampshire - Vacant. Surrey - Mike Grist, Woking 71581
It was encouraging to see the large attendance et the October Woking meeting and, Aubrey Slaughter's slides of the Basingstoke Canal before, during and after restoration were certainly first class. The Fleet meetings are not so well attended and it is worth mentioning that it is a private room at the Prince of Wales that is used for the meetings.
FLEET SOCIAL EVENINGS All at the 'Prince of Wales'. ...(Baronial Room).
Reading Road South, Fleet. Bar, coffee available.
WEDNESDAY 15th. Dec. 8.00pm. Xmas get together and social evening.
WEDNESDAY 26th Jan, 7.45pm. MEMBERS' OPEN FORUM EVENING, together with Basingstoke Canal slides before, during and after restoration. There is never enough time for questions or discussion after the AGM so come along and air your views to Society officers, whether it is about working parties, Society policy etc. etc. Lets have a lively and constructive evening, with a two way flow of information and comment.
WEDNESDAY Feb 23rd at 7.45pm. Mike Fellows will be the Quizmaster at an informal slide quiz evening featuring slides from all over the waterways U.K. network. You are very welcome to take part if you wish or just come along to see the slides and learn about the different and unusual aspects of British Waterways.
WOKING SOCIAL EVENINGS All at Woking Centre Halls. Bar, Sales St coffee available.
MONDAY Jan.10th at 7.45pm. An evening of OLD TRANSPORT FILMS hired from various film libraries.
MONDAY Feb 14th at 7.45pm. John Humphries, Chairman of the Water Amenity Commission and a waterways personality in his own right returns for his annual visit and will show French Waterways Films which will include the canals of Brittany.
MONDAY March l4th, at7.45pm. Tim Price of the Surrey TRust for Nature Conservation will give a talk illustrated with slides entitled 'Surrey Wild Life Conservation'.
[back to top]
SOCIETY RAMBLES
It is now many years since rambles were organised on a regular basis for Society members by John Peart. As towpath rambling is one of the aims of the restored canal we are delighted to announce that Paul Garrett of Pyrford, Woking has kindly offered his services as Society rambles organiser. Rambles will be organised on a bi-monthly basis and will be limited in distance so that all the family can take part. Stout footwear should be worn as paths can be muddy at times especially during the winter months. Lunch halts will normally be at a convenient pub (with food available) or picnics can be taken. The rambles will take place along the towpath or near to our local canals and rivers and wherever possible circular walks will be the norm. Will those intending to take part please telephone Paul Garrett on Byfleet 41993 so that he knows how many to expect.
Sunday January 16th - Meet at Ripley Green at 10.45am. Map Ref: 187/056571.
Ripley is situated just off the A3 By-pass north of Guildford. Ample free car parking on the Green. The walk will be along the banks of the River Wey, passing the Royal Horticultural Society's Gardens at Wisley, stopping for a pub lunch at a waterside inn. Return via the Wey Navigation towpath. A visit will be made to Ockham Mill together with a lock and a weir. Distance about 5 miles.
Sunday March 20th - A ramble in the Dogmersfield - Winchfield area including a part of the Basingstoke Canal towpath. Full details in next Newsletter. Make a note in your diary now.
Leader for the above walks - Paul Garrett, Byfleet 41993
[back to top]
UNIQUE OPPORTUNITY TO BUY CANAL BOOK
The Society has been fortunate in obtaining up to 60 new copies with dust wrappers of the American edition of P.A.L. Vine's 'London's Lost Route to Basingstoke', which was a limited edition of only 260 copies. This edition published by Augustus M. Kelly of New York in 1968 is identical to the English edition except for the title page. Each copy is numbered and signed by the author and is available from the Society at the special price of £20. As many of you will know the book has been out of print for over ten years and secondhand copies have recently been fetching £25 and more, so this is a rare opportunity.
Orders to: Aubrey Slaughter, 37 Fir Tree Way, Fleet, Hants.
(Fleet 23102) enclosing a cheque for £21.20 (inclusive of post and packing). Please order by January 20th 1983 - if oversubscribed a ballot will decide the successful applicants.
[back to top]
JOINT MANAGEMENT COMMITTEE GETS STUCK IN
Old ones, new ones, important ones and neglected ones... at their second meeting, members of the Canal's Joint Management Committee tackled a wide range of issues at Merrist Wood Agricultural College on 4th November. Here is a round up of some of the subjects discussed.
DOGMERSFIELD SLIP
It was stated that agreement had been reached with the riparian landowner to spend £65,000 on reinforcing the landslip at Dogmersfield using stone-filled gabions. The Society's dredger, which was turned back at the slip, earlier this year, is expected to resume dredging eastwards immediately.
[back to top]
GREYWELL WATER SUPPLIES
In a report on water supplies to the canal, the Committee was urged to make a decisLon at its next meeting, early in 1983, on dredging the 800 yard Greywell length from the Whitewater winding hole to the eastern portal of the 1,200 yard tunnel.
The report concludes that, despite having adequate water supplies, the volume available from existing sources will be critical during the summer months.
The bulk of the canal's 4 million gallons-per-day water supplies come fron springs in the bed of the undisturbed Greywell length of the canal. It is felt that the silt is restricting the springs from throwing the maximum volume of water and should, therefore, be cleared. The report also points out that, once restored, the canal will lose up to 2 million gallons of water a day through seepage, evaporation and transpiration. It is, therefore, particularly important to keep the channel as clear as possible. The hydraulic resistance to water flow and supply to the whole of the canal, is also pointed out as a need to clear the Greywell length.
While the natural history interest in the length is acknowledged, and other water sources have been investigated - including Dogmers­field lake and alternative supplies fiom the Thames Water Authority, the report concludes that the canal must continue to rely on its existing sources of water supply.
"It may well be sensible to dredge now thus allowing the flora and fauna in the cutting to re-establish itself as soon as possible", the report suggests, pointing out that silt will continue to build up, if not cleared, and eventually eliminate the water surface.
ASH VALE WHARF
It is a pleasure to report that at long last the unsightly state of Ash Wharf basin is to be improved. The first task is the driving of sheet steel piling along the banks and Surrey C.C. have scheduled this for completion by the end of this year.
Discussions are also taking place with Guildford B.C. to finalise plans for the landscaping of the area which it is hoped will start early in the new year.
[back to top]
BOAT LICENCES
Whilst basic charges for the coming year are to remain unchanged the opportunity has been taken to introduce a new class of licence and to define more clearly those craft falling into the unmotorised categories. The benefit of the new class for larger craft will be completely lost of course if no slipways are provided.
The number of licences available for the coming year is being increased by 25% to 1000 of which 200 will be allotted to powered boats. The individual rates will be:
Craft capable of carrying one person only £3.00
Unpowered craft for 2 or more people £5.00
Motorised craft up to 14'/6hp. engine £10.00
Motorised craft up to 25'/10hp. engine £15.00
Licences are available from the Canal Depot, Ash Lock Cottage, Aldershot.
[back to top]
SLIPWAY PROPOSALS
As reported in the last Newsletter the Society together with the Inland Waterways Association were asked to prepare a joint report recommending locations where slipway facilities should be sited. Their conclusions fell broadly under the headings of Permament Sites, Control of Slipways and finally, Temporary Sites.
Permanent Sites - these should be located at Colt Hill, Odiham, Pondtail Bridge, Fleet, Woking and Frimley Lodge Farm. Whilst accepting that ideally slipways should be on the non-towpath side, it was felt that only Pondtail Bridge would be so as this was to be in association with future development of mooring basin etc.
Control of Slipways - it was felt that the easiest means of controlling use was the simplest i.e. a locked barrier arm across the top of the ramp. A master key available to all boaters (for a small fee) would provide access not only to the slipway but also to sanitary stations and water taps. The right to use a slipway should be inherent in the purchase of a licence.
Temporary Sites - as it was unlikely that any permanent site could be purchased and developed within 12 months a temporary site must be provided if only to stem the mounting criticism at the apparent lack of results in the form of boats using the canal. The most obvious site is in the Barge Yard at Ash Vale which is already leased by the Society.
As a result of this recommendation, the Society applied to the Public Services Agency for permission to construct a slipway and associated car parking. Unfortunately this first application did noi meet with their approval and so revised plans are being submitted.
It was also stated that it is highly desirable that some temporary arrangements be made in Hampshire.
[back to top]
CANOE CLUB NOTES
A series of Slalom events on the canal is being held by the Club throughout the winter, at Reading Road Bridge, Fleet. The first of the series was held on 25th September and next is on Saturday 18th December.
The new Honorary Secretary of the Basingstoke Canal Canoe Club is Robin Grieve of 63 Dukes Mead, Fleet (tel: Fleet 28131), who has taken over from the retiring Secretary, Dick Abbott. Dick, the first Honorary Secretary of the Club is to be thanked for all the work he has put in to bring the Club to its present position which with 300 members, is now one of the leading family Canoe Clubs in the South of England.
[back to top]
ANOTHER SUCCESSFUL SEASON FOR 'JOHN PINKERTON'
Despite the indifferent summer weather and adverse economic conditions which reduced the total number of trips, a net profit of nearly £10,500 is expected to be announced from this year's 'John Pinkerton' trip boat service.
Whilst charter trips were down from 226 in 1981 to 192 this year and public trips fell from 42 last year to 33 this season, by charging a small premium for the most popular trip dates and increasing refreshment cost marginally, the company managed to make a very substantial profit again.
The Company is extremely grateful to all those who crewed and helped run the service once again this year.
[back to top]
TRIP BOAT BOOKINGS MANAGER - Post Vacant
Clive and Barbara Durley need to cut down on some of their activities for the Society and have decided to relinquish the joint job of Bookings Manager which they have successfully handled since the John Pinkerton started operating four seasons ago. The boat company is seeking someone to take the job over. Some clerical experience would be useful, a willingness to deal with telephone enquiries and a little patience are the main qualifications for the job. There is no selling involved.
The job would suit a single person or couple, and particularly retired or house-bound persons since enquiries are often made during the day.
If you like helping people there is a lot of satisfaction to be gained from this part-time voluntary job which is essential to operating the valuable trip boat service.
For further information phone Peter Fethney on Fleet 5524.
[back to top]
TEN YEARS AGO. . . . . from Newsletter No. 47. Nov/Dec 1972
* It was reported that an order for timber costing £175 had been placed for volunteers to build a pair of lower lock gates at an RAOC drill hall at Blackdown Camp. The total cost was not expected to exceed £300. (the gates are now installed in Ash Lock - Ed).
* A comprehensive survey of the canal's locks had been made to assess restoration work.
* Bridges were in the news - HCC were planning to demolish Brick Kiln Bridge at Up Nateley .... extensive repairs were planned to Barley Mow Bridge, Hartney Witney R.C. were concerned about the 'poor state' of Chequers Bridge and Fleet Council were calling for £20,000 to be spent on Coxheath Bridge.
[back to top]
WHEELS, WILL TRAVEL Martin Bowers
The sales caravan is on its blocks for the winter after travelling about 1000 miles since/last April.
The year started for us at the South Midlands I.W.A, rally and fete at Banbury, April 17 - 18 and then on to the following: Slough Arm Centenary Rally, May 1-3, Canalway Festival (Mile End, London) May 29th - 31st, Watercress Line Gala, Ropley, June 18-19, Traditional Boat Rally, Henley, July 10 - 11, Rushmoor Steam Fair, July 24 - 25, I.W.A. National Rally, Birmingham, August 28 - 30, Guildford Show, September 4 - 5, Farnham Model Railway Show, September 4 - 5.
We have also attended the Sponsored Walk, Canoe Trial and the Canal (Cruise and local shows.
The weather this yerar has been rather mixed, freezing cold at Banbury to a heat wave at Mile End. Slough Arm Centenary and the National Rally at Birmingham are two events we would rather forget. They were 'water' festivals rather than 'waterway' events. Rain, rain and more rain. The Titford site at the 'National' was very akin to the towpath at Deepcut during the 'Big Dig'.
May I express a personal word of thanks to all who have helped on the stand over the past year, Brian Newman, Ginny Millard, John Hulbert and Steve and Carole Webb. The old saying 'You don't have to be mad.......'etc., certainly applies to us. They have certainly shown both fortitude and a keen sense of humour over the year. Carole and Steve travel to many of the events both local and away from their home at Bognor Regis.
Next year we would like to attend many more shows, but we can only do so if we know about them in advance. Therefore, if you know of any events, not just waterway but fetes etc., please let me know. My telephone number is Farnborough 513095.
[back to top]
FULL MARKS FOR EFFORT
One can admire the efforts of the Kent and East Sussex IWA working party group simply for the fact that they travel from Canterbury, Kent at their own expense to work at St. Johns every 6 weeks. When one considers some of the obstacles they overcome in order to do so their dedication is little short of amazing.
On a recent weekend they left home at 7.30pm. on Friday only to break down at 9.00pm. Various disasters with local garages followed ending with the AA depositing them back home at 5.00am on the Saturday. Up again 2 hours later they managed to find an alternate vehicle by 9.00am. finally arriving at St. Johns, midday. Not content with that they proceeded to lay the top cill of lock 10.
Even amongst such illustrious company one member deserves special mention. Angela Norris appears to think nothing of cycling from her home at Hythe, Kent (a round trip of some 170 miles) as, when at college, travelling from Plymouth in Devon by train just for a weekends work.
Now, what were you saying about how difficult it is to get to St. Johns? !!
[back to top]
200 Club Draw Results
August Draw
Mr. N.G. Goddard - £53, Mr. B. Bane - £27, Mrs. N. Jones - £13, Mr. J. Fletcher - £13.
OCTOBER Draw
Mr. V.F. Bristow - £53, Miss I. Maynard - £27, Mr. R. Williamson - £13, Mr. G.A. Coaker - £13.
200 CLUB - 1983
Thanks to 106 members, we shall end the year nearly £700 better off -that's the new 'profit' after the prize money has been distributed. So from David, Millett, Philip Riley and Derek Truman, the 200 Club trustees, our sincere thanks to all who sportingly stumped up their £12 (or £1 a month) in 1982 and our congratulations to the 24 winners. In 1983 we're hoping to make the Club live up to its name - then the first prize in each two-monthly draw really will be £100 and the Society share £1200 for the year. So please fill in the form enclosed with this Newsletter and send it with your cheque or bankers order as soon as possible. Remember you can have as many memberships as you like and your friends and relatives can all join. Spare forms can be obtained from Derek Truman (Fleet 3435).
[back to top]
SPONSORED WALK 1983
Start training now for SUNDAY 15th MAY - Woking to Fleet or Fleet to Woking or any variation in between. Apart from the money - and it would be a tremendous achievement to beat the £5,000 we look like making this year - there should be plenty to see with much more of the canal in water, the Deepcut Flight finished and possibly even some boats...... So please book the date in your diaries now and make sure all your families, friends, colleagues at work and even dogs (if they're sponsored) come too. The individual target to beat is £294 raised this year by Dick and Alison Snell - a really stupendous effort. If you know of any schools, clubs or other organisations which would like to join in on a 50:50 basis please pass the word both to them and to Derek Truman (Fleet 3435). Fleet Scouts raised £252; Courtmoor School, Fleet £167; Woking Y.M.C.A. £80; 8th Woking Scouts: £40 and Winston Churchill School, St. Johns £32 for the Society and the same amounts for themselves. We hope to offer a free trip on the John Pinkerton to whoever raises the most money.
JUMBLE SALE at FLEET CIVIC HALL on SATURDAY Feb. 12th at 1O.30 a.m.
JUMBLE AND HELPERS URGENTLY NEEDED. HELPERS PLEASE RING ROSEMARY MILLETT ON FLEET 7364
JUMBLE COLLECTION POINTS:
Rosemary Millett, 14 Dinorben Close, Fleet. Fleet 7364
Janet Hedger, 7 Gorseway, Fleet. Fleet 7465.
[back to top]
OFFICIAL RE-OPENING OF COWSHOT MANOR BRIDGE
After forty-eight hours of seemingly endless rainfall, members and guests of the Society, including Paul Vine, author of 'London's Lost Route to Basingstoke, gathered at Cowshot Manor Bridge in brilliant autumn sunshine for the re-opening ceremony performed by the High Sheriff of Surrey, Mr. J.P.M.H. Evelyn. Before cutting the traditional white tape in front of a crowd of guests and members of the Society, Mr. Evelyn paid tribute to the Society and those responsible for the work that had been done, which, he added, was a tribute to the conservation movement generally.
The Society's chairman, Robin Higgs, commended the high standard of workmanship achieved by the Youth Opportunities Programme recruits under the supervision of Jim Reid, Martin Smith and John Park, lead by Frank Jones, Douglas Brown and Surrey County Council engineers together with the Estates Department.
Looking to the future, Robin Higgs anticipated that the Deepcut of 14 locks would be fully restored by the spring of next year. He also expected that the 11-mile centre length of the canal between Fleet and Deepcut top-lock would be fully restored for navigation again early in 1983. "It is vitally important", the Chairman said, "that the canal should be brought back into use as speedily as possible, for things like boat movements will help maintenance by keeping weed growth down".
He went on to appeal for boat launching facilities to encourage use being made of the canal, "Access to this section is abysmal for people to use the canal.. Easy, yet controlled access via slipways is essential".
Referring to some isolated local opposition to boat launching facilities being provided, Robin Higgs said, "Parochial attitudes must not prevail. Time to sort things out is running short".
It took twelve months to re-build the former brick-arch accommodation bridge which was closed in the 1920's when it became unsafe. The arch was still standing when the reconstruction started so, after taking measurements, the remains first had to be demolished. The Army-built footbridge alongside was also removed.
The new bridge was constructed as closely to the original design as possible. Frank Jones reckons that the finished structure is probably almost identical since such techniques as the traditional 100-foot line was used to form the elipses, both in plan and elevation, which are distinctive features of this and other Basingstoke bridges. One of the problems in achieving authenticity was a lack of capping bricks to surmount the parapets. Eventually the Society returned to the White Hill Brick and Tile Works at Aborfield, near Reading where we had the special semi-circular bricks hand made again, as was the case for the Hampshire bridges.
DIARY
DECEMBER
13th Films with Hugh McKnight, Woking Centre Halls, 7.45pm.
15th Xmas Social Evening Prince of Wales, Fleet 7-45pm.
25th - Christmas Day Nothing organised!
JANUARY
10th Old Transport Films, Woking Centre Halls. 7.45pm.
16th 5 Mile Rarnble inc. River Wey, start Ripley Green 10.45am.
26th Members Open Forum & Slides. Prince of Wales, Fleet 7.45.
FEBRUARY
12th Jumble Sale, Fleet Civic Hall. 10.30am.
14th French. Waterway Films, Woking Cente Halls, 7.45pm.
23rd. Waterways Slide Quiz, Prince of Wales, Fleet 7.45pm.
[back to top]
GONGOOZLERS' GOSSIP
DISAPPOINTED to learn that only 1 local joined the Working Party on AshVale/Frimley Green length. First Sunday of each month - details from the Scammels on Aldershot 23215.
DELIGHTED to hear that the water in Ash Embankment is to be brought up to within 10" of normal operating level at end of November.
PLEASE continue to bring old newspapers to St. Johns locks at weekends. Glossies separate - bundles tied with string all to be placed in the garage.
THANKS in part to the letter from Miss. D. Maynard in last Newsletter plans are now being drawn up for possible work camp at St. Johns next summer.
REPAINTING of Fleet Weir footbridge (originally a ships gangplank provided by Sir John Yerney) completed by Basingstoke Canal Canoe Club led by Alan Dressell.
OPPORTUNITY to take to the water - two seater wooden canoe for sale at only £60. Telephone Aldershot 313076 any evening.
ANOTHER successful boat rally took place September 26. Dozen dinghies and small cruisers completed 11 mile round trip from Ash Lock to Fox & Hounds, Fleet.
BOOKINGS now being taken for 1983 for hire of Society holiday narrow-boat - see separate sheet for details.
FLAMING Fellows - well done Allison and Gail Halls for putting a replica of our Working Party Organiser on top of the bonfire on 30th October at St. Johns.
[back to top]
COPYDATE FOR FEBRUARY NEWSLETTER: 1ST JANUARY 1983
Published by the Surrey and Hampshire Canal Society Limited, a non­profit distributing company limited by guarantee, registered as a charity.
Editors: Dieter Jebens, Janet & Chris Brazier; production: Diana Snow and Cecil Eynon.
Collation & distribution: Janet & George Hedger, Olive Durley and helpers.
Editorial Office: 75 Middle Bourne Lane, Farnham, Surrey GW10 3NJ. (Farnham 715230)
Chairman: Robin Higgs, 18 Barnsford Crescent, West End, Woking (Chobham 7314)
Vice-Chairman: David Millett, 14 Dinorben Close, Fleet (7364)
Hon. Treasurer: Bryan Jones, 16 Bliss Close, Basingstoke (61053)
Hon. Sec: Philip Riley, Meadow Vale, Guildford Rd, Normandy (Worplesdon 234776)
Membership Sec: Ted Williams, 36 Kestrel Rd., Basingstoke (61579)
Working Party: Peter Jones on Aldershot 313076
Information: Peter Cooper on 01-993-1105
Trip Boat: Clive Durley, 15 Kenilworth Rd, Fleet (5694)
Sales Manager: Aubrey Slaughter, 36 Fir Tree Way, Fleet (23102)
Talks Organiser: Pauline Hadlow, Beaulah, Parkstone Drive, Caraberley (28367)
Exhibitions Manager: Phil Pratt, 26 Fleetwood Court, Madeira Rd., West Byfleet (40281).
[back to top]