.

No 102
APRIL 1982
1
| | |
| --- | --- |
| 2 | 3 |
Inside front cover --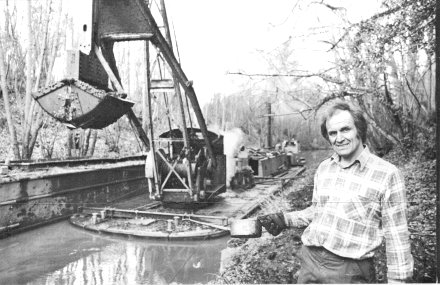 1
| | |
| --- | --- |
| 2 | 3 |
THE ANNUAL GENERAL MEETING MARCH 36th
Competent but uninspiring is how the Society's fifth Annual General Meeting (as a limited company) might be summed up. The ingredients were good, it was well presented and the whole thing perfectly satisfactory - but hardly memorable. In fact, the outstanding feature was the delicious looking supper for those who still had the time after the 2-1/2-hour non-stop session.
It was certainly an occasion of missed opportunities. Sir James Scott, Chairman of the newly formed Joint Management Committee could have taker the opportunity to give members an insight of what he hoped to achieve during his 3-year term of office. Instead he chose to congratulate us on what we had managed to do which was, at least, an easy way to make friends. Even the Committee seemed reluctant to take advantage of this annual platform - though prompted by a question - to publicise the threat of planning applications as the issue of the day. Surely, with the future development of Brookwood Lye in the news and questions being raised about other riparian open local spaces under the developers gaze, this first AGM to be held at St. John's might have been used to fire our former campaigning spirit.
None of which is intended to be unduly critical since clearly, with debts of gratitude, congratulations and reports of achievements abounding the Society is sound in cash and manpower, although more of both is always welcome.
As the Chairman, Robin Higgs, observed, the Society (and by inference, the Canal) enjoyed an extremely good year. Highlights - by virtue of the enormity of the tasks - were the completion of work to make Ash Embankment watertight again, and the virtual restoration of the Deepcut 14 flight of locks. Ash Embankment was a triumph in co-ordination between Stan Meller's assorted railway volunteers; both local authorities (thrown together because the embankment marks the county boundary) and Job Creation recruits. Likewise the success at Deepcut was an amalgam of voluntary effort; County Council back-up in supplying advice and materials and Manpower Services Commission project workers, led by Frank Jones whose influence spreads somewhat more extensively than over his specific domain.
Bridge restoration also shared the limelight with the re-opening of Broad Oak, by the Earl of Malmesbury (who steered his own VIP party aboard the John Pinkerton), at a cost of £14,505, and Cowshott Manor Bridge restored by MSC workers at a cost of £5,000. Both projects were sponsored by the Society.
In Hampshire the 'Perseverance' dredger was mentioned in despatches.
Following a recent prolonged hold-up to make and fit a new king-post, the Chairman reported that the dredger was about to tackle a landslip at Dogmersfield which meant almost re-cutting a section of the canal. Elsewhere David Millett's 'super gardeners' had been taming the bank-side jungle.
In Surrey, the MSC workers had moved, in part, away from Deepcut to re­build the let-off weir adjacent to Ash Vale Station and were cutting stop plank grooves in the vicinity of Heathvale and Mytchett bridges.
Restoration of two of the three locks at Brookwood had also been started while the lock-gate building workshop remained in business. Preparations were being made, the chairman added, for a major new work-site on Ash Embankment to construct a new let-off weir.
Further east, Robin Higgs reported, voluntary work was well organised on the St. John's flight of five locks. Local Society volunteers were active at lock 11 on which part of the Spar grocers £5,000 prize money had been spent to build a by-wash weir. ,P> Visiting voluntary groups, included members of the Kennet & Avon Canal Trust, Kent & East Sussex branch of the IWA and the Southampton Canal Society. Further east, down at Woodham things continue to stir, activated monthly by Pablo Haworth. And at Lock 1, Mr. Higgs, added, the IWA's local branch members were making steady progress.
The year's progress was described by the chairman as a 'very satisfactory picture', but that the number of volunteer 'nayvies' had been a bit disappointing, and he appealed for more people to join, especially to learn bricklaying.
Moving to other areas of the Society's activities, Robin Higgs noted the record profit of £11,633 made from the John Pinkerton trip boat last year, and funds raised by Richard Allnutt and Derek Truman.
Last year, Mr. Higgs stated, the Society had spent £30,000 on labour, plant and materials in furthering restoration progress.
The Chairman went on to announce that the Manpower Services Commission had just approved the Society's application for a further employment grant which would create even more jobs in the forthcoming financial year.
Turning to the growing problem of protecting the canal's environment, Mr. Higgs said that the Society had been busy on the assessment of planning applications. 'The battle to protect the canal is a non-ending one', he said and hoped that Surrey County Council would, like Hampshire, designate their length a conservation area, later this year. Brookwood Lye and Brookwood Hospital land were sites being watched.
The Treasurer's report left little to doubt or misunderstanding. Bryan Jones pointed out that the Society's £33,352 income had been overspent by £4,408 (less than he expected) but investment funds had erased the deficit, leaving a balance of £28,000. This year, he estimated, the Society would need £19,000 to pay the wages of our four full-time employees, but he saw no problem in meeting the commitment.
Bryan Jones went on to report on the membership position in the absence of Ted Williams. The number of subscriptions had increased by 4% to 1455 making a total membership of 2,126 persons excluding members of affiliated organisations.
So ended the statutory part of the meeting, but there was more to come. Star attraction was Sir James Scott, who tended to confirm his role as a diplomat rather than a politician, and maybe that is what will be most needed to keep all interests working in harmony. Sir James certainly won over his audience by his genuine interest in the canal's recreational value and the sincere, real appreciation he expressed of the Society's contribution.
For Surrey, Raymond Stedman, the County's Countryside Officer spoke of the Council's growing involvement in management of the canal after restoration. In the past year the Council had fought a sometimes losing battle with the elements, in trying :to dredge the water channel through Woking and St. Johns. The Council's two full-time wardens, with the assistance of contracted labour, had played their part in consolidating 7,000 tons of clay to re-puddle Ash Embankment, Mr. Stedman reported. The Council had also been involved in the substantial repair work to Frimley Aqueduct undertaken by British Rail. Then they had land problems to sort out, and the 'African Queen' to break up.
Hampshire's Canal Manager, David Gerry, recounted their part in the Ash Embankment revival how the rangers cut the undergrowth on Lousey Moor (a former silt dump) down to size, and why Tundry Pond embankment had to be laid bare. Apart from those tasks, the rangers had re-built an old culvert near the site of the former Dogmersfield swing-bridge. More recently, David Gerry reported, they had overhauled North Warnborough lift bridge. This year, he said, the Council intended to sheet pile the towpath bank erosion at Colt Hill and construct a car park at Barley Mow Bridge.
With the aid of slides, Mike Fellows charted the voluntary restoration work in more detail, and in the absence of Frank Jones, the chairman reiterated MSC work experience activities.
David Millett, the Society's Vice Chairman gave an account of 'white collar' voluntary work. He thanked Jean Scott for organising her first Grand Draw, and Derek Truman, Bob Humberstone and Aubrey Slaughter for arranging the Sponsored Towpath Walk which raised £2,500.
The Fleet ladies group, he reported, had had another active year running a Jumble Sale, Autumn Fayre and a Barn Dance.
Social outings included trips to Yorkshire and South Wales. At home, the Mikron Theatre came to Fleet and the annual canoe trials again attracted many entrants.
Even the John Pinkerton had its own report 'spot' from the operating company' s chairman, Peter Fethney, who said that while last year's profit was 6% up and a record £11,633, bookings to date for the 1982 season were down.
A 'THANK YOU' TO LISE
In appreciation of seven years as Secretary to the Executive Committee, Robin Higgs presented Lise Hamilton with a colour photograph by Clive Durley of the canal. Lise 'retired' recently to devote more time to her growing (in age!) family.
COMMITTEE CHANGES
At the AGM Robin Higgs thanked Lise Hamilton, Peter Mayne, and Peter Cooper for their contributions to the Society as they were notseeking re-election. He welcomed Philip Riley to the position ofSecretary and Peter Coxhead to the Committee. Re-elected members were Brian Bane, Chris Brazier, Roger Cansdale, Bryan Jones, Robin Higgs,Jean Scott, Vic Trott and Derek Truman.
[back to top]
PHOTOGRAPHS
Front Cover
Like dentistry on a grand scale, Pablo Haworth and Society volunteers working on Lock 5 start filling the cavity after excavating ard fitting a new culvert. Note the new chamber wall facing.
Inside Cover
(1) Brian Bane, leader of the dredger team appeals for maintenance engineers to keep dredging plant ready for weekend working.
(2) Society volunteers re-facing one of the chamber walls in St. Johns Lock 11
(3) Ken Halls, a working party leader at St. Johns shows two new recruits the art of brick laying.
PHOTOS Dieter Jebens. PROCESSING: Clive Durley.
[back to top]
1982 SEASON 'JOHN PINKERTON' CHARGES
Charter fees, for a 2-1/2 hour trip with parties of up to 56 persons range from £35 - £50. Public trips: Adults £1.20, Children 60p. Allseats bookable. Contact: Clive Durley, 15 Kenilworth Road, Fleet, Hants. Tel: Fleet 5694 for full details.
COTTAGE BY CANAL FOR SALE?
Our member Alan Wright is considering putting his attractive 100-year old cottage, overlooking St. John's Lock 11, on the market. It has 1 reception room, 2 bedrooms, kitchen, bathroom and toilet. Car parking space and secluded garden. For details contact Alan at: Mabrouk, 4 Robin Hood Road, St. John's, Woking, Surrey. Tel: Woking 69979.
[back to top]
WORKING PARTIES
The weather for 1982 has not yet been particularly friendly, but as it hasn't snowed again (yet) we continue to press on. The Railway Group at the Ash Embankment have by now just about dismantled them­selves at the completion of their job, so they don't appear in the list below any more. But they do deserve a big round of applause for a substantial job well done.
The 22nd February 1982 marked the completion of five years full-time work on restoring the canal. The full-time workers are currently engaged in completing restoration of the Deepcut Flight, where they are installing gates and laying quadrants, and in various works on the pound between Deepcut and Ash. At the end of February only five more gates (all lowers) remained to be built to complete the quota for the Deepcut Flight. The lower gates of Lock 23 were being installed at that point, all the upper gates on the flight having been fitted except those of Locks 16 and 19. Good progress was being made in restoring Ash Vale run-off weir, and the stop planks had been installed at Heathvale Bridge.
The volunteer working parties currently operating are described below. You should usually check with the leader of your working party a few days before attending, in case of last-minute changes.
Every Weekend St. Johns Flight
Restoration of Lock 11 continues to move forward on all fronts, with the first chamber wall and one upper wing-wall virtually complete. At the bottom end of the lock the cill has been excavated, the recess walls taken down, and the rebuilding of one of the wing-walls started.
Lock 10 is also progressing well, and it is hoped to complete this lock by the end of this year. The rebuilt wing-walls are all well advanced, and demolition of the flank and return walls is almost complete. The chamber walls are to be partially rebuilt; on one the new brick work is about half complete, and demolition has started on the other. All this work is co-ordinated by MIKE FELLOWS on Wokingham 787428, and you should contact him, or one of the working party leaders listed below, £or details of how you can help in this major restoration project. It is planned to hold a four day working party at Easter, 9th to 12th April, at these locks.
Lock 11
Every; other weekend - 3/4 April, 17/l8Apr, 1/2 May, 15/16 May, 29/30 May, 12/13 June - KEN HALLS on Woking 23981 or PETER REDWAY on Woking 21710.
Locks 10 and 9
First weekend of the month - 3/4 Apr, 1/2 May, 5/6 June - TONY GOULD on 01-941-3014.
Second weekend of the month - 10/11 Apr, 8/9 May, 12/13 June - PETER OATES (Southampton Canal Society) on Southampton 463188.
Second and fourth Sundays of the month - 11 Apr, 25 Apr, 9 May, 23 May, 13 June, ALAN GRIMSTER on Brookwood 6127.
Third weekend of the month - 17/18 Apr, 15/16 May, 19/20 June -JULES WOOD on Farnborough 515737.
Fourth weekend of the month - 24/25 Apr, 22/23 May - PETER JONES on Aldershot 313076.
Fifth weekend of the month - 29/30 May - MIKE FELLOWS Wokingham 787428.
Every weekend Dredging in Hampshire
The dredger team are now facing one of their hardest tasks, as they are now tackling the slip in Dogmersfield cutting, where part of the bank has moved itself into the cut. Progress is good at the moment, and a number of repairs, including some to the dredger's smokebox, have been carried out. Further helpers would be welcome, and can obtain more details from BRIAN BANE on Hook 3627 or ANDY STUMPF on Watford 37278.
First weekend of the month Lock gate assembly
3/4 Apr, 1/2 May, 5/6 June.
Volunteers are now fitting the top gates at Lock 16, thus adding a new dimension to the volunteer restoration of this lock. This party meet at the Lock Gate Workshop by Lock 28 at 10am. For further details contact Frank Jones on Deepcut 5711 (canal workshop) or Camberley 28367 (home).
Second weekend of the month Lock 5 (Woodham) 10/11 Apr, 8/9 May, 12/13 June
The bad weather at the turn of the year meant that progress was slowed here. But the top cill is now fully excavated, and the bottom recess walls are being taken down. In February this party had a belated lock-side Christmas celebration with mince pies, direct from a neighbour's deep-freeze. Further details (and further mince pies???) from PABLO HAWORTH on Byfleet 42081.
Third weekend of the month Lock 1 (Woodham) 17/18 Apr, 15/16 May 19/20 June
The big event this party have been working up to is the pouring of concrete into the bottom cill, and this is now imminent. The water leakage and seepage here have dictated a particularly large bottom cill. In the meantime demolition of the chamber walls has continued though their rebuilding can't start until the bottom cill is done. Further details from DICK HARPER-WHITE on Weybridge 42074 or ROY DAVENPORT on 01-979-7075.
Last Sunday of the month Bankside work in Hampshire
This party are having their usual summer break, having had distinctly discouraging levels of support recently. A new working party activity in the area is planned for this summer, to tackle channel clearance. Further details of this venture from DAVID MILLETT on Fleet 7364.
[back to top]
JOHN PINKERTON MAKES A RECORD PROFIT
Despite a drop in the number of trips last year, the John Pinkerton made a record profit of £11,633 net. By making selective charter fee increases, the management was able to keep the overall scale of charges good value, and even though the total number of cruises was reduced, the profit was increased by 6%. Commenting on the results, Peter Fethney, the Company's chairman, said, 'We believe the boat trip remains an attractive outing, but economic conditions generally and increased coach hire charges in particular forced many social groups to cut down'.
[back to top]
1982 BOAT CRUISE
There is a need, for publicity and other reasons, to get boats cruising the summit pound and to start the ball rolling the Society intends to hold a CRUISE WEEKEND on July 3/4. The base for this weekend will be at ASH LOCK and it is hoped that as many powered boats as possible can cruise between there and Odiham (or beyond) over the two days. We have been assured that boats with 1'9" - 2' draughts will find no difficulty in this section. A current license will, of course, be required by all entrants.
Boats needing slipway facilities can only enter the canal at Ash Lock, where provision will be made for car and trailer parking. No other facilities will be provided for entrants except the following:- water and toilets at Ash Lock, phone and mobile land back-up in the event of difficulties, sales stand and photo exhibition on site. People wishing to be involved in this event should contact Vic Trott on Woking 68607 or Peter Coxhead Byfleat 44564 for further information.
[back to top]
DREDGER TEAM APPEAL FOR ENGINEER
Now that Ron Jesse has moved away from the district, the dredger team is anxious to recruit another engineer to maintain their plant.
Members of the team, especially their leader, Brian Bane, have had to spend an increasing amount of time lately doing maintenance work. Apart from the fact that Brian Bane already devotes (and has done for the past six years;) much time to organising and participating in the dredging work, having to do repair work at weekends means no dredging progress.
So the team is appealing for an engineer or qualified fitter who knows about diesel engineering and perhaps steam powered plant as well. It would be particularly useful to have an active retired or shift working person volunteer so that any work could be done during the week and the equipment would be ready to operate through­out the weekend. Brian Bane (Hook 3627) or Andy Stumpf (Watford 37278) will be pleased to give you the technical details.
[back to top]
DIARY
APRIL
24th Crew training John Pinkerton, Colt Hill, Odiham. 10.45am. 25th Westel Canoe Trials, Reading Road Wharf, Fleet. 11.00am. 26th Waterways of N. Humberside (IWA Meeting) Woking Centre Halls. 7.30pm.
MAY
16th Sponsored Walk, Woking to Fleet.
18th Members Night aboard John Pinkerton. Dpt. Colt Hill, 7.30pm.
JUNE
1st John Pinkerton - members trip, Dpt, Colt Hill 7.30pm.
8th John Pinkerton - members trip, Dpt, Colt Hill 7.30pm.
12th Woking Publicity Meeting, Christ Church Hall, 9.00am.
15th & 21st John Pinkerton members night. Dpt. Colt Hill 7.30pm.
18th Midsummer Barbeque & Fun Evening, Fox & Hounds, Fleet, 7.30pm.
26th Jumble Sale, St. Peters Church Hall, Ash 2.30pm.
28th John Pinkerton Members Night. Dpt. Colt Hill 7.30pm.
JULY
3/4, Summit Pound Cruise Weekend.
[back to top]
SOCIAL JOTTINGS Joint Social Secretaries:
Hampshire: David Millett - Fleet 7364
Surrey - Mike Grist - Woking 71581
The winter season of talks, slides and films has now come to an end once again and will recommence in September. Attendances on the whole have been fairly good with an odd exception or two. The Christmas Social evening at the Prince of Wales was well supported and thanks are due to Stan Knight and Clive Durley for organising excellent photographic competitions, and for Jackie and Karen for their superb folk singing. If you have any ideas for speakers etc. for next winter please contact either of the above. Once again, David Millett would like to relinquish the position as Hampshire Social Secretary (he has been trying to do this for some years!). Offers please, to the above telephone number.
[back to top]
MEMBERS' EVENING ON THE 'JOHN PINKERTON' THE SOCIETY'S TRIP BOAT
As in previous years, members, evenings will be held every Tuesday on the John Pinkerton, commencing Tuesday, May 18th. The "boat will normally cruise to North Warnborough and back for pumping out on the way and for general cleaning and maintenance, together with crew training when required. THE BAR WILL BE OPEN. Members and friends welcome.
Departures from Colt Hill, Odiham as follows: May 18th and 25th/June/ July: 19.30hrs. August 19.00hrs.
[back to top]
MIDSUMMER BARBEQUE AND FUN EVENING - FRIDAY JUNE 18TH 19.30hrs
A midsummer Barbeque and Fun Evening will be held in the garden of the Fox and Hounds, Crookham Road, Fleet on Friday June 18th from 19.30 onwards. Bring your own barbeque food to cook on the barbeque facilities that will be provided. Also your own plates and cutlery. Folk music, morris dancing, fun on the canal including coracle races and canoe and rowing races and competitions. Come along and enjoy yourself. Bring a change of clothes if you want to take part (just in case!). This will be a joint evening with the Basingstoke Canal Canoe Club, and canoes will be available to try out if you have never been in one before. Also, to make it a colourful occasion, if you have your own boat, (with or without engines) launch it at Reading Road Wharf, and arrive by water (only 1/2 mile). There will be prizes for the best decorated boats, dinghies and canoes so the more the merrier. For those who wish to, come dressed in traditional canal costumes to enhance the atmosphere. Prizes for the best dressed lady and gentleman. Entrance free but there will be a silver collection.
[back to top]
BE A PRIZE GIVER
In an effort to encourage everybody (both 'waterway-minded' and 'normal' people, alike) to buy hundreds of tickets in this year's Grand Draw it has been decided to offer 3 cash prizes totalling £100.
However, there remains a desperate need for support prizes, details of which need to be known urgently as the printing of tickets is imminent.
Jean Scott Guildford 66683 who is organising the Draw for the second year would be delighted to hear from anyone who either has a prize to give or who works for a generous employer who would be prepared to support one of our major fund raising events by donating one of his products.
Employees of the Inland Revenue need not reply!!
JUMBLE SALE JUMBLE SALE JUMBLE SALE
SATURDAY 26TH JUNE 1 982 AT ST. PETER'S CHURCH HALL (opp St. Peters Church) ASH (Aldershot side of Ash Station) 2.30pm
Jumble After 16th June to Betty Scammell, 6 Grange Farm Road, Ash. Tel: Aldershot 23215 or Rosemary Millett, 14 Dinorben Close, Fleet. Tel: Fleet 7364
Offers of help to Fleet 7364
[back to top]
JOHN PINKERTON 1982 SEASON Malcolm Pickett
This year the boat will be available for charter on Wednesdays to Sundays from 1st May to 17th October with public trips on Sunday afternoons, Bank Holidays and, during August, on Wednesday afternoon. A slight departure from last year's operations will see the boat alternating the directions of public trips on Sundays with the first trip on May 2nd travelling west to Odiham Castle. A word of advice, if you are thinking of coming along please ring Clive Durley (Fleet 5694) to book your seat(s) as we are invariably sold out. The charge this year will be £1.20 for adults and 6Op for children. The members' evenings will again operate on Tuesdfty evenings 18th May to 10th August. (See your Newsletter for departure times).
To those of you who crewed last year and helped make it such a profitable season I will be contacting you shortly. Those of you who would like to crew will be most welcome, especially if you can help some weekends. Roger Cansdale (Fleet 6964) undertakes training on the Tuesday evening club nights and will also be taking the boat out at 11.00am. and 2.30pm. on April 24th for the sole purpose of training. Please feel free to come along on any of these dates, I know Roger will be pleased to see you.
Finally, a word to those who didn't crew as often as they would have liked last year. To save time and money I allocate crews on a first come first served basis. If you would like to crew more often, please don't feel you have to wait for me to ring you, Give me a call on Yateley 871493 with your request and I'll endeavour to fit you onto the rota.
[back to top]
TEN YEARS AGO (from Newsletter No. 43 March/April 1972)
* It was reported that both Surrey and Hampshire County Councils were to be asked to authorise compulsory Purchase Orders following the failure of purchase negotiation.
* Following a mailing to local societies and clubs inviting them to join the Society, over 40 replied and 14 organisations joined. (Worth trying again - Ed).
* The newly formed Lengthsmen Scheme was reported to have proved successful.
[back to top]
LENGTHSMAN SCHEME - SURREY SECTION
The lengthsman scheme in Surrey started in 1977 but subsequently disintegrated; mainly because there was very little to keep an eye on or report back about. With no water of any note throughout this section there were no leaks. The odd tree did fall down but unless it obstructed the towpath it was not an urgent matter. Well all this is changing, the Surrey section is slowly coming to life particularly at the western end.
Locks are restored, pounds are being filled with water, weirs are in operation. The need for regular inspections and vigilance is becoming important, therefore, the lengthsman scheme is being reactivated. This is where members con help. The Society intends to divide the Surrey section into one mile lengths, l6 in all, with one person responsible for each length.
This person will report direct to Surrey County Council any unusual occurance - leaking bank, disappearing water but no sign of a leak, trees downs flooding, damage to structures caused by vandalism or any other cause and any other factors worth reporting - using a 'hot-line' phone facility. In the event of a report they will also be required to notify the Society in the form of a written report.
The lengthsmen will be undertaking a responsible job and the need to become familiar with an allocated length dictates that the person undertaking the task can patrol it regularly for a minimum period of one year (renewable).
Members interested in taking on this important function should contact Vic Trott, 21 Lime Grove, westfield, Woking, Surrey. Woking 68607 (evenings or weekend).
[back to top]
SOCIETY SUPPORTS HART AT INQUIRY
A Public Inquiry into Hart District Council's refusal to grant planning permission for housing developments at Freelands Farm, and Grove Farm, Church Crookham, opened on 2nd March.
Our Vice-Chairman David Millett and his wife Ro'semary, aided by other members, burned the midnight oil to present the Society's case in support of Hart's decision, and to publicise the need to protect the canal's environment from further urbanisation.
The Society is opposed to the development of the two sites - 50 acres at Freelands Farm on the banks of the canal west of Fleet and 155 acres at Grove Farm near Malthouse Bridge. Together with a third site at Yateley the sites would be developed to accommodate about 2,500 new houses.
The Society based its objections mainly on the effect more riparian housing will have in reducing the amenity value of the restored, canal. This is particularly relevant to the attractive rural area west of Fleet. But the objections are much more fundamental. The three sites are not among those set out by Hart District Council to take the extra 1,800 homes demanded by the Environment Secretary, Michael Heseltine under the North East Hants Structure Plan..........
Apart from the issue of the two farm sites, the Inspector's findings may have far reaching effects. If planning permission is granted, many sectors of the community believe it will give the green light to a flood of applications and undermine the local council's efforts to plan development.
[back to top]
WOKING PUBLICITY MEETING
The Society will once again be 'showing the flag' at Christ Church Hall, Town Square, Woking on Saturday, 12th June, 1982, from 9.00am. to 1.00pm. A display of photographs,slides and films, together with the Sales Stand and other attractions will provide the visitor with an up-to-date picture of restoration progress.
[back to top]
1982 WESTEL CANOE TRIALS ON THE BASINGSTOKE CANAL. SUNDAY APRIL 25TH
This very popular and colourful event will be held on Sunday April 25th based at Reading Road Bridge, Fleet. Distances will be 6,12,20,30 and 40 miles with various time options in each distance category.
It is a very good spectator event with starting times for the popular 12 and 6 mile events at 11.30am. and 1pm. All the canoeists will be finishing from 2pm. onwards. On the site will be refreshments, Society Sales Stand and Exhibition Stand, and also trade stands with a wide range of canoes and canoeing equipment for sale including clothing. Admission free for spectators. Around 450 canoeists are expected to take part.
Late entry forms from Jeff Simmons, 52 Ashgrove Road, Ashford, Middx. TW15 1PJ. (Tel: Ashford, Middx. 55085)
200 CLUB
The winners in the February draw:
Mrs. J. Greenfield - £46 Mrs. B.M. Scammell - £23 Mr. R.E.C.B. Smith - £12 Mr. V.F. Bristow - £12
At the time there were 93 members yielding prize money of the same amount. Thanks to the response to the February Newsletter, however, the membership is still increasing and so is the prize money. For application forms send a S.A.E. to: Derek Truman, 91 Tavistock Road, Fleet, Hants.
[back to top]
SPONSORED WALK
Most of you will have booked Sunday 16th May in your diaries and we expect to see hundreds of you between Woking and Fleet that day. We really do need the money and hope that 1982 will see a new record sum raised for the Society - that means a target of over £5,000. If you don't feel like walking yourself you can always put your money on Robin Higgs!
You can also help by acting as a marshal - there are 10 marshal points which need to be manned from just before 10am. to about 6pm. Split shifts or any other suitable arrangements will be more than acceptable.
Spare leaflets and more information can be obtained from Vic Trott, Woking 68607, Aubrey Slaughter, Fleet 23102 and Derek Truman, Fleet 3435 who would also be delighted to hear from volunteer marshals.
[back to top]
STAR ATTRACTION
Our member Howard Diamond sent us this letter from an American living in London, writing about a mutual friend who visits this country for his holidays:
'Al came from New York for Wimbledon Tennis, Ascot. The Royal Wedding and finally Armistice Day this year. He was a G.I. here in wartime and returns every year for a holiday.
'Just as he was returning he looked back over his holiday - and guess what he enjoyed most of all? Your canal trip! He said that only in England could such good works be done.
'I wonder if your colleagues know how much pleasure they give us all? Do convey my thanks.
[back to top]
BY THE WAY
With the Spring coming, it's high time Hampshire County Council issued at least some basic byelaws to discourage mis-use of the canal. We can remember a year or two ago being positively endangered by motor bikes being ridden along the towpath at Greywell. Although not to dangerous, we recently encountered galloping horseriders chewing up the towpath at Winchfield. What is more the riders had to negotiate an expensive (though tasteful) looking 'pedestrians only' type barrier across the towpath at Chatter Alley. Why not a simple sign MO HORSES or WALKERS ONLY?
[back to top]
CANAL FEATURES IN HART PLAN
Plans to protect the environment of the Basingstoke Canal and encourage its use for recreation, feature prominently in the recently published Hart District Plan. In it, the Council makes six recommendations for the canal:
* to encourage and support restoration for recreational use but not at the expense of its historic and ecological character.
* encourage the provision of ancillary facilities including appropriately sited car parks, boat launching ramps, picnic areas and a mooring basin for 100 boats at Pondtail Bridge, Fleet.
* to protect the character of the canal and views from it by preventing riparian development within a defined distance.
* to encourage new footpaths and footbridges in order to improve access to the canal.
* to refuse permission for houseboats or other permanent moorings along the canal.
[back to top]
GONGOOZLERS' GOSSIP
ENORMOUS thanks to Pilgrim Trust for donation of £1,000 towards the Cowshott Manor Bridge Appeal.
POTENTIAL crew members for John Pinkerton invited to all day trip on Saturday 24th April departing Colt Hill 10.45am. for King Johns Castle and return for lunch. To Barley Mow in afternoon.
SORRY to hear that top end of Llangollen Canal closed for remainder of year due to serious breach.
GRATEFUL thanks to Southampton University Industrial Archaeology Group for donation of £100 towards cost of replacing king pin on 'Perseverance'.
DELIGHTED to learn that future of Southern Stratford Canal now appears secure following formation of new Trust to undertake its 'restoration' and future running. Now we know why Peter Cooper no longer wishes to sit up until past midnight at Committee meetings - he has got married! Congrats to him and Sue.
DOUBTERS eat your words! The latest membership drive has resulted in recruitment of 32 new members. If YOU still have a spare form - USE IT!
WILL you be getting a copy of the next Newsletter? If you haven't paid your subscription you wont. Cheques/cash to Ted Williams a.s.a.p. please. NOTHING sinister intended by stapling working party leaders heads together in last Newsletter. Just a case of stitching you up!
MAYOR of Woking's weekend working party on 13/14th March brought a good turnout clearing towpath and site near Chertsey Road bridge recreation ground.
SHCS Quiz team led by memory man Peter Oates beat the Reading branch of the K & A to become finals winner. Congrats to captain and team Peter Jones, Clive Durley and Mike Fellows. Thanks to organiser Tony Clayton.
[back to top]
COPY DATE FOR JUNE NEWSLETTER: 1ST MAY 1982
Published by the Surrey and Hampshire Canal Society Limited, a non­profit distributing company limited by guarantee, registered as a charity.
Editors: Dieter Jebens, Janet & Chris Brazier. Production: Diana Snow and Cecil Eynon.
Collation & distribution: Janet & George Hedger, Clive Durley & helpers.
Editorial Office: 75 Middle Bourne Lane, Farnham, Surrey GW10 3NJ. (Farnham 715230)
Chairman: Robin Higgs, 18 Barnsford Crescent, West End, Woking (Chobham 7314)
Vice-Chairman: David Millett, 14 Dinorben Close Fleet (Fleet 7364)
Hon. Treasurer: Bryan Jones, 16 Bliss Close Basingstoke (61053).
Hon. Secretary: Philip Riley, Meadow Vale, Guildford Rd, Normandy, Guildford (Worplesdon 234776)
Membership Sec: Ted Williams, 36 Kestrel Rd, Basingstoke (61579)
Working Party: Peter Jones, Aldershot 313076 and Information: Peter Cooper.O1-993-1105
Trip Boat: Clive Durley, 15 Kenilworth Rd., Fleet (5694)
Sales Manager: Aubrey Slaughter, 36 Fir Tree Way, Fleet (23102)
Talks Organiser: Miss Pauline Hadlow, Beaulah, Parkstone Drive, Camberley (28367)
Exhibitions Manager: Phil Pratt, 26 Fleetwood Court, Madeira Rd., West Byfleet (4028l)
[back to top]