.

No. 79
APRIL 1978
1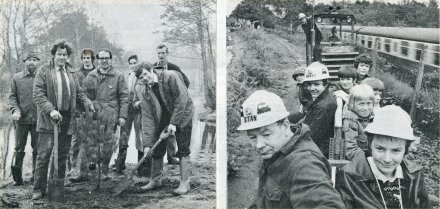 2,3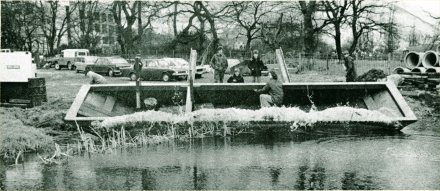 4
5,6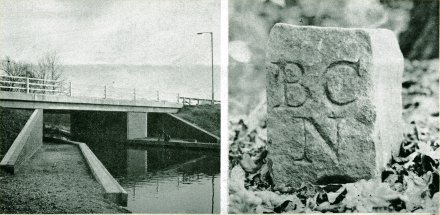 7,8
COMMENT
Points of order and a censure motion are guaranteed to liven up any AGM and the Society's meeting at St. Andrew's Hall, Frimley Green on February 25th was no exception. "Was the meeting aware",asked a member, "that one of the candidates elected to the Committee was seconded by a person who was not a member of the Society?" And from another member, "Were members required to vote for exactly nine of the twelve candidates nominated for the Committee - and if they had not done so, were their voting papers not invalidated?" Neither point was finally resolved and, clearly, the majority of those present were irritated by academic content of the ensuing debate. Nevertheless they were embarrassing questions of a kind the Committee should take greater care to avoid in future.
The censure motion concerned the Committee's decision to spend £10,000 on building the Society's trip boat when money is badly needed for restoration work. The motion as such was out of order and it is doubtful, from what was said by members in favour of the project, that it would have been carried.
Firstly, as the Treasurer pointed out, the Committee appropriated only £2,000 towards the cost out of general funds. The rest was donated and raised by members and friends of the Society. The tremendous response alone was a measure of the support which existed.
The idea was conceived as an investment to raise funds for restoration. Operating cost estimates put the annual profit from the boat at around £2,500. And as with any worthwhile investment, it will provide a regular and continuous income.
The trip boat was also seen as a practical way of introducing the pleasures of the canal in a practical way to a great many people. Thus promoting its amenity value as well as publicising the Society's work in restoring the waterway.
Our member Pablo Haworth made the point that if the Society didn't operate a trip boat, a commercial concern would; and he wasn't helping to restore the canal for the benefit of a commercial firm.
Lastly, the passage of a large canal craft will help maintain the restored section of the navigation by keeping silt in suspension and weed growth down.
The third subject of discussion and, indeed, a recurring theme throughout the AGM was the current depleted number of volunteers. As David Junkison said, the debate on points of order was absurd, and the sub­ject of the trip boat trivial, compared to the problem of attracting more Society members to work on restoring the canal. In his view, a Society with over 2,000 members ought to be able to get at least 15% of its membership to join voluntary working parties.
And the problem of recruiting more volunteers was the subject of the chairman's closing remarks. Society members may have been lulled into a false sense of security, said Robin Higgs, by the work being done by the Job Creation Programme team, and the County Council's input, especially in Surrey.
But, as the chairman said, the JCP project is only a bonus. "Restoration has and will continue to rely heavily on volunteers and we need a lot more of them", he said. "I said once that our aim must be to dredge 6 miles of the canal and restore 5 locks a year if the navigation is to be re-opened by 1982 as scheduled", Robin Higgs concluded, "and that aim still holds good today. But a great deal depends on the Society's ability to maintain and increase the voluntary labour force".
[back to top]
REPORT ON THE SOCIETY'S ANNUAL GENERAL MEETING.
Volunteers who are helping to restore the Basingstoke Canal were congratulated on their achievements by Mr. Raymond Stedman, Surrey County Council's Countryside Officer at the Annual General Meeting of the Surrey and Hampshire Canal Society held at St. Andrew's Hall, Frimley Green on Saturday 25th February. Mr. Stedman said that excell­ent progress had been made during 1977 to which volunteers had contributed a great deal, especially during a weekend last October when 600 volunteers from all parts of the Country took part in "Deepcut Dig". "We from the County", said Mr. Stedman, "were thrilled with what was achieved". Mr. Stedman also paid tribute to the work being done by workers recruited under the Job Creation Programme led by Mr. Frank Jones. Mr. Stedman also mentioned the assistance given by a local Army unit in building a sand-bag bank along the western shore of Mytchett Lake. Liaison with Hampshire County Council was now on a formal basis, Mr. Stedman told the meeting, as both local authorities recognised the need to treat the waterways as an entity.
For Hampshire County Council, the canal manager, Mr. David Gerry, said that their biggest task was dredging which they were trying to help speed up. Mr. Gerry said that he was very impressed with the Society's contribution to dredging the canal at Fleet and the sale of extracted silt which had paid for the work done. One of the major tasks the Council hoped to undertake this year was the repair of a landslip at Dogmersfield which would be an expensive job.
In a report on the year's activities, the Society's vice-chairman, Mr. David Millett said that some 3-1/2 miles of canal had now been dredged from North Warnborough to a point east of Broad Oak with a further 1/2 mile cleared at Fleet. In Surrey, the Council had completed 6 miles of dredging. At the beginning of 1977, Hampshire County Council had published a draft plan for recreational use of the canal which had been widely debated. As a result, Mr. Millett said navigation for all types of canal craft would terminate temporarily at the Whitewater winding-hole and empowered boats at Greywell tunnel. A conservation plan for land surrounding the canal in Hampshire had also been published and approved.
Mr. Millett reported that the Society' s plan to operate a tripping boat from Colt Hill, Odiham had finally been approved after protracted negotiations, and trips would commence in May.
Turning to work at the Surrey end of the canal, Mr. Millett reported that the Society had established extremely good working relationships with Council officials and Councillors and that maximum support had been received both in advice and the supply of materials. Mr. Millett said, "It has been very encouraging to see the personal support and interest of Surrey County Council's chairman, Brig. David Bastin". Mr. Millett thanked Mr. Frank Jones and the Job Creation Programme workers for their excellent work on restoring lock chambers on the Deepcut flight. He added that the Society had recently been given a new grant of £129,243 plus £8,790 for operating costs which would enable the scheme to continue until the end of 1978.
Major fund raising events had included a Marks and Spencer fashion show which raised £1,200, a sponsored towpath walk raising a further £1,200 and the annual May Ball. Concluding his report Mr. Millett said that the Society had currently 2,170 members. In his report on voluntary working parties, the Society's organiser, Mr, Roger Thomas, said that the Society's steam powered 70 ton floating dredger had operated every weekend throughout the year with the support of mud barges and tug boats for the removal of silt.
Working parties had completed clearance work along the off-side bank of the canal's 15-mile section in Hampshire. Mr. Thomas expressed his thanks to the Crookham Village Association for the work they had done especially on repairs to Poulters Bridge. He appealed to more local riparian residents associations to undertake their own projects on the canal.
Major work had been undertaken by Hampshire County Council in repairing Swan cutting at North Warnborough which was completed last December.
The Army had also given assistance in Hampshire by dredging the section between the two Pondtail bridges at Fleet.
In Surrey, Mr. Thomas reported, voluntary work had been concentrated on the Deepcut flight of locks and he thanked those responsible for laying the mile-long narrow guage railway line along the towing path which had proved an invaluable supply line for transporting building materials to the lock sites.
During the year a group of volunteers led by Mr. Peter Jones, completed the restoration of lock No. 25 at Curzon Bridge. Mr. Thomas gave a detailed report of 'Deepcut Dig' organised by the Waterways Recovery Group and the Society in conjunction with Surrey County Council. During the weekend's working party an estimated £7,000 worth of work was done on repairing 12 lock chambers between Brookwood and Pirbright.
Volunteers were also busy at the eastern end, Mr. Thomas said, working on lock No. 6 at Sheerwater and on lock No. 1 which had been 'adopted' by the Guildford branch of the Inland Waterways Association. Volunteers had also come forward to clear rubbish from the canal at Woking following an appeal on Granada television's 'Reports Action' programme. The section between Chertsey Road and Monument bridges had subsequently been dredged by Surrey County Council and further dredging was now in progress at Ash, stated Mr. Thomas.
A review of progress made by the Job Creation Programme scheme was made by the project co-ordinator, Mr. Frank Jones. The scheme started in February 1977, Mr. Jones said, with a grant of £35,000 from the Manpower Services Commission to employ 26 unemployed people for a six month period. A further grant of £19,000 was made in August enabling work to continue until the end of 1977 by which time they had re­built lock No. 26, 27 and 28 above Curzon Bridge, Pirbright.
With successful application of a much larger grant, the Job Creation Programme had been increased to 45 workers for a further 12-month period and work was currently in progress on Deepcut lock Nos. 21-24. Mr. Jones announced that work would shortly commence on building lock gates for the completed chambers.
In a report on the Society's finances, the treasurer, Mr. Peter Fethney said that whilst revenue from donations had been good, new members were needed to help off-set the rising cost of administration which had only just been covered by existing subscriptions. Mr. Fethney thanked Mr. Richard Allnutt who had been responsible for raising £4,000 from charitable trust funds.
The Society's sales manager, David Gay, reported a record income of £2,??? in spite of poor weather conditions at many of the year'a events.
In his closing address, Mr. Robin Higgs, the Society's chairman, said that despite the tremendous progress made last year towards restoration of the canal, many more volunteers were needed in order to maintain the rate of progress. "I said once that our aim must be to dredge 6 miles of the canal and restore 5 locks a year if the canal is to be re-opened by 1982", said Mr. Higgs and added, "that aim still holds good but a great deal depends on the Society's ability to maintain and increase the voluntary labour force".
[back to top]
ELECTION OF EXECUTIVE COMMITTEE
It was announced at the AGM that the following had been elected to the Committee for the coming year: Lise Hamilton, Robin Higgs, Roger Thomas, Peter Mayne, David Millett, Peter Youngs, Brian Bane, and Peter Fethney.
Stan Googe was also elected to the Committee but the attention of the meeting was subsequently drawn to the fact that his nomination was not in order and the Committee has decided, with regret, that his election cannot be allowed to stand.
The Committee has been advised by a lawyer that as a result of its decision a casual vacancy has arisen. In the circumstances the Committee thought it right to consider whether either Stan Googe or Peter Cooper (the tenth candidate in line for election) should be co-opted to fill the vacancy. However, after careful consideration of all the relevant factors, it was concluded that the vacancy should not be filled for the present. The Committee is pleased to record that both Stan Googe and Peter Cooper have assured it of their continual support.
[back to top]
SOLDIERING ON
One of the attractions of the canal is its natural history. Whilst some disturbance is inevitable during restoration, the work is being done in consultation with expert naturalists. In Surrey, the County Council is being advised by Arthur Lindley, of the Surrey Naturalist Trust. Hampshire retain the services of Jim White as their Conservation Officer.
In the following article, Jutts Manser, author of the Society's book 'The Natural History of the Basingstoke Canal' looks at some of the more unusual plants along the Hampshire section which are being conserved.
"Every newsletter brings cheering reports of the activities of working parties, job-creation schemes, Hymac and Perseverance. The twopath looks trim, the water channel is being dredged, the wilderness is slowly disappearing. The only-boats-matter brigade will say 'and a good thing too!' The rest of us, who value water voles and water violets as part of a canal, along with its boats and barges, may hesitate. Luckily there is no fundamental conflict between restoration and conservation. The splendid variety of species which live on the canal depend on it being a canal. If it dies, they die with it. So conservation means restoration - with care.
Care indeed, is being taken. Places are being marked "avoid disturbance" such as an area east of Pillar's Bridge where moschatel grows. It is a modest plant, symbol of Christian watchfulness, with its small white flowers arranged like the four faces of a clock tower, plus a topmost bloom facing up to the sky. The white scented violets that grow along the towpath near Double Bridge are also to be avoided if possible, if not they will be moved.
Turning to the canal itself, the water fern near Broad Oak is expected to survive dredging without assistance but a special watch will be kept for the red duckweed recorded near Baseley's Bridge. This it is planned to remove before dredging. The most vulnerable are probably those plants which like to keep their feet wet, growing in the banks and margins of the water. Clearing a channel inevitably means a disturbance. Water violet sends up spikes of lilac flowers with a yellow eye in early summer. It is mostly restricted to eastern England, so the site near Claycart Bridge is a treasure for Hampshire. They will be moved before work gets under way here. There are similar plans for the flowering rush, another handsome rarity. Its tall spikes of bright pink flowers catch the eye in summer. Along with more water violet and bogbean, this can be seen near the Pondtail Bridges. All are to be moved. The fringed, almost furry, flowers of bogbean are decidedly attractive. It is not uncommon in watery bogs, but watery places themselves are getting rarer. Bogbean is still thriving west of Colt Hill in the wake of the dredger.
Genuine conflict of interest can arise, as with water soldier. This has colonised some stretches of water with such vigour that it is hard to realise the plant is in need of protection. It is really rare, a refugee from eastern counties where it has declined precipitously. However, the floating jungle of tough spiny leaves, like small aloes, is just incompatible with boats. Sone plants will be moved to a mini reserve out of the way of boating. Whether they survive their restriction remains to be seen, but it is a real attempt to solve the problem.
Some species we may lose. The most unusual bird's nest orchid is known at one site only on the canal. It is very susceptible to disturbance, so removal is out of the question. Efforts will be made not to disturb the litter of dead twigs and leaves where its dense root system lies entangled, but it is too near the bank to avoid entirely. Having instructed working parties to take care, we can only keep our fingers crossed! Other canal-side orchids, such as the fragrant marsh orchid and the marsh helleborine, are more easily avoided and should survive.
It is not just rarities that matter. Soon the snowdrops, celandines and wood anemones, wild daffodils and primroses will be blooming by the towpath. They need no description, but they do need protection. Resist, if you can, the temptation to take them home by the handful. Leave them to spread their seeds for future springtimes. They are not in danger of being destroyed, but they will suffer disturbance and need encouraging.
Volunteers to help identify and move specimens would be very welcome. Working parties are busy restoring life to the canal. Let's keep it that way.
[back to top]
WORKING PARTIES
The big effort for 1978 is now under way, with particular emphasis on the major assault on the Deepcut flight of locks. Society response to this particular challenge has been disappointing so far this year. On one recent weekend the numbers attending the working parties of London W R G (lock 17) and Southampton Canal Society (Lock 19) both far outnumbered this Society's working party on the flight.
The Job Creation Project team are working hard on this restoration for 5 days of the week, and other voluntary groups are prepared to travel from as much as 50 miles away to take part. This Society's prime purpose at present is to bring about the restoration of the canal. Are the members of the Society going to sit back and leave all the work to other people?
Other working parties continue, and outline details are given below. For fuller details nearer the event you should contact the working party leader involved, or use the Society's Ansaphone on Farnborough 45032.
Every Weekend Deepcut Flight>BR> This is where the job of 1978 is taking place, and where there is greatest need for more Society Volunteers. You don't have to be a master craftsman of 20 years experience, or a navvy capable of wielding a heavy sledge-hammer all day unaided, though you'll probably be doubly welcome if you are. The work is often fairly heavy and can be very dirty, so it's not really suitable for family parties or small children. But a large supply of tools is available, instruction on their use is given on site, and there is always a lot to be done. What is then needed is a good supply of volunteers willing to come along and exert themselves. Have you done your bit on the Deepcut Flight yet? The co-ordinator of the Society's work on the Flight is MIKE FELLOWES on Wokingham 787428, and he can give you further details, or alternatively you should contact one of the working party leaders. The main access point is Cowshot Bridge (by Lock 17) where a notice board will tell you which lock to go to.
The Society's working parties, with dates, leaders and locations are as follows:-
First weekend of the month - 1/2 April, 6/7 May, 3/4 June
- Lock 16 - PETFR JONES on Aldershot 313076
Second Saturday of the month - 8 April, 13 May, 10 June - Lock 16 - MIKE FELLOWES on Wokingham 787428
Second and Fourth Sundays of the month - 9 Apr, 23 Apr, 14 May, 28 May 11 June - ALAN GRIMSTER on Farborough 45032
Third Weekend of the month - 15/16 Apr, 20/21 May, 17/18 June - Lock 16 - JULES WOOD on (work) Aldershot 24471 Ext. 5481.
Fourth Weekend of the month - 22/23 April, 27/28 May - Lock 26 - JIM CHISHOLM on Wokingham 785146
Fifth Weekend of the month - 29/30 April - Lock 16 - MIKE FELLOWES on Wokingham 787428
Two outside groups are also working on this flight, and their working dates are as follows:-
London W.R.G. - 1/2 Apr, 6/7 May
- Lock 17 - JOHN ORMSHAW on 01-904-3317
Southampton Canal Society - 8/9 April, 10/11 June - Lock 19 - PETER OATES on Botley 3844.
The work being done on most of these locks includes excavating and rebuilding top cills, demolition of culverts, demolition of chamber walls, and putting in clay behind upper wing walls. The exception is lock 20 where the main job is construction of the bypass channel.
Most weekends the Smalley excavator is working, either digging bypass channels, excavating cills or digging behind upper wing walls. This is a specialist working party requiring particular skills. Contact either DAVID JUNKINSON on O1 -941-0685 or MARTIN BOWERS on Farnborough 513095.
Every weekend work needs to be done on the Deepcut Narrow Gauge Railway, including track assembly and laying, maintenance of rolling stock,locks and track, and moving materials and plant. Further details from JOHN PEART on Farnborough 46554 or STAN MELLER on Camberley 32096.
Every Weekend Dredging in Hampshire
The dredger is currently in the area of Sandy Hill Bridge, and though the previously quoted target of completion to Barley Mow Bridge by Easter is now unrealistic, it is hoped that this point can be reached later this year. This operation still needs regular helpers, to assist in disposal of the dredgings. The recommended parking place is by Swan's Farm, a short walk from the worksite. Further details from ROGER THOMAS on Bordon 3717.
Second Weekend of the month Lock 6 (Sheerwater)
15/l6Apr, 13/14 May, 10/11 June
Work on the bywash is in progress on this lock, and much digging has taken place. Digging and concreting will continue, after which the bottom end of the lock will receive attention. Further details from PABLO HAWORTH on Byfleet 42081.
Note: The April meeting is on 15/16 April, and not 8/9 April as given in the last newsletter.
Third Sunday of the month Lock 1 (Woodham)
16 Apr, 20/21 May
The inlet section of the bywash is just about complete by now, and the main concentration of effort is now on repairs to the upper wing walls and breaking out the top cill. If you can bring your own pointing tools please do. Further details from JEFF HOLMAN on Woking 63311 or DICK HARPER-WHITE on Weybridge 42074. This party is normally billed as Sundays only, but also meets on fine Saturdays, and plans to meet on Saturday 20 May.
Last Sunday of the month Various jobs in Hampshire
26 Mar, 30 Apr, 28 May
This party continues to meet to perform a variety of jobs, with the accent on work suitable for family parties and not requiring special skills. Details of the work and the location for any month can be obtained from DAVID MILLETT on Fleet 7364.
Various Weekends Weir Restoration
specialist working party works on restoring the weirs near Deepcut top lock. Anyone interested in taking part should contact PETER MAYNE on Camberley 24701 for further details.
Starting soon Towpath widening in Hampshire
It is planned to set up a working party during the Spring to work on widening the towpath at various places in the Farnborough/Fleet area, This is to be a mechanised party with Sinalleys and dumpers. Anyone interested in taking part should contact ROGER THOMAS on Bordon 3717.
Starting soon Lock Gate Building.
It is planned to start shortly a lock gate building working party for volunteers. This will start with instruction In the skilled work and should begin in June. Anyone with relevant experience, or interested in learning, and taking part, should contact either MIKE FELLOWES on Wokingham 787428 or FRANK JONES on Camberley 28367.
WATER SAFETY WEEKEND - FRIDAY 12 MAY AND SATURDAY 13 MAY Hart District Council are holding a Water Safety Weekend at Colt Hill, Odiham on the afternoons of 12 and 13 May. There will be many life-saving demonstrations and exhibits to see. The Society sales stand and Portakabin will be there. Do come along and have an enjoyable afternoon and at the same time learn how to cope with the hazards of water.
[back to top]
A PLUG IN THE BOTTOM
Three years ago, Hampshire County Council rebuilt a flood relief weir on the canal at North Warnborough. In the following article, Hampshire canal manager, David Gerry, describes an interesting find.
"During the construction of the new weir, the contractors uncovered a 12" square elm pipe made of 2-1/2" thick boards nailed together with 6" square hand-made nails. The pipe was positioned horizontally under the canal bank.
Its purpose was something of a mystery. It seemed unlikely to have been a culvert and so we came to the conclusion that the pipe was a drain. Originally it would have been fitted with a trap door and a chain to open it.
Mr. Wilfred Harmsworth senior, tells us that similar drains exist in Great Bottom Flash at Ash Vale and another at Eelmoor Bridge which was sealed with clay about 50 years ago. The discovery at North Warnborough confirms local legends that a water let-off structure existed on the site of our new weir. I now wonder if there are any more such drains. There is certainly one other likely site but unfortunately its existence cannot be established without digging up the canal as there are virtually no records of how the navigation was built.
Anyone who has visited the Monmouth and Brecon canal may have noticed small wooden capstans at various places along the towpath. Apparently they were used to wind up chains fitted to the trap door of drains similar to the one found at North Warnborough. Whilst clearing the banks of the Monmouth and Brecon Canal recently, council workmen unwittingly discovered the purpose of such chains when one got tangled in their mowing machine. Finding it difficult to pull the chain out of the canal, they hitched it to their lorry, drove away and promptly emptied the canal!
I wonder if the Basingstoke ever had small wooden capstans on the towpath and if any plugs were ever pulled out by accident.
Editors' Note: If you have made any interesting discoveries along the towpath, or have recollections, of the canal's past, we'd like to hear from you.
[back to top]
SOCIAL JOTTINGS by David Millett (acting Social Sec.) Fleet 7364
Monday, 10 April at 8pm. Woking Central Halls.>BR> Illustrated Talk by Charles Lewis, a Director and Publicity Officer of the Winchester and Alton Railway Ltd. The talk will be entitled "The Watercress Line, the Story so far". Although the history and preparation for the re-opening in 1977 will be covered, emphasis will be placed on showing slides of the operational aspects last year when over 100,000 passenger journeys were made, an increase of 18% on the first year's estimate. Coffee and biscuits will be served.
Friday, 28 April at 8pm. Teachers' Centre, Farnborough Joint Meeting with the Inland Waterways Association (Guildford Branch)
Illustrated Talk by Roger Squires entitled "The Waterwaya Restoration Movement" when he will describe and illustrate the various restoration schemes in progress up and down the country. A chance to compare the scale of our restoration effort with those taking place elsewhere.
Society Pub Evenings
Pub evenings at the Waterwitch, Colt Hill, Odiham are being discontinued and a new Pub Evening at the Fox and Hounds, Crookham Road, Fleet (Canal lounge) is being commenced on the 1st Monday monthly.
1st Monday monthly at the Fox and Hounds, Crookham Road, Fleet (Canal Lounge).
3rd Wednesday monthly at the Bounty, Bounty Road, Basingstoke (Parlour Room).
Society Club Nights at the Railway Enthusiasts Club, Hawley Lane, Farnborough (on the A327 Farnborough/Reading road, immediately on the south side of the M3 road bridge).
Thursdays, 20 April and 25 May, 8pm. onwards. An informal evening and a good place to meet fellow members and committee members. Licensed bar.
On 20 April some short films made by Phil Pratt will be shown.
A vacancy still exists for the position of Social Secretary. Details from David Millett (Fleet 7364) or from the Secretary, Mrs. Lise Hamilton (Farnborough 49651).
[back to top]
SOCIAL DIARY
April
3rd Pub evening at the Fox and Hounds
7th Fleet and Crookham Civic Society Holiday Event.
8th Last date for entries for Canoe Tourist Trial.
10th Talk on Watercress Line, Woking Central Halls.
16th Canoe Tourist Trial.
19th Pub evening at The Bounty.
19th Talk on Thames Sailing Baigss at Sutton College of Liberal Arts.
20th Club evening at Railway Enthusiasts Club.
28th Illustrated talk on Waterways Restoration Movement, at Teachers Centre
30th Last date for comments on Ash Wharf Basin Scheme.
May
1st. Pub evening at the Fox and Hounds.
5th May Ball.
12th and 13th Water Safety Weekend.
17th Pub evening at The Bounty.
21st. Club evening at Railway Enthusiasts Club.
June
5th Pub evening at the Fox and Hounds. 21st Pub evening at The Bounty.
[back to top]
ASH WHARF BASIN RESTORATION SCHEME
The focal point of the Ash Vale length of the canal is undoubtedly the basin at Ash Wharf, which has become heavily silted and overgrown since the canal became disused. Originally, the basin at Wharf Road was much larger, and covered an area which has now been developed as a shopping parade. Blundell's Boathouse stood beside ths basin, and until the 1950s it was possible to hire a skiff for a quiet day's row up to Frimley or across the embankment to Aldershot. The boathouse was very popular with off duty soldiers, and a popular destination for their boat outings was the Swan pub at Heathvale Bridge. Apparently skiffs were to be seen cavorting from side to side of the canal shortly after closing time and it was certainly not rare for the boathouse owner to be still awaiting the return of some craft well past the midnight hour! Mrs. Blundell, who ran the boathouse herself for many years, still lives in Balmoral Cottage which faces the former basin.
Since the old basin is at the heart of the local community and close to the main shopping area, local people inevitably cite its poor condition as a yardstick of restoration progress. Therefore there could be no better advertisement for the restoration project, and no better inducement for local people to become involved in volunteer work than to promote a scheme which would not only turn an eyesore into a showpiece, but which would also eventually create an amenity valuable to boaters and residents alike. For residents, the basin will one day be a place where they can actively take part in water activities, or merely sit and soak up the unhurried canal environment. For boaters, the basin, with its surrounding shops, pubs and other facilities, will become an important stopping point on the badly serviced length between Fleet and Woking.
With both the past and the future in mind, Guildford Borough Planning Department have published a report entitled "Ash Wharf Basin, Basingstoke Canal - Restoration Scheme". Two draft alternative schemes are put forward for public comment in the "Ash Wharf Basin" report. Alternative (a) retains maximum water space, would be relatively cheap, and could involve a high volunteer labour input, while alternative (b) improves rear service access to the shops, would be more costly, and could not employ as much volunteer labour.
If any member of the Society (particularly those living in the Ash area who did not attend the Parish meeting to discuss the scheme on 16 January) would like to see copies of the report and plans, and make their comments known, please go either to Ash Library OR to the Parish Council offices OR to Guildford Borough Planning Department, where the plans are displayed. For full details of the schemes and any other information, please contact David Morgan of Guildford Borough Planning Department, Municipal Offices, High Street, Guildford (Tel. Guildford 7111 EXT. 90). All comments should be received not later than 30 April.
[back to top]
A SPLASH OF THE PAST
It is just 43 years since the last of the great Harmsworth barges, the 33 ton Ariel 1, slipped down the skids into the canal at Ash Vale. This was the last new barge to be built at the Ash Vale yard. On Wednesday, 1 March, just 43 years later, another launching took place, albeit on a smaller scale, but in the same traditional way. The boat, a wooden work boat, has been built at the Ash Lock yard of H.C.C. by Tony Harmsworth, Senior Canal Warden, assisted by Andrew Cresswell of the J.C.P. Scheme. Constructed from new timber, together with timber salvaged from an old work boat, it is 30ft. long and 8ft. wide, complete with removable cabin.
A small crowd gathered to witness the launch which was performed by Tony Harmsworth and his father Mr. Wilfred Harmsworth. The boat was lowered onto the greased skids, but before the jacks were removed two struts - one at each end of the boat - were put under the skids and the whole weight of the boat was transferred to them. Simultaneously, Tony and his father knocked out the struts, the boat dropped onto the skids and slid into the water broadside.
[back to top]
MAY BALL 1978 - 5 MAY
The next S.H.C.S. May Ball is on Friday 5 May. The venue is the Civic Hall at Fleet and the tickets will cost £3 - a reduction of 50p. on last year. The Ball is from 8-1am. and music will be provided by 'Timber' who played for us at the September and November dances. Tho catering will be by Kingsclere Catering. Ticket numbers this year will be limited to 200 as this gives every ticket holder a seat in the main hall. The tickets are available now from S.W. Googe, Henbury, Gables Road, Church Crookham, Hants. Please enclose a 7p stamp.
SALE, 18 FEBRUARY Janet Hedger and Janet Googe
We are delighted to report the jumble sale in Fleet Civic Hall made £227.55 - a Society record. Thanks to everyone who supplied jumble and helped on the day. We would like anyone interested in organising a jumble sale in Farnborough, Woking, Aldershot, Basingstoke, Camberley and Farnham to contact either of us and we would willingly give our help. Janet Hedger, Fleet 7465; Janet Googe, Fleet 5402.
[back to top]
FRED 'THE HYMAC' JOINS SURREY
Fred Hill, the celebrated Hymac operator who brought his excavator to the canal for a week and stayed for over a year, has given up his job with Dragon Plant Hire at Guildford to join Surrey County Council as a Countryside Warden.
Fred's expertise with a Hymac has been much admired by all who have seen the results of his work in Woking, between Monument and Chertsey Road Bridges, and in clearing the 2-mile section between Pirbright Bridge and Deepcut. Recently he has been working on the section from Frimley aqueduct towards Mytchett Lake.
Financed by Surrey County Council, his work will be missed, but we are confident his high standard of dredging and his landscaping skill will be continued by his successor, John Norris.
Our congratulations and best wishes to Fred Hill on his new appointment Although he will be based at East Horsley, we expect to see him on the canal, when work demands, with the permanent wardens Les Foster and Les Trumble. We also hope to continue seeing Fred at our socials for a pint and a natter.
[back to top]
CANAL EXHIBITION'S FIRST TOUR
After a very successful season touring riparian towns and special events, the travelling Basingstoke Canal Exhibition, housed in a Portakabin, returned to County Hall, Kingston, just before Christmas for a 're-fit'.
Created by Alan Gray and his Design Unit team attached to Surrey County Council, with the help of Society members David Robinson and Dieter Jebens, the exhibition started its tour at the County Show in May, followed by the Jubilee Water Festival, for which Shalford Meadows were specially flooded. Another water festival where it attracted a lot of interest, was the I.W.A. national rally held at Reading in August.
The tour included Woking, Weybridge, West Byfleet, Camberley, Fleet, Basingstoke and Odiham. It was co-ordinated by Graham Willis for Surrey County Council and the Society's exhibition organiser, Philip Pratt. Our thanks go to Philip and all those who helped man the exhibition anc especially to County Commercial Cars of Fleet for supplying transport to move it.
The exhibition starts a second tour in Guildford and is expected to visit Ash, Aldershot, Farnham, and possibly Winchester.
Volunteers are urgently needed to help man the exhibition, particularly for weekday openings. If you can help, please contact Philip Pratt on Woking 66198.
GRAND DRAW 1978
Enclosed with this Newsletter you will find a letter from Ted Williams concerning the Draw, together with some books of tickets. We implore you not to put these on one side and forget them (as did the Editor with a preview article which Ted asked us to publish in our previous Newsletter). Any member who studied the Society's Accounts for 1977 will see that at present we are spending more than we're earning. The Grand Draw could be a very big money-earner - it all depends on your support.
[back to top]
THE BASINGSTOKE CANAL GETS ITS OWN VERSION OF THE MIKRON THEATRE
Many members of the Society will have had the pleasure of attending a performance by the Mikron Theatre. Well, at long last the Basingstoke Canal is to get its own version of the Mikron Theatre.
This new venture is based at Aldershot's West End Community Arts Centre, and the aim is to draw together a small number of actors and musicians who will eventually produce a revue centred on the past, present and future of the Basingstoke Canal. The Revue will be performed at canal-side pubs, various functions, and it is hoped, the Canal Society trip boat on some of its cruises during the season. Any revenue will be donated to restoration.
Rehearsals have now been in progress for some six weeks, and it is hoped that the first performances will be given in June or July. The plot which is now beginning to take shape revolves around that last famous trip by boat from Ash to Basingstoke which took place in 1913. The trip took nearly three months, and the arrival of the 'Basingstoke' at journey's end attracted considerable attention from the media. Additional actors, musicians and stage hands are required. If you are interested, contact David Morgan on Fleet 24469.
[back to top]
CANOE TOURIST TRIAL
The Society have decided to promote, in conjunction with the WESTEL CANOE CLUB, a CANOE TOURIST TRIAL on Sunday, 16 April based at Reading Road Bridge, Fleet, Map Ref. 0/S 186/807 536. The event is open to ANY canoe club or unattached canoeist, members of HM Forces or Scout Groups, over one of three set distances of 6, 12 or 20 miles. THIS IS NOT A RACE, but entrants will qualify for a certificate recording their time and EVERY paddler will receive a memento of the Basingstoke Canal. Entrants can opt to complete the course within one of three set times within each distance category, eg. 6 mile event (l-1/4, 2 or 3 hours) so anyone with a canoe can take part and enjoy themselves.
The course will be out and back along the canal starting from Reading Road Bridge, Fleet and will use the canal between the Barley Mow Bridge Winchfield and Aldershot. Entry fee is 50p. so if you have a canoe please enter and come along and make use of the canal. Full details and entry form from Mr. J. Simmons, 52 Ashgrove Road, Ashford Common, Middlesex TW15. 1PJ. Tel: Ashford (Mx) 55085 (STD Code 07842) or from Mrs. R.A. Millett, 14 Dinorben Close, Fleet, Hants. Tel, Fleet 7364. Please enclose a stamped addressed envelope. (Entries close 8 April).
[back to top]
RAILWAY NOTES Stan Meller
SCENE: Curzon Bridge yard on a cold miserable Saturday morning in January.
Two members of the Railway Group are struggling to load bags of cement onto a train. Into the scene comes an N.C.O. from Pirbright Camp leading a platoon on an orienteering exercise. At the surprise order from the N.C.O. each 'Squaddie' takes a bag of cement and loads it onto the train.
With the train loaded, the platoon proceeds on their course. The locomotive takes the train up to Wilderness Weir with the crew on the foot­plate muttering thanks to the Scots Guards.
[back to top]
GONGOOZLERS' GOSSIP
SALES Manager, David Gay, reports Society sales reached £2,100 in 1977 with an increased percentage profit.
I.W.A. South Coast Branch inaugural meeting took place on 3rd. March.
11 FT. Dinghy has been given to the Society by Mr. Spears.
FRANK Jones - J.C.P. Leader - has visited B.W.B. Depot at Bulbourne on the Grand Union Canal to study methods of lock gate construction.
ACTIVE members living in NW or N London please contact Frances Read of 42 District Road, Sudbury near Wembley as she would like to share transport to working parties.
DON'T forget your membership renewal! Now overdue.
MEMBERSHIP cards are to be issued again for 1978.
ROBERT Benford will again be hiring out boats near Colt Hill Bridge this summer. From Easter there will be punts and rowing boats available for hourly hire on the section of the canal which has been dredged. Colt Hill is on the B.3016 just out of Odiham towards Hartley Wintney. People who hire boats may park in the Waterwitch car park. The boat station is open every afternoon and all weekend. For more details telephone Odiham 2895.
THANKS to Diana Snow for taking over the typing of the stencils for the Newsletters.
DRIVERS WANTED. There is a need for volunteer van drivers to move items of plant and tools on certain weekends. This is not a regular weekly requirement. Anyone prepared to do this work occasionally should contact ROGER THOMAS on Bordon 3717.
HOLIDAY event organised by Fleet and Crookham Civic Society to be held Friday, 7 April 10am. to 12 noon at Fleet Civic Hall. Basingstoke Canal will be featured in this event, which is open to all children aged 8 and over. Admission 5p, to include refreshments and a competition.
CREW for Hampshire County Council's weed cutter boat required this summer. Also bank erasion protection work. Ideal for youth groups. Apply to Roger Thomas, tel: Bordon 3717.
[back to top]
COVER PICTURES
Front:
1. The Army working on the canal bank at Mytchett Lake.
2. Jubilee Trees being planted on the canal bank at Horsell Common, Woking - l. to r. Robin Higgs, S.H.C.S. Chairman, Alastair Gray, Horsell Common Preservation Society, Ray Stedman, S.C.C. Countryside Officer.
3. The Railway gang aboard the Deepcut railway.
Inside:
4. The launching of the new H.C.C. Work Boat at the Ash Lock Yard.
5. Tony Harmsworth (right) with his father Mr. Wilfred Harmsworth (left)
6. The completed Work Boat above Ash Lock after the launch.
7. TheWeir Bridge over the canal at Goldsworth Park, Woking.
8. One of the original boundary stones to be seen along the canal.
[back to top]
COPY DATE for the June newsletter - 1 May
TRIP BOAT REPORT
At long last the boat is nearing completion. As we go to press the passenger area is complete except for painting, and preparations are now in hand to paint and decorate the hull, the decorating to be done by members Paul and Mike Benn. At this stage, with the end of the job in sight, we would like to thank all those who have been in any way connected with this exciting project, from the members of the Trip Boat sub committee who have planned and organised everything over the last two years, to the scrapers and painters, plumbers, electricians, and above all to John Hulbert, who has put in a fantastic amount of time and effort, without whose assistance we would be weeks behind, and lastly to all the members who helped to finance the boat. All that remains now is to look forward to 20 May and the first trip up the canal to Greywell.
[back to top]
YOUR CHANCE TO MAKE HISTORY
On Saturday, 20 May, the John Pinkerton makes her maiden voyage. The've planned to make it a memorable day and it will also be an historic event. It will be the first time a traditional style narrow boat has navigated the upper length of the canal since Alec Harmsworth made the last journey aboard the Basingstoke in 1913 - 65 years ago. To celebrate the occasion, Lord Montagu of Beaulieu has kindly accepted the Society's invitation to make the inaugural cruise.
Because the number of seats is limited, and there are so many members, subscribers to the Boat fund, and friends of the Society we'd like to invite on the first trip, it has been decided to offer the seats at £5 each as a donation towards restoration funds. Please complete the application form enclosed and post it immediately. The closing date is 1 May and the first 50 applications received will be sent invitations to join Lord Montagu on this historic cruise. Unsuccessful applicants will have their donations returned.
The launching ceremony will take place at Colt Hill, Odiham on Saturday, 20 May at 10.45am, followed by the inaugural trip. In the afternoon the Society is planning a cruise for local councillors and other guests.
INVITATION TO BOAT FUND SUBSCRIBERS
Everyone who made a donation to the building fund is invited on the third trip aboard the John Pinkerton on Saturday afternoon, 20 May starting at 4.30pm.
The round trip from Colt Hill to North Warnborough and back, with a short stop to see Odiham Castle, lasts about two hours. If you made a donation, please come along.
MEMBERS' DAY
Society members are invited to take a cruise on Sunday, 21 May, starting from Colt Hill at 11am or at 4.30pm. A special half price rate of 25p per person will be offered. Seats cannot be booked in advance so we suggest you come early to make certain of getting aboard.
The final details for the weekend are still being worked our so we suggest you ring the Society's Ansaphone - Farnborough 45032 - during the preceding week for the latest information.
Published by Surrey and Hampshire Canal Society Limited, a non profit distributing company limited by guarantee.
Editorial Office: 45 Durnsford Avenue, Fleet. Tel: Fleet 5308
Chairman: Robin Higgs, 18 Barnsford Crescent, West End, Woking. Tel: Chobham 7314
Working Party Organiser: Roger Thomas. Tel: Fleet 20316
Treasurer: Peter Fethney, 5 Longdown, Courtmoor, Fleet. Tel: Fleet 5524
Secretary: Mrs Lise Hamilton, 2 Frome Close, Cove, Farnborough. Tel: Farnborough 49651
Membership Secretary: Alan Babister, 31 Elmsleigh Road, Cove, Farnborough. Tel: Farnborough 46147
[back to top]