.

No. 74
JUNE 1977

4
5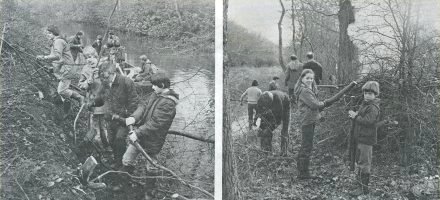 6
COMMENT - STEAM UP AND STEAMED UP
There was an air of excitement and sense of anticipation down at Alresford Station the day the 'Watercress Line' re-opened. The atmosphere and crowds of well-wishers made a fitting climax to the efforts of those who have fought for the last ten years to save this attractive branch line. And the sound and sight of the magnificently restored ex Southern Railway N class 2-6-0 steam locomotive brought memories back to many and made a new experience for others.
We wish our friends at Alresford every success and look forward to the day the line is restored to Alton. By bringing steam back to the Alton-Winchester railway, the enthusiasts are not only preserving an important era in transport history; they will also be giving pleasure to thousands of people.
Today, we live in an age based on leisure as much as work. Shorter working hours, longer holidays and earlier retirement have created an increasing demand for amenities. Greater mobility and higher standards of living are exerting pressures on existing recreation facilities. "Where shall we go this weekend?" is the question asked in millions of homes every week.
That is why restoration of the Basingstoke Canal for leisure use is so essential. But a few people appear reluctant to accept the need, as witnessed in the debates which followed Hampshire County Council's proposed Recreation Plan.
Admittedly, those who raised objections were in the minority and mostly stemmed from misunderstandings. But some know better. Perhaps the most succinct observation came from Councillor Mike Corfin, who was reported to have said 'that everything important had been covered by the plan and that opposition was only being entered by those who resented the idea of providing amenities for the people of Hampshire on the canal this summer'.
One bone of contention has been the Society's plan to run a pleasure boat service. A colourful, traditional-style canal narrow boat operating between Colt Hill, Odiham and North Warnborough. To provide enjoyment of the canal, forge a link with the past, and raise money for voluntary restoration work.
Hampshire's Recreation Committee has given its approval in principle. Hart District Council has no objections. But the County's Planning and Transport Committee is concerned about the extra road traffic the boat service will generate and wants adequate car parking space provided.
The Society has suggested a solution to the car parking question. But we cannot do much about the universal problem of traffic - if a few coach parties a weak can be regarded as that much of a 'problem'.
We feel confident and sincerely hope the matter will be resolved. Otherwise a lot of people will be denied a pleasurable hour or two on the canal and the restoration effort will be the poorer.
[back to top]
COVER PICTURES
Front: Watercress Line re-opening
1. 'First Train' returning from Ropley station.
2. Train arriving at Alresford station.
3. Society Chairman, Robin Higgs and N class locomotive.
Inside cover:
1. Fred Hill (see page 4).
2. Hymac digging below lock 17.
3. Job Creation progress (see page 2).
4. Deepcut railway.
5. Scouts at work in Deepcut under the supervision of David Morgan.
6. Offside bank clearance party in Hampshire under the supervision of David Millett.
[back to top]
ENCOURAGING REPORT FROM THE DEPTHS OF DEEPCUT
The job Creation Scheme has now reached the half-way mark. Those who have visited the work site, Locks 26, 27 and 28, must be impressed and encouraged by the work which has taken place. There can be no doubt that the scheme, in conjunction with the weekend volunteers, is very successful.
Lock 26. Brickwork to the offside chamber wall is complete, with the nearside wall two-thirds complete. The bottom cill is complete and work is due to start on the top cill shortly. Mid-June should see this lock complete.
Lock 27. Brickwork to this lock is at a similar stage to that of lock 26. No cills are finished here, but volunteers are currently digging out the old cills. It is hoped that this lock will be complete by the end of June.
Lock 28. This lock has been started with work concentrated on brick­work around the bottom gates. The old bridge which crossed the tail of the lock has been removed and is to be replaced. Adjacent to this lock will be the main SCC canal depot, and the new bridge will carry the SHCS railway over the lock into the depot. SCC have supplied a piece of Bath stone with '28' carved into it, and this has been built into the brickwork below the gates by Chalky White, one of the supervisor bricklayers. A nice touch. Mention must be made of the railway. It is obvious that the success of the Job Creation Scheme has depended largely on the railway, for without it the transport of all the materials up to the locks would have been a daunting undertaking. Credit must go to Stan and David Meller and John Peart and their gangs, who have included the Southampton Canal Society, for a11 their hard work.
To show that the scheme is working, 8 of the original lads have now got jobs, resulting from the training received on the canal, Now, after three months, others are confidently bricklaying alongside the supervisors.
Just a mention of the dredging which has done so much to transform the Deepcut Flight. Fred and the Hymac are at present below lock 28 finishing off. The remainder of silt above lock 15 is then to be removed, thus completing the whole Deepcut Flight. This silt is to be removed by lorries. On completion of this work it is the turn of the canal through Woking to be transformed. The Hymac is due to sfrart at the old Spantons timber yard. Woking should soon have a canal again of which it can be proud.
[back to top]
LENGTHSMAN SCHEME
This scheme, whereby a member keeps an eye on a section of the canal, has been operating successfully on the Hampshire section for some years now. An equivalent scheme was operating in the Surrey section but now seems to have lapsed. It is now our intention to revive this scheme and once again operate it along the Surrey section. Before we can start, we need offers from members to become lengthsmen. The part of the canal to be covered runs from the junction at Byfleet to the County boundary below Ash lock. It is anticipated that 10 to 15 members will be needed.
INTERESTED? Then write to or phone DAVID JUNKINSON, 4 Thames Meadow, West Molesey, Surrey, 01-941 0685. Duties are not arduous and only entail a pleasant walk along your own selected section of the canal.
[back to top]
MUSEUM - THE MOST IMPORTANT FIND YET!
Recently, during an inspection of dredging operations in Deepcut, a very important find was made. A piece of equipment was discovered, deep in the sand bottom, which it is agreed can only have been left when the original Navvies finished in 1793. It is a wooden roller over which ran the ropes, used to pull the barrows up the side of the cutting during excavations. It has now been sent to the Museum Service for some preservative work to be done on it, as a few days after the discovery it showed distinct signs of disintegration.
[back to top]
WORKING PARTIES
An immense amount of activity is now evident on the upper locks of the Deepcut Flight, and it is here, more than anywhere, that every additional helper is always welcome. A number of other working parties continue, however, giving variety of work and location. They are all listed below. Details of any working party may change after press date, so it's always advisable to phone the working party leader before you attend. Alternatively, consult the Society's Ansaphone on Farnborough 45032 a day or two before the date.
Every weekend Lock Restoration
Complementary to the work of the Job Creation Project team, a wide variety of jobs is available for volunteers at weekends to assist, currently in rebuilding locks 26 and 27. Some preparatory work, too, has started on lock 28 (Deepcut top). The simple rule is that there is always something to be done on the upper Deepcut locks. Leaders of this party, at the various weekends, are JIM CHISHOLM, ALAN GRIMSTER, PETER JONES and PETER MAYNE.
Every weekend Dredging in Hampshire
The celebrated steam dredger Perseverance, and her gallant crew, are now operating in the area of Broad Oak Bridge, near Odiham. Extra hands to help them dispose of their muck as they drag it out of the cut are always welcome. Details from ROGER THOMAS on Fleet 20316.
Second weekend of the month Lock 6 (Sheerwater)
11/12 June, 9/10 July, 13/14

August
Most of the heavy clearance work on this lock has now been done, and attention is now turning to restoration proper. Forthcoming tasks include preparing the top apron, brickwork repairs, stop-plank grooves and bywash. Contact PABLO HAWORTH on Byfleet 42081 for details.
Third Sunday of the month Lock 1 (Woodham)
19 June,17 July
This party runs under the sponsorship of the Guildford branch of the IWA. They have removed all the silt from the lock chamber, and have taken out the bottom gates. The main activity in the near future will be various brickwork jobs, above the waterline, until the chamber can be fully drained and dried out. So, bricklayers and bricklaying tools are particxilarly welcome. Details from JEFF HOLMAN on Woking 63811. (Note: this party will not be meeting in August).
Third Sunday of the month Deepcut
19 June, 17 July, 21 August
Activity here is towpath clearance around Deepcut Bridge, which is now the meeting point for this party, and working east. The intrepid group of pioneers is now approaching the uncharted depths of darkest Deepcut. Watch out for gripping encounter with the Surrey Hymac which is dredging through Deepcut from the other end. Details from DAVID MORGAN on Weybridge 49235.
Last Sunday of the month
The Hampshire offside bank clearance party, led by DAVID MILLETT, have now gone into their summer recess and plan to meet again on 24/25 September. More details in the next newsletter.
[back to top]
TRIP BOAT
The boat is ready for delivery. All that remains to be done is for the Department of Trade and Industry to inspect it prior to delivery. Had events gone according to our programme, tho boat would have been launched on the canal at Colt Hill on 10 May, ready for us to start the fitting out; but further complications have arisen in our efforts to gain permission to operate the boat, which has meant the launch date having to be put back until at least the beginning of July. This means that the best part of this year's cruising season is now lost to us. However, we are hopeful that the problems can be resolved in time to enable us to start operating in the late summer. Finally, we would like to thank once again all those members and organisations who have contributed so generously to our Boat Appeal. Without their support this exciting project would not have been possible. Any member who would like to help with the boat when trips begin - and we shall need plenty of help - please contact Peter Fethney, Fleet 5524.
[back to top]
ONE MAN AND HIS HYMAC
One Friday last October, Fred Hill's boss told him his next job would be a week's contract dredging for Surrey County Council on the Basingstoke Canal. At the time it was just another job. Like levelling building sites, excavating swimming pools and digging up roads.
Today, eight months later, he's still on the canal and says he'll be sorry to leave. For Fred not only likes working on his own, he enjoys the attractive surroundings of the cut and gets a lot of satisfaction from helping to restore the canal.
Operating the Hymac excavator, Fred Hill has transformed the 2-mile section between Brookwood and Deepcut from a weed and mud-filled ditch to the clean, broad contours of the former navigation channel. And watching him at work is an experience in itself; manoeuvring the giant caterpillar-tracked machine with expert precision and manipulating grabs as finely as an artist does his brush.
During the months of solitude he's observed a variety of wildlife; fox, deer, stoat, water vole and even some perch which he rescued and moved to safety. Fred has also had his regular visitors; the 'galloping major' from Pirbright Camp, a lady from Pirbright identified as Society member No. 37 and local pensioners who recall swimming in the canal when young in the days when barges locked up and down 'the fourteen'.
Fred's Hymac has dug up a variety of items, from old bottles including some rare Hamiltons, a motor bike engine which he intended to salvage but inadvertently buried, and ammunition. He took one live 40mm shell to the Guards Depot where it was accepted with some alarm and positive reluctance. Perhaps the most curious find was a carriage wheel, some large bones and a Colt .38 revolver, all in the same spot. With a somewhat macabre sense of humour, Fred decided it must have been the remains of a horse-drawn gun carriage which accidentally fell into the canal. Having injured itself, a soldier then unsuccessfully tried to shoot the stricken animal and threw the weapon in the water in disgust!
In his spare time, Fred enjoys touring and rallying on his powerful BMW motorbike. But this year he and his wife Annie plan to take their first ever waterway holiday on the Coventry Canal. It seems volunteers are not the only ones to get bitten by the bug!
[back to top]
WATERCRESS LINE RE-OPENS
With restoration work proceeding apace on the canal, but with completion still a long way off, it was indeed a pleasure to be present at the recent re-opening of the Mid Hants Railway 'Watercress' Line on 30 April. The Mid Hants Railway Preservation .Society, in conjunction with the Winchester & Alton Railway Ltd, have had enormous problems to overcome in re-opening this line, but at 11.30, amid much excitement, the Special Re-opening Train pulled out of Alresford station, The four coaches, hauled by an immaculately restored 1925 ex Southern Railway locomotive, carried dignitaries and guests on a three-mile journey to Ropley, at present the temporary end of the line. Plans are in hand to eventually re-open the line again to Alton.
As the strains of music from the Military Band playing on the platform faded, the train entered the steep chalk cutting amidst swirls of steam to start the long climb to Ropley. Motorists passing under the line on the A31 road stopped to look, and all along the line at vantage points were the photographers.
Despite an earlier rain shower, the weather cleared and the sun shone on the rolling Hampshire countryside. To the south lay the watercress beds, the transport of which gave the railway its nickname. Alongside the line cowslips and other wild flowers in abundance, and all too soon Ropley station was reached. Here the engine was uncoupled and taken round to head the train back down to Alresford. A 40-minute round trip, for some one of nostalgia and for others a new experience, but for everyone present a most memorable occasion which will be long remembered.
Until 23 October trains leave Alresford for the round trip to Ropley on Saturdays every hour from 14.30 to 17.30 and on Sundays at 11.30, 12.30, 14.10. 15.00, 15.45, 16.30 and 17.30. The Third Class return fare is 60p, half price for children between 3 and 14.
[back to top]
SILT FOR SALE!
During the coming sumnrer months (July - September) it is hoped once again to 'dry dredge' the canal at various places, in Fleet and sell the silt. Last year, you may remember, we disposed of 1,200 tons this way.
The silt is ideal for sandy gardens and it has such a high humus content. It also has a pH of 7.5 and contains the odd golden sovereign and other coins, wedding rings and marble top pop bottles. It will not contain milk crates, bike frames, bedsteads etc. To deliver a 5-ton load of this silt, which will soon become very fertile top soil, will cost in the region of £5.50, whilst a 10-ton lorry load would cost about £8. These prices are for a delivery in Fleet - other areas would need a quote. For further details and to place an order, phone Fleet 5402.
[back to top]
JUBILEE YEAR FUND RAISING EVENTS
There will soon be a special delivery of a brochure to each member to give you details of three fund raising events which the Society are planning for the autumn. First there is to be an auction, for which we want members and their friends to donate or obtain brass, copper and glassware, pieces of furniture, old jewellery, sets of books etc. Then there is to be a Plant a Tree scheme in which members, schools and industry can participate in providing the canal with about 300 young trees. Finally there is to be a darts tournament between factories and firms from Basingstoke to Woking, with the finals in Fleet on 10 November.
We need the support of you - the member - to keep the momentum of restoration going, so when the brochure arrives, please try and get involved in at least orie of the events.
[back to top]
SOCIETY MEMBERS VOLUNTEER AND INFORMATION REGISTER
It is now some years since the Society asked its members to complete a volunteer information questionnaire and in that time the membership has changed a great deal. With the cut back in the County spending on the canal, the activities of members both on the working party side and on the administrative and fund raising side assume vital importance if the canal is to be restored at an early date.
Bob Humberstone of 11 Titchborne Close, Frimley, Camberley, (Camberley 22883) has offered his services as Volunteer Co-ordinator Organiser and he will maintain up to date files from the information supplied in the questionnaires so that organisers of any form of activity within the Society can contact him for details of members who can help them. This can also include simply advice that is required from members who come from almost every occupation and profession. This will not supersede the Society Ansaphone in any way, nor will it mean you will have to wait to be contacted if you want to get involved in any activity of the Society. It will, however, provide valuable background information that can be used on occasions in connection with any project, event, etc that the Society is undertaking.
PLEASE HELP THE RESTORATION AND THE SOCIETY BY COMPLETING AND RETURNING THE QUESTIONNAIRE TODAY.
[back to top]
SOCIAL JOTTINGS David Millett, Fleet 7364
The winter season of social events ended on 22 April with a very interesting talk with slides given by Peter White of the British Waterways Board. The future of the BWB administered waterways should be brighter with Peter as their Architect/Planner, as he has some excellent ideas that will just need the right Board decisions to implement and, of course, the ever present shortage, money.
Thursdays, 26 May, 30 June, 28 July, 25 August.
8pm onwards SOCIETY CLUB EVENINGS at the Railway Enthusiasts Club, Hawley Lane, Farnborough(on A327 Farnborough/Reading road, immediately on south side of M3 bridge). Licensed bar.
Meet your fellow members in an informal atmosphere and please raise any suggestions or points with any of the committee members who are present.
[back to top]
SOCIETY PUB EVENINGS
1st Tuesday monthly at Prince of Wales, St Johns, Woklng
2nd Monday monthly at the Waterwitch, Colt Hill, Odiham
As I mentioned in the February newsletter, I am handing over the position of Social Secretary as from this month and a new member of our committee this year, Andy Gray, has offered his services as Social Secretary in future. Please give him the same excellent support you have given me over the past three years, and if you have any ideas, suggestions or comment on the Society's future social programme, please contact Andy on Camberley 25942. He will be assisted by Martin Bowers.
MEMBERSHIP PROMOTION TEAM
The Membership Secretary is setting up a team to promote membership at Working Party sites, Public Libraries and in fact anywhere that potential members gather. If you are unable to take part in actual restoration but want to help boost restoration funds through increased membership, please contact Alan Babister (see back cover for address).
[back to top]
THE RECREATION PLAN FOR THE HAMPSHIRE LENGTH OF THE CANAL - by P Fethney
Following the publication of the County's Consultation Draft Report on 15 February of this year, members were invited to write to the County Recreation Officer and express their views on the proposals outlined in the document. Having defined the Society's restoration policy for you, the Executive Committee encouraged you to comment in particular on the rather more controversial issues such as, for example, the extent of navigation or the use and mooring of boats. Well, it seems that many members did indeed write in, as did other interested groups and the general public, while further comments derived from public meetings, from Hart District Council's deliberations and from the resolutions of the County's own Planning and Transportation Committee. The whole of this material was subsequently analysed by the County Recreation Officer and formed the basis for his report to the Recreation Committee on 12 April.
The outcome can best be described by reference to the Committee's resolutions. These firstly define the limit of navigation, which for powered craft is the winding hole at the Whitewater aqueduct, and for unpowered craft is the eastern portal of the Greywell tunnel. The limits are dependent upon modifications to the mechanism of the lift-up bridge at North Warnborough and may also be redefined when the tunnel has been repaired. This resolution conforms very well with our Society's current views and is an eminently satisfactory result.
While re-affirming in principle a previous approval for our passenger boat, the Committee still insists on further detailed information as to its operation and the land-based services associated with it. Regrettably, this has laid us open to opposition on the grounds of access and parking at Colt Hill at a time when Hart District Council have generously conceded that little or no planning permission is necessary. Your Passenger Boat Sub-committee is at present collaborating with Hampshire County Council in the hope that this problem will shortly be resolved and we be allowed to place our recently-completed boat on the water.
Finally, the Recreation Committee approved in principle the establishment of nature reserves and the smaller car parks, but postponed a decision on Country Parks and mooring basins pending further study and consultation.
[back to top]
SOCIAL DIARY
JUNE
7 Pub Evening, Prince of "ales, St Johns, Woking
13 Pub Evening, Waterwitch, Colt Hill, Odiham
30 Society Club Evening, Railway Enthusiasts Club, Farnborough
JULY
5 Pub Evening, Prince of Wales
11 Pub Evening, Waterwitch
28 Society Club Evening, Railway Enthusiasts Club
AUGUST
2 Pub Evening, Prince of Wales
8 Pub Evening, Waterwitch
12 - 14 IWA National Waterways Festival, Reading
25 Society Club Evening, Railway Enthusiasts Club
[back to top]
GONGOOZLERS' GOSSIP
PHONE call from the Rev Lord Sandford to Robin Higgs congratulating the Society on the excellent progress of restoration work on the canal.
DONATIONS received: £50 from Gibbs Charitable Trust; £250 from the Ernest Kleinwort Trust; £100 from Texaco Ltd; £250 from the Drapers Charitable Trust. Our grateful thanks to them all.
WATER Nobsurd weekend planned for this year has been cancelled. The decision was taken because we cannot close the towpath to charge admission.
CURZON Bridge at Pirbright is to be replaced and plans for a traditional canal bridge designed by our member David Junkinson are being studied.
WATCH out for the portable Basingstoke Canal exhibition, sponsored jointly by the Society and Surrey County Council, which is shortly going on tour.
TW0 more mud boats have been purchased from the Anglia Water Authority for dredging operations in Hampshire.
BANK slip at Swan Bridge, North Warnborough is going to be repaired by Hampshire County Council at an estimated cost of £18,000.
FILM recording restoration progress is being made by our member, Mike Hammersley.
PLANT a tree. Waterers Nursery is offering members a special discount for planting along the canal during Jubilee Year. The Surrey Naturalist Trust is drawing up a list of suitable trees.
[back to top]
SUBSCRIPTIONS
You will find a membership card enclosed; this may be taken as a receipt for your subscription for 1977/78.
Our thanks to the many members who added a donation to their subscription.
[back to top]
MEMBERSHIP - SUBSCRIPTIONS - RESTORATION
Our biggest source of income is still from subscriptions, so here's a chance to help restoration by increasing the membership. Just pass the enclosed membership form to an interested friend or neighbour and persuade him to join. One new member each doubles the restoration fund. If you need more forms, please contact the Membership Secretary
COPY DATE for the August newsletter - 1 July
Published by Surrey and Hampshire Canal Society Limited, a non profit distributing company limited by guarantee.
Editorial Offices: 45 Durnsford Avenue, Fleet. Tel: Fleet 5308
Chairman: Robin Higgs, 18 Barnsford Crescent, West End, Woking. Tel: Chobham 7314
Working Party Organiser: Roger Thomas. Tel: Fleet 20316.
Treasurer: Peter Fethney, 5 Longdown, Courtmoor, Fleet. Tel: Fleet 5524
Secretary: Mrs Lise Hamilton, 2 Frome Close, Cove, Farnborough. Tel: Farnborough 49651
Membership Secretary: Alan Babister, 31 Elmsleigh Road, Cove, Farnborough. Tel: Farnborough 46147.
[back to top]