.

No. 73
APRIL 1977

.1
2
Inside front cover --

3,4
5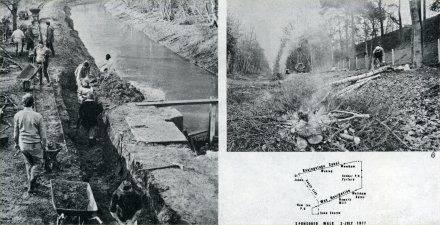 6,7
COMMENT
A PRICELESS HERITAGE
A Government grant for the restoration and improvement of the Basingstoke Canal towpath could be made under a new policy recently announced by the Countryside Commission - 'Footpaths and Recreation'.
Referring to the scheme to provide more footpaths, other than long distance routes, Mr Illtyd Harrington, guest speaker at the Society's A G M, said 'I would like to see this as one of the great projects of Jubilee Year'. Mr Harrington, a member of the British Waterways Board and a Deputy Leader of the Greater London Council, said that he admired the work being done by the Society. In his view there was nowhere more than in the south of England where more cruising water was necessary. 'In addition to the River Wey Navigation', said Mr Harrington, 'the Basingstoke Canal will make a very valuable supplement'. But he added, 'If restoration is to get widespread support, the walkers, fishermen and naturalists must be catered for'.
The presence of Illtyd Harrington, an I W A Honorary Life Member and the first Chairman of the Inland Waterways Amenity Advisory Council, reminded us that although the Basingstoke is one of the few independent waterways, it doesn't stop at New Haw. One of its great attractions, and a reason for the Society's determined efforts to pursue a policy of through navigation, is the canal's link with the rest of the country's waterways network. As such we should be alive to the problems of the system as a whole. In the last ten years, the amenity value, and to a lesser extent re-developing commercial use, of our waterways has been officially recognised. But Government support has hardly been forthcoming. As pointed out by Mr Harrington, in 1975 it cost £11 million to operate and maintain the 2,000 miles of nationalised waterways on an income of a little over £4 million and a Government grant-in-aid of £8 million. And so no money is being spent on getting the system - 1,400 miles of cruising and commercial waterways and £600 miles of 'remainder', mostly unnavigable waterways - into efficient working order. A job B W B estimated in 1970 would cost £22 million. That may sound a lot but, as Mr Harrington pointed out, when you consider the cost of building a motorway - about £-3,000 a yard - it's a relatively small price to pay.
In a recent editorial, the Surrey Daily Advertiser warned that the River Wey Navigation is in danger of being spoilt through over-use, especially from boating. We agree, but the answer does not lie in 'rationalising use of the river, or, possibly, a maximum length for boats'.
The problem should be solved, not shelved; by improving and restoring waterways. That is why it's so important to restore every possible foot of the Basingstoke; re-open the Wey and Arun Canal, and on a national scale, reinstate every mile of the so-called 'remainder' waterways.
But acknowledgment of the need is not enough, nor are the efforts of voluntary workers, invaluable as they are. Tha time has surely come for a positive Government policy and the injection of financial aid. So that the system can be restored in the next decade and not a lifetime, to meet the demand for more inland water space.
To quote Mr Harrington: 'This priceless heritage is in grave danger of being relegated to the bottom of the pile. We must protest, agitate and re-create our waterways. Otherwise our children and our children's children will condemn us, for this is a priceless heritage.
[back to top]
REPORT ON THE SOCIETY'S 10TH ANNUAL GENERAL MEETING
The Chairman welcomed all those present and introduced Mr Ray Stedman, Surrey's Countryside Officer.
Mr Stedman thanked all the volunteers who had worked so hard on the canal over the last year. He fully appreciated the tremendous organisation needed to carry out this work, which was very welcomed by the County Council. He reported that the liaison between the County Council and the District Councils was very good and that the latter were most enthusiastic to start on restoration. Mr Stedman concluded by congratulating the Chairman on the gaining of a Job Creation Scheme grant and thanking the Committee for their continued support over the past year.
The Society's Vice-Chairman, David Millett, reported on a busy working and social year. In 1976, the Society's tenth year, much had been achieved. A Coca Cola Award was received for work on the canal in Architectural Heritage Year. Highlights of the social year were the third May Ball and the 'Water Nobsurd', a two-day event which had attracted approximately l0,000 people to the canal. A further sponsored walk, an autumn fayre, regular social evenings and other events had all proved very successful. Mr Millett concluded by stating that the membership stood at 2,320.
Robin Higgs then introduced and welcomed Mr I Harrington as Guest Speaker. Mr Harrington had an important message on the need to restore every yard of available waterway, and we have covered his talk under 'Comment'.
A report on the Society's voluntary working parties was given by Frank Jones, Working Party Organiser, He told of the enormous impact that the County Council's assistance with the work had made to the canal in the last year. Dredging had continued apace. In Hampshire the steam dredger had dredged to the Whitewater and had now returned to Colt Hill to continue eastwards, and in Surrey the Hymac had cleared from locks 17 to 28. At this point Frank thanked Mr McGrath who for 7 years had worked up and down the Deepcut flight with his party. Mention was made of the work carried out on two weirs and the work on clearance of bridge holes.
Work on the locks, Frank said, was progressing well, and eight working parties a month were in progress. Major equipment obtained during the year included two mud boats, two draglines, one loco, one van and two tugboats purchased with £1,000 from Johnson Wax. Frank ended his report announcing details of the Job Creation Scheme. 26 jobs were to be provided with a grant of £35,408. Work site would be on locks 26, 27 and 28, starting at the end of February. Before handing the post of Working Party Organiser to Mr Roger Thomas, Frank said that 1977 could be a splendid progressive year if the Society siezed the chances offered; now more than ever before the canal has a real tangible chance of restoration.
The Society's Honorary Treasurer, Peter Youngs, presented the Society's accounts, pointing put that they were particularly healthy. He mentioned the £1,000 donation from Johnson Wax and said, capital purchases for 1976 amounted to £5,700. The passenger boat appeal stood at £2,375. Peter Fethney, the retiring Sales Manager, followed and reported a profit of £700; he welcomed the new Sales Manager, Mr David Gay. After refreshments and members' questions Robin Higgs, the Society's Chairman, concluded the meeting. He said 1977 must be the year of the beaver. From the groundwork laid in, 1976 restoration would proceed apace. The idea of a trust would be vigorously pursued and new ways of fund raising would have to be found. He finished by saying he hoped the proposed 'Big Dig' would take place on the canal this autumn.
[back to top]
SURREY RESTORATION PLAN
In January, less than a year after purchasing the 16-mile eastern end of the canal, Surrey County Council published their restoration plan.
The plan, which is already being implemented, is managed by a Restoration Planning Group on which the Society is represented. The Society is also a member of the Consultative Group consisting of potential user interests. Both groups come under the County Valuer and Estates Surveyor, who reports to a Steering Group consisting of members of the Land and Buildings Committee which has overall responsibility for the Surrey section of the canal.
The comprehensive plan makes the repair of the Ash Embankment, breached during the 1968 floods, a priority project and Hampshire County Council is being urged to undertake the repair work this year, so that the Surrey section can receive water again early in 1978.
DREDGING - 1-1/4 miles, it is stated, has already been dredged; mostly along the Deepcut flight. A start is scheduled to be made in Woking this Spring. Completion is expected by September 1980.
LOCKS - With the completion of Lock 25, it is planned to restore locks 24 and 26 to 28 by the end of this year. Work will continue down the canal, with the last three scheduled for completion by the end of 1981.
BRIDGES - The three private accommodation bridges - Cowshot Manor, Pirbright, Woodend, Woking and Goldsworth, Woking - will be repaired or re-built. The old British Rail bridge at Pirbright may be removed and the footbridge that once spanned the Wey Navigation to the Basingstoke canal's towpath at New Haw may be replaced if the National Trust agrees.
HOUSEBOATS - No more houseboats will be- permitted on the canal and derelict craft will not be replaced. Existing boats, provided they are habitable, will be allowed to remain, with moorings on the offside bank only.
The plan also lists special project areas for work to be undertaken by the four riparian district councils - Runnymede, Woking Borough, Guildford Rural and Surrey Heath - who are contributing half the cost of local government input.
The plan reiterates the County Council's agreement 'that the canal should be fully restored to permit the full range of uses, including navigation by motor cruisers', and acknowledges 'that without the volunteer input this project would be unlikely to proceed'.
The precise, business-like plan, reflecting the way in which Surrey is tackling the job and the close working relationship we have with the County Council, is published by: Mr W Britton, County Valuer and Estates Surveyor, Surrey House, 34 Eden Street, Kingston upon Thames, KT1 1DF
[back to top]
WORKING PARTIES
As the first traces of Spring become visible through the continuing rain, a number of changes are apparent in the Working Party scene. A very formidable assault is being made upon the Deepcut locks, and it is here that skilled (bricklayers and carpenters) and not-so- skilled volunteers are needed most. At the same time, to cater for varying tastes and local loyalties, most of the established range of working parties continue.
The list below gives the working parties now planned, but changes can occur, so it is usually advisable to phone the working party leader before attending. Alternatively check with the Society's Ansaphone now operated by ANDREA GRIMSTER, on Farnborough 45032, a day or so before the quoted date.
Every weekend Dredging in Hampshire.
The dredger and attendants have now completed the winding hole at Colt Hill and have moved away on their eastward progress towards Broad Oak. For a really messy job, why not help with silt disposal on the supporting mud boats and dragline? For details of the exact working location contact ROGER THOMAS on Farnborough 40389.
Every weekend Lock Restoration
The substantial team employed under the Job Creation Programme is now at work, from Monday to Friday, on the upper Deepcut locks (initially Nos. 26.and 27) and the Society's lock restoration working parties are adapting to fit in with their efforts. A single working party is now meeting, Saturday and Sunday, on the first four weekends of every month (that is, virtually every weekend).
So the attack on these locks is now continuous, seven days a week. Anyone, craftsman or otherwise, who wants to contribute to one of the biggest projects on the canal, should try to attend this working party. Leaders are JIM CHISHOLM, ALAN GRIMSTER, PETER JONES and PETER MAYNE.
Second weekend of the month Lock 6 (Sheerwater)
2/3 April, 7/8 May, 11/12 June
Having dug out the chamber of this lock, the party is now starting on full restoration. Contact PABLO HAWORTH on Byfleet 42081 for details.
Sundays mid-month Lock 1 (Woodham)
10 April, 15 May
This party, run under the auspices of the Guildford I W A, is continuing to clear the very substantial amount of mud (and other things) from the lock chamber. Further details from JEFF HOLMAN on Woking 63811.
Third Sunday of the month Deepcut
17 April, 15 May, 19 June
One of the most impressive features of the canal is the actual cutting at Deepcut, but it doesn't look all that great in its present state of dereliction and rubbish. So this working party is now starting on the job of clearing away the wreckage. The meeting point is at the Aqueduct, or Frimley Green end, working eastwards. Details from DAVID MORGAN on Weybridge 49235.
Last weekend of the month Offside clearance in Hampshire
26/27 March, 23/24 April
This party has now passed Double Bridge and is heading for Chequers Bridge, Arrival there will just about complete the offside clearance in Hampshire, and it is hoped to get there before the party adjourns for the Summer. Details of exact working location from DAVID MILLETT on Fleet 7364.
[back to top]
I W A WOKING REPORT
In September 1974 the I W A Council asked each of its branches to carry out a detailed study of a town within its area which lay on a canal or river with a view to putting forward recommendations for, improving and integrating the waterway into the life of the community. Guildford Branch chose Woking, and their admirable report has just been published. The main points from it are:—
- local Planning Committees should take into account the appearance from the canal of any proposed new developments.
- recreation grounds and public open spaces along the canal should be integrated with it.
- mooring facilities should be provided above and below each lock for the convenience of boats passing through.
- no permanent linear moorings should be allowed on the canal.
- every effort should be made to preserve the original bridges still in existence.
- many of the small flashes on the non-towpath side be left undisturbed to provide a continuing habitat for wild life.
- a footbridge should be provided to connect the towpaths of the canal and the River Wey.
- a Boat Centre complex should be provided to the east of Chertsey Road Bridge on the derelict site of Spantons Timber Wharf to include cafe, toilets, elsan disposal, water point, boat hire and chandlery.
- a little way out of the boat complex, a public slipway to be provided.
- improvements to the Woking Town Quay to provide a major viewing area.
A well written Report, with some excellent illustrations. Available from A G Davis, 55 Holme Chase, St George's Avenue, Weybridge, Surrey. Price 50p (including postage).
[back to top]
HAMPSHIRE C C CONSULTATIVE DOCUMENT
Members will already have received a letter from the Secretary giving in some detail the alternatives outlined in the above document on the extent of navigation. This report will firstly concern itself, therefore, with the other major points from the H C C Paper.
- There should be restrictions on the size and number of boats licensed for the canal and on the hp of engines.
- there should be an overall speed limit of 4mph, but in some specially designated areas this might be reduced to 2mph.
- only temporary linear moorings should be allowed with all permanent moorings to be in specially constructed mooring basins.
-a country park to be set up centred on Dogmersfield Park with car parking, picnic areas, boat hire and a public launching ramp.
- a smaller country park to be established on Army land at Norris Hill.
- a number of small car parks to accommodate up to 20 cars are proposed at strategic points along the Hampshire section to aid access to the canal.
- there could be a need for three passenger boats on the Hampshire section including the Society's own trip boat.
- Hampshire C C stress in their document that it is important that both the restoration project and future use of the canal be planned with the need to protect the environment of the canal well in mind.
The question of the extent of navigation is an important one, so we make no apology for repeating the alternatives listed by Hampshire C C.
1. Greywell Tunnel
2. The existing winding hole at Whitewater which is about -1/2- mile east of the tunnel
3. North Warnborough lift up bridge, 3/4 mile from tunnel 4. Colt Hill, Odiham, 2 miles from Greywell Tunnel
The Society's policy is clear: full restoration up to Greywell Tunnel, although from a practical standpoint we would accept that large boats must turn at the River Whitewater winding hole until the tunnel is restored, together with a section of the canal beyond. There is still time to make your views known to the County Recreation Officer, Andover Road, Winchester, from whom a limited number of Reports are available. Alternatively, libraries between Winchester and Aldershot have copies.
[back to top]
BIG BOOST FOR RESTORATION
An application by the Society for a grant under the Job Creation Programme has been approved by the Manpower Services Commission.
Valued at £34,633 plus £775 for running costs and transport, the scheme for restoring locks on the Deepcut flight of 14 locks will create jobs for a supervisor, wages clerk, six craftsmen and eighteen young school-leavers for a period of 26 weeks. Surrey County Council will be supplying building materials and will also be helping with the overall supervision of the work.
The grant will make a significant contribution to restoration of the canal. In considering the Society's application, the Commission was impressed by the high training content of the scheme. The ratio of three young workers to one skilled craftsman will enable the school-leavers to gain some practical knowledge about construction work, as well as providing regular employment for the period of the scheme.
[back to top]
I W A NATIONAL WATERWAYS FESTIVAL
The 1977 Festival is to be held on August 12-14, and in this Jubilee Year it is most fitting that it should be held on our Royal River, the Thames. The site is just upstream of Caversham Bridge, Reading.
Plans are being laid to cater for 600 boats of all sizes and shapes, including at this stage a Humber Keel.
Whilst the Festival programme has not yet been finalised, enough has been arranged so far to ensure something of interest to everyone - hot-air balloon, Scottish dancing, helicopter trips, river trips, Mikron Theatre, boat handling competitions, an historical pageant, illuminated boat cruise, water safety demonstrations, Army and Navy display teams and more - then add to all that a large number of trade exhibits, both on the water and in the main Festival arena. The Festival will be opened by Terry Wogan. The two aims of the Festival, which is being sponsored by National Westminster Bank, are:-
"To campaign for the restoration of waterways in the South of England to full navigation, in particular the Kennet & Avon Canal" and
"To raise funds for the National Waterways Restoration and Development Fund".
There is a certain irony in this, the 24th National Rally, in that it may never see its Silver Jubilee. -The I W A are considering whether, from next year, to hold only local Regional Rallies. This year's Festival Committee are determined to make the Reading Festival the largest yet held; your support will help them in this aim.
Boat Entry Forms can be obtained from Tony Jarrett at the Newsletter Office, to whom any other enquiries may be addressed.
[back to top]
RED ALERT AT CURZON BRIDGE
An Army plan to construct a bailey bridge and re-open Curzon Bridge to vehicles has been criticised by the Society. Such a bridge would be alien to the environment and prevent access to the towpath which is particularly necessary during restoration work. A meeting to discuss alternative structures, including re-building the existing bridge, has been arranged between the Army, the Society and the Public Services Agency.
[back to top]
SOCIAL JOTTINGS David Milleit, Fleet 7364
4 April, 7.45pm. Woking Central Halls
Members' S1ide and Film Evening - Your opportunity to show your own slides and films for the benefit of other members. Any waterways subject. Please telephone Pablo Haworth (Byfleet 42082) as soon as possible if you have any slides or film to show, or bring them along cn the night as early as possible.
Friday 22 April, 7.45pm. Aldershot Library; joint meeting with the Inland Waterways Association, Guildford Branch.
Illustrated talk by Peter White, British Waterways Board Architect/Planner entitled 'There's more to canals than appears on the Surface'.
Thursday 28 April, 8pm
Society Club Night at the Railway Enthusiasts Club, Hawley Lane, Farnborough. (On A327 Farnborough/Reading Road on south side of M3 bridge). Come along and meet fellow members in an informal atmosphere and bring up any points you want to with your committee members. (King & Barnes Ale).
Thursday, 26 May at the Railway Enthusiasts Club, Farnborough.
Society Club Night - as above
Society Pub Evenings continue throughout the year as follows: 1st Tuesday monthly at Prince of Wales, St Johns, Woking 2nd Monday monthly at Water Witch, Colt Hill, Odiham.
[back to top]
SPRING CANAL CRUISE AND COACH TRIP, Sunday 22 May
Picking up at Fleet and Farnborough, the coach will proceed to Crofton on the Kennet & Avon Canal where members will embark on the brand new narrow boat 'Jubilee' for a morning 2 -hour cruise through the 509 yard Bruce Tunnel, past Burbage Wharf, viewing the reconstructe wooden crane, down through three locks, arriving at Wootton Rivers for lunch. The coach will then continue through Devizes to view the famous Caen Hill flight of 26 locks, later stopping at Dundas to see John Rennie's classic Dundas aqueduct, and arrive at Bathampton for an afternoon 2-hour return cruise on the narrow boat 'Viceroy', a steam-driven, ex Fellows, Morton & Clayton boat, to Bath. The Viceroy will be making one of its first trips, since being converted to a trip boat at Braunston.
Light refreshments and Bar (real ale) on board both boats. Bring picnic food. Tickets (all inclusive) £3.50 from David Millett, 14 Dinorben Close, Fleet. Please make cheques payable to Surrey and Hampshire Canal Society Limited and PLEASE. ENCLOSE. A STAMPED ADDRESSED ENVELOPE WITH YOUR APPLICATION.
[back to top]
RAMBLES John Peart, Farnborough 46554
Once again the February ramble fulfilled its reputation as the wettest, muddiest walk of the year, to be attempted only by serious masochists. The term 'feet of clay' assumed its literal meaning for the hard edre of Society ramblers as continuous winter rains combined with the clay soils around Alresford to make a particularly arduous walk.
The sight of the Mid Hants Railway depot at Alresford was very welcome after a strenuous, but very enjoyable day.
April Ramble. This will be a repeat of a very popular walk run in April 1972. Sunday, 24 April meet at 10am at Byfleet and New Haw Station for a 14 mile walk to Guildford along the River Wey towpath. Lunch stop at the New Inn, Cartbridge. Please phone me by 18 April to ensure your lunch.
[back to top]
THE SOCIETY'S 4th ANNUAL MAY BALL
May 6th is the date for the 4th Annual May Ball. The venue is the same at Fleet Civic Centre. The time is the same, from 8pm till 1am. Non-stop live music will be supplied by the Seven Session Men. There will be a French style buffet and prizes galore. All this for only £3.50 a ticket, so make a note in your diary that you are going.
Tickets are available from Stan Googe, Henbury, Gables Road, Church Crookham. Cheques should be payable to S H C S, and please enclose a 6-1/2p stamp.
[back to top]
WATER NOBSURD 77
'Water Nobsurd 77' is now in the planning stage and as usual the sub-committee are looking for volunteers who will help on the weekend or on the build-up prior to Nobsurd. ALL offers of help for Nobsurd to be directed to Bob Humberstone on Camberley 22883. Another request to our members --- If you have any ideas of what should be included in Nobsurd this year, then all ideas, no matter how crazy, to Stan Googe on Fleet 5402. This year we are hoping to have a Hot Air Balloon, Crazy Craft Race, a couple of traction engines, plus welly tossing, canal vaulting and so on. But all new ideas will be looked at.
[back to top]
MARKS & SPENCER FASHION-GO-ROUND
Superb is the only way to describe the Marks & Spencer Fashion-go-Round held at the Army Boxing Centre, Aldershot on Tuesday, 22 February. This entertainment, which was more like a musical than a fashion show was enjoyed by nearly 1,000 people. A wide variety of clothes was displayed by the 28 models (not professionals, but attractive girls from M & S stores) ranging from beach-wear to bed linen worn Roman toga style.
Our thanks are due to: Marks & Spencer Ltd for donating the show to our Society (S H C S are now £1,210 the richer); the Army for the use of the Boxing Stadiums; the A C C cadets for supervising parkings and to our six usherettes. Finally, thanks to our Society helpers, Barbara and Clive Durley, Ray and Peter Fethney, Ann Dunn and George Hedger for their help on the day, and of course to the two Janets (Googe and Hedger) and Stan Googe for masterminding, the whole event.
[back to top]
RESIDENTS RALLY FOR RESTORATION
Everyone who attended the public meeting organised by the Mytchett, Frimley Green and Deepcut Residents' Association on 21 January to promote the canal's restoration - and a large number of people did - couldn't help catching the infectious enthusiasm expressed by everyone who spoke in favour of restoration. Everyone, from Mr Michael Grylls, Member of Parliament for Camberley, District and County Councillors to members of the audience, recognised the need for restoration and looked forward to the day the canal is re-opened.
A packed St Andrew's Hall heard Mr Grylls congratulate the Society on what we had achieved and are doing as a 'constructive community effort'. He pointed out that recreational facilities lagged far behind the growth in population, which made the canal especially valuable. A County Councillor re-assured the meeting that local government funds would continue to be granted for projects, such as the canal, where people were seen to be helping themselves.
Mr Ray Warden, who organised the meeting, appealed for local people to help restore the Frimley section of the canal. Our sincere thanks go to Ray and all those who helped make the meeting so successful.
[back to top]
MAJOR FUND RAISING EVENT
SPONSORED WALK 77 - Sunday 3 July
Without doubt sponsored walks are the best way of raising comparatively large sums of money, the last three having contributed in excess of £9,000 to the Society's funds. This time we are having a circular walk, as can be seen from the map.
You may start and finish at any of the Marshal points shown and walk either clockwise or anti-clockwise, visit a 13th century church, take a free trip on a ferry captained by the one and only Pablo and have a free bus-ride thrown in for good measure.
What more could walkers ask for - except perhaps a fine day and a book, or books, full of sponsors' names.
The walk, if completed in full, would be 15 miles plus a bus-ride of about half-an-hour.
If you are unable to participate in the walk, how about collecting sponsors for our Named Walker (see brochure) and being a Marshal at one of our check points? If you can help as a Marshal, please contact Graham Greene, Byfleet 46015. A Sponsored Walk Brochure will be sent to every member shortly; it will give full details of the route and the many prizes available.
If you require any further information or more brochures, please contact Audrey or Stuart Browning, 34 Parvis Road, West Byfleet, Byfleet 42024.
[back to top]
PASSENGER BOAT APPEAL
Donations have now been received from the following:- Ramblers Association, Farnham & District Group, V C Masters, Swan Public House, Ash Vale, Mrs J A Tracy (2nd donation), P Cooper J R W Bull, Lt-Cmdr F R A Turnbull, A J Slaughter, Texaco Ltd, Mr and Mrs & L G Holland, Miss Fiechter, A Lunn, Mrs D Bracewell Miss and Mr Tayler, Miss P D Wackrill, The Townsend family, C A J Robertson, Mrs I E Ryan, A.N Cook, A G M Raffle. Miss A M Thomas (2nd donation) E J &.. J B Keep Mr and Mrs D C Brook S W Horsell Mr and Mrs R J Hunt A E Lucas P J Mayne Shell Travel Club Gibbs Charitable Trusts M Finlay Mrs J H Wight R Williamson J H Talbot Mrs M Millar, R H Thomas S H C S Sales account (part of 1976 profits) P C Facer Westminster Dredging Co Ltd G Jackson
Total donations to date £2,535.86 Total Loans to date £380.00
[back to top]
WANTED: DEPUTY PRESS OFFICER
The Press Officer is looking for a deputy/assistant to help extend the Society's coverage in the press, radio and television. The job would obviously suit a professional writer/journalist, but an interest in writing is sufficient. Ability to type or get copy typed is essential. The job would include the preparation of press releases, commissioned articles and contacting magazines and newspapers with a view to submitting material about the canal for publication. For further information contact Dieter Jebens on Farnham 5230.
[back to top]
SOCIAL DIARY
APRIL
4 Social evening at Woking Civic Hall
5 Pub evening, Prince of Wales, St Johns
11 Pub evening, Waterwitch, Colt Hill, Odiham
22 Joint meeting with Guildford branch of I W A
24 Ramble
28 Society Club Evening, Railway Enthusiasts Club, Farnborough

MAY
3 Pub evening, Prince of Wales
6 May Ball
9 Pub evening, Waterwitch
22 Canal cruise and coach trip, K & A Canal
26 Club evening at Railway Enthusiasts Club

JUNE
7 Pub evening, Prince of Wales
13 Pub evening, Waterwitch
[back to top]
SOCIETY OFFICERS
At the March meeting of the executive committee the undermentioned officers were appointed for a period of twelve months:-
Chairman: - Robin Higgs
Vice-Chairman - David Millett
Secretary: - Lise Hamilton
Treasurer: - Peter Fethney
Membership Secretary: - Alan Babister
Working Party Organiser: - Roger Thomas
Social Secretary: - Andy Gray
Exhibitions Officer: - Philip Pratt
Publicity/Promotions Officer: - Stan Googe
Press and Publications Officer: - Dieter Jebens
Transport Manager: - Jack Reddall
Archivist: - David Robinson
Dredger Engineer: - Brian Bane
I W A Representative: - Jeff Holman
Fund Raising Officer: - Malcolm Irwin
Talks Organiser: - Raymonde Fethney

[back to top]
WE'VE MADE IT!
As we went to press, it was announced that the Trip Boat Appeal Fund has reached our original target. The fund has reached £10,300, including the donation of an engine valued at £2,000. In publishing this month's list of subscribers, a special word of thanks goes to the Westminster Dredging Co Ltd, of Holt Hatch, Bentley for a handsome donation of £500 and to Mr George Jackson, Chairman of Oakleigh Animal Products Ltd of Ascot for a magnificent and very generous contribution of £2,100. Mr Jackson, a life member of the Society, offered to make up the amount needed to make the £4,500 required to reach our target.
Thanks to the tremendous response from members and friends of the Society, the boatbuilders, Hancock and Lane (Daventry) Ltd started work on our 68-foot traditional-style canal narrow boat on 10 March. The hull, complete with engine, is expected to be ready in about six weeks time.
We still need about £1,500 for transportation from the Midlands and for fitting out. Items include: seats, flooring, ballast, side screens, ropes, paint and a pump out unit for the toilets. So, if you have not yet contributed, funds are still needed, or if you can supply any of the items, ring Peter Fethney on Fleet 5524.
[back to top]
PEN PORTRAIT, Newsletter Co-Editors
Tony Jarrett
A native of Flintshire, Tony joined the Society six years ago at a public meeting held in Church Crookham. He took the job of Sales Manager in 1972 and served on the Executive Committee from 1973-4.
A member of the Inland Waterways Association, Tony is helping to organise this year's National Rally of Boats at Reading as Berthing Officer.
With Membership Secretary, Alan Babister, he co-owns an 18ft cabin cruiser and sees restoration of the canal as meeting an important social need. Tony works in the Corporate Planning Department of one of the big banks in their City headquarters. He lives in Fleet with his wife, Gloria and their two children, Neil aged 3 and 11 months old Andrea. As co-editor of the newsletter, Tony is responsible for getting all the copy together and meeting the production schedule. The editorial team is ably assisted by Gloria who has the job of deciphering contributions, correcting spelling mistakes, typing the draft and preparing the stencils for printing. In fact, without her help the editors' job would be made much more difficult.
Dieter Jebens
When asked how long he had been a member of the Society, Dieter replied 'a life time'! Dieter was a founder member and served on the Committee from 1966-71, a time when the main campaign for restoration was being fought. Dieter, whose profession is in advertising, has served as the Society's Press Officer since 1966. In this capacity Dieter has served the Society well and built up a good relationship with the local press. He is a member of the I W A and the National Trust and has been a co-editor of this newsletter for the past three years. He has what his co-editors think is the most difficult task, that of producing 'Comment' for each issue. Although he says he has no time for other interests, he is known to enjoy photography, jazz, food and booze!
David Robinson
Canal restoration and old commercial vehicles may not appear obvious partners, but they are to David who, apart from his membership of the Society and I W A, is also a member of the Historic Commercial Vehicle Club.
A native of Sussex, David joined S H C S nine years ago, and since then he has held a wide variety of positions. In 1972 he was elected to the Executive Committee and in the same year he became Social Secretary; both positions he held for two years. Since 1975 David has been Museum Project Officer and a co-editor of this newsletter, and last year he took over the job of Society Archivist.
A photographer by profession, it is therefore appropriate that his main responsibility in the newsletter should be the production of the cover. When the canal is fully restored he looks forward to cruising it in his own boat.
[back to top]
WILL THIS BE YOUR LAST NEWSLETTER?
It could be! Renewals fell due on 1 March and in these hard economic times no subs means no newsletters.
Renewal rates are:-
Junior (under 18) and Old Age Pensioners £1.25
Adult £2.50
Family = £3.50
Group Affiliation £4.00
Life £50.00
The address is:- Mr D Herd, 23 Holly Road, Cove, Farnborough, Hants.
We waste about £35 each year sending out final reminders.
[back to top]
GONGOOZLERS' GOSSIP
SEVEN years' work on the canal in Surrey came to an end recently for Mike McGrath and his team when they decided to give way to S C C's J C B. They are to be congratulated and thanked for their contribution to our cause.
SPECIAL thanks to Mr Robert May of Ramsdell, Basingstoke for donating £78.70 to dredging funds from the sale of farm produce.
FIVE years in the hot seat came to an end at the A G M for Peter Youngs when he stepped down from the Treasurership. Peter was responsible for introducing the Society's budget system, very essential when trying to balance the need to press on with restoration with the need to finance an increasingly sophisticated range of equipment. Thank you for your dedication on our behalf.
WELCOME to Mr David Gay, our new Sales Manager (Egham 3108). Thanks to Peter Fethney for his hard work over the past two years. 100 working hours spent by Mr Ted Roe of Dogmersfield on restoring a barge jack for the canal museum.
£250 donation received from the Baring Foundation.
MEMBERS Mr Davey and Mrs Scott have joined the Hampshire lengthsmen scheme.
CARNIVAL Float Officer - this position urgently needs to be filled; offers to the Secretary.
ODIHAM Scouts Service Team have donated a 10ft dinghy to the Society which will be used for offside bank clearance work - many thanks for your support.
AUCTION is to be held at Nobsurd of furniture, silverware, glassware etc in aid of Society funds. To be conducted by a professional auctioneer. Please contact Stan Googe (Fleet 5402) with offers of items for inclusion.
[back to top]
COVER PICTURES
1. Lock 26. Job Creation, lads demolishing part of the lock wall in preparation for new brickwork. In the foreground the lock cill is being excavated.
2. Lock 1. This lock has been adopted by the I W A Guildford Branch; the old bottom gates are being removed for eventual rebuilding. 12 March.
3. Lock 27. The second lock in the Job Creation Programme. New brickwork has just been started to the lock wall.
4. Lock 1. I W A Guildford branch members and Society members start to dig out the lock chamber. 13 February.
5. Lock 25. Members at work constructing a new by-wash around Curzon Lock. The railway now runs up to locks 26 and 27 and is being used to carry materials to the Job Creation work site. Note the newly dredged canal.
6. The pound below lock 17 being prepared for dredging by the S C C canal wardens.
7. The route map for the 1977sponsored walk.
[back to top]
COPY DATE for the June newsletter - 1 May
Published by Surrey and Hampshire Canal Society Limited, a non-profit distributing company limited by guarantee
Editorial Office: 45 Durnsford Avenue, Fleet. Tel: Fleet 5308
Chairman: Robin Higgs, 18 Barnsford Crescent, West End, Woking. Tel: Chobham 7314
Working Party Organiser: Roger Thomas. Tel: Farnborough 40389
Treasurer: Peter Fethney, 5 Longdown, Courtmoor, Fleet. Tel: Fleet 5524.
Secretary: Mrs Lise Hamilton, 2 Frome Close, Cove, Farnborough. Tel: Farnborough 49651
Membership Secretary: Alan Babister, 31 Elmsleigh Road, Cove, Farnborough. Tel: Farnborough 46147
[back to top]