.

No. 69
August 1976

Cover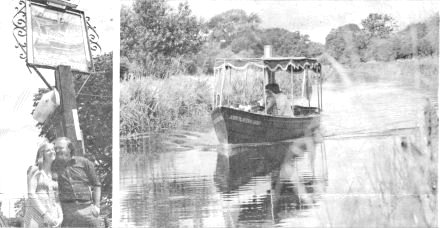 2, 1
3-7
Inside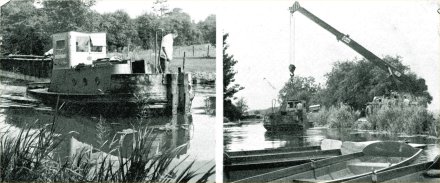 1-2
3-4
5-6
COMMENT
CALLING ALL CRAFTSMEN
Away from the crowds lining the canal bank and towpath, and the razzamatazz of "Water Nobsurd", a smaller and more serious-looking group of spectators watched Bob Bowhill's skillfull use of an adze in shaping the framework for a lock gate. The demonstration was a sobering reminder of the many tasks that lie ahead of us in restoring the Basingstoke Canal.
To the uninitiated, Bob Bowhill looked and worked like any other enthusiastic volunteer. But to an experienced woodworker, the identity of a skilled craftsman was clearly obvious. In fact, Bob is a shipwright by trade, and built lock gates when he worked for Harland and Wolf. A rare kind of volunteer who the Society is fortunate in having as an active member. Unfortunately, he is only one of a few artisans who have so far answered our appeals for skilled craftsmen.
We feel certain there must be others among our 2,000 plus membership and affiliated organisations, with the skills we need: such as car­penters, builders, construction engineers and engine fitters. One of the problems we know is that most people want a rest from their everyday work. But we don't necessarily want them to do all the work; or turn out every weekend. We need them to supervise and show less experienced volunteers what to do. Like Mike Kerry, a building con­tractor, who is helping volunteers to restore Lock 25 at Curzon Bridge, Pirbright. Another example is a group of students, from St. John the Baptist School, Old Woking,, who have re-painted the Society's Van. Robin Higgs gave them a list of the materials they'd, need, told them what to do, and under the supervision of- their teacher, Gerald Neish, they did a first-class job.
One of our current needs is for a skilled mechanic or fitter to orga­nise our machinery maintenance group. Someone who can diagnose the problems, get the spares and supervise the repairs.
At 'Water Nobsurd', Graham Palmer remarked how fortunate the Society is in having so many willing,and enthusiastic volunteers s a credit to the Society and the envy of other similar organisations.
But we need more volunteers, and especially artisans with the experience and knowledge to organise specialist projects and work teams.
For work such as restoring lock chambers, building lock gates, structural repairs, and servicing mechanical equipment. If you think you can help the Society, or know someone who might be interested, contact our Working Party Organiser, Frank Jones, on Farnborough 45032, or drop him a line at 182 Rectory Road, Farnborough, Hants.
[back to top]
THE HARMSWORTH CONNECTION
When the Harmsworth family sold the Basingstoke Canal in 1949, they severed a working connection spanning well over 100 years and four generations. The association has now been re-established with the appointment of Tony Harmsworth as a senior canal warden in Hampshire.
Tony's great-grandfather started working on the cut as a carpenter in the 1840's. His grandfather, Mr. A.J. Harmsworth, bought the canal in 1923, built barges at Ash Vale and traded on the canal until his death in 1947.
We wish Tony every success in his new job.
[back to top]
LETTER
.... from Mr Peter Cooper of Ealing.
"I have just received the latest newsletter and would like to raise a few small points. Firstly, the excellent quality of the photographs on the cover sheet contrasts oddly with the decidedly dodgy standard of reproduction of the rest of the newsletter. Is it perhaps time a change in production method for the newsletter was considered?
Secondly, I have also just received the latest 'Navvies' and, as usual, the Basingstoke Canal gets no mention, either among the progress reports, or among the Working Party notices, except for the London WRG's work on Lock 24. Considering that the current newsletter contains cries from half the Working Party leaders that they need more people, it is odd that such an obvious communication link as 'Navvies' is consistently ignored.
Thirdly, I have seen no mention in the newsletter of the Urban Waterways Study Groups whose activities are likely to interest quite a lot of Society members. It seems a bit wrong when I learn about the existence and aims of such a body from a local paper, rather than from the newsletter. I hope that this omission will be repaired when the Group's report is published and that you will give it adequate publicity".
Thank you, Mr Cooper; as usual a most constructive letter. Your first point gives us the opportunity of making a very sincere apology to all our members for the very poor quality of the print in our June newsletter. We had what the professionals would term 'technical difficulties beyond our control'. The first problem which hit us was that the Society's electric typewriter jammed and we had to resort to a manual machine to type the stencils. We produce 1,700 copies off one stencil, which is a good deal more than is recommended by the manufacturers, so we need to start off with a first class stencil. Our second problem was that Bob Harlick, our duplicating officer, was on holiday so one of the Editorial team had to wrestle with the Society's duplicating machine.
Your point about 'Navvies' is a very valid one and we know this is not the first time you have raised the question. The problem is that the person who should be responsible for this job, the Working Party Organiser, has his hands very full. We do know, however, that Frank Jones would be delighted if someone would volunteer to take on the task - how about it, Mr Cooper?
To cover your last point, perhaps we should first give our less well informed members some details of the Urban Waterways Study Group. The I W A has asked each of its branches to carry out a detailed study of a town in its area which lies on a canal or river with a view to considering how the waterway could fit in with development plans for the town. The Guildford branch has chosen Woking and our Society are collaborating closely in the study. The Group hopes to produce a draft Report in August, which we feel would be a more appropriate time to expand on the subject.
NOBSURD SOUVENIR PROGRAMME
A most attractive souvenir programme was produced for the Nobsurd Water Festival and if you were unable to attend or didn't pick one up at the site, copies, price 20p including postage, can be obtained from M G F Irwin, l4 Knoll Road, Fleet.
[back to top]
WORKING PARTIES
Every weekend
Site: Dredging in Hampshire
Leaders Brian Bane
Dredging Tel. No. Odiham 236l
Every Sunday
Site - Wharf Bridge, Ash
Leaders: Alan Grimster . Tel. Work: 01 211 4448
Roger Thomas Bankside support Farnborough 40389
1st weekend of month
Dates: 31 Jul/1 Aug, 4/5 Sept, 2/3 Octi 6/7 Nov
Site: Lock 25 Lock 26
Jim Chisholm 785146 Tony Robinson O1-688 0942
Leader: Peter Jones Tel, No. Enfleld 39513
1st Sunday of month
Dates: 1 Aug, 5 Sept, 3 Oct, 7 Nov
Site: Lock 14
Leaders: David Morgan
Tel. No. Weybridge 49235
2nd weekend of month,
Dates: 7/8 Aug, 11/12 Se,t» ?/1O Oct, 13/14 No
Site: Lock Gate1 building
Leader: Bob Bowhill
Tel. No. Wokihg 6291,
2nd Sunday of month:
Dates: 8 Aug, 12 Sept, 10 Oct , 14 Nov
Site: Lock 6
Leader: Pablo Haworth
Tel. No. Byfleet 42O81
3rd Sunday of month
Dates: 15 Aug. 19 Sept, 17 Oct, 21 Nov
Sites: Deepcut Flight
Leader: Mike McGrath
Tel. No. Weybridge 49235
4th weekend of month
Dates: 21/22 Aug, 25/26 Sept, 23/24 Oct, 27/28 Nov
Sites: Lock Gate building
Leader: Bob Bowhill
Tel. Ho. Woking 62916
Last weekend of month
Dates: 25/26 Sept, 30/31 Oct, 27/28 Nov
Site: Offside bank', Hampshire
Leaders: David Millett Tel. No. Fleet 7364
Details of all the above working parties appeared in the June newsletter. Members are reminded that full details of all the Society's restoration work can be obtained from the Ansaphone facility on Farnborough 45032.
BEFORE ATTENDING ANY WORKING PARTY, PLEASE CHECK WITH THE ANSAPHONE, OR INDJVJDUAL WORKING PARTY LEADER WHO WILL BE PLEASED TO GIVE YOU DIRECTIONS TO THE SITE.
[back to top]
SOCIAL JOTTINGS David Millett, Fleet 7364
Once again the Teachers' Centre, St Albans Hall, Lynchford Road, Farnborough has been booked for your regular winter social evenings. This winter they will be on the second Wednesday of the month, and I look forward, to seeing you all again. The bar will be open and coffee and biscuits will be served, and the sales stand will be in attendance.
8 September: 7.45pm
The opening film show of the season will be given by our own member, Tony Harmsworth, grandson of a previous owner of the Basingstoke Canal. Tony will show two films: a canal journey from the River Vey to the Llangollen Canal and a cruise from Leeds to Liverpool for an I W A National Rally many years ago.
13 October, 7.45pm.
David Copley, a member of the Kennet and Avon Canal Trust, will be giving a slide show entitled 'Some aspects of Continental Waterways' featuring some of the engineering masterpieces of the European canal network, together with a look at the German and Belgian waterways.
Autumn Coach Trip and Canal Cruise
Sunday 19 September
As previewed in the last newsletter, a combined coach trip and canal cruise through the renowned 3154 yard long Dudley Tunnel has been arranged. The tunnel is the longest and by far the most spectacular navigable tunnel on the British Waterways network.
The coach will pick up at Fleet, Farnborough and Camberley and will leave Fleet at 8am. It is suggested that members, take picnic food, although there will probably be a break at a pub on the way and also on the return journey. Arrival back at Fleet will be about 10pm. No children under 14 will be allowed on this outing, and the all-in price will be £2.50 per seat, which is remarkably cheap by present day standards.
Applications for tickets should be sent to David Millett, 14 Dinorben Close, Fleet, Hampshire, GU13 9SW enclosing a cheque payable to Surrey and Hampshire Canal Society and stating the preferred pick-up point. A STAMPED ADDRESSED ENVELOPE SHOULD BE ENCLOSED.
Old Time Musical Evening
The Byfleet Village Hall has been booked for Saturday evening, 30 October and a local Scout Group who specialise in this type of show will entertain us for the evening. Doors will be open at 7.30 for an 8pm start. Tickets will be £1 each and the number of seats is limited to 150; they will therefore be sold in advance.
Apply now to Mrs J Goodale, 'Sequoia', Sheerwater Avenue, Woodham, Weybridge, Surrey enclosing a stamped addressed envelope and a cheque payable to Surrey and Hampshire Canal Society. A temporary bar licence will be applied for; beer and wine prices will be reasonable and hot pies will be on sale.
Bring your own beer/wine glasses - this saves hire charges. DRESS - It is hoped that those attending, particularly the ladies, will make the effort to dress in Victorian bargee or straight Victorian style - and don't forget the bonnets, Ladies!
Bring and Buy Sale
The ladies are holding a Coffee and Sherry morning, together with a Bring and Buy sale on Saturday, 14 August at 14 Dinorben Close, Fleet at 10.30am. This is in aid of Society funds and is aimed at all those members and friends who for various reasons cannot do manual work on the canal but can support the Society in this way.
[back to top]
AUTUMN FAYRE AND COFFEE MORNING, on Saturday, 2 October from 10.30 - 1pm at the Civic Hall, Fleet.
There will be the following stalls:-
Home-made stall (cakes, biscuits, sweets, savouries, jams, pickles).
Handicrafts and candles - White elephants - Plants - Soft toys - Books
Children's stall - Good used toys - Tombola (bottles, tins, packets, jars)
Society sales stand - competitions - Refreshments.
Admission - free
Once again we are asking for your support at our Autumn Fayre to raise money for the restoration of the Basingstoke canal. Last year the proceeds were £250. With your generosity we can improve on this amount. So please, come along and bring your family and friends to the large downstairs hall.
We would like items for all the stalls, so please turn out your white elephants - books, good used toys, store cupboards, etc, and if you can make cakes, jams, chutneys, soft toys and handicrafts etc we would be delighted to accept your contributions.
A new feature will be a plant stall, run by Edna Jesse. She suggests dividing your herbaceous plants, sparing us some of your biennial wallflowers, sweet Williams etc, and thinning out your shrubs or providing us with some rooted cutting's. Please leave a bail of earth round thef roots and put in a polythene bag 'with a name and/or colour label.
Collection points
Camberley - Mrs Betty Youngs, 192 Upper Chobham Road. Tel. - Camberley 25819
Crookham - Mrs Janet Googe, 'Henbury'Gables Road, Church Crookham, Tel. Fleet 5402
Fleet - Mrs Janet Hedger, 2 Forest End, Fleet. Tel. Fleet 7465
Plants - Mrs Edna Jesse, 58 Gally Hill Road, Church Crookham. Tel. Fleet 4130
If you live outside these areas and can contribute items for the sale, or would like to help on a stall, please contact Fleet 7465 and we will arrange details of collection etc.
[back to top]
SOCIAL DIARY
For all working party dates, see separate section.
August
2 Pub evening, Prince of Wales, St Johns, Woking
6/8 I W A National Rally, Peterborough
9 Pub evening, Waterwitch Colt Hill, Odiham (formerly New Inn)
14 Bring and Buy sale
September
5 Pub evening, Prince of Wales
8 Film evening
13 Pub evening, Waterwitch
19 Dudley Tunnel trip
October
2 Autumn Fayre
4 Pub evening: Prince of Wales
11 Pub evening, Waterwitch
13 Slide show
30 Old Time Musical Evening
further details see this newsletter.
[back to top]
RAMBLES
Due to holiday commitments there will be no further rambles until the start of the winter season in October, Full details will be given in the October newsletter.
SOCIETY ARCHIVIST
Doris Potter, who has held the position of Society Archivist since the position was firsit established some years ago, is relinquishing her post. Our thanks to her for looking after the many items sent for depositing in the Society archives.
The Committee has decided that the archives be amalgamated with the museum collection and that the post of Archivist be merged with that of the Museum Project Officer. Any items should in future, therefore, be sent to David Robinson, 14 Brinksway, Fleet, Hampshire.
PEN PORTRAIT - Bob Harlick, Duplicator Operator
Bob Harlick has held the position for two of the seven years that he has been a Society member. He prints approximately 90,000 sides of paper each year. Now retired from Local Government, he moved to Hampshire from Middlesex at a very early age and has lived within walking distance of the canal since 1934, which he feels qualifies him to be called a 'Hampshire Hog'. He has other interests besides the Canal Society and is an active member of the local Choral Society and a deputy Church Warden. He includes amongst his hobbies walking and gardening. He sees the canal as part of our heritage which should no longer be ignored, since its potential as an amenity would mean delight to so many people with varying interests.
[back to top]
EQUIPMENT
The Society has now an impressive collection of machinery to work on the dredging of the canal. Apart from the now familiar steam dredger and narrow gauge diesel locomotive, the Society has recently bought a further mud boat from the Kennet and Avon Canal Trust, Reading branch for £400, this money being a donation from the I W A Guildford branch. The Society now has three mud boats, all of which are shortly to be put to use. Also recently acquired are two small crawler mounted cranes, a Smith Super 10 and a Priestman Wolf, this on loan from the Kennet and Avon Canal Trust. The Smith crane will be rigged with the grab recently donated by Higgs & Hill to empty mud boats, and the Priestman, rigged as a dragline, will shortly go into action dredging on the eastern section of the canal.
The most recent acquisitions are two Bantam tugs. The cost of these was met by a generous donation from Johnson Wax of Camberley; one of these is now on the canal at Odiham and will shortly be in use moving the mud boats to and from the various tips. All this equipment will require operators, so any interested members should contact ROGER THOMAS, who will be happy to put you to work.
THAMES TELEVISION visited Ash Lock last month to film a short sequence for a programme 'A Town Called Aldershot', due to be screened on either Wed, August 11th. or Wed. August 18th.at 6.0pm. Working Party Leader Frank Jones and Army Representative Bruce Johns were interviewed by T.V. Personality Monty Modlyn.
[back to top]
WHAT-AN-ABSURD WEEKEND THAT WAS !
The curiosity of thousands of visitors to Water Nobsurd was well sat­isfied with the mad happenings in, on and around the Canal at Colt Hill, OdihaM during the weekend of 9th - 10th July.
The entertainment started on Friday night with a Canalside Barbecue and Country and Western music from 'Three Card Treck' and 'Freight Express'.
On Saturday morning, Graham Palmer, founder of Waterway Recovery Group, officially re-named the New Inn at Colt Hill, the Water Witch, by unveiling an Inn sign depicting the Pub's namesake, a narrow boat operated on the canal by the Frimley Gravel Company during the latter part of the last century. To celebrate, Brian Williams, the licensee, and his wife Dawn, served a special witch's brew at the bar.
Meanwhile Water Nobsurd was getting under way with the crowning of the Water Princess, 16 year old Julie Burke of Fleet and the children's angling contest, won by Nigel Newport of Fleet.
At 2pm. David Mitchell, MP. for, Basingstoke, officially declared Water Nobsurd open and embarked on John Player's "Hero", the celebrated steam launch which was one of the star attractions at the show. And so the fun began with radio controlled boat displays, vaulting over (but mainly into) the canal, life saving and underwater diving demonstrations, canoe races, horse-drawn barge trips, a bath-tub race and some ingenious entries for the water bicycle event.
But the most popular events, both for the participants and the spectators, were the ancient sport of welly tossing and the greasy pole contest. Such are the rules of welly tossing - to throw over your head standing in a small boat - that most contestants followed their welly into the water... and if you lost your grip on the greasy pole... Who won what in the excitement is still not clear. But Blacknest Engineering won the welly tossing and on the greasy pole their attractive team member, Sue Hart, quite clearly lost ... the top half of her bikini!
In an adjacent field, attention centred around the crafts marquee, where demonstrations ranged from spinning to making trout fishing flies, leather work, enamelcraft, Maori wood carving, wood turning, pottery and the unusual art of making feather flowers.
Other exhibits included the Mid-Hants Railway Preservation Society's stand, Friends of the Earth, the Hunt Saboteurs Association, Teasels Art Studio and the Inland Waterways Association.
At the time of going to Press, it looks as if Water Nobsurd will break even if not make a profit. At least a lot more people now know about the Basingstoke Canal thanks to Stan Googe and his hard working band of helpers.
[back to top]
GONGOOZLERS' GOSSIP
MEMBERSHIP has dropped from over 2,000 to about 1,500 since renewals were due.
EVENING working party is in operation in Fleet doing off side clearance - details from Frank Jones
NEW van has been purchased by the Society
PROCEEDS from a weekly raffle held at the Swan Inn, Ash Vale are being donated to the Society - thank you for your support and encouragement
109 railway sleepers have been given to the Society by RAF Odiham
VACANCY on Executive Committee caused by the resignation of Ian Cripps has been filled by Peter Mayne
MEMBERSHIP forms have recently been re-designed by David Robinson and Dieter Jebens
LARGE quantity of railway track has been loaned to the Society by the West Sussex Industrial Archaeological Society
ESC Commissioner, Sir Christpher Soames, has recently joined the Society
[back to top]
COPY DATE for the October newsletter — 1st September
COVER PICTURES
Front cover - Water Nobsurd 1976 (Page 7)
1. John Player 'Hero'
2. Graham Palmer, I W A and Water Princess after renaming of New Inn
3. Miss Julie Burke, Water Princess 1976
4. Welly tossing competition
5. New sign at Waterwitch
6. Pole vaulting
7. Water bicycle
Inside
1. Tug on the canal (Page 6)
2. Army craning tug into canal.
3. Thames Television at Ash Lock (Page 6)
4. Frank Jones and Monty Modlyn.
5. Bob
6. Dick Shell, Society founder member, his wife Alison, Tony and Mary Harmsworth on Society's sponsored walk
Editorial Offices: 45 Durnsford Avenue, Fleet. Tel: Fleet 5308
Chairman: Robin Higgs, 18 Barnsford Crescent, West End, Woking. Tel: Chobham 7314
Working Party Organiser: Frank Jones. Tel: Farnborough 45032
Treasurer: Peter Youngs, Tne Coppice, 192 Upper Chobham Road, Camberley. Tel: Camberley 25819
Secretary: Mrs Lise Hamilton, 2 Frome Close, Cove, Farnborough. Tel: Farnborough 49651
Membership Secretary: Alan Babister; 31 Elmsleigh Road, Cove, Farnborough. Tel: Farnborough 46l47
STOP PRESS - STOP PRESS - STOP PRESS
The amount raised in the Sponsored Walk is estimated at £2,696 monies to Mrs. Green as soon as possible please.
[back to top]