.

No. 63
AUGUST 1975


PICTURES FROM THE PAST
1 - Deepcut; 2 - Lock 28; 3 - Lock 15; 4 - Lock 7; 5 - Chertsey Rd Bg, Woking; 6 - Ash Vale; 7 - Frimley Boat House; 8 - Sheerwater Bg.
2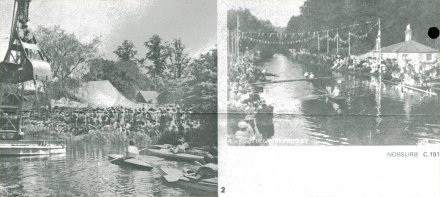 3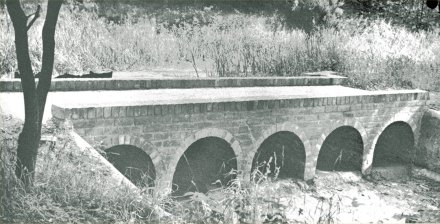 4
STOP PRESS!
July 22nd 1975 may prove to be a significant date in the history of the Basingstoke Canal. And in the Society's 9-year campaign to save the Basingstoke Canal. For, as we go to press, it has just been announced that the Canal owners have agreed to sell the 15-mile eastern end in Surrey to the County Council for £40,000.
Surrey's Policy and Co-ordinating Committee, and the Finance Committee have already approved the scheme which includes an expenditure of a further £172,500 on restoring the canal to a fully navigable condition, over a 5-year period. The cost is expected to be shared on a 50-50 basis between the County Council and the four riparian district councils - Woking, Runnymede, Guildford and Surrey Heath.
In his report, the County Surveyor acknowledged the help given by the Society in assessing the amount of voluntary labour put in by weekend working parties on the canal. This was originally estimated at a value of £98,000. But in the light o£ the work already carried out by volunteers in Hampshire, the estimated contribution has been raised to £141,000.
A final decision on the purchase of the Surrey section will be made when the full Council meets on July 22nd.
This is perhaps a timely moment to reiterate the recommendation made by the Joint Working Party's Report, published in May 1973, for the formation or a joint county council management committee to direct policy matters for the whole canal, and a Basingstoke Canal Trust to put it into effect. To quote the report:-
"Being a charitable body the Trust would be in the best position to raise outside support. In addition to its main income from its parent Counties the Trust could receive contributions and tax-free covenants from the public (and private companies). Some charitable foundations are precluded from directly grant aiding local, authority projects, but would be happy to support a charitable trust or non-profic making concern doing the same work. By the same token, it is probable that more volunteers would come forward to work for the Basingstoke Canal Trust than would respond to an appeal for help from a County Council Committee - albeit a joint one - as they may feel they are just subsidising the rates".
The Society has fought for nine long years to get the Basingstoke Canal under public ownership. Let us hope it will not take a further nine years to restore and re-open the navigation.
Now is the time for the two county councils to set up a joint management committee and consider the formation of a Trust. We believe a single, autonomous management is the most effective and efficient way of restoring the canal and maintaining it in the future.
It is the best way to attract widespread voluntary inputs maximum independent financial support and help to establish a harmonious relationship and protect the interest of all potential users.
Separate management of the Surrey and Hampshire sections of the canal, however close the liaison, will inevitably lead to misunderstandings, higher administration costs and differing views on priorities.
[back to top]
WORKING PARTY NEWS by Frank Jones
Progress has been remarkable this Summer and without being complacent, you can all give yourselves a pat on the back. Since there are no working parties, in August, except for Sprat's Hatch bridge hole, let's look forward just a little.
Bank clearance on the non-towpath side this coming Winter will be between Broad Oak and as far as we can get Eastwards, probably Double Bridge, Dogmersfield. The remainder up to Fleet will be left until the Winter of 1976/7.
Bridge holes continue in an easterly direction with Baseleys Bridge next in line in September. Concerted efforts at Sprat's Hatch to mechanise the proceedings as much as possible look like being an essential feature of future works. You will still have to dig it out, but carting away will be by hoist and dumper operating on top of the bridge. Let's try for Double Bridge by April next.
Weirs are essentials on any Canal. The County Council are to build one at North Warnborough soon. We shall open rebuilt Artillery Weir on August 17th and Farnborough Road Weir will also be attended to in the near future, though details have not yet been worked out.
Hampshire's only lock at Ash will take the best part of a year to complete. Work will begin in September.
The County Council has completed its programme of Bridge repairs leaving Coxmoor and Broad Oak for next year. Blacksmiths Bridge will be virtually complete by the time you read this. You will remember that this is our responsibility and is being paid for by Society and I.W.A. Funds.
Timber is now to hand to build the four sets of top gates for Surrey. We need volunteers with a skill for this work; names to me please.
With our increasing use of plant, machinery fitters are urgently required. Why do we have to hire a dumper or cement mixer when we have our own?
Dredging needs some explanation. It is obvious to everyone that to progress we must have the right tool for the job. The job of dredging varies tremendously in its problems. We can dredge the Canal with the dredger, but not in 3 years. The County therefore decided to bring in a Hymac which has taken us to Lodge Farm Copse where it is planned to use the dredger again. When? Well, that depends on the Landowner. We must remember that the Society does not have a divine right to tip silt on adjoining land; the County Council are negotiating continually with landowners but agreement will be reached in the landowner's time, not necessarily to suit our programme. It is frustrating, but please bear with us on dredging. It's the biggest single problem in Hampshire. If you wish to know about progress, or to work on the dredger, please ring Ian Cripps on Fleet 7831.
A big thank you to all who turn up on working parties, including new members. Keep it up: you're doing fine.
All Working Parties start at 10.00am. From time to time a number of small projects need undertaking; Interested? Ring Farnborough 45032 for details.
[back to top]
SPONSORED WALK - SURREY
On Sunday September l4th the Society is holding another aponsored walk, this time in Surrey - from Byfleet to Ash Lock. PLEASE MAKE THIS A DAY NOT TO BE MISSED. Sponsor Booklets will be available by mid August, but meanwhile all offers of help and any information can be obtained from Stuart Browning BYFLEET 42024. Remember - A sponsored walk requires a great deal of organisation. YOUR help is essential.
THIS IS YOUR CHANCE TO HELP WITH THE SOCIETY'S FUND RAISING.
[back to top]
A BASINGSTOKE BARGE
In 1918 Mr. A.J. Harmsworth built his first barge on the Basingstoke Canal at Ash Vale. Named the Rosaline, it had a registered tonnage of 32-1/4 tons and was capable of carrying a maximum load of 75 tons. So started an era of boat building on the Canal that was to last up until 1935. In most years one new boat was built but 1932 saw two boats under construction. They were named the Basingstoke and the Aldershot. Both had a registered tonnage of 34-1/4 tons and could carry a maximum load of 80 tons. Both boats continued in service until the Canal was sold in 1949. The Basingstoke became a houseboat but the Aldershot was bought by Mr. A.T. Harmsworth and renamed the BASING and traded until 1960 on the River Wey and River Thames.
The Aldershot has now been acquired by the Society from the National Trust. Although in a poor state of repair, the boat is by no means beyond repair. In the long term we hope to be able to find Sponsors who will be willing to finance the restoration of this barge so ensuring that one example of a Basingstoke Barge remains in working condition. We also have in mind using the barge, when it is restored, for the Canal Society Museum. This would provide an extremely attractive Mobile Museum capable of being moved up and down the restored Canal.
Immediate work to be done on the boat includes making a complete survey, cleaning out and covering the hold, and generally taking measures to stop any further deterioration. All offers of help should be made at once, to David Robinson Fleet 21376.
[back to top]
MUSEUM David Robinson Fleet 21376
With the purchase of the 'Aldershot', the museum project has taken a major step forward. I continue to receive pictures and postcards of the Canal in the past, the latest from a Mrs. Wilson of Crookham Village, who as a child, lived at a house near Chatter Alley, Winchfield, named the Boat House. Mrs. Wilson enclosed the following memories of the Canal in her youth:
LONG, LONG AGO
"When I was young my father, Harry Poulter, had 20 assorted boats for hire on the Canal at Chatter Alley and my Mother served teas on the lawn at the Boat House. When there were reviews at Laffins Plain, my father tied one boat behind the other and had a horse on the towpath to pull them and their loads, having someone in each boat who could steer. I think the last time this occurred was when the Kaiser reviewed troops just before the First World War".
Please keep sending your pictures to me, they will all be returned safely. How about finding some old documents and other items relating to the canal!
[back to top]
SOCIETY DIARY
AUGUST
17 Opening of Artillery Weir, Aldershot
22-25 I.W.A. NATIONAL RALLY, YORK
26 Pub Evening, Swan Inn, Ash Vale
SEPTEMBER
1 Pub Evening, Row Barge Inn, St. Johns, Woking
6/7 Bridge hole clearance, Baseleys Bridge Ash Lock, start restoration work
8 Pub Evening, New Inn, Colt Hill, Odiham
14 SPONSORED WALK - SURREY (See page 3)
Social evening - illustrated talk "Narrow Boating" 7.45pm. Teachers Centre, Lynchford Road, Farnborough (See Page 4)
19 Joint Meeting S.H.C.S./I.W.A. 8.00pm. at York Road Church Hall, York Road, Woking (See Page 5)
20/21 Bridge hole clearance, Baseleys bridge
21 Visit to Crofton Beam Engines and boat trip on the Kennet & Avon Canal (See page 5)
27/28 MAJOR WORKING PARTY - Broad Oak Bridge Bridge hole clearance, Baseleys bridge
29 Pub Evening, Swan Inn, Ash Vale
OCTOBER
4/5 Bridge hole clearance, Baseleys Bridge
6 Pub Evening, Row Barge Inn, St. Johns, Woking
11/12 Bridge hole clearance, Baseleys bridge Ash Lock continue restoration 13 Pub Evening, New Inn, Colt Hill, Odiham
15 Social Evening, Teachers Centre, Lynchford Road, Farnborough, 7.45pm.
18/19 Bridge hole clearance, Baseleys bridge/Staceys bridge
25/26 MAJOR WORKING PARTY - Broad Oak Bridge Bridge hole clearance, Staceys bridge
27 Pub evening, Swan Inn, Ash Vale.
[back to top]
SOCIAL JOTTINGS David Millett. Fleet 7364
This coming Autumn and Winter, a regular booking has been made at the Teachers Centre, St. Albans Hall, Lynchford Road, Farnborough, when a varied programme of talks, slide shows, film shows, and social evenings will be held. The date will be the 3rd Wednesday in the month with a 7.45pm. start and will commence on the 17th September and run through to the 14th April, 1976. (The only exception is November, when the date will be the 4th Wednesday, 26th November).
The aim this Winter is to get Members together on a regular basis and all the evenings will feature tine for Members to have a chat, meet new Members and Committee Members, and to generally generate a Club atmosphere. The bar will be open all the evening, the sales stand will be in attendance, and coffee and biscuits will ba available.
PLEASE SUPPORT THESE REGULAR SOCIAL EVENINGS WHICH HAVE BEEN ARRANGED FOR YOUR BENEFIT, TO ENABLE YOU TO HAVE AN INTERESTING EVENING AND TO MEET NEW FRIENDS AMONG OUR LARGE MEMBERSHIP.
To start off the programme, on Wednesday 17th September at 7.45pm. David Morton, the principal of the Teachers Centre and a well known 'canal enthusiast' will give an illustrated talk with slides entitled "Narrow Boating" based on his wide cruising experiences with his own narrow boat over the last few years. Slides from the whole Inland Waterways network will be shown.
[back to top]
JOINT MEETING WITH I.W.A. GUILDFORD BRANCH, FRIDAY 19TH SEPTEMBER
A joint S.H.C.S./Inland Waterways Association, Guildfdrd Branch, meeting has been arranged for 8.00pm. Friday 19th September at the York Road United Reformed Church Hall, York Road, Woking. Robin Higgs, our Chairman, will give an illustrated talk on the Basingstoke Canal and take the opportunity of bringing members up to date with the restoration, progress in Hampshire and the current position in Surrey. Surrey members especially, please support this Meeting.
[back to top]
VISIT TO CROFTON BEAM ENGINES AND A HORSE-DRAWN BARGE CRUISE ON THE KENNET AND AVON CANAL - SUNDAY 21ST SEPTEMBER
An interesting coach trip has been arranged for Sunday 21st September when a morning visit will be made to the CROFTON BEAM ENGINES on the Kennet and Avon Canal to see the beautifully restored 1812 and 1845 Beam Engines in steam. The 1812 engine is the oldest working beam engine in the world. In the afternoon a 3 hour cruise on Bill Fisher's horse drawn Canal barge 'Kennet Valley' has been arranged to start and finish at Kintbury. This cruise will pass through four restored locks and will give members the opportunity of seeing a recently restored section of the Kennet and Avon Canal.
The coach will leave Fleet at 8.30am. and pick up at Farnborough at 8.40am. and at Camberley at 8.50am. Tickets are £1.75 which includes coach fare, admission to Crofton and the canal cruise.
Applications to David Millett using the enclosed application form. DON'T MISS THIS "TWO IN ONE" OUTING.
[back to top]
PUB EVENINGS
1st Monday in month Row Barge Inn, St. Johns, Woking
2nd Monday in month New Inn, Colt Hill, Odiham
Last Monday in month Swan Inn, Hutton Road, Ash Vale.
As from September, these pub evenings will always have a committee member or other member to act as "host" (not to buy all the drinks!). The member will always be wearing a membera badge so that new members can introduce themselves, and in turn they can be introduced to other members present. Last winter with a few exceptions, they were rather poorly attended but we hope fcfeet above arrangements will encourage members to cone along for a Noggin 'n Natter!
If members have any suggestions, ideas for social outings, or would like to suggest a speaker for a forthcoming evening meeting will they please contact me.
[back to top]
WATER NOBSURD by Stan Googe
Everybody seemed to have an enjoyable, hot and sunny afternoon at Hobsurd on June 7th at Colt Hill. Well over 1,000 people attended. The programme included a demonstration by the Kingfisher Model Boat Club of Farnborough with their radio controlled yachts, tugs, cargo boats and speedboats. Never to be repeated speeds of 20mph were seen on the Cut! Thrills galore from R.A.F. Odiham and the 2nd Battalion 2nd Ghurka Rifles as they battled along the 'greasy pole'. Quite a queue formed for a ride in the Society's pontoon, pulled by Alec Chorlton's horse, Alpha. Swings and roundabouts kept the very young happy, and the ice cream van sold a staggering amount of ice cream to the value of £72.50. 110 gallons of beer were consumed during the afternoon and evening, all ably served by Mr. & Mrs. Bolter of The New Inn. The ladies on the Society's Sales Stand did not stop selling during the afternoon and took £152.87, with the Brick Appeal taking another £17.55.
And so to a hot 'balmy'! Summer evening on the lawn of The New Inn. The music was supplied by Dick Webb's Thirsty Five plus Two. the Dredger was floodlit, and Fairy Lights hung from the trees. Apologies for the delay on the Bar B Q later in the evening; this was due to a great demand for tickets on the day. The last half hour of the day saw most of the assembled 290 people dancing in the Marquee.
A very enjoyable day. May I thank all the helpers who helped make it so.
[back to top]
RESTORATION PLANS
Members may be interested to know the outline programme, prepared by the Forward Planning Committee, for further work on the Restoration of the Hampshire length of the Canal.
TASK
By whom carried out
Target completion date
Construction of New Weir at North Warnborough
Contractors to H.C.C
August 1975
Bridge Hole Clearance and fitting of Stop Planks
Volunteers and H.C.C.
To be phased ahead of Dredger and to be all complete by June 1978
Overhaul and repair to Overflow Weirs
Volunteers and H.C.C.
October 1975
Repair of 7 weak Bridges
Volunteers and Contractors to H.C.C.
All complete by March 1977
Dredging ---
. - To Greywell
Volunteers and H.C.C.
December 1975
. - To Dogmersfield
. "
December 1976
. - To Fleet
. "
December 1977
. - To Ash Lock
. "
December 1978
Part Clearance of Broad Oak Shoals using Smalley Excavator
H.C.C. Wardens
1975
Repairs to Thatch Cottage Culvert and Dogmersfield Swing Bridge Culvert
H.C.C.
September 1975
Repairs to Thatch Cottage Culvert and Dogmersfield Swing Bridge Culvert
H.C.C.
September 1975
Repairs to earth slip at Crookham Deep
H.C.C.
September 1975
Repairs to earth slip at Dogmersfield Cutting
H.C.C.
Preliminary work by November 1975 Complete by December 1976
Offside Bank Clearance ---
Volunteers and H.C.C.
. - Colt Hill to Greywell
. "
December 1975
. - Colt Hill to Crookham
. "
December 1976
. - Crookham to Ash Lock
. "
December 1977
Repair to Ash breach
Volunteers
January 1977
[back to top]
LETTERS
Several letters have been received in reply to Clem Hebert's letter, printed in the last Newsletter. Lack of space prevents printing them all.
Of Course Clem is Right
The number of volunteers from the Society that come along to spread silt is abysmal. The organisation to co-ordinate dredger support volunteers is abysmal. If the membership of the Society want to read in the Newsletter that the dredger has reached Greywell by Christmas, then they had better get down to the towpath pretty damned quick and help with the silt disposal. But a word of warning - it's dirty filthy, muddy and wet work so no turning up in your office suit and shoes and then tiptoe around the site like some great fairy. What is wanted is willing brawn.
Now for the organisation. Frank Jones is far too busy on other working parties to have time to organise another 30 people (again Clem is right) per weekend, so it is obvious another person would have to take charge of dredger support crews, and until somebody does volunteer I suggest all volunteers for this dirty, filthy, muddy job contact me on Fleet 5402. We want 30 people to be ready to start the job by September 1st.
One final point, and this is not in Clem's letter, but while my hair is up, I might as well mention it. I detest hearing the selfish attitudes of angling clubs about how to run the restored Basingstoke Canal. To my knowledge not one of these angling clubs has offered men or money towards the restoration, so how dare they object to boat owners, walkers, hikers or any other groups using the Cut.
[back to top]
STAN GOOGE CHRISTMAS FAYRE AND COFFEE MORNING - 8 NOVEMBER
Ladies! Can you turn out your cupboards and find white elephants or good used toys, make soft toys, cakes or Christmas decorations, or make coffee; or alternatively be responsible for a stall?
Please contact Janet Hedger, Fleet 7465 or Rosemary Millett Fleet 7364.
[back to top]
NEW SALES MANAGER
Paul Aston, Sales Manager for the past two years, has moved to Bristol and has had to give up this important post. Our thanks to Paul and his wife for all their hard work. We are fortunate to have found a replacement so quickly. Peter Fethney, 5 Longdown, Courtmoor, Fleet has agreed to take over the position. He can be contacted on FLEET 5524.
WEEDCUTTER
The old weedcutter, which lay above Ash Lock for some years, is back in action on the Canal in the Odiham area. It has been completely rebuilt by the Army Workshops and was handed over to Hampshire County Council in early June.
[back to top]
THANKS
Our sincere thanks to Mr. Hadlow of Fleet Coaches for his very generous loan of Oxy-acetylene cutting equipment. This was used by the Dredger gang on several occasions and who returned the gas bottles empty more than once!
APOLOGIES
Apologies to our Cove Members who did not receive their Member­ship Renewal Reminders in March. This was due to a slip up in our distribution system. Also to Members in the Camberley area who did not receive the last Newsletter.
We regret that Members who delayed renewing their Membership after receiving a final reminder, were not eligible to receive the June Newsletter.
[back to top]
COVER PICTURES
FRONT
Surrey Section Map with pictures from the Museum Collection (Pictures by courtesy of M.E. Ware, Stan Knight and the Harmsworth family).
INSIDE
1) The Aldershot
2) Nobsurd
3) Artillery Weir
Editorial Office: 45 Durnsford Avenue, Fleet Tel. Fleet 5308
Chairman: Robin Higgs, 18 Barnsford Crescent, West End, Woking. Tel. Chobham 7314
Working Party Organiser: Frank Jones Tel. Farnborough 45032
Treasurer: Peter Youngs, The Coppice, 192 Upper Chobham Road, Camberley. Tel. Camberley 25819
Secretary: Mrs. Lise Hamilton, 2 Frome Close, Cove, Farnborough. Tel. Farnborough 49651
[back to top]

RESTORATION SURREY No. 6.
August/September 1973.
DEEPCUT.
Work is planned on the Deepcut Flight Locks on the first Sunday of each month, starting at approximately 10.00am. Access point is Curzon Bridge - Map Reference 917564 (Sheet 169 O.S.)
Organizers are:-
Lock 25 - Peter Jones. Tel: Enfield 39613
Lock 26 - Jim Chisholm. Tel: Wokingham 785146.
Lock 27 - Tony Robinson. Tel: 01-688-0942.
Also, the Waterway Recovery Group have "adopted" Lock 24 and were scheduled to start work over the weekend July 19/20th.
OTHER WORK IN HAND:-
ORGANISER: Pablo Haworth (Tel: Byfleet 42081)
AREA: Shearwater Lock.
WHEN: Second Sunday of each month. (Note the change) August 10th and September 14th. Start 10.00am. WORK TO BE DONE: Clearing rubbish out of the Lock on August 10th and probably marshal work for the sponsored waLk on September 14th.
ORGANIZER: David Morgan (Tel: Weybridge 49235).
AREA: Above Brookwood top Lock. Access point adjacent to Brookwood traffic lights. Map Ref: 957572 (Sheet 169 O.S.)
WHEN: First Sunday of each month (note the change) 3rd August and 7th September. Start 10.30am.
WORK TO BE DONE: Towpath and Lock clearance.

ORGANIZER: Mike McGrath (Tel: Weybridge 47826)
AREA: Two Locks above Curzon Bridge. Map Reference 917564 (Sheet 169.O.S.)
WHEN: Third Sunday of each month. Start 10.30. (17th August and 21st September). Mike will be away on holiday during August - but please go along nevertheless.
WORK TO BE DONE: Towpath and channel clearance.

ORGANIZER: Christopher Jones (Tel: Farnborough 45032)
AREA: Between Ash Wharf Bridge and Swan Bridge. Map Reference 894523 (Sheet 169. 0.S.)
WHEN: Second Sunday of each month. (10th August and 14th September). Start 10.00
WORK TO BE DONE: Towpath and underpath clearance.
ORGANIZER: frank Jones (Tel: farnborough 45032)
AREA: St. John's Top Lock (Goldsworth flight) Map Reference 980581 (Sheet 169.0.S.)
WHEN: Second Sunday of each month. (10th August and (4th September). Start 10.00.
WORK TO BE DONE: Stop plank grooves.
[back to top]