.

Newsletter No. 62
June 1975


1
| | | |
| --- | --- | --- |
| | | 4 |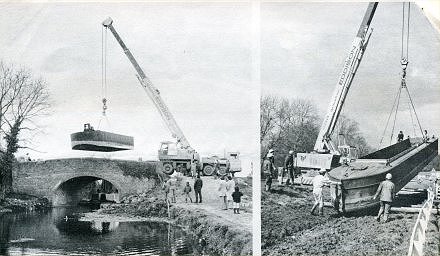 2
3
4
COMMENT
'It will take four or five years to complete the repairs and restoration of the canal. During that time it is hoped that Surrey County Council will be embarking on a similar programme so that the canal as a whole should be back in a usable condition before 1980'. So said Mr Colin Bonsey, Hampshire County Council's Recreation Officer, at the end of 1973, when the Council took over the western end of the Basingstoke Canal. We've quoted him before and make no apology for doing so again. Because at the present rate of progress it seems more of a pipe dream than a realistic expectation.
This is not a criticism of the Authorities. Surrey CC is actively trying to complete purchase of the eastern end; working relationships between the Society and Hampshire CC are excellent and the enthusiasm and amount of work being done by the volunteer labour force continue to increase.
But if we really want the canal re-opened by the end of the decade, there are only two ways it can be achieved. One is for the Councils to meet the objective by spending whatever is necessary to complete the work programme on schedule. The other is to set up a Basingstoke Canal Trust and give the trustees the authority and responsibility of achieving the same end.
In the current economic situation the first option is unlikely to be taken up, which leaves us with the second and in many ways more attractive alternative. By authorising the formation of a Trust, the Councils could make a commitment to restoring the canal without carrying the full financial burden. For their part, the Society and other voluntary organisations willing to participate would be given a more positive incentive to maintain and increase their level of input. And the Trust, by nature of its constitution, would be in a position to appeal for and accept funds from sources not likely to donate to either the Authorities or the Society.
Two waterways that have been successfully restored and re-opened by non profit-making charitable Trusts are the Stratford Canal in 1964, by the National Trust, and the Upper Avon Navigation, re-opened last year, at a cost of over £300,000. Admittedly the now legendary David Hutchings masterminded both projects, but the work might never have been started or been possible without the Trusts which raised the money.
The formation of a Trust was one of the recommendations made in an official working party report on the restoration and management of the Basingstoke Canal, published in 1973. Apart from the fact that restoration would be far more satisfactorily undertaken by an autonomous authority, free of other considerations and responsibilities, a Trust could appeal to a trido range of financial sources, including commercial concerns, voluntary organisations, local authorities and Government sponsored agencies like the Sports Council and the Countryside Commission.
[back to top]
LETTER COLUMN
We would like to re-introduce a letter column in the Newsletter to enable members to express their views on any aspect of the Society. Whilst the letter below is a good deal longer than we would normally like, we are publishing it in full because we feel that the subject it covers is important.
The Grange, Hook, Hampshire.
Dredger Working Parties
At the dredger working party yesterday the number attending was eight - yes, just eight, including two women and one old cadger. It was about the same number throughout the weekend.
The membership of the Society is understood to be well over two thousand. If we take the able-bodied membership at about one thousand two hundred, this means that only one in one hundred and fifty feels strongly enough about the canal to show up. Just think of it - less than one per cent.
There may well be other working parties along the canal with conflicting (or supplementary) claims, but again the organisers usually have little reliance on any but a very few people to appear and actually work.
Without wishing to deny the worth of other activities, it must surely be accepted that the dredger should take priority for most of the time. My reason for stating this is that unless and until the canal is dredged it will never function again. We can largely forget everything else.
Even with enough workers, progress with the dredger is painfully slow. 20 yards per weekend means at least 2 years to reach Greywell if we cannot speed things up. The problems of shifting and spreading the enormous quantities of silt are legion. There is understood to be an offer of a second dredger, which will be fine, but will double the disposal difficulties which already exceed the capabilities of the few members (and non-members) that turn up to work.
With a few notable exceptions we do not often see the committee members on site. How long since one last appeared at a New Inn pub night?
How long before a regular and properly minuted organisers' committee is brought into being? This should be quite separate from the Society committee. It would spread the load from those few, at present grossly overworked, trying to organise too many things in too many places. In particular it should be able to avoid the painful number of working (?) parties that never actually happen. How many members have been lost or put off by turning up to non-events?
I cannot speak from the level of the committee member, but I am probably representative of the majority of members that actually operate the shovels. My recommendations would be as follows:-
1) That if a second-hand dredging machine is offered it should be accepted by Society or County with alacrity, gratitude and faith.
2) That the County should be encouraged to use the Smalley to dredge the towpath side within its reach, preferably on Fridays, leaving volunteers to sort out and spread. The achievement at Broad Oak is really remarkable.
3) That the Society spares no efforts to implore, encourage, cajole, shanghai etc. its members to turn out, shift and spread whatever the dredger(s) can put on to the bank. In many places sandbagging will first be needed to revet the edge.
The key to the whole matter seems to be one of turn-out. Thirty people per weekend working half on/half off or similarly could handle almost enything the dredgers can produce. But we must have the members on the towpath if the job is going to make any progress. An essential in this direction is to get our programme into Navvies, an omission in the current number.
C E C Hebert.
Editorial Note
Harsh words indeed - but is Clem right?
[back to top]
THE BRICKYARD by David Robinson
(Nos 2 - 5 refer to pictures on front cover)
The White Hill Tile & Brick Works was established at Arborfield, near Reading, in 1934 by Mr Oliver Barker and his brother Arthur. For over 40 years the yard has been producing hand made bricks and tiles. In recent years the demand for hand made bricks has fallen off, but the works are still busy and have recently completed the order of 4,000 coping bricks for the canal bridges.
On a visit to the yard a few weeks ago, we were fortunate enough to see the last of these coping bricks made.
The works are sited in an area rich in clay. This clay is dug from the ground and placed in a pit. Water is mixed with it and the mixture is then transferred by skips and tipped into a machine which smooths the clay and extrudes it like a sausage on to a table in front of the brickmaker. A lump of the clay is thrown into a wooden mould of the required shape. Excess clay is removed with a piece of wire and the mould is then tapped on one edge (2) to loosen the shaped brick from the mould. The brick is gently removed from the mould (3) and laid out ready for the drying out process.
This takes place in a warm ventilated area over the firing kilns (4). During this process the bricks lose up to a third of their weight. When dry the bricks, still brown in colour, are ready to be fired. They are stacked in layers inside the kiln (5) which, when full, is bricked up. The firing process lasts up to 48 hours, and when cool the kiln is opened and the bricks, now cherry red, removed.
[back to top]
WEYBRIDGE RALLY by David Robinson
The Weybridge Rally over the Spring Holiday was a great success. Many thanks to all those members who helped out on the Society's two stands, which incidentally attracted considerable interest. Total sales amounted to £318,70 over the three days and the 'Buy a Brick1 stand took £118.46, which brings the brick appeal to £910.
BUY A BRICK APPEAL by Peter Youngs
The fund is remaining open, and if you wish to contribute but have not so far done so, your donation should be sent to me - address on last page.
From Norman and Eileen Jones New South Wales, Australia.
Herewith please find enclosed cheque in response to the Society's Brick Appeal. Though so far away, let me assure you that both my wife and I take the keenest interest in the affairs of the Canal Society. We are both delighted at the progress being made on the Hampshire stretch and hope soon to receive news that things are under way in Surrey. Again wishing you every success in your efforts.
We send you greetings from down under.
[back to top]
WORKING PARTY NEWS by David Robinson
Bank Clearance The winter work progress has been very successfully brought to a close with Pondtail Bridge, Fleet being reached. Many thanks to all who have worked so hard. Work on bank clearance is now to be concentrated at the western end of the canal, in the vicinity of the lift-up bridge, North Warnborough, working towards the tunnel. The policy will then be to work eastwards in front of the dredger. There will be no working party in AUGUST.
Bridge Holes Colt Hill Bridge, Swan Bridge and now Broad Oak Bridge holes have been cleared. Each has presented its own problems. Excellent work has been carried out at Broad Oak bridge on the repointing of the bridge abutments and the rebuilding of the towpath wall. This bridge is in a particularly bad state, and this work has improved the appearance considerably. More help with bridge holes is needed. Next bridge is Sprats Hatch, then Baseleys bridge and so on eastwards. Each bridge takes about four weekends to complete, but if you intend to help out it is advisable to ring Farnborough 45032 to find out where the work has reached.
Dredger The dredger has been proved to be an extremely efficient machine in removing the silt from the canal. So efficient, in fact, that the disposal of the silt is proving a problem. It is therefore very necessary to build up an efficient bank side support team to handle the rail mounted mud skips. Volunteers are now needed every Saturday and Sunday to help with this muddy but important work, A three-shift system is to be worked. Ten strong men or women in each shift. Times of shifts will be 8am - 12noon, 12noon - 4pm and 4pm - 8pm, Saturday and Sunday, 60 people needed in all. The work entails pushing the mud-filled skips to disposal points; speed will be essential to keep the dredger working to capacity. Names please to Frank Jones, Farnborough 45032.
Bridge Repairs County Council contractors are now at work on their third bridge, Baseleys, work on which is progressing well. The Society has undertaken to pay for the repairs to Blacksmiths bridge, and work started over the Easter weekend, with volunteers clearing the bridge top in readiness f»r the contractor to start work, 6,000 second hand bricks are on site with a further 4,000 to come. It is expected that work will take about 4 weeks. The Brick Appeal has been so successful that money received in excess of that needed for the coping bricks is to be put to use on the restoration of this bridge. So if you would still like to buy a brick, it is not too late. Artillery Weir Work on this weir is very nearly complete and the towpath should be reinstated by the end of May. At present the arches and one parapet are complete and the regulating paddle is now being made by a member. Work on this weir was necessary to facilitate work on Ash Lock and to make it possible to control the water level. Ash Lock Conditions for work to proceed on the lock have now been agreed with the County Council and work should be starting soon.
Lock Gates The timber for the first set of gates is awaited from the timber yard and negotiations are in progress with the Army for suitable premises in which Bob Bowhill and other members can get to work on the gate construction. Other items Our thanks to the TVWA for the railway track and skips from a sewage farm at Berrylands, Surrey, and to all those of you who have helped, whether pushing skips, laying track or providing the back-up assistance with loan of cutting gear, transport etc.
[back to top]
MOVE THAT DIRT by Ian Cripps
As many of you already know, the Society is now in possession of a quantity of narrow gauge railway equipment (600 yards of mixed track, 17 sets of points, 10 side-tipping skips and sundry other items) some of which is at present in use at Broad Oak Bridge and with the dredger at Colt Hill.
The equipment, made redundant at Berrylands Sewage Plant, was purchased for a very low price by courtesy of Mr Eaves, the Plant Engineer.
One grey Saturday morning in February saw a van loaded with dredger gang, cutting equipment and heavy tools arrive on site. Having been shown the track we were to lift, the gang went to work. The track was bolted down to a concrete base and every fish bolt and holding down bolt had to be either split with hammer and chisel or cut off with oxy-acetylene. Sunday saw a reinforced gang continue the work, methodically cutting, lifting and loading. By Sunday night the dredger gang had done its usual thorough job, every inch of track and every item of usable equipment had been cleared from the area and stacked to await later collection.
The following two weekends saw the equipment hauled back to Fleet and Odiham and put into use or store as necessary.
Tim Gilbert is at present in charge of the track-laying and running of the system at Colt Hill, and would anyone interested in helping please contact him on site. At present the skips are hand pushed, but by the time the railway is next used on a similar job we will have a small diesel locomotive in use for the longer hauls.
[back to top]
LITTLE TUNNEL - UP NATELEY by Peter Youngs
During question time at the last AGM, a number of members expressed concern about the future of the Little Tunnel, the general feeling being steps should be taken to ensure its preservation. Subsequently the Committee received information that unauthorised earthworks were being carried out around the tunnel by a local farmer.
A letter was despatched post-haste to the Historic Buildings Section of the Department of the Environment urging the Department to schedule the tunnel as a Building of Architectural or Historic Interest. The Department in due course inspected the tunnel and, we are delighted to announce, has now agreed to place it on the Statutory List as a Grade II structure. This decision has been officially notified to the Basingstoke District Council and means planning permission must now be obtained before it can be demolished or in any way altered. The statutory listing also places a legal responsibility on the owner to maintain it in a sound state of repair.
Once again the vigilance of members has produced a satisfactory result.
[back to top]
DREDGER
After the recent invitation to members to send in their ideas for names for the dredger, it has been decided that a rather apt name would be 'Perseverance'.
NEW SALES ITEM
3-1/2" square Society car sticker, with black wording and motif on a yellow background. These cost 15p. Personal callers only to David Millett, 62 Greenways, Fleet.
[back to top]
SOCIETY DIARY
Working Party dates are now included in Club Call in the Fleet News, Farnborough News, Aldershot News and Camberley News on the last Friday of each month. Anyone planning to attend working parties other than Major Working Parties is advised to telephone the Organiser beforehand.
Bridge hole clearance, Sprat's Hatch bridge. Refs 764536, Continue each weekend until completed,.
28/29 MAJOR WORKING PARTY - Colt Hill Bridge, Clearance of the offitde bank. Start 10.00am. There will be work available for all members of the family, so make it a day out.
30 Pub evening Swan Inn, bar nearest bridge, Hutton Road, Ash Vale.
July
6 Bridge hole clearance, Sprat's Hatch bridge.
7 Pub evening Row Barge, the big bar, St John's, Woking.
13 Bridge hole clearance, Sprat's Hatch bridge.
13 Canal cruise, Southern Oxford Canal.
14 Pub evening, New Inn, Colt Hill, Odiham.
20 Bridge hole clearance, Sprat's Hatch bridge.
26/27 MAJOR WORKING PARTY - Colt Hill Bridge, Continue offside clearance.
28 Pub evening Swan Inn, Ash Vale.
August
THERE WILL BE NO WORKING PARTIES DURING THE WHOLE OF AUGUST
4 Pub evening, Row Barge, St John's
11 Pub evening, New Inn, Colt Hill, Odiham.
25 Pub evening, Swan Inn, Ash Vale.
SOCIAL JOTTINGS By David Millett, Fleet 7364
On 23 April at the St Albans Hall, John Dodwell gave an interesting illustrated talk on Inland Waterways in Great Britain and covered the past, present and the future which, with increasing Government interest, is quite encouraging when coupled with the voluntary effort.
Two identical Grand Union Canal cruises for a total of 80 members and friends took place on 18 May and 1 June, Mr and Mrs Crossley's 70ft narrow boat 'Linda' was used for the cruise. This is the narrow boat which was used by the Queen Mother for the official re-opening of the Stratford Canal in 1964.
The highlights included the 30-minute underground section through Blisworth Tunnel and a visit to the Waterways Museum at Stoke Bruerne, The cruise continued down the seven locks at Stoke and continued to Cosgrove, where most of the members walked to the Aqueduct.
[back to top]
EVENTS - Family Canal Cruise, Sunday 13 July
The traditional narrow boat 'Jericho' has been booked for an afternoon 2-5-hour canal cruise on the Southern Oxford Canal, starting from Enslow Bridge, Bletchington at 2pm. The cruise will be to the picturesque canal village of Thrupp. Please make your own way there (as a suggestion combine it with a visit to Blenheim Palape and park which are nearby). Tickets at 75p obtainable from David Millett, 62 Greenways, Fleet. Full directions to Bletchington will be shown on the ticket. Please enclose a stamped addressed envelope,
Pen Portrait - FRANK JONES, WORKING PARTY ORGANISER
Frank (The Bear) Jones is a relative newcomer to the Society, having joined a little over two years ago. He showed an immediate interest in the working party side of our activities and after a period understudying Jeff Holman he took over one of the most important tasks in the Society, Working Party Organiser. Frank's membership of the Society lends weight to the view that we should make our activities known beyond our own membership, as he chanced upon a Society working party and immediately joined us.
Like many of us, Frank would like to see the Canal restored because of the tremendous asset it would be to the public, but Frank also has a far more personal reason for wanting to see the project succeed. If, no, when - the canal is eventually opened for navigation, Frank will be able to look at the culmination of at least 50,000 hours of volunteer labour in the knowledge that he was primarily responsible for guiding and organising that massive volunteer effort. We suspect that a great deal of the satisfaction he obtains from his job within the Society must be as it's so very different from his everyday working life as a Work Study Officer in local government. Frank is in no doubt at all about the value of volunteer labour in a project such as ours, pointing out that when we start work in Surrey we should be able to restore a lock, including gates, for less than one-tenth of the going commercial price.
Our Working Party Organiser has a love in common with our Chairman - motorcycles; but two surprises are listed under his interests - archaeology, particularly Anglo Saxon, and playing clarinet (Social Secretary please note!).
[back to top]
EDITOR
We regret that our Newsletter Editor, Mrs Marilyn Holmes, has found it necessary to resign. Marilyn has for some time found that pressures of work were making it increasingly difficult for her to devote time to the editor's job. To assist her a small editorial team was set up early this year and it is intended that for the time being at least the team will continue newsletter production. We would like to thank Marilyn for the great deal of work she has put in to the Society over the last two years and hope that it is not too long before she once again is able to take an active part in its affairs.
SOCIETY POSTS
The Society has now filled its vacancies for various posts and would like to thank Michael Williams (Farnham 21445) for taking over the position of Exhibitions Officer. Peter Fethney (Fleet 5524) Talks Organiser and Hugh Millard (Farnborough 47348) Equipment Officer.
Thanks are due to Gill Oakley for her work as Talks Organiser. Although she has relinquished that post, she is remaining as Minutes Secretary.
WANTED - VOLUNTEERS
If any member has a skill and is willing and available for training to build lock gates, please contact Frank Jones, Farnborough 45032.
[back to top]
LADIES by Janet Hedger
We can't all be 'navvies' or towpath gardeners, so how about using our talents in other ways (no comments please!) - namely to raise funds for the Society?
We propose to hold a pre-Christmas Fayre and coffee morning on Saturday, 8 November in Fleet. Can you or your friends, relatives, ete make jams, pickles, chutneys, cakes, Christmas decorations, new soft toys or handicrafts? Can you supply jewellery, white elephants, good used toys and books etc? There will also be a Society sales stand where you can purchase T-shirts in all sizes for your relations' Christmas presents.
To make this a success, we need lots to sell. Offers of goods, help and ideas to :-
Janet Hedger, 2 Forest End, Fleet. Tel. Fleet 7465 Rosemary Millett, 62 Greenways, Fleet. Tel. Fleet 7364.
WANTED - EQUIPMENT
The following are now urgently required in connection with the lock gates currently under construction
1 ) Large power saw
2 ) Double-handed power drill with large diameter chuck
If any member knows where either of these items can be obtained cheaply or where there is a second-hand one available, please contact Frank Jones, Farnborough 45032.
SPONSORED WALK PRIZE GIVING
On Sunday 13 April at Colt Hill Bridge, Odiham, Sir John Verney, a Vice-President of the Society, presented the prizes won in last year's sponsored walk. The main prize, a double canoe, was presented to Crondall Boys Club, who lost no time in launching it on to the canal. Cheques were presented to Mrs Bunyan and Mr Gomme.
[back to top]
COVER PICTURES
1) Blacksmiths bridge
2-5) Brick making
6) Mud boats arrive at Odiham
7) Society outing on Grand Union
8) Presentation of prizes for Sponsored Walk
Editorial Office: 45 Durnsford Avenue, Fleet. Tel. Fleet 5308 Chairman:- Sobin Higgs, 18 Barnsford Crescent, West End, Woking. Tel: Chobham 7314
Working Party Organiser - Frank Jones, Tel. Farnborough 45032
Treasurer - Peter Youngs, The Coppice, 192 Upper Chobham Road, Camberley. Tel. Camberley 25819
Secretary - Mrs Liza Hamilton, 2 Frome Close, Cove, Farnborough. Tel. Farnborough 49651.
[back to top]